Neither our first trip on the Norwegian Epic nor subsequent one on the Breakaway in December 2016 scared us off of cruising, so here are some ramblings about the NCL Epic sailing an Eastern Western Caribbean itinerary in December 2017.
Eastern… no, wait, Western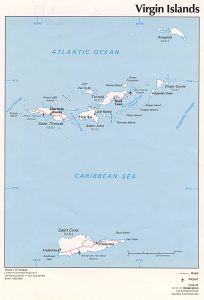 Due to the hurricanes (Irma and Maria) that absolutely crushed Eastern Caribbean regions in September 2017, nearly every itinerary featuring these destinations was adjusted, regardless of cruise line. As we were only a few days away from the 90-day deadline where one can cancel for a full refund, I was closely monitoring the situation. There wasn't any coherent news regarding NCL's plans, mainly because their Miami headquarters was also in a state of disarray around that time.
Cruises sailing to these places in September were definitely being cancelled, cut short, or adjusted, but my theory was that by mid-December, the various Virgin Islands would be up and running again. Maybe the entire region would be worse for wear, but at least the touristy areas where ships drop off several thousand passengers would be up and running. Frankly, the best thing a tourist can do in one of these situations is to continue to visit, and spend hard-earned (or easily-earned) currency with the locals. So it was with that theory in mind that I decided not to adjust our plans.
Unfortunately a swift recovery wasn't the case. Once NCL got things somewhat settled, they made rumblings about a possible itinerary adjustment 88 days prior to the cruise date, which was just enough time to incur a 25% penalty to switch. The replacement itinerary was officially announced at exactly 75 days out (coinciding with a 50% cancel/change fee.) Not being a common idiot, I knew that we were likely to end up at Falmouth and Grand Cayman as replacement ports, but really didn't want another $300 in airfare changes or to have to sort out transportation from Orlando/Port Canaveral to a different port. So, we stuck with the Epic and the revised route.
Oh, what's that you say? Shouldn't the cruise line have to do something – I mean, they've changed two-thirds of the ports on your vacation – harrumph harrumph? I direct you to NCL's guest ticket contract that basically says they don't even have to put you on a ship (6b), and they don't have to stick to the itinerary (6c). Also in the same section, you release NCL from any loss/damage/injury due to piracy, among other egregious things, so don't expect compensation for any Captain Phillips experience.
Orlando, Orlando
Due to slightly better flight pricing and a planned post-cruise trip to The Mouse, we opted to fly into and out of MCO. Because the drive to Port Canaveral is just under an hour, I decided to book a pre-cruise hotel/transportation package with Go Port Canaveral (which is a travel agency and not the official port authority.) I constructed a large Google Sheet and ended up picking the Marriott Fairfield Inn Orlando as a factor of price, rating, and pickup time that would get us on the ship in time for a sit-down lunch. The buffet tends to be a zoo and I really like the chicken/jalapeno nachos that NCL serves at the MDR.

The CruiseCritic forums, presumably to avoid travel agencies spamming for services, restrict linking to Go Port Canaveral; moderators may edit your post for a mention of "GPC". Despite that, I've definitely seen reviews with legitimate-sounding complaints, such as shuttles not showing up. I don't have anything negative to say – the experience with GPC could not have gone better for us. No issues occurred with the hotel reservation (the shuttle from the airport was managed by the hotel), and it was reassuring to see a sign at the check-in desk with the appropriate coach pickup time. The buses to and from the port arrived and departed promptly, and were well air-conditioned.
I give negative fifty points to the other coach passengers on the trip to the port, who all cheered for the driver to turn on the radio when I was trying to conduct an intense phone call with Koodo trying to get the three-day-only 10GB/$60 CAD wireless plan. I didn't get the plan.
Kicking things off
I must express my distaste for the near-mandatory tipping of porters at the gate; there is very much a song and dance where they seek to extract money from you in exchange for doing their job. I gave the porter $5 for our two "checked" bags but you definitely could get away with $1 per bag. Be prepared with small US bills to avoid social awkwardness and getting called out as cheap.
Judging by the EXIF data from the photos, we were in line to board at around 12:30pm after waiting for a bit outside; at least it was a somewhat covered area. Of the three cruise terminals I've now had to wait in, this ranks right in the middle. Our first experience in Miami seemed like it was a shorter wait than the Port Canaveral terminal, but New York's terminal was much more terrible in every way – lines, surly security, and lack of places to sit.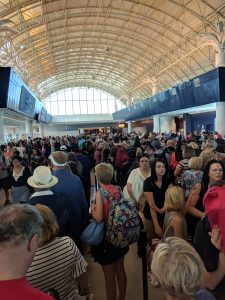 We'd used our NEXUS cards to cross the border, so the pier agent kept flipping through our passports trying to find a non-existent US entry stamp before Kayla figured out what was going on and was able to get us sorted out. I suggest if you're in the same situation, offer the agent both pieces of ID immediately to reduce confusion. On disembarkation, just the NEXUS cards were sufficient to show the US Customs officer – we were waved through without any trouble.
Once checked in, we were able to proceed immediately to the ship and get to Taste, where we were seated at a nice table for two by the window. I consumed some nachos, shrimp pasta and a decidedly non-alcoholic water (remembering the state tax paid on booze while still close to shore.) I also tried a bit of the Cajun grouper sandwich that Kayla ordered and it was also a good choice.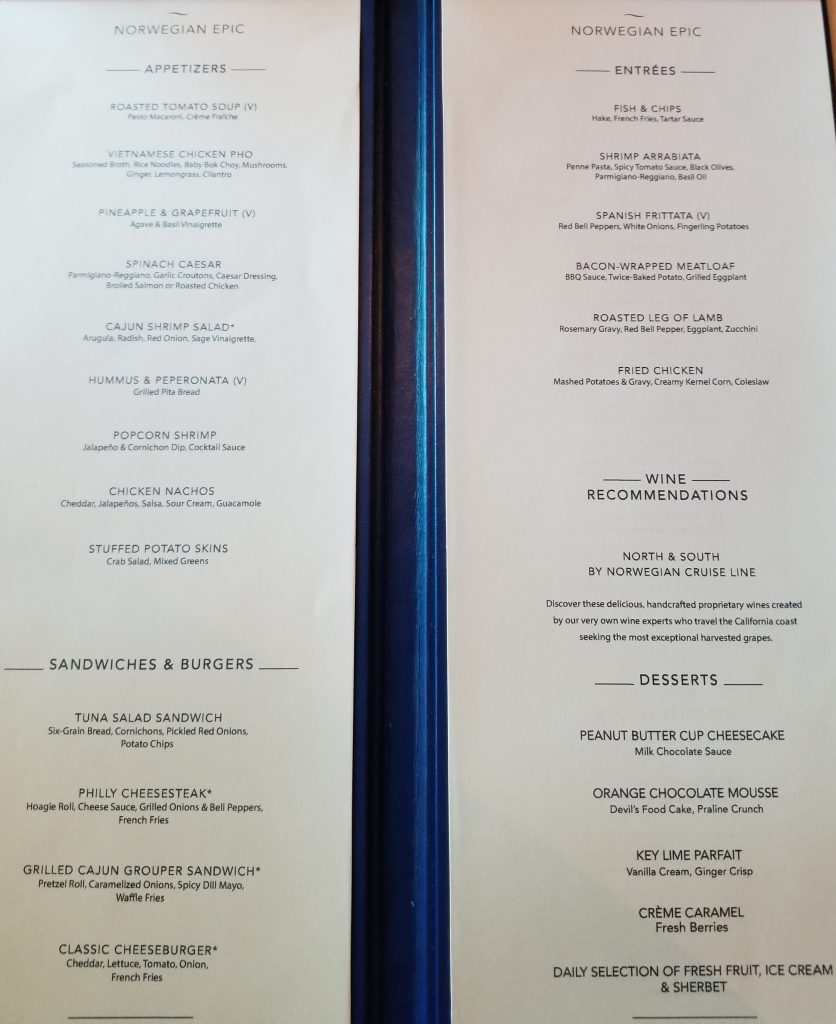 We then meandered around the ship until it was time to drop off our bags. On this trip, the guest hallways were actually closed off with the fire doors until the housekeeping staff deemed the rooms ready. This seemed like a reasonable restriction, but I could understand how some people might be perturbed if they just wanted to duck in and throw their bags under the bed.
NCL does the safety drill just prior to sailing, and we were once again seated in the Epic Theatre for this event. A positive change from March 2015 was a distinct lack of wiener kids kicking our seats. This time the main problem was more of an indifferent crowd who seemed to think arriving on time wasn't especially necessary.
One interesting tactic at the drill was that the crew member in charge would call people out over the PA who were very obviously looking at their phones. I assume this was an attempt to pay more than just lip service to the Safety of Life at Sea requirements, which I commend the crew for. We were supposed to applaud and cheer until the particular individual in question put their phone away; I opted to boo when this happened because frankly, take twenty minutes out of your day to learn how to drown less.
Our next stop was at the Shore Excursions desk, where we booked a $39US "clamshell" for our day at Great Stirrup Cay. The clamshell is basically two lounger chairs with an articulating sun shade; we recalled that last time on the Breakaway, chairs on the island were scarce, and sitting directly in the sun is a good way to enhance your risk of skin cancer and invoke surliness from your better half. I would say that this purchase is definitely worth the money, but it is also first-come, first-serve so you still have to get to GSC early enough to claim your spot.
When we thought we were sufficiently off-shore, we went to Shaker's Martini Bar and ordered several rounds of Lavender Patches (Stoli vodka, lavender, lemon, pineapple juice and mint leaves) but unfortunately got skunked for tax on the first order of drinks. I don't know if I can reasonably express the disappointment that comes with seeing two stupid seventy-something cent room charges in the Norwegian app; it's not about the money, but the principle of the thing!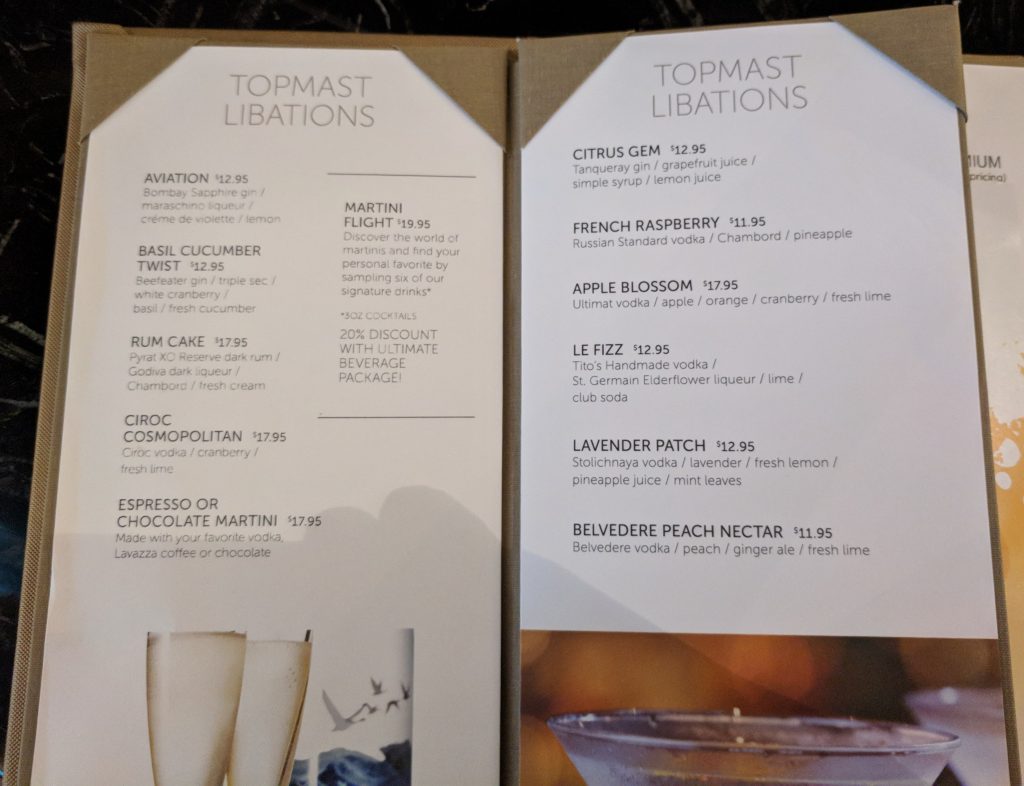 Sufficiently liquored, we proceeded to deck 5 where we registered for a "champagne" art auction with Park West and attempted, unsuccessfully, to find out why they insisted on selling Peter Max pieces as every third lot in the auction.
It was also an uncanny coincidence that our auctioneer and his partner claimed to have just been married a month ago. This was the exact same story we'd been given by different art gallery personnel (a husband and wife pair) on at least one previous cruise. I have to wonder if it's genuine or a tactic to endear themselves to prospective buyers.
(Google Keep)ing track
Without regular Internet access, I started writing checklists using Google Keep for things to look up upon our return to wireless coverage. It was also somewhat helpful for putting this post together since I can usually construct a coherent paragraph from limited notes like "higher number of drunks, including myself." Despite that note, I was actually reasonably well-behaved on this cruise. I think it's a common scenario that on the first night, people overindulge trying to get their value out of the UBP.
During the first evening, I conducted a self-led ship's tour involving voyages to the following locations:
the casino, where I opted against playing $10 minimum bet blackjack
one of the upper decks, where I chuckled at staff members literally rearranging deck chairs
O'Sheehans (the restaurant side), where the service was slow, but the wings were pretty decent
Shaker's Martini Bar, where the crew was very friendly, despite having to deal with a

passed-out drunk

 "seasick" passenger at the end of the bar
O'Sheehans (the bar side), where the bartender suggested adding a shot of Fireball to my Angry Orchard cider. Would recommend.
All in all, a good evening on the high seas – you can't ask for more than that.
Let's try to be social
Sunday came, and we were actually up for breakfast at the outdoors buffet before attending the CruiseCritic Meet n' Greet™ in the Manhattan Room. Kayla and I definitely skewed towards the younger end of the audience, and didn't really get too social with anybody here.
I mostly find these events worthwhile to get the phone extensions of the various staff members. If you have a problem on board, the only way you're getting it resolved is on board, and you might as well have the contact details for the people who can do something about it. I'm also fairly certain that the cruise line gets the names and cabins of those who attend, and it probably can't hurt being included in a group that knows (or might complain) a bit more than the average bear.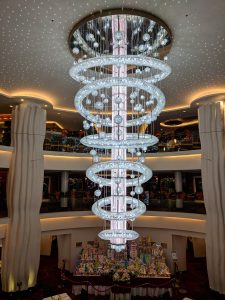 The CruiseCritic crew also did a good job of organizing several other events, specifically a slot pull and cabin crawl. The slot pull is basically where you buy in for a fixed amount (eg: $15 to $20); that money gets pooled with everyone else's and inserted into a slot machine. You get to play the amount you put in (or close to it) on the maximum bet setting, which enables the highest-value jackpot.
After everyone takes their turn at the one-armed bandit, typically the person who wins the most money during their session gets a percentage of the remaining value in the machine, and then the remaining amount is divided up among the participants. In this case, we played a Wheel of Fortune machine at $15 entry, three pulls at $5 per pull.
We'd also agreed to attend a "champagne" art auction at 1pm, which was a complete bust. Sparkling wine didn't emerge until close to an hour into the session, which was an idiotic move in my opinion – you want people somewhat lubricated by the time the action starts, and not slamming booze at the same time they're expected to hold up bid cards. Maybe it's a tactic to prevent people getting their drinks and immediately leaving.
I was already peeved at the cramped seating arrangements and poor lighting in the Cavern Club, not terribly interested in any of the art displayed, and antsy to get to the slot pull at 2pm that we'd already paid to participate in. I ended up sneaking out of the auction to attend to my duties at the Wheel of Fortune machine, was entirely unsuccessful on six pulls, and came back to the same tripe about Peter Max. Kayla and I have agreed to not attend future auctions.
We then located some sorely-needed adult beverages. My default is the Rebellious Fish.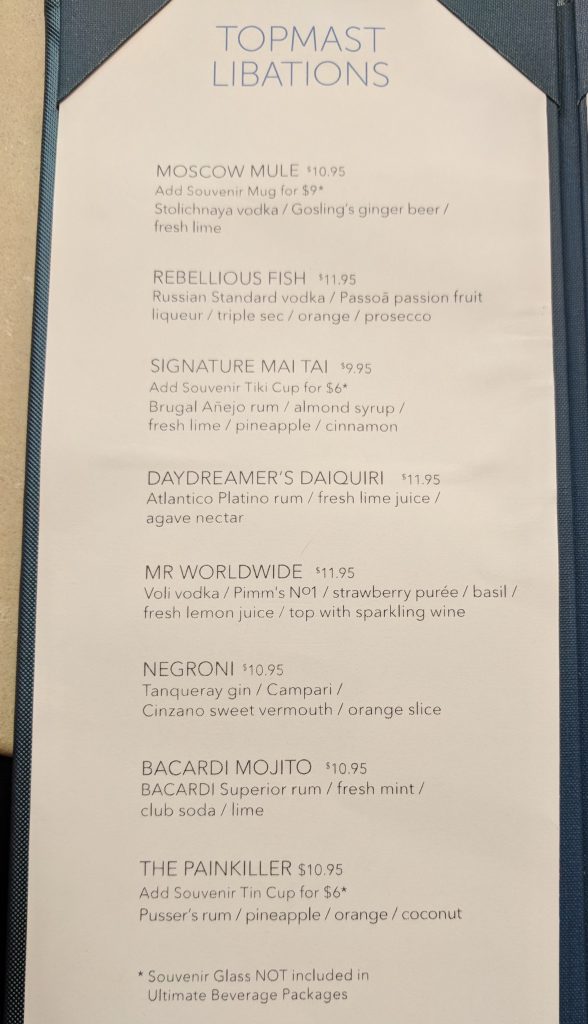 Cabin crawling
At that point it was onward and upward to the cabin crawl, an event where various individuals volunteer to let strangers view their cabin. The idea is that you get to see a variety of hotel rooms on the ship, all the way from a modest inside room to a top-tier Haven suite. We learned that the inside cabins were actually quite nice, and would be totally acceptable for a couple such as ourselves.
Another interesting cabin on the tour was a hull balcony, also known as a "PrivaSea", cove, or enclosed balcony. It is a standard (or larger) sized balcony, but instead of a wood railing and glass separating you from the edge of the ship, there's a metal structure with a fairly large rounded-rectangle opening. In lieu of pictures, here's a crappy MS Paint rendering: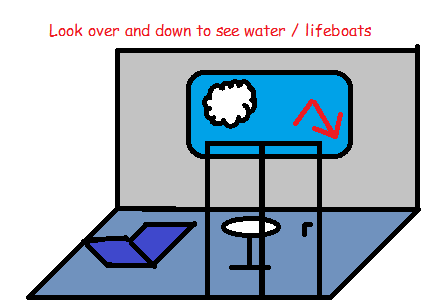 The hull balcony seemed like an entirely reasonable room option to me, but there are multiple people that book a cruise with pre-conceived notions of balcony cabins, and then get upset (rightly or wrongly) that their room doesn't have a full view. You can read sdmike's Epic hull balcony thread to get an idea of which cabins have the metal enclosure (and on subsequent pages, to get an idea of which forum users refuse to read the very detailed and informative post.) These also tend to be the room assignments for the cheapest Sail-Away rate; imagine this type of cabin as another equivalent to "obstructed view".
Our last stop on the crawl was in The Haven, and we appreciate Fritz and his family welcoming the entourage through! As a point of comparison, the least expensive Haven cabin would have cost 3.5x more than our BD-class balcony room at the time we booked. It might be a good idea if you had a large family that all needed to stay together, but seemed overpriced for the extra perks (butler, private restaurant and pool, early access to shows and tender bookings, etc.) and additional cabin space.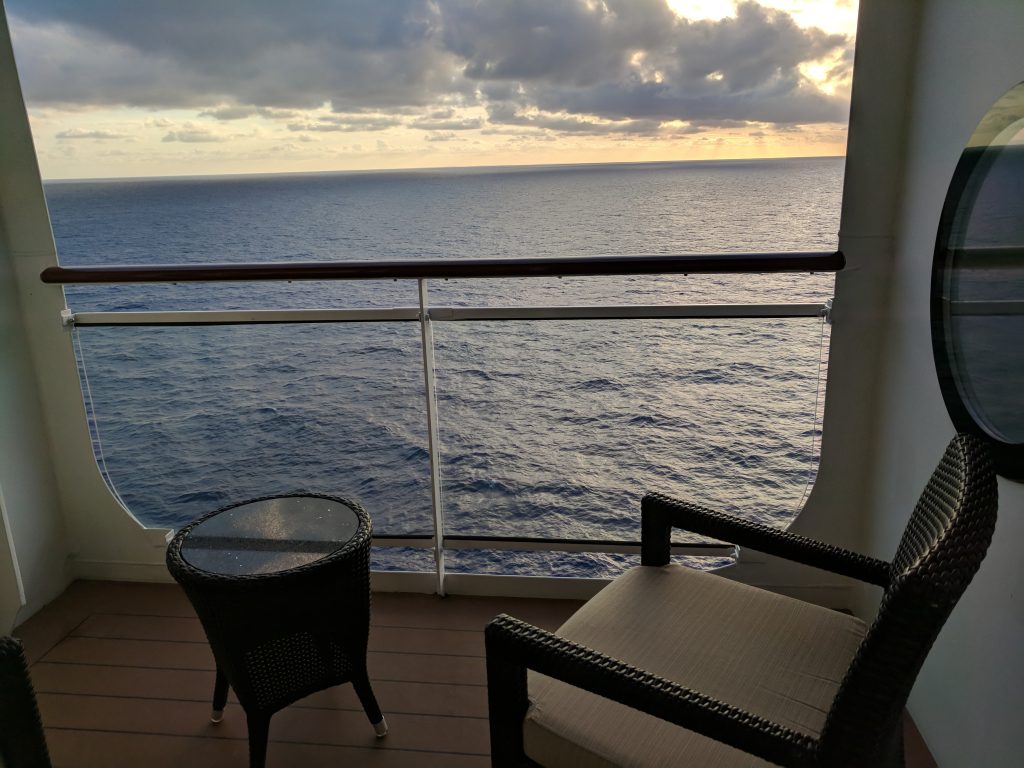 Wrapping up the day, the queued-for-Google queries were:
National flower of Scotland (Kayla was right; it is the thistle. I was convinced that it was not but didn't provide an alternative.)
Swimming pool on Titanic (Kayla was right again; there was a saltwater swimming pool.)
Meaning of "I'm on one" in the DJ Khaled/Drake masterpiece I'm On One: "one" is likely "lean", a combination of promethazine and codeine, possibly mixed with Sprite. (Kayla and I both were under the impression there were better substances to abuse.) This query was prompted by a adult and child duo who sang a highly censored version of this ballad at karaoke. It was questionable as to why they'd even have the track available, given how much was cut out.
We miss the Waterfront!
The main problem with the Epic became apparent on the second day at sea. After sailing on the Breakaway, the lack of an area like "The Waterfront" was definitely an issue – the less marketing-heavy term is a promenade deck. We'd previously enjoyed the indoor/outdoor bars, as well as the seating where you could just read a book and enjoy the sea breeze. It wasn't the same sitting inside at Spice H2O or on the sundeck; both of us like being in indirect sun and having easy access to drinks and restroom facilities.
The Epic also doesn't have a public bar area near the forward sun deck, so it meant repeatedly going down to deck 15 to the buffet or pool bar to get drinks, then taking an elevator or three flights of stairs back up to the 18th deck. I suppose this is why people scramble to get Posh passes on the first day, which is a "private beach club" that does have beverage service. There are mixed reports as to whether this is now a Haven-exclusive area or whether people in steerage can still fight their way to Guest Services on embarkation day and secure a pass.
With three days in and having finally started to decompress from our regular lives, Kayla and I decided to schedule our next trip away from cell coverage. We wandered down to the appropriate desk to take NCL up on their CruiseNext program. This is often advertised all over the ship as "get $500 FREE to spend on this cruise!*" where the asterisk is "when you put down $1000 in deposits."
What really happens is that you buy up to four $250US deposits for a future sailing, which are charged to your ongoing cabin tab. Then you receive a $125US credit per deposit on the same tab within 24 hours. The end result is not that you're getting free spending money, but that you've just bought one or more deposits at 50% off. An example cabin bill with three deposits and a small amount of other spending will then look something like this:
| Date | Item | Amount | Total |
| --- | --- | --- | --- |
| Day 1 | Not-Waiting-Until-International-Waters Drink Tax (for your drink) | 0.73 | 0.73 |
| Day 1 | Not-Waiting-Until-International-Waters Drink Tax (for your wife's drink) | 0.73 | 1.46 |
| Day 1 | Clamshell rental | 39.00 | 40.46 |
| Day 2 | 3 x CruiseNext Deposit @ $250 | 750.00 | 790.46 |
| Day 3 | 3 x Onboard Credit @ $125 | -375.00 | 415.46 |
| Day 4 | Cheapest thing at the souvenir shop | 10.00 | 425.46 |
| Day 6 | Accidentally ordering a $17.95 premium drink despite having the beverage package | 2.95 | 428.41 |
| | Final balance charged to your credit card | | 428.41 |
At this point, you have $750US to put towards future sailings, but of course there are additional restrictions. The deposits expire after four years if not used, and obviously are only good with NCL, but you can apply one regardless of whether it's a travel agent or direct booking. You can generally only use one of the $250US deposits per stateroom, unless NCL has a "double up" promotion on where you can use two $250 deposits (must book a balcony-or-higher class cabin, more than 6 months out from sail date.)
Since we had a very specific timeframe for our next vacation, we were able to go through the CruiseNext agent to reserve a cabin on the NCL Getaway out of Miami in February 2018, which is one of the ships with the Waterfront area and the highly delicious Ocean Blue seafood restaurant. The agent also directly emails NCL corporate to have them apply the deposit to your next cruise, so you don't have to go through the call centre.
For buying deposits and picking a specific sailing at the same time, the "additional free offer" advertised in the CruiseNext Ultimate program is that you also get bumped to a higher cabin category – so paying the rate for an OC-class oceanview room on deck 5, we were able to pick an OA-class cabin on deck 13. Not an inconsequential upgrade, since retail value on that is about a $134CAD difference per person.
Dinner, damage and deadlocks
The same evening, we used one of our specialty dining credits to have dinner at Le Bistro, the French restaurant. It's supposed to be a more upscale specialty dining experience, complete with a "smart casual" dress code, but it honestly didn't feel like it warranted the top tier designation. Compared to the experiences we had at Cagney's (steakhouse) and La Cucina (Italian), the service was good but not outstanding; nothing to complain about but also nothing above and beyond. The plates and silverware also looked like they had been through a few too many industrial dishwasher cycles and were reaching the end of their life – not something we really noticed in any other venue, including the main dining room, but their condition was quite obviously out of place.
Perhaps the main reason why Le Bistro was my least favourite of the specialty dining venues was its proximity to the atrium on deck 5. Whatever nonsense contest, game show or attract mode that the cruise director was running at the time made a lot of noise that carried through the entire restaurant. This was highly distracting when trying to have a conversation.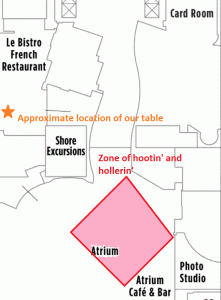 I can also confirm that we had no issues ordering two appetizers each as part of the UDP at any of the specialty restaurants we tried; the restriction was just to one entree per person, which again seems entirely reasonable.
Our Google list received the following additions:
Port forwarding
I suppose this wouldn't be a worthwhile overview without talking about the ports of call for this trip, but this was very much a ship-centric cruise for us. Unlike our first time on the Epic, when we booked three shore excursions through NCL, the prices have increased very significantly. To compare, the "Salsa and Salsa" activity in Cozumel is now listed at $160CAD, up from $115CAD per person in 2015. The options at each of the ports were so similar to our first time on the Epic that we didn't book anything. It helps narrow down choices when you disagree with keeping sea mammals in captivity, eliminating dolphin encounters as an option. The South Park episode "I Never Should Have Gone Ziplining" has also deeply influenced my opinion about ziplining.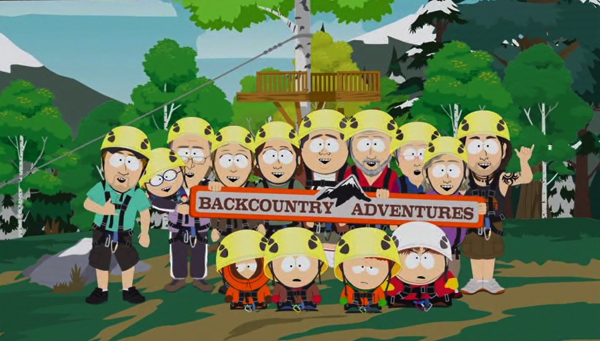 In Falmouth, Jamaica, we got outside the port gate, walked about three blocks into town, and then immediately turned around rather than running the gauntlet of aggressive vendors. It also didn't seem worth it to try and get to Dunn's River Falls – it's about an hour away and that was part of our excursion last time. We did mill around the heavily curated shops inside the port area and Kayla lucked in with a sundress, negotiated down to about 60% of the original asking price.
The second port of call, Georgetown in Grand Cayman, was pretty much a non-starter for us. Due to the need to take a tender (lifeboat) to the port, the entire process of getting off the ship – but especially returning – is just a lot of waiting, possibly in the direct sun. Instead, we stayed on the Epic and spent a lot of the day either on the forward deck or in the spa area.
Finally, the last day of the cruise had a stop at Great Stirrup Cay (Bahamas), which we eagerly were on the second tender boat out. Of note, you couldn't book space on the tender using the touchscreens until after we had left Grand Cayman (and there was no indication that this option would become available), but we were still able to secure one of the earlier trips over. The GSC process uses larger boats to ferry passengers back and forth, not lifeboats. With our previously-booked clamshell and the drink package applicable on the island it was a great way to spend a day at the beach and relax. There were a greater number of chairs available this time, but the clamshell (closer to the west end of the island, near the Bobolink bar) is something I'd pay for again.
Other onboard activities and oddities
I mentioned that we spent a lot of time in the spa on the Grand Cayman day. We had booked full week "thermal suite" passes online prior to sailing, having heard good reviews online. I would say it was a good experience; the large hot tub, saunas and large aft-facing balcony with loungers were all a very nice way to relax and once again avoided encounters with poorly-behaved children. The pricing at $266CAD/person for the week is a bit steep, and for future cruises I'd consider booking one or two day passes instead. The risk, I suppose, is that the spa might be sold out, but I'm sure you could get in without too many issues on a port day.
The musical on board was "Priscilla, Queen of the Desert", and if you believe everything you read on the Internet, you'd think it was somewhere between Family Guy and The Aristocrats in terms of inappropriate content. Perhaps for some people, the idea of a drag queen (let alone several of them) threatens their very moral fibre. There were approximately three "offensive" jokes in the entire length of the show, all merely Family Guy-tier. It was an entertaining show, but Kayla also made the very good point that conflating crossdressing and homosexuality isn't accurate, and it would be easy to make that assumption based on the script. Nothing against the NCL performance, certainly.
Finally, it wouldn't be a cruise without overhearing other passengers' conversations, so I present two more of the Google-worthy queries saved as a result of other guests on the ship:
Back on dry land
So, where does this leave things? For one, I don't think Kayla and I will be choosing this particular vessel again. The 2015 refurbishment didn't appear to change much, and the lack of a Waterfront area made sitting around on sea days just kind of "blah". It was just a bit disappointing, but only in retrospect and comparing directly to the Breakaway. Having said that, if you've never been on the Epic before, it's definitely worth trying at least once – especially if you get a good price on the cruise, and are planning on a lot of shore excursions. Epic is still a very fully featured megaship, with excellent entertainment, decent dining options and plenty of places to grab a drink.
We also definitely want a route with different ports, but that's a matter of planning and being more aggressive about rebooking if the whole itinerary changes. I have ambitions to try a lengthier transatlantic or Panama Canal route, but coordinating vacation time is a challenge. Maybe I can find a technology-related conference in Southampton, and just take the long way there from New York…
I'm still quite satisfied with NCL. The cruise product reasonably suits us, we're going back on Getaway, and are obligated for at least one more vacation with them. All the ship's staff were pleasant and the lack of cell coverage makes it an excellent way to get some downtime together. I hope these experiences help inform your cruise decisions, and look out for more pages of text later this year as we continue to sail.
This review was also cross-posted to the CruiseCritic forums, where you should feel free to ask further questions and leave comments.