I'm just over a year in since starting Invisalign treatment with RiteBite Orthodontics – and here's how things stand.
Positive Experience
I want to reiterate that I'm quite pleased with the experience I've had with Dr. Luis and RiteBite. Everyone at the Waterloo office has been friendly, professional and my appointments have always started on time. I feel like Invisalign was definitely a better option over braces. Even under the perpetually ticking clock of their Terminal Services-hosted dental software, everyone that's put their hands in my mouth has done a great job.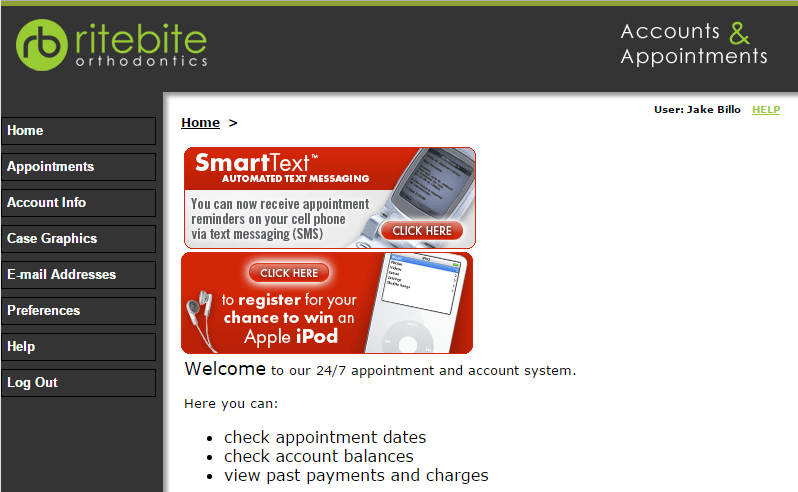 One of the best improvements RiteBite has made since I signed up has been the addition of the Case Graphics / Patient Records section to their patient portal. Despite its dated "win a 4th-gen iPod" banner on the landing page, it has X-rays and full sets of mouth and jaw pictures from every appointment where the digital camera comes out.
These photos are perhaps the most convincing tool they could use to convince customers that money spent on orthodontic/Invisalign treatment is worth it. The progress made after just eight months of trays was phenomenal. Teeth are shifting into their proper positions and I have much higher confidence in a successful result.
Social Media Milling, aka Poisoning the Well
RiteBite's Internet presence/social media strategy is intended to attract new customers. They have a decent website and the usual Twitter / Facebook / Pinterest / Instagram accounts. Current patients are enrolled in the Patient Rewards Program, where 10 points = $1 in gift card value, redeemable with a minimum 100 points.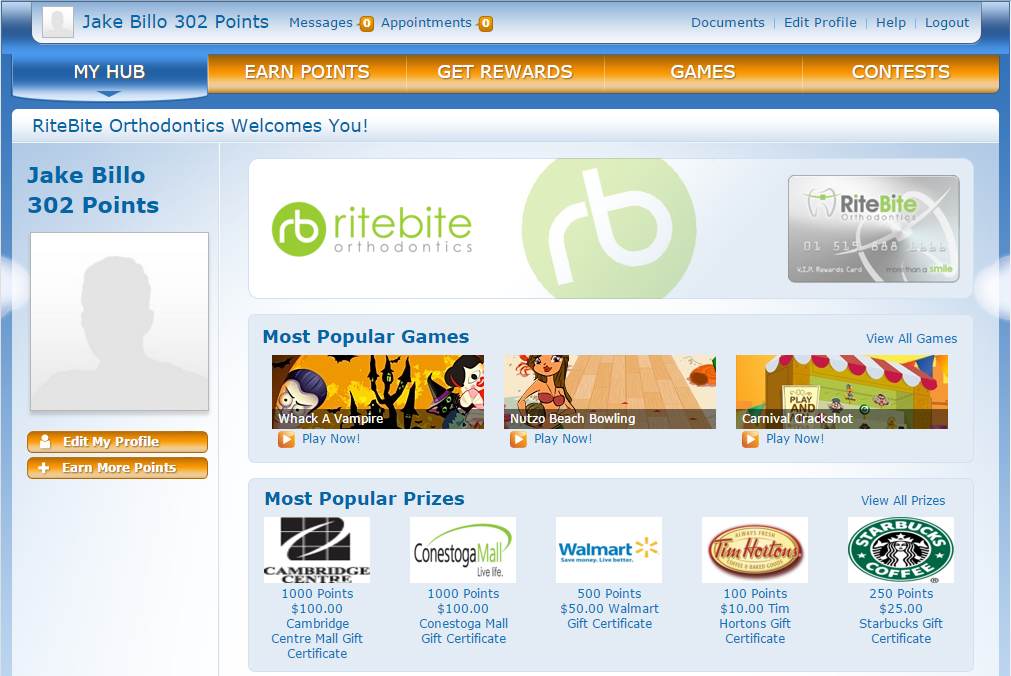 At a typical appointment (6-8 weeks apart) you might get 2 points for "brushing after signing in", another 2 for "being on time", and 3 for "wearing appliance as instructed". The higher point values in this program are designed to encourage social media interaction – a YouTube video testimonial will get you 20 points, and 10 points goes to the author of a Google Maps review.
Given these values, it's a bit of a grind to make it to your $10/100 point Tim Card.
Online review and social media activity for RiteBite is inevitably going to skew on the positive side, because there's a reward for doing so. As a cynical tech worker, I'm also highly allergic to anything like a "selfie contest". Occasionally I'll get an email promoting one and I scowl before remembering that a large portion of RiteBite's patients are teenagers with nothing better to do than hashtag.
Full disclosure: I was credited with a whopping 250 points for referring a friend to the practice shortly after I signed up, but I have yet to exchange them for anything.
Align Technologies Inc.
Be aware that Align Technologies, Inc. is also very heavily involved in managing their online presence and regularly comps "mommy bloggers" with treatment either for themselves or their kids. You can usually find these disclosures at the bottom of the page or post in question in FTC-compliant language. These posts exclusively skew positively for Invisalign over other types of treatment, and hammer home the main marketing points (can remove trays, easy to use, comparable in cost to braces, no metal mouth.)
They also appear to engage in patent-troll like behaviour, but I don't currently have any solid opinion on the merits of their legal maneuvering.
Invisalign Drawbacks
I'd still pick Invisalign if I had to choose between it and conventional braces again, but consider the following:
For best results, trays have to be in for 20-22 hours per day, and you're not supposed to drink anything other than water with the trays in. So it's really only for meals that removing the trays is practical. I can't just try a drink or have a bite of food – it becomes a whole ordeal to remove them, and then they're supposed to be replaced as soon as possible. In what might be seen as a net positive for my health, I've switched to drinking soda water (rather than cola or coffee) during the work day because of this inconvenience.
Plastic in my mouth during the night sucks. I tend to drool overnight with the trays in, and even through a pillow protector I've ruined at least one pillow.
You still have to have attachments bonded to your teeth, which are initially rough on the inside of the mouth. The installation process is also unpleasant affixing as it requires your jaw to remain open in an odd position for several minutes for each attachment.
A surprise to me – and not really fully described at my initial appointment – is that my second set of trays required installation of a "button" (a metal protrusion cemented to a tooth) and use of an elastic. This also complicates insertion and removal. More complicated cases are likely to have more elastics and buttons.
It's not completely painless. Switching to a new set of trays causes pressure and occasional tooth pain. I find popping two Advil is necessary on the first day of a new set, or otherwise I can't concentrate at work.
Don't lose or break your aligners; it's a $150 replacement fee per set. I have heard that depending on where you are in your treatment process or cycle, you may be able to skip to the next set instead. With braces you have to be cautious about breaking brackets or loose wires, but with a set of trays it's incredibly easy to leave them in a napkin at a restaurant or misplace the Invisalign case.
"4 Strikes and They're Off!"
At RiteBite, apparently you can get kicked out of braces (or Invisalign) if you don't have decent oral hygiene at four appointments. According to the initial contract I received, RiteBite also can "rat you out" to your dentist with a letter and won't perform whatever orthodontic process was scheduled for the day.
Since I haven't heard about this system since the initial package of paperwork, I think this is more of a way for parents to threaten their kids into compliance for orthodontic treatment – "if you get a 3 or less on this arbitrary grading system, you're in trouble!" I suspect it's not frequently employed to its full extent.
With this in mind, Invisalign itself does encourage better oral hygiene. You won't want to put the aligners back on without cleaning your teeth well – a fragment of steak in between molars becomes very painful when compressed with plastic trays.
Aligner Use and Abuse: Beer, Whisky and Vodka
One of the really frequent questions online is "can I drink (beer) with Invisalign in?" I'll refer you to "Another Invisalign Blog", where the author has written specifically about Drinking Beer With Invisalign and Pros And Cons of Invisalign: Revised After 2+ Years of Wearing Aligners. Although the author's recent posts have gone into the realm of what I'd consider unnecessary surgery, her writing was crucial for me in my early research.
I am sure that Dr. Luis would not approve of drinking anything other than water, but here's my experience:
It is definitely possible to drink light-coloured beer with aligners in. In 2014 I tried this at Oktoberfest, matching each beer with a glass of water, and didn't notice any discolouration afterwards. In contrast, for 2015's festival of German-style debauchery I decided to remove them entirely for the evening.
Do not drink dark-coloured liquors with aligners in – it will absolutely stain the trays.
I will drink cider (Grower's 1927 Premium Dry), vodka/soda or vodka/7Up with a set of trays still in, but am meticulous about removing, cleaning, and reinstalling them for the night and going to bed. The trays don't seem to be any worse for wear as long as they are cleaned with a separate toothbrush dedicated to this task.
What's Next
Since this post was initially drafted, I am presently waiting on a third set of trays, targeting completion in August 2016. The "button" remains on in between sets but the attachments get taken off.
I'll follow up in a few months with progress on the next set.