This is the second part of my Vegas post series. View part one here. I figured I'd actually post this with some useful information instead of letting it languish in the queue.

After arriving in the afternoon on February 12th, we proceeded to check into the Mirage hotel. The Mirage is closer to the north end of the Las Vegas Strip, and is one of the MGM Mirage properties.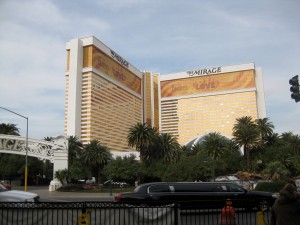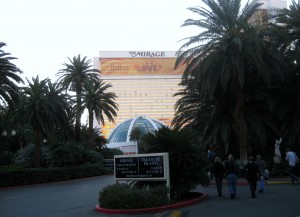 Its strip-facing attraction is an hourly volcano eruption – essentially dozens of natural gas jets that spout fire from a pond, combined with a jungle beat. There's also a rock structure that has several giant eruptions and ends the sequence with a huge fireball; you can definitely feel the heat from the sidewalk.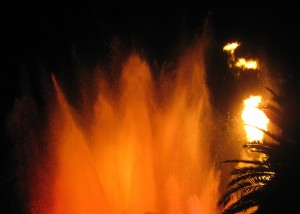 At the lobby, a large aquarium sits behind the check-in desk to the right of the entrance. There's also a atrium or conservatory that serves as the main path to the casino, theatres and restaurants. Here's where you start to realize that the floor layout is designed to expose visitors to as many slot machines as possible. The carpet specifically winds past several restaurants and the "Revolution" lounge – a promotional tie-in with the Cirque du Soleil / Beatles "LOVE" musical currently playing.
Perhaps the most telling of all the places to spend one's money is located right behind the elevators. The main hotel gift shop is actually called "Impulse". Shameless, really. If you're looking for souvenirs, shot glasses and keychains all start at around $6. I opted to spend my money elsewhere.
The rooms at the Mirage are excellent. It's certainly the nicest hotel I've ever stayed in, and this particular room was a base model. It came with a 42″ LCD TV, accompanied by a breakout box for composite, VGA (D-sub), and HDMI connectors – so I suggest you bring appropriate cabling if you plan to watch a movie. Internet is wired or wireless, and costs $14.99 for a 24-hour period. Since this is a pretty steep charge, I have a recommendation if you want to do some brief surfing or emailing:
Head next door (south) to the Forum Shops at Caesar's.

Go to the second floor using the escalator. Exit before the third floor. Complete an entire lap of the floor to get to the "wing" of the mall.

At the first statues (commonly referred to as the moving/animatronic statues), connect to the "SIMON" access point. I can assure you that the BlackBerry browser is sufficient to connect as well. Confirm that you accept the terms of use and you've got Internets.