Note: Roam Mobility is no longer in business as of June 30, 2020 (see the MobileSyrup article.)
I recently returned from a five day trip to Las Vegas, to once again play the low-limit blackjack at Hooters Casino Hotel, enjoy the complimentary drinks and see a few shows. I've done this before with friends, but the first major change is that this is the first year I've had cell coverage in the US thanks to Roam Mobility. I'd used them on a conference trip to San Francisco earlier this year and it was quite handy.
The general principle is that you pay $4/day for unlimited talk/text (including voice/SMS back to Canadian numbers), and also get a 300MB allotment of 4G/LTE data per day of the plan. Thus, if you buy three days you get 900MB to use at any time during the total plan. If you go through the allotment, it degrades to "unlimited" data at EDGE/128kbps speeds.
To get started, you have to buy a Roam SIM card ($20; comes in regular+micro combo pack or nano form factor) plus a $2 "LTE upgrade" fee as a one-time purchase. The SIM stays active for up to 365 days between plan purchases, so it's worthwhile if you plan to use the service in the States at least once a year or can loan the SIM to someone who will use it. You also need an unlocked phone, and preferably one that supports the 1700MHz and 2100MHz bands used by T-Mobile US (Roam acts as a MVNO on T-Mobile service.)
I wasn't entirely satisfied with how Roam Mobility worked with my Nexus 5 device during the trip. Some of the issues I encountered are specific to the Android device and some seem to be network/service related on Roam/T-Mobile US' part. Here are a few caveats to consider.
Scheduling: Plan Early
Roam's website lets you schedule plans in advance to start at a specific 15 minute time. I had scheduled a plan to start at 10:30PM Pacific in preparation for our flight landing shortly before that, and had switched my APN to 'roam' prior. When we landed, I was unable to get voice, data or SMS service in Terminal 3 despite having "five bars" of coverage. While power cycling the phone, I received SMSes advising that I had fewer than 30 voice minutes remaining. There was also a stuck voicemail indicator that simply redirected me to the Roam customer service line (which is closed at that time of night.)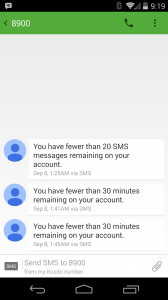 Service did not activate until 11:08PM, after we'd reached the hotel. I received another SMS from the 7850 shortcode advising that the 4-day plan was now active with 1200MB of data. Two friends of mine who were using Roam as well had no such difficulties – they had bought their plans briefly before boarding the plan and started service immediately. Their service became active on first power-up in the airplane while waiting to arrive at the gate in Vegas. So in short, if you want your Roam plan to be active right as you land, be generous with the start time.
From perusing the Roam support site after the fact, if you run into a similar problem, you may want to try messaging 'start' to *7850 to see if this kicks off the account provisioning process right away. I suspect this is what customer service would have told me to try if I called within business hours, but there wasn't an easy way to get this information. I'd suggest that Roam add this trick as an message to their IVR in the 'activate service' option.
LTE Intermittent on Nexus 5
The coverage near the hotel and on the south end of the Strip (specific locations I checked included MGM Grand, Excalibur, and as far up as Bellagio) was very good, consistently displaying 4 to 5 bars of LTE. It also received and delivered Hangouts and BBM messages promptly. Coverage was also good near the north end by the Neon Museum and the Fremont Street Experience area.
However, when we headed slightly off-Strip, further down E. Tropicana to the Pinball Hall of Fame, my phone lost connectivity with no data symbol near the network indicator. The workaround was to back the network type down to 3G/HSPA. On the Nexus 5 this option is under Settings > (Wireless & Networks) > More… > Mobile networks > Preferred network type. Immediately after I forced 3G coverage, data began flowing again.
My travelling companions also didn't suffer this issue: one was using an unlocked iPhone 5S and didn't do anything special with his network settings throughout the trip, and the other had a Nexus 4 without LTE capabilities. For me, this problem took the advantage away from the $2 LTE upgrade to the SIM. I had to keep the phone in 3G only mode for the rest of the trip to ensure I could get coverage everywhere.
No Mobile Hotspot on Nexus 5
Due to some apparent shenanigans with Android 4.4, the phone tries to use a different APN when in tethering/mobile hotspot mode. This is documented on the Roam Mobility site as an issue specific to the Nexus 5, but I believe it could affect all stock Android devices. A fix is promised but the issue has definitely not yet been resolved in September 2014. Hooters has (slightly pokey) WiFi in room for hotel guests, and that was good enough to get my laptop online for flight check-in and researching shows.
As a note, though, it's not just Android devices with an APN issue; once again the support site advises that iOS devices may need to get a custom configuration for hotspot use, and that BlackBerry 10 users could also encounter issues getting mobile hotspot capabilities to work.
Wrapup
Overall, compared to the data roaming gouge-fest from the usual Canadian carriers, Roam can't be beat despite the issues I ran into. Next time, I'll look at bringing a different or secondary phone to compare network and activation behaviours.
For a longer trip, I'd also consider a prepaid T-Mobile SIM ($10 SIM plus $30/month, 5GB LTE data.) The main issue with a T-Mo US SIM is that you'll have to have it shipped to your destination or get one at a convenience store or dealer in the States, whereas Roam has retail presence at a variety of stores in Canada or will ship you a SIM for free.
If you're currently with WIND Mobile, they have a $15/month US roaming option that can be purchased for 30 days and then removed from your account, which makes it a less expensive option than even buying the Roam SIM the first time. It also uses T-Mobile US towers so coverage should be the same.
Update, 2014-10-15: Looks like the Roam support team on Twitter is advising use of the 'wholesale' APN now rather than 'roam' to resolve issues with data connectivity. Something to try out if you ran into similar issues. I expect I'll be using Roam early next year again and will report back.