Where do I even begin?
I started writing this post in early January 2020 to extensively document our pre-cruise travel experience. After we returned home in February, I spent a few late nights writing with the goal of getting it published prior to our March 1-8, 2020 sailing on Norwegian Joy (yes, we had two cruises just over a month apart.) As we got to the end of February, I had a large chunk written and organized, but didn't quite get it finished before we sailed again.
Returning to Canada from Los Angeles and our cruise on Joy, we were quickly thrust into a world where one night you're out having wings with friends – and the next day you can't find toilet paper (for bewildering reasons) and can only see loved ones through Zoom calls.
Things have improved slightly since then but I'm certainly sick of these "unprecedented times." The cold yet carefree days of January seem like they were years ago. Much of what I've written here will no longer be relevant as cruises resume, but it seems like a shame to let this languish as a draft. For those of you continuing to read, I hope that it reminds you of better times on the ocean, and provides some insight into how we traveled with twin infants when they were under a year old.
Trying yet another style
Those of you who have read my previous reviews know that I've tried a couple different options in terms of presenting the experience. Often, it ends up taking thousands of words, either all in one post or split out into a 7-part series. Both of these are not ideal. In the spirit of continuous improvement, my plan for the review in its entirety is to split it up into multiple posts: one for pre-travel planning, and another for the cruise itself, to make things a bit more manageable.
This part is admittedly a lot of preamble to the trip with a heavy focus on infant logistics, which I know is not necessarily everyone's idea of a good read. If you want to skip right to the cruise review, click away!
Introducing some new sailors
Our cruise was a 7-day Western Caribbean itinerary on Norwegian Escape, sailing to Great Stirrup Cay, Costa Maya, Harvest Caye and Roatán from Miami. Launched in 2015, she is the first ship in the Breakaway Plus class and the one with the largest passenger capacity (4266 passengers, vs. Joy, Bliss and Encore supporting 3883, 4002, and 3998 respectively.)
In the December 2018 review of Bliss and the February 2019 review of Sky, I deliberately avoided a key point: there were two babies on the way! We spent most of the Bliss cruise trying to wrap our heads around this development, but all parties remained in good health throughout pregnancy. Our twin girls arrived without incident and thus began a new chapter for our family.
This trip was a set of "firsts" for our daughters: first time on an airplane, outside of the country, and on a ship. One of the posts I found quite useful in terms of planning was The Complete Guide to Cruising with a Baby (From Someone Who's Done It). It's got a Royal Caribbean and Carnival focus, so I'll be more specific about the Norwegian experience.
Route, perk and stateroom selection
NCL and many other mass-market cruise lines say that children must be six months old to sail, or 12 months old to take a cruise with three or more consecutive sea days. 7-day Western Caribbean voyages generally don't have more than 2 sea days in a row, so this is likely the type of sailing to look into if your kids aren't a year old yet.
Most cabins are booked as double occupancy, so adding more humans to the same room changes pricing – even those under a certain age. On some sailings, they'll have a 3rd and 4th person free promotion where guests 3 and 4 in the same cabin are only charged port fees, taxes and gratuities. It still adds up to a couple hundred dollars per person, and the option isn't included in the cheapest Sail-Away rate, but it's still better than other lines that tend to offer something like 50% off full fare for extra guests. NCL also doesn't charge the per-day gratuity for kids under 3.
My experience is that the free extra guests option can disappear or turn into a less-enticing "guests 3 and 4 sail for $99US each" promotion. This takes effect the closer you get to the sailing date, or if the cruise is selling well. In the Find a Cruise search, you'll want to choose More Filters > Free Kids.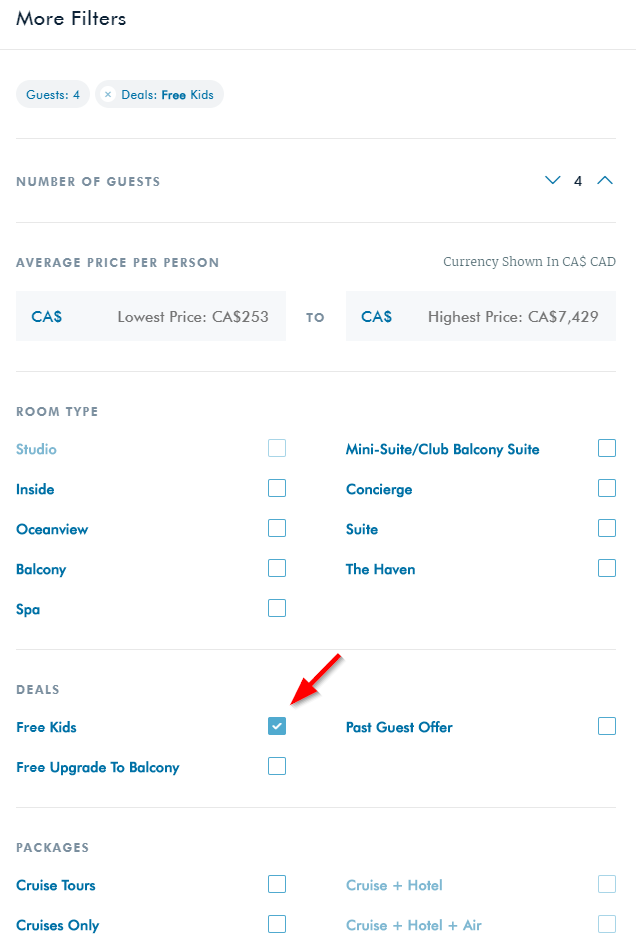 If you see something you like, put down a deposit! I have watched at least two sailings where the option goes away without notice. With the ships, routes and times we like to sail, not having this promotion would make the vacation at least another $2500CAD more expensive.
There's yet another wrinkle with this deal: the free extra guests offer takes up one of your Free at Sea choices. On Bliss, we took an Inside cabin which came with one option (we picked the drink package, despite Kayla not being able to use its set of alcoholic options at the time.) If we were to book another Inside with our girls and take the Free Kids selection, we'd have to pay the $99US/day/person Premium Beverage Package charge, for a bill of around $1800CAD total.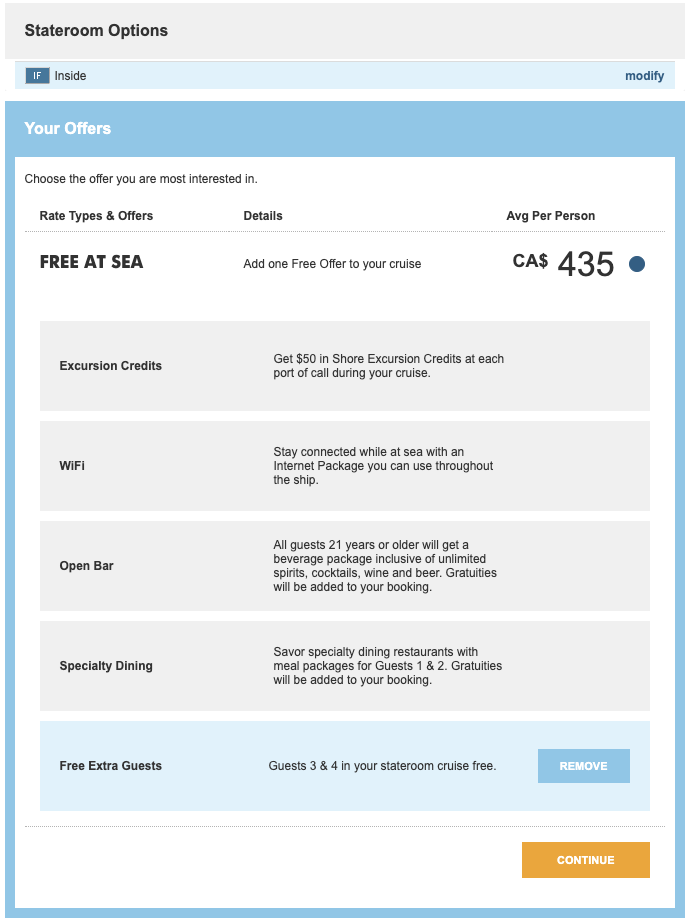 If you want the Open Bar, AKA Premium Beverage Package, formerly known as Ultimate Beverage Package, this means that you have to start looking at Oceanview or higher stateroom categories that include two (or more) perks. Of course, the price jumps accordingly – in this example, by $1472CAD – because you're getting a better tier of room.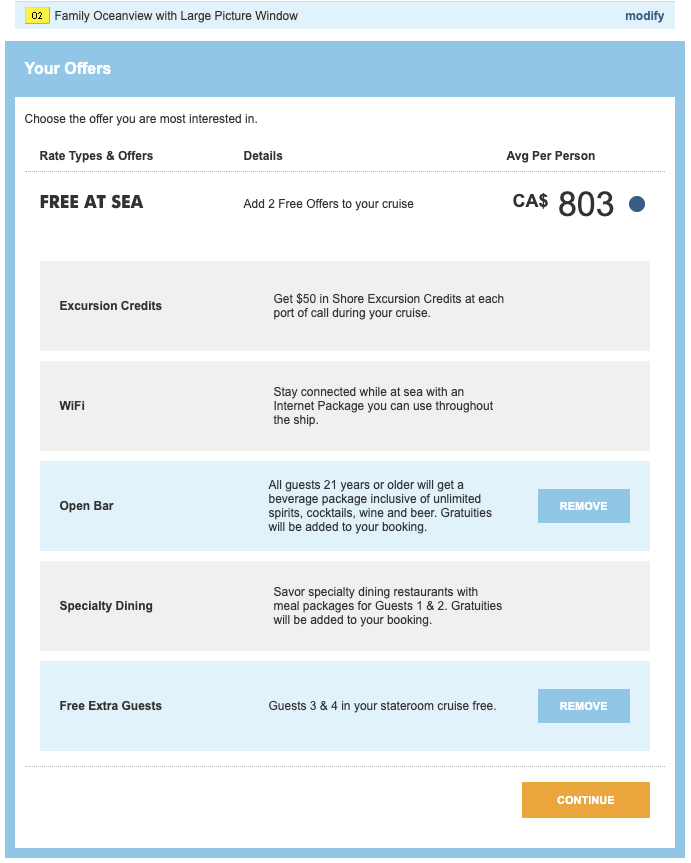 The final consideration is that the cheapest Oceanview cabin for 4 people may still be more expensive than a balcony cabin. Those typically include "all 4 perks", plus Free Kids. On the same sailing, the BF category ends up costing $668CAD less than the O2 – plus you get the dining plan, WiFi and $50/port NCL shore excursion credits that you wouldn't have received booking the Oceanview.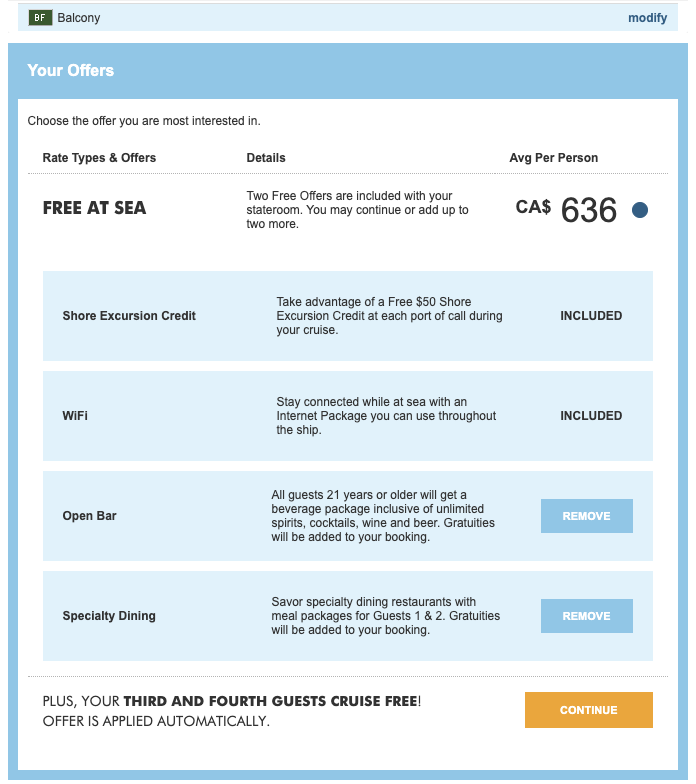 This doesn't take into account the increased gratuities on the dining package (which are fairly minimal), people who won't drink $26.50CAD/day of drinks (definitely not us) and if you must have an Inside cabin (dark cabins make for great sleep.)
For this sailing, we selected a B2 Family Balcony, cabin 9860. The same room has since been recategorized to a BD Balcony class. We picked it specifically because it didn't have a connecting door to another cabin, and also has an "angled" balcony with a bit more space.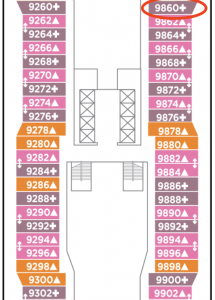 Since it was outside business hours, I booked cabin 9860 directly with NCL online, paid only the deposit, and then filled out the Reservation Transfer Request form (PDF). I then sent the form to dispatch@ncl.com and copied my usual travel agent. This cruise was booked over 120 days from sailing and didn't immediately require final payment; you can't transfer to an agent in that situation.
Learn from my mistake, though: when filling out the form, I provided the wrong agency phone number, using their 1-800 number rather than the direct line. This is apparently a key piece of information to identify the travel agency, and the form bounced back and forth a few times between my travel agent and NCL before the transfer was finalized. Whoever at Norwegian responds to your email also isn't necessarily aware of any previous discussion due to their ticketing system.
Flights to Florida
Our next consideration when booking a cruise for four is airfare. It doesn't matter if a cruise costs $99/person if the flights to and from the port are exorbitantly priced for that week. Driving to Miami from where we are in Ontario would take 23 hours straight, put 1500 miles (2400km) on the car each way, and at $2.311/gallon in the trusty Santa Fe Sport at 26mpg, cost $266US in gas round-trip. It also turns a 7-night cruise into a 10-11-12-day affair.
Our girls were eligible to fly as "lap infants" due to their age, but each airline has different policies about what that means in terms of total ticket price – whether it's taxes and fees only, fees plus a percentage of the full fare, or a supplemental charge.
I expect that after the girls turn 3 and we have to pay for each seat, we'll revisit driving to Florida. New York would be the cheapest option for us (both for flying and driving), but we've made the executive decision to only consider sailing from NYC in warmer months. In the winter, you lose two days of comfortable access to the outside decks.
Make sure you account for flight prices at a reasonable time of day. Miami in particular has some really late flights back to Toronto, which are of course much cheaper than the early afternoon routes and skew online pricing calculators. We've been bored in MIA all day before, and with two infants, that sounded like it'd be a much worse experience.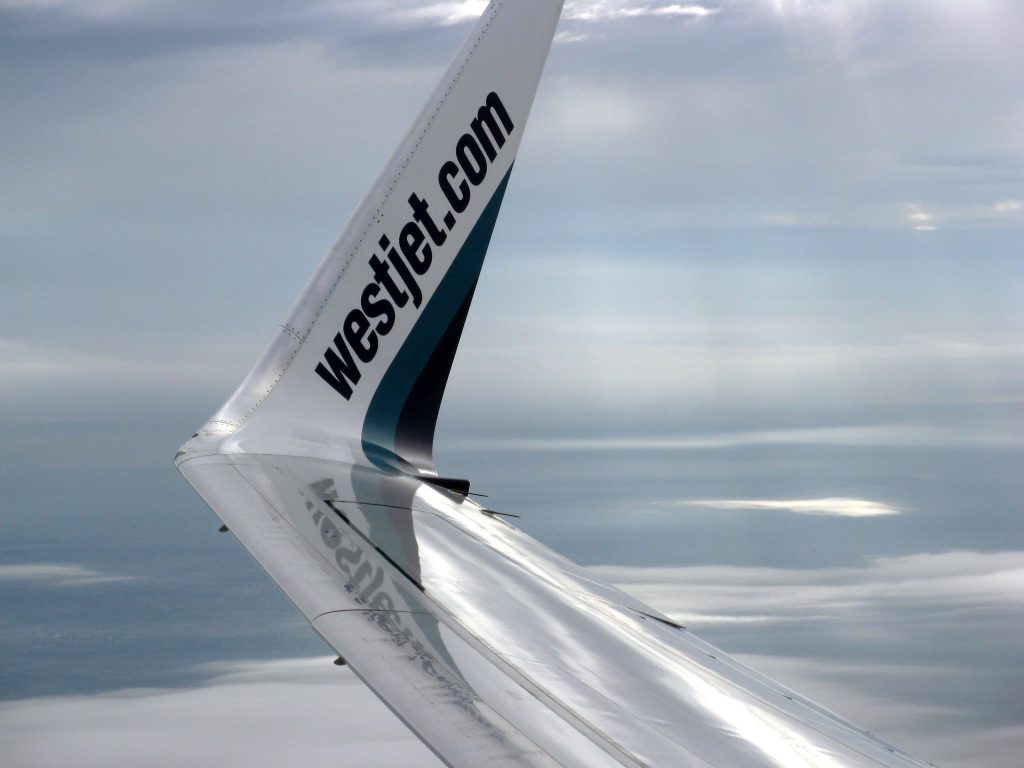 To make the cost go down a bit further, I signed up for the WestJet RBC World Elite MasterCard, which had a first-year-free promotion, $250 WestJet dollars and a status bump to Silver until the end of February 2020. I've also seen signup bonuses of $350 WestJet dollars, which may be a better bet in terms of pure monetary value.
The key perk of the $119CAD/year card was the yearly $99CAD (now $119CAD) round-trip companion voucher that works for any WestJet destination in Canada or the continental US. This suited us well; a $650CAD fare before taxes and fees suddenly became $99, and a lap infant is also able to travel with the companion voucher. Each infant was only $22.20CAD roundtrip in customs, immigration and APHIS fees.
When travelling with two lap infants on WestJet, you can't select seats in the same row all the way across the aircraft – eg: if you have booked seat 5A, 5B or 5C in a standard 3×3 configuration, the system will not permit you to pick seat 5D, 5E or 5F.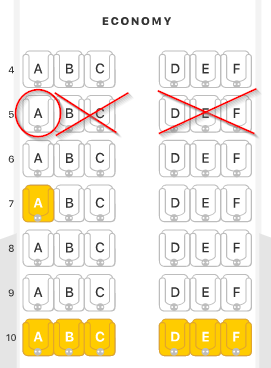 Even if you wanted to pick 5C and 5D to still be across the aisle from one another, no luck. WestJet notes that this is due to the number of oxygen masks in each row, but this doesn't entirely make sense given that there are four masks for each group of three seats. We ended up booking aisle seats 4D and 5D, immediately in front/behind the other.
In terms of getting to and from YYZ, I was able to locate a discount code to prebook the Value Park Garage (Viscount) at Pearson, which we used on our February 2019 trip as well. It is covered parking, and is connected to the terminal via train.
Getting to the port
Our goal for the port and hotel transportation was to avoid requiring a separate car seat for infants. With two of them (and the ones we have are quite heavy), we didn't want to check them for the flight and risk damage, then have to store them somewhere in our cabin on the cruise.
In Florida, car seat laws are in effect for children 5 and under. The interesting exemption is that a bus "used for the transportation of persons for compensation" appears to avoid this requirement. There is constant debate about the law online, rising to the level of people getting seriously nasty and accusing others of negligence. We made a personal decision that using bus transportation, with babies securely strapped into chest carriers, was satisfactory for our safety concerns. Again, this may influence future decisions to drive versus fly.
We booked the official NCL airport transportation for the first time, which uses full-size coach buses between the airport and the cruise terminal. I called Norwegian directly at 1-800-327-7030 to book this – it's possible to do online, but I wanted to confirm the requirements for the babies. The cost was $21.42CAD per person, each way between MIA and the port. The representative confirmed that lap infants did not need to pay for a separate seat, so this made the pricing much more reasonable.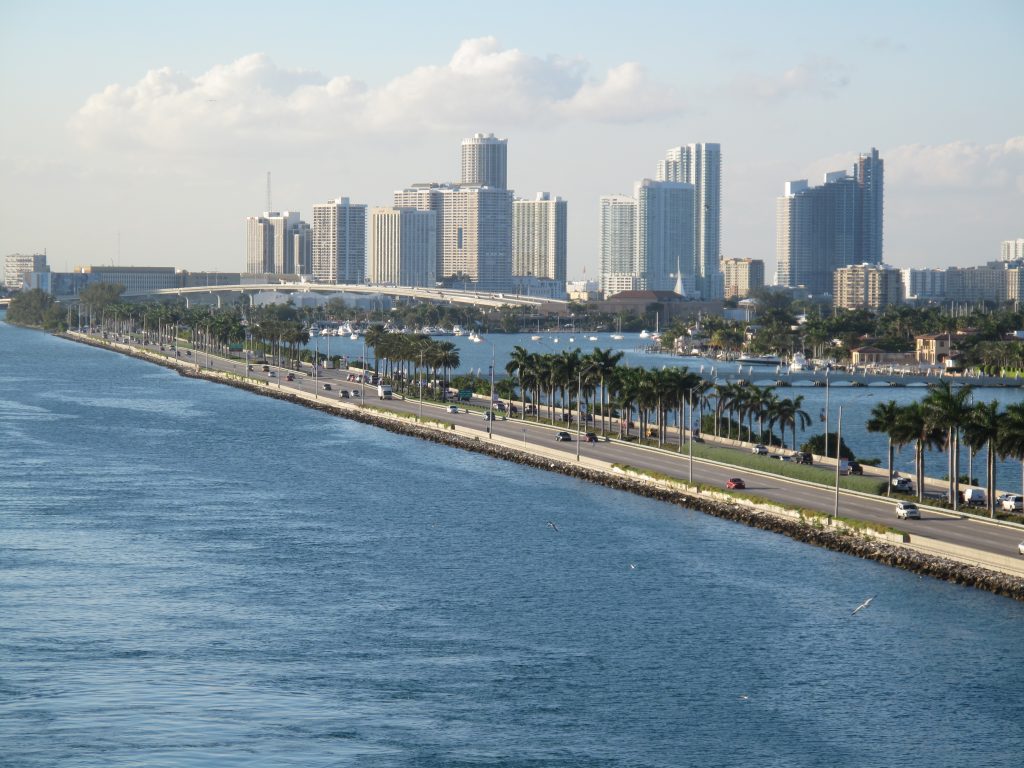 There is also a provision with airport transfers for people who fly in the day before the cruise, like us. At MIA, you return to the airport on the morning of the cruise, and there are NCL representatives at either Terminal J across from baggage carousel 6, or Terminal D, American Airlines baggage across from carousel 25. Buses depart from 10:30am onward. Not quite as early as I'd like, but it's still way better than an 11am or later port shuttle from the hotel.
Since we did fly in a day early, we chose to stay in a studio room with a king bed at Residence Inn Miami Airport in the Marriott airport complex. The complex also uses (very nice) buses to shuttle guests between the airport and hotels, not 12-passenger vans, and the distance is only two miles between airport and hotel.
Packing for four
We also needed to feed the babies and deal with their output. Our girls were on formula and not on solid food exclusively yet, which means we had to bring a week's worth of food and diapers for the ship (as well as whatever was required for the days of travel.)
WestJet Silver status was a good perk to have since we could check up to four suitcases at no additional cost. We decided to bring 80 diapers, with the idea that we would buy 80 more in Miami to save space in luggage on the flight south. For food, we brought 18 x 8oz (237mL) bottles of ready-to-drink formula, as well as eight pouches of powdered formula (496g) that could be mixed with water.
Because NCL restricts what type of liquids you can bring on ships, I'd emailed the Access Desk requesting an exemption for formula and purified water about three weeks prior to sailing, as well as a Pack and Play crib. I received a response in about two business days confirming that we were approved and that the crib had been ordered. We were also instructed to re-print eDocs as they now had a "liquid policy exemption" note and icon present.
I'm attaching a version of our packing list as reference. Some of the items later were adjusted, but this reflects what we thought we'd need beforehand.
One thing from the list we didn't actually bring were the umbrella strollers and carrying bag, though. Our girls didn't especially like sitting down for any period of time, we weren't planning on doing significant walking excursions, and they are still light enough that carrying them in a Baby Bjorn (my preferred option) or Baby K'Tan still made sense.
With all – well, most – items checked off the list, we woke up at 4:00am on January 24th to begin the start of our travels.
On the road and in the air
Officially, we were out of our house at 4:45am. With one stop for gas and an unanticipated circuit of the terminal, we arrived at the Value Park Garage an hour and ten minutes later.
There were some key differences from our last trip to the airport in February. With two suitcases and a backpack each, and babies strapped to us, it wouldn't have been easy to skip merrily down the stairs to the train. We located a luggage cart (free at Pearson due to CIBC sponsorship), entered the building and waited for an unoccupied elevator. This took a while since elevator cars already were at half capacity or more on arrival. It would have been impossible to fit our family and the cart inside with other people, and we only needed to descend one level. If you can park on Level 4 directly, try to do that.

Based on Google Maps Timeline, it took nearly 30 minutes to get out of the parking garage and take the train to the departures area of the terminal, which included a second elevator trip. Like a number of areas at Pearson, construction also contributes to this experience. I highly recommend building in additional time for additional luggage and small ones.
By the time our bags were being conveyed to depths unknown, it was 6:45am Eastern and we were ready for security. While Kayla and I both have our NEXUS cards, the babies hadn't yet gone through the "interview" process, so we went through the general line. Not much changed from the usual screening process, except a check of each liquid formula bottle with a special scanner.
To make this easier for everyone next time, we'll minimize the number of ready-to-feed bottles that we bring through security, and keep them out of backpacks. My logic was to split up powdered and liquid formula between checked bags and carry-on items, in order to have enough food for the flight. Only bringing a few bottles (or only the powder and mixing it after security) would have cut down on time spent here.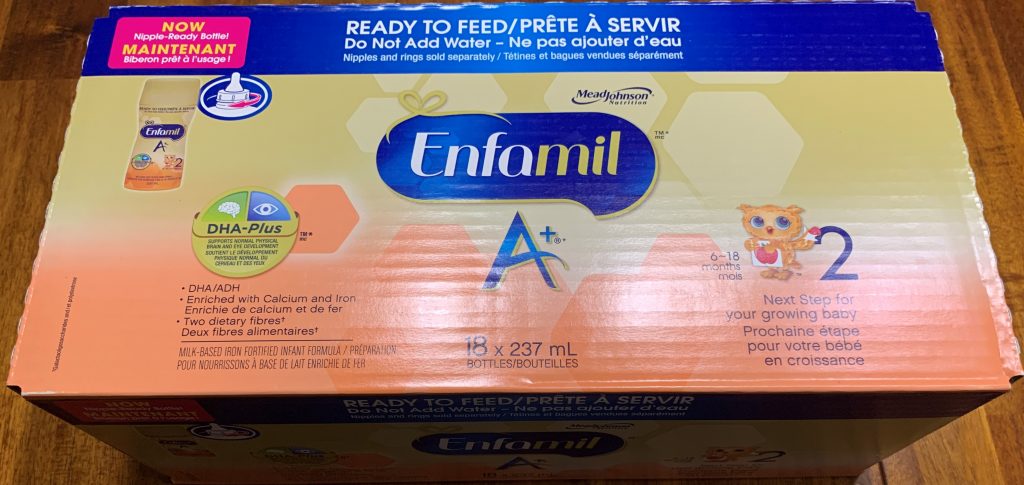 Our next stop was at US Preclearance, where again we went into the standard line and showed our faces and passports to the kiosk. It was a bit difficult to get the baby photos correct, since only one person is supposed to appear in the frame fairly quickly after the appropriate passport is scanned. We also had to select the "yes" option when asked if we were bringing dairy products, since formula technically counts as dairy based on its ingredients.
Whether it was the dairy question or the face-scanning that did it, all of our customs receipts were marked with an "X". We were directed to the right side of the room to wait in a longer line. The babies were still fairly content at this point, and I'd estimate the wait to reach an agent was about 20 to 25 minutes. Our actual Customs/Immigration interaction was entirely straightforward and we were allowed to proceed swiftly.
We always seem to get directed to the A17-A20 gates for our flights out of Pearson, which are also designated B17-B20 if there are a smaller number of US-bound flights that day. This area, though, is perpetually under construction. Thankfully, there is a family/special assistance washroom with a change table near gate A13.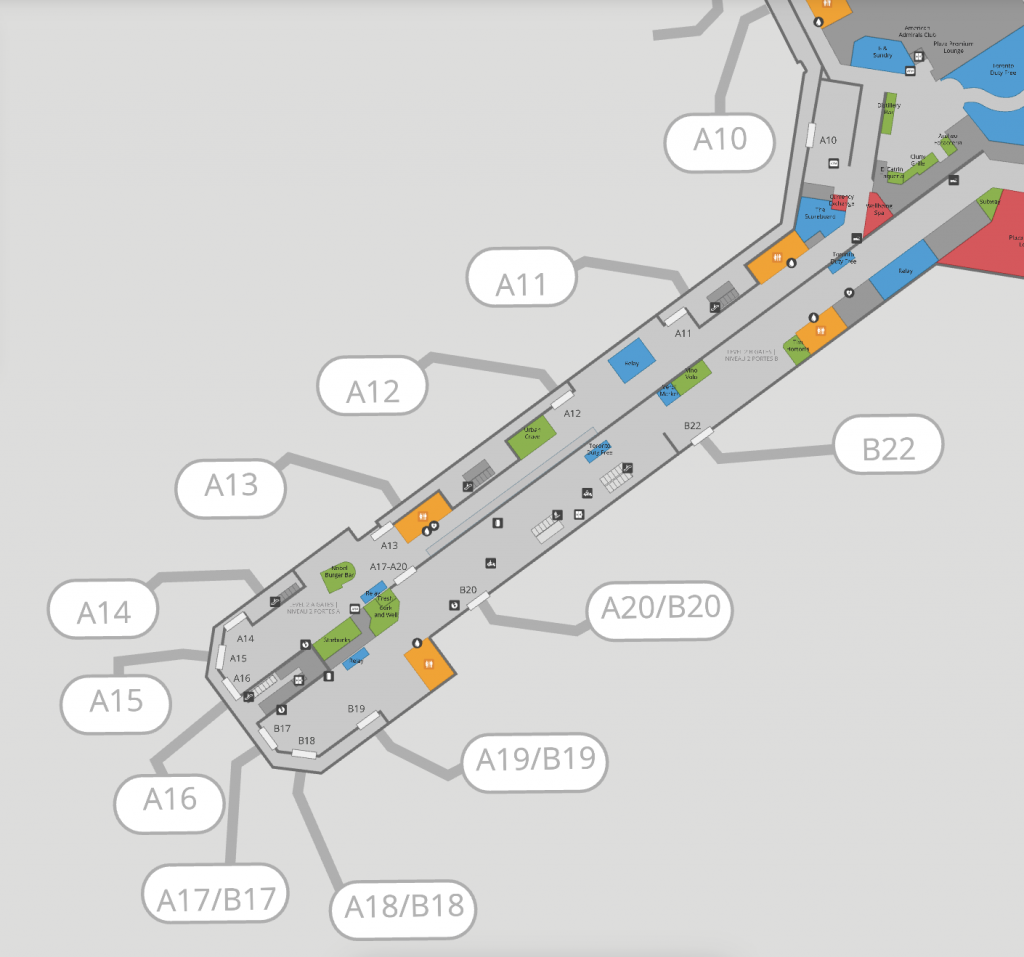 Once everyone's bathroom needs were addressed, we parked ourselves near the gate and it wasn't long before boarding started. We were given an infant-specific safety briefing by one of the flight attendants. This mainly focused on where to find the change table (only the bathroom at the back has one) and infant lifejackets (at the front of the plane.)
Babies also can't be in a carrier during takeoff, landing and severe turbulence, even though I contend that an infant strapped into a Baby Björn is probably more secure than trying to hold onto a wiggly weasel. Regardless, we didn't have to take the whole carrier apparatus off, but just ensure that the infant was out of it for these periods of flight.
The flight was 3 hours, 9 minutes total and we were lucky enough to get about two hours of sleep from both babies, with only the occasional squeaky noise. With lap (or really, chest) infants, the carrier and the body heat from another human is considerable. Dress accordingly for the plane – I always find it to be too hot, anyway.
Hotel and provisions
After baggage claim in MIA, you don't need to change levels to get to the airport shuttle area. Hotel shuttles can only pick up at certain spots, so we exited at door 20, crossed the road and went to the right slightly. There is a pickup area that we missed looking to the left. To save yourselves some grief, MIA published a hotel shuttle bus zone map as of December 11, 2019:
We took the shuttle bus to the Residence Inn Miami Airport, and got settled into our room. After asking at the front desk, we had two Pack and Play style cribs delivered at no extra charge. I went out to locate some lunch. Besides the in-complex sports bar and restaurant, staff suggested La Granga – close to the security booth at the parking lot entrance. I had the steak platter and Kayla had the boneless chicken breast. Both meals were served with rice, beans, bananas and a can of pop. It was a quick, decent and inexpensive meal, and will definitely be a future choice of mine when staying in the area.
The next critical task was to make sure we had sufficient diapers and formula for the cruise, since formula isn't available from the onboard shops and diapers are quite expensive even when pre-ordered through NCL (size 4 Huggies, as an example, are sold in a pack of 31 for $32CAD, or about $1 each.) You'd pay closer to $0.21CAD/diaper through an Amazon Prime subscription.
First, though, I had to address the aftermath of the TSA "inspection" of a bag of powdered formula. Despite enclosing the formula packets in standard grocery bags, they'd opened a packet and some of the powder got on to my shorts and jeans, as well as in the bottom of the suitcase. It's hard to blame them; there were seven foil bags filled with slightly off-white powder. Not a big deal for me, but if you bring fancy attire, put it in its own bag separate from your suspicious shiny bundles.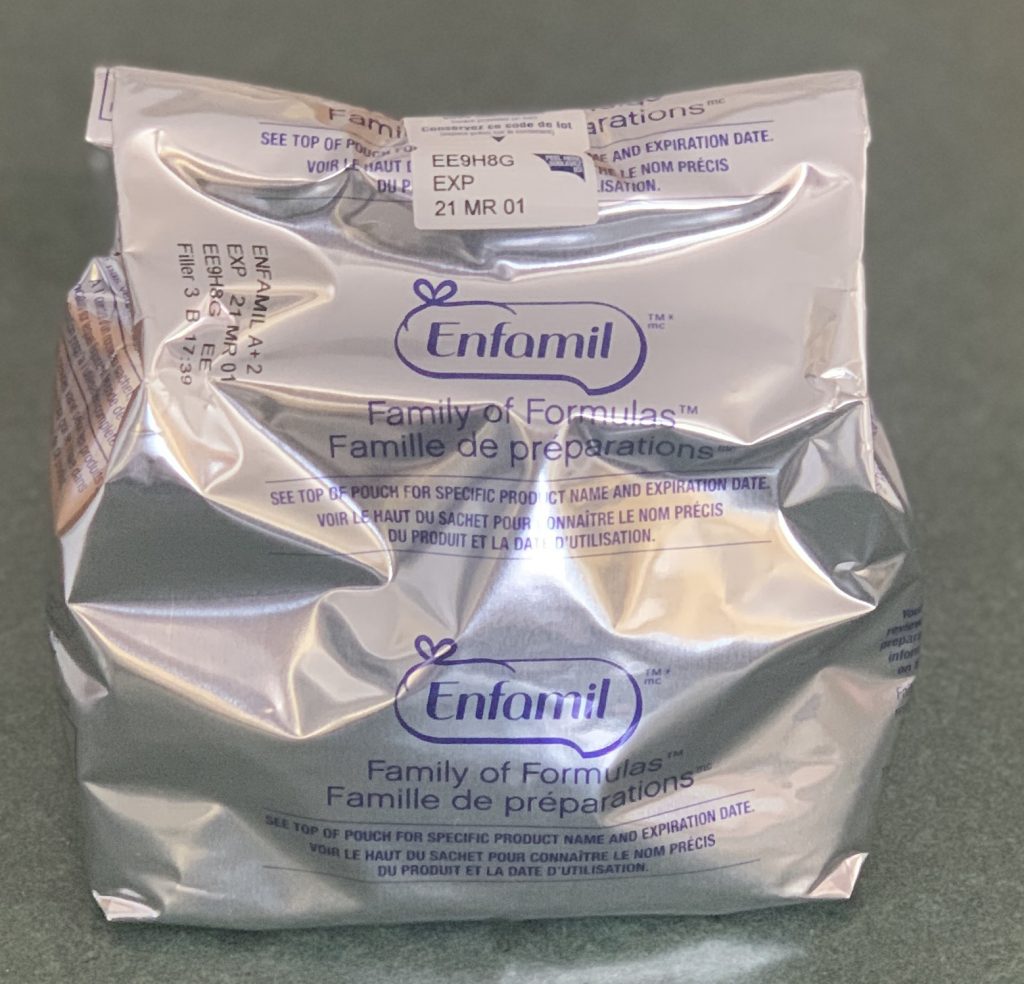 I walked a slightly longer route via South LeJeune Road/NW 7th Street to the Central Shopping Plaza, which was once home to a fairly substantial Kmart. That's been closed for a while now, but it would be interesting to see in an urban exploration video. The remaining tenants in the plaza include a grocery store (Fresco y Más), Walgreens, and a collection of other discount shops and fast food.
Fresco y Más is probably most comparable to the Freshco or No Frills grocery stores you might see in southwestern Ontario. Signage inside the store was written in both Spanish and English, which was beneficial for someone like me with serious monolingual limitations.
Diapers and ready-to-eat formula options were notably more expensive compared to home. Enfamil formula (with slightly different branding for the US market) was available, but only in packages of 6 bottles rather than a bulk 18-bottle case. Pampers Swaddlers were also available, but at $26US for a pack of 66. That comes out to around $0.52/diaper – double the cost from Amazon but half of what it'd be on the ship. The Walgreens next door had similar prices.
Unlike our last cruise, where a gigantic Walmart was within walking distance, the downside to the Marriott complex is that the surrounding grocery options are a bit limited. The pricing that I've seen online for the Walmart Doral mega-complex is somewhat better, so proximity to The Big W, "additional checked bag on flight with cheaper items from Amazon" and "pay more for items in the States" all may enter into your financial and logistical planning. Maybe if you timed it right, you could get a Walmart or Amazon delivery to your hotel, instead?
Dinner, drinks and displeased babies
After the events of the day, we had two babies who were now very clearly out of their element. They were fussy, had no interest in toys, didn't want to nap in the Pack and Play cribs, and only fared a bit better when lying beside us in bed. But the hotel and facilities were blissfully the same as they had been on our last visit, which meant easy access to food and drinks in the evening.
Eventually, the infants somewhat settled in bed beside my patient and accommodating wife with the lights out and the TV on to the soothing sounds of The Office. I made my way back over to the Cane Fire Grille in the "proper" Marriott building to partake in Happy Hour and get a bit of writing done.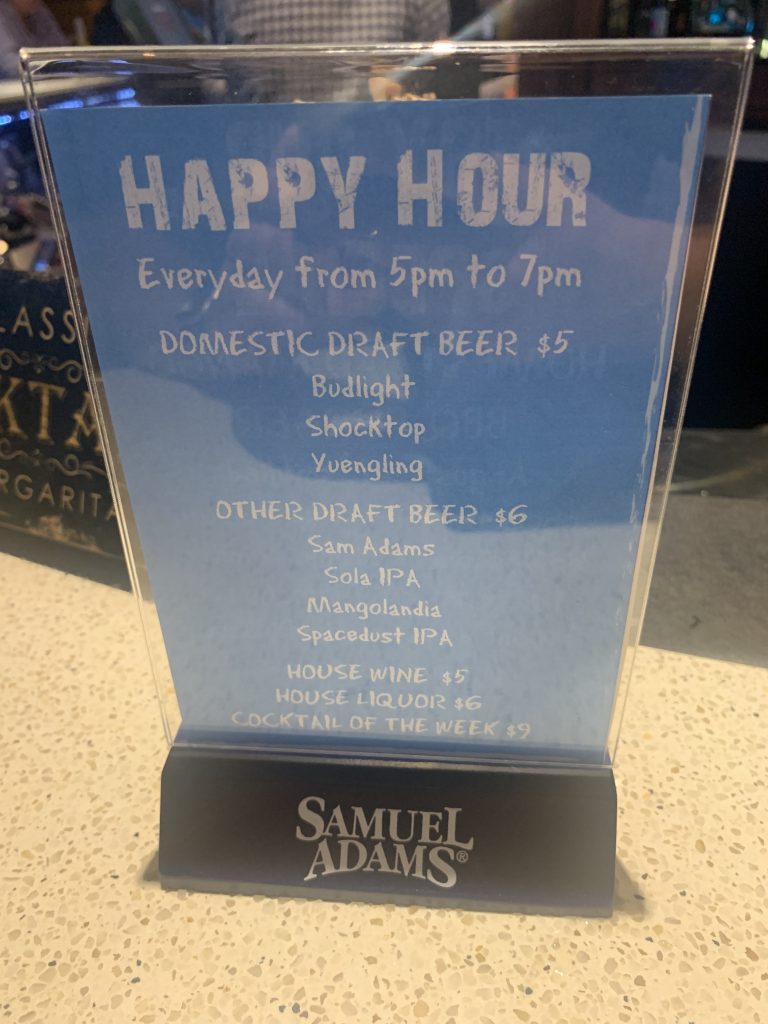 The draft beer list had expanded somewhat, with the removal of Stella but the addition of Sam Adams, Sola, Mangolandia and Spacedust. I started with my usual Shock Top, but moved to the the Mangolandia for my next pint and was entirely satisfied. It's a good option if you don't mind a bit of a fruitier beer.
After spending a bit more time with the family back in our room, I went back out over to Champions in the Courtyard building, and enjoyed a couple more Shock Tops, a Cuban sandwich, and then took back a club sandwich for Kayla.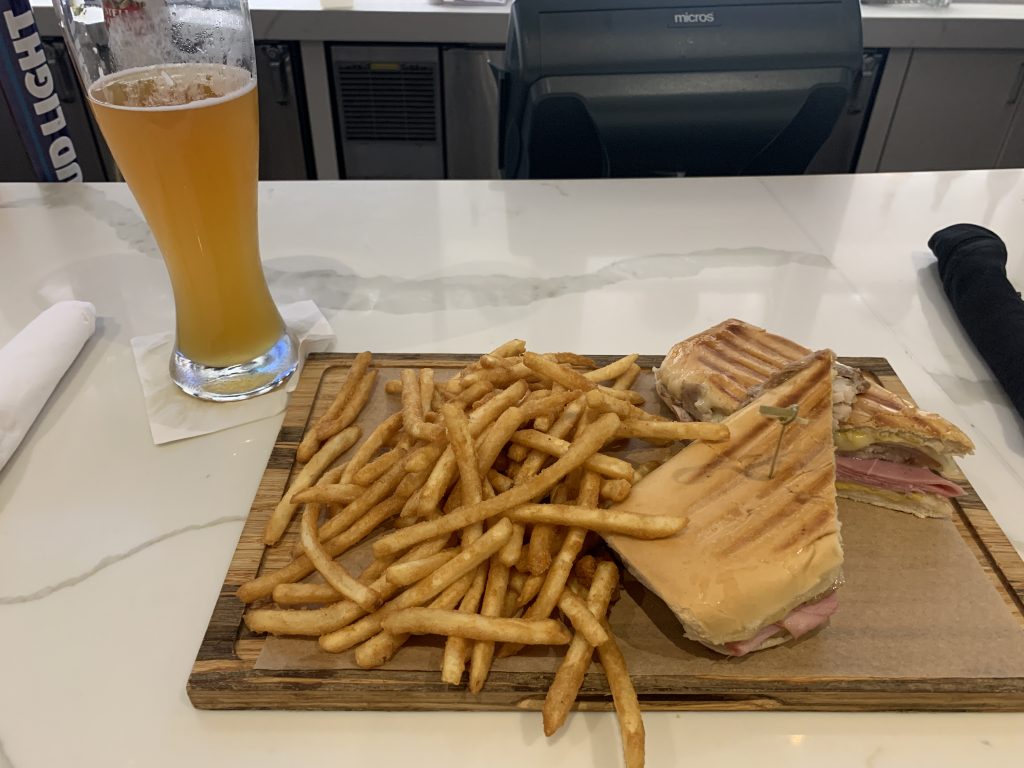 The first night in the hotel was a miserable experience for the girls. The long day, lack of consistent schedule and unfamiliar surroundings made for a situation where they were overtired, and they cried constantly when set down in their cribs. We tried our best to comfort them, and eventually were able to transfer them to the Pack and Play enclosures for part of the night.
This is something we really didn't consider as part of the travel planning experience. I suspect we were a bit naïve – as much as having two babies makes life a bit more complicated, we're generally very lucky when it comes to getting a full night's sleep. The Cruzely guide does emphasize this point as the worst part of cruising, but I think an additional warning is worthwhile: even if your child is a sound sleeper normally, travel and a new environment can certainly throw this off.
Return to the airport
The next morning, we made it to the complimentary breakfast around 9:30am (served until 10 on weekends) and were able to find a table in the main area. Shuttle frequency appeared to be about every 10-15 minutes, so we went back to the room, grabbed our bags and shortly after 10am boarded a shuttle back to MIA.
We chose to go to the American Airlines baggage claim (Terminal D, baggage carousel 25, door 2) rather than carousel 6 at international terminal J. I'm not sure if one of these options is a better choice, but I think we did pretty well with our selection. Upon entering the airport, the NCL shuttle desk was very clearly signed. We spoke to a representative right away, who asked us for our shuttle voucher. The voucher is just a block of text with passenger names in the eDocs printout, and they cut it out and take it as proof of payment.
Our eDocs had been printed as double-sided, so when the voucher section was cut out it also removed some content from the other side of the page. Thankfully it wasn't anything critical needed for check-in at the port later. Going forward, I'll make sure to print the documents as single-sided and continue to take two copies.
We then dropped off our three largest luggage pieces off on a cart. I also kept a carry-on sized suitcase containing formula and diapers – just in case our "checked" bags were lost in transit or in the bowels of the ship, and we suddenly had nothing to feed the babies. After having received many hastily-constructed flyers on the 3rd day of cruises advising that a passenger's suitcase was still missing, I didn't want to be without these critical items.
It was about 10 minutes before we were escorted to a different terminal and onto a motor coach. The driver stored my carry-on underneath the bus and then we were off only a minute or two after that, with seats being maybe 1/3rd to half-full.
To the gangway!
The coach pulled up to the port at 10:55am, close to the Terminal B entrance. It was the same boarding configuration as we had on Bliss in 2018. Passengers with cabins on an odd floor number were told to use Terminal B and those with even floor numbers had to walk over to Terminal C. I retrieved my essential carry-on, and proceeded to the security line to wait about another five minutes to get to the X-ray machine. We mentioned our liquid exemption and showed our documents to the security personnel, and moved right through without any further bag inspection.
Check-in took another 20 minutes. The line definitely wasn't the worst we've been in, but it was difficult to fill out the standard health questionnaire while shuffling towards the desks. The process continues to be slightly different every time we've sailed out of Miami. They'd returned to taking everyone's picture with a webcam instead of using passport photos. I also wasn't prompted for a credit card or currency conversion option, so whatever you've provided during the online check-in process is what they're going to go with by default.
By 11:25 we were on the gangway to the ship, no waiting or boarding group numbers – and ready to experience an entirely different type of cruising.
Up next: the actual cruise review
The next post in this series focuses on the ship, onboard experiences and what was different and challenging with two babies in tow. Feel free to comment below or shoot me an email if you have any further questions about the pre-boarding experience – or perhaps just want to commiserate about the state of the world and what that means for big ship vacations. Until I can cobble some more words together, stay safe and take care!