Continuing from the pre-travel planning post, let's talk about Escape and our experience onboard in January 2020. Here are the high level categories I'll cover:
Boarding and first tasks
Guppies Nursery
Muster drill
Sharing a cabin with infants
Food and drink
Great Stirrup Cay and Silver Cove
Venues and onboard activities
Escape vs. Bliss
Retrospective
Again, I'm writing more to preserve the good memories rather than offer specific advice for your next upcoming trip. With that out of the way, let's push forward!
Boarding and first tasks
There are some important tasks on the first day of any NCL cruise. If you absolutely must have a Vibe Beach Club pass, that would be Task #0. If you boarded when we did at 11:25, you'd already be too late. Show and dinner reservations can be limited (especially towards the end of the cruise), but we'd sorted these out online beforehand and didn't need to adjust any time slots. Escape doesn't have go-karts, laser tag or Galaxy Pavilion found on the newest ships, so reserving those attractions was not necessary.
As we entered on Deck 7, there was a significant line at the Box Office to our right, but there were also paper handouts available to reserve comedy shows and Supper Club. I tried to book a Choir of Man performance on a touchscreen, but all showtimes were "sold out". Choir of Man did open up more slots later in the cruise, so keep checking your TV and touchscreens after the first day or two.
We made our way down to Savor on Deck 6, and our appetizers were out at 11:47am. Great timing and another really positive Norwegian service experience. The room ready announcement was at 1:10pm. It was a relief to be able to drop off our bags and set the babies down for a few moments. There was no pack and play crib in the cabin, but we figured we'd get it sorted out with the room steward before bedtime.
After sorting through the pile of paper in the cabin, changing babies and taking a couple minutes to relax, we headed out again to take care of the remaining Day 1 tasks. Our first mission was to drop off our shore excursion form. We wanted to book clamshells for both Great Stirrup Cay and Harvest Caye, and you can't pre-book these on the web.
It was about 2:15pm and the line for the Shore Excursions desk was substantial. We managed to push through the crowd of people and drop our completed form in the deposit box. Do your research online beforehand and avoid the masses.
Our next venture was down to Deck 5, to:
Guppies Nursery
Escape is the only ship in the NCL fleet that offers a (paid) babysitting service for kids at least 6 months and up to 3 years old. While we were apprehensive about using it, we figured we'd register the girls, check out the facility, and have the option available. There were also times where you could attend free of charge if you stayed with your children, either for open play or hosted activities.
The nursery has several rooms, and the attendants told us they do their best to put kids in the same age range together and in rooms with suitable activities. The space was bright, looked safe (wall and floor padding, in good condition) and had a large variety of books and toys. They also gave us programs indicating what time the activities occurred.
Unlike other children's programs that we've seen on ships, they didn't make our kids wear foot or wrist bands for the duration of the voyage. That might have just been due to their age, or a difference between Guppies and full-fledged Splash Academy programs.
If you're considering this program, get the nursery schedule right away once on board. Based on babysitting or activity times, adjust your specialty dinner or show reservations to line up with when childcare is available. Usually the show performances overlapped nicely with the timeslots, but you definitely want to be out of your seat and walking down to Deck 5 as soon as the applause starts – lest you incur a $1-per-minute-per-child late fee.
We did use the Guppies Nursery service on the last night of the cruise and took the opportunity to attend a showing of Choir of Man. Both of us were still uneasy about the childcare situation, which made it hard to pay full attention to the show. Unfortunately both girls were quite upset when we went to collect them. The staff do provide a written report, including details on if they napped, took bottles or had a diaper change. It looked like things had gone well initially, but they became distraught after waking up from a nap close to the end of the session.
I certainly don't think anything went wrong – more likely, waking up in a strange place caused the confusion and resulting distress. I think we'd try Guppies Nursery again in similar circumstances, knowing that it is a somewhat expensive option to use ($20US for the 1h50m block for Child 1, $16US for Child 2, and the staff do expect a gratuity as well.) It might be worthwhile to try and time your session for after your kids have woken up from a nap – there are so many activities available and the staff really seem to want to interact with the children.
Muster drill
After we registered at Splash Academy, I took a brief detour to District Brew House, and the muster drill happened around 3:30pm. Our station was E, located in Taste and Savor. We ended up being able to sit at a table. As we had babies attached to us, it was a pleasant change from being packed into Malting's with standing room only.
Muster stations appear to be set by vertical fire zones, so if you have a forward cabin you're likely assigned to the theatre. Mid-ship cabins, depending on how high your deck is, would put you in the venues underneath like the Atrium or casino. I don't think I'd go as far as to select one cabin over another based on the location of a 15-30 minute drill on Day 1, but if all other things were equal, it could be another variable in your cabin selection equation.
For this sailing, assembly stations were:
A: Escape Theatre
B: O'Sheehan's Bar & Grill
C: Atrium/Guest Services
D: Casino
E: Taste & Savor
F: Manhattan Room
The drill started late but went quickly, and we were out of the restaurant slightly before 4pm. After the pandemic-related events of 2020, perhaps this will be one of the last in-person muster drills to happen as cruise lines migrate this process to a mobile app or stateroom TVs.
Sharing a cabin with infants
Pack and Play arrangement
We met our room steward Uriel as we returned from dinner. He was excited to see the girls and accommodated our special requests. Besides asking him to empty the mini-fridge so we'd have room to store bottles of formula, sleeping arrangements were key. He called his supervisor Rigoberto – who was also highly professional and accommodating – and arranged to have the bench/sofa bed removed to give more room for the pack and play crib.
Balcony cabins on Escape (and other Breakaway-class ships) come in two main configurations. Our room 9860 was the style where the bed is closest to the balcony, and the bench is closer to the door, so we hope it was straightforward for the housekeeping staff to remove and replace. This is certainly an exceptional request, and your mileage may vary asking for it, but certainly gave us more room in the cabin. When the girls can sleep either on a sofa or Pullman bed, this problem goes away.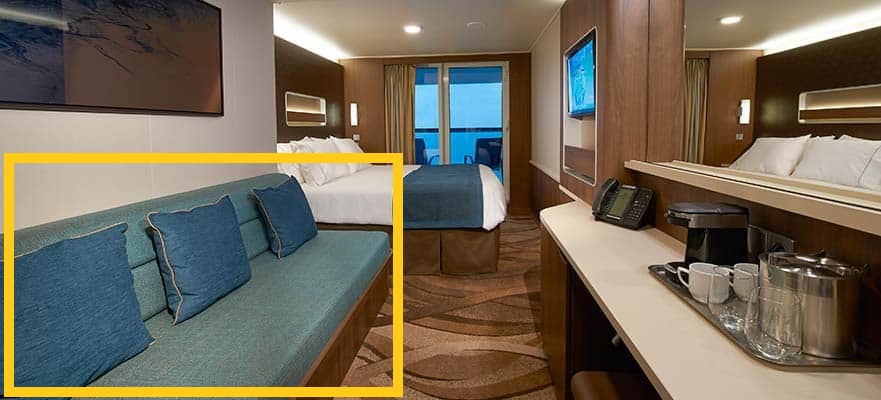 Since the cribs are stored up five decks on Deck 14 and Uriel was in the middle of turn-down service, we decided to go back out while he finished his rounds. We made our way to a bench and set of chairs on the Waterfront, a little way down from 5 O'Clock Somewhere bar. There weren't many people out, so we put some chairs together, let the babies play, and had a margarita or two. We stayed out there for about an hour until they started to get sleepy.
Back in the room, the bench had been removed and a Pack and Play crib was in its place. We added our own sheet to the bottom (27″ x 39″ x 4″; here's the Amazon.ca link for the set of 3 we bought) and set both babies into it. At home there are separate beds; here Baby A kicked baby B, and vice versa. Nobody was comfortable that night.
The next day we called housekeeping for a second Pack and Play. With the bench out of the cabin, there was enough room for two of the cribs along the same wall. The separate cribs allowed everyone to get some sleep that night, but at 5:30am we had one kid who was not at all happy to be in an unfamiliar bed. Being hyper-conscious of being in a cabin with thin walls, we tried our best to calm her down as quickly as possible. Eventually our little screamapillar did settle down enough to go back to sleep for a couple more hours.
Sub-optimal sleeping situation
Fundamentally, the cabin had too many changes from what was normal. At home, the girls both sleep in a bedroom down the hall from ours, and in the same stateroom they could easily hear noises from late-night movies or flushing of the marine toilet. This limited post-dinner cabin activities to quietly reading or poking at one's cell phone or tablet. Even then, the reading light or Kindle screen was distracting enough and caused serious FOMO, followed by upset cries from the young ones.
Another difference was that we'd brought travel substitutions for soothers, bottle nipples and stuffed toys. We didn't want to bring (and risk misplacing) their favourites, but the babies were unimpressed with the options we'd brought along and expressed their displeasure vocally as well as by impressively yeeting toys into the opposing Pack and Play. Lessons learned:
Buy duplicates (quadruplicates, if you have twins) of baby accessories.
Choose easily obtainable brands. We're fans of the Philips Avent series, which can often be next-day shipped from Amazon or found at retail.
Don't let the stuffed toys and soothers leave the sleeping area to reduce the risk of a missing "lovey".
As the cruise went on, mornings got slightly better. Despite an earlier wake-up time than normal, the situation was more typical sadness which could be resolved by the checklist of "diaper, food, comfort" and less uncontrollable banshee wailing. By Day 6, we'd started to get into a better schedule that was closer to home, and consistently made it to breakfast in the Garden Cafe.
I also began taking whichever baby was noisier on a walk to the top decks of the ship, which let us get some fresh air and hopefully permit any adjacent neighbours to get back to sleep. Crying stopped almost instantly once we left the cabin, because there's just so much to look at. We did run into folks from the cabin next door who claimed they hadn't heard anything, but that may have been unnecessary politeness or related to a giant chunk of fire/HVAC/network equipment in between the cabins.
Food and drink
Main Dining Room – Lunch
This cruise featured the same lunch menu as our December 2018 Bliss sailing. Chicken nachos, tuna salad sandwich, stuffed potato skins, and shrimp arrabiata pasta were all available and in their expected places. Apparently Encore and some other ships in the fleet have a newer, slightly modified, more controversial lunch menu, but it hadn't made its way to Escape on our sailing.
Commentators online say that the Encore menu adjustment is a cost-cutting measure, but I don't know that it goes as far as to constitute a "war on seafood." (A snark from the CruiseCritic boards is that NCL stands for No Complimentary Lobster, which is not inaccurate if you look at pricing for the specialty restaurants.)
Regardless, we had no complaints with our food selections. On embarkation day, I started with the popcorn shrimp, then went for the tuna sandwich as my main course.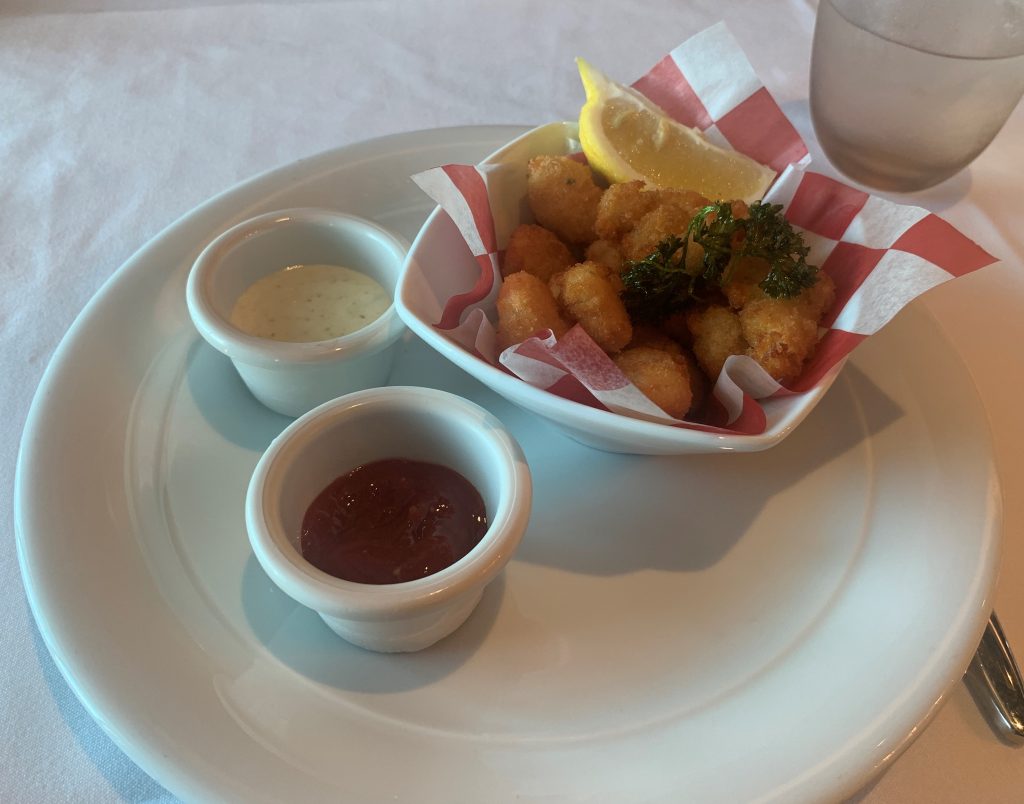 District Brew House
Before the muster drill, I made my way to District Brew House, which has been my favourite place on any Norwegian ship since we first discovered the venue on Bliss. I had a Pop's Porter from the draft menu. Since we hadn't actually departed Miami, my $9US beer was free with the beverage package but 8% Florida tax came to 72 American cents on the cabin bill. Before service stopped at 3pm, I also ordered a bottle of Lagunitas Little Sumpin' Sumpin' and took it back to the cabin for Kayla.
They were out of the Milk Stout this sailing, so I learned the way to tell if a draft is unavailable and avoid disappointment and constantly badgering the bartender (at least while the bar is open) was to look for a blue plug at the end of the tap.
District Brew House was also fairly quiet in the afternoons later on the cruise, with Rafael as a highly competent and quick bartender. A superb practice I noticed in his work is that when changing tasks, he would wash his hands surgeon-style – for an appropriate amount of time and with great technique. Some other cruisers would do very well to follow his example.
Main Dining Room – Dinner
We chose to eat at Savor on a number of evenings. Our service was consistently outstanding! On the first night our waiter and assistant maitre'd worked closely together, and brought out portions of mashed potatoes and pureed carrots for our daughters. They also brought over high chairs and some pillows to better prop up the little ones. It ended up being messy but the babies definitely enjoyed the new taste sensations.
As for myself, I had the veal bratwurst and sauerkraut, which also came with warm potato salad. Everything was very tasty but not as filling as I'd hoped. I definitely could have asked for a second helping or another entree, but the prime rib special at O'Sheehan's looked like a good option later in the evening. A two-part dinner is the perfect way to start a week of overeating.
On another evening, we didn't want to start the circus of a sit-down meal with the babies. I went down first to take a photo of the MDR menu, came back to the cabin to get her order, then returned to Savor to eat my own dinner and get Kayla's to go. The dining room hostess said that there was a 15 minute wait for a table, which I was fine with. They were offering larger groups the opportunity to share tables for a quicker entry as well.
The wait was just under 15 minutes, as we've usually experienced on NCL, and I was seated at a table with a glass of wine by 8:05pm. Richard was my waiter that evening, and he was happy to take a second dinner order to go. Service was prompt, the food was good and the only thing that could have made it better was if our children had been in a better mood and willing to sit through the meal. Hard to blame the cruise line for that though!
Here's another set of MDR menus and the Asian Spareribs with Vegetable Summer Roll from Day 3:
Garden Cafe – Dinner, Lunch and Breakfast
On Day 2 (Great Stirrup Cay) I went to the Garden Cafe on Deck 16 around 5:50pm to see what was available. I was surprised to find that only about half the buffet stations were open, and the food selection didn't seem like a full dinner menu. It also wasn't very busy, so maybe the timing combined with the lack of guests meant that things weren't in full swing.
The Freestyle Daily said it was Country Western night, but I saw only one section running to support that theme. We ended up with a limited selection of meat, cheese and pretzel sticks, and would need a more conventional dinner later on.
Throughout the cruise we also had a few takeaway plates of lunch and snacks from Garden Cafe, generally eating them outside on the pool deck, but I don't have anything noteworthy to report on that front. Hot dogs and fries were up to their usual standard, the Indian and pizza options were decent, and the lines (despite the high ship occupancy) moved quickly.
Breakfast, especially with two babies in tow, was where both the service and flexibility of the buffet setup shone. We got a nice table by an aft-facing window and had some success with the baby cereal we'd brought from home, combined with yogurt and fruit from the buffet. There were also regular visits from both servers and white-uniformed staff asking if they could help move chairs around, clear dishes, bring us coffee or assist with anything.
O'Sheehan's
On the first evening, my last stop of the night before heading back to the cabin was at O'Sheehan's for the prime rib special, accompanied by a Strongbow. I give the beef a solid B+; the jus was excellent but the cut was much thinner than what I've had before on Norwegian ships, and certainly doesn't stand up to The Keg's offering.
The included vegetables were also pretty average (although they're mostly decorative for me.) If this had been my main dinner I'd definitely have wanted a couple appetizers as well.
The O'Sheehan's bar was open on port days after about 10:30am, but definitely not busy at that time. As for the restaurant, it was in a constant state of occupancy.
Probably the most interesting addition to the bar menu from our previous cruises was Bubly sparkling water. We're regular consumers of the lime and grapefruit variants at home, but the mango was a nice option that met with Kayla's seal of approval. It is included in the regular "Premium Beverage Package" but despite not coming from the soda gun, bartenders won't give you the whole can – someone, somewhere decreed that it must be poured into a glass.
5 O'Clock Somewhere Bar
On the second evening, I was able to get a prime seat at the 5 O'Clock Somewhere bar around 10pm and enjoy a couple Uptown Top Shelf margaritas before returning to bed.
Main Dining Room – Breakfast
We attempted a full-service breakfast one morning. I had some bacon and corned beef hash.
The logistics with the children made it difficult to appreciate this type of sit-down meal in the morning – despite the graciousness of the neighbouring diners and assistance from waiters, we ended up shifting future breakfast trips to the buffet.
Somewhat tepid Teppanyaki
Our reservation for Teppanyaki was on Day 4 for 6:15pm, which we thought would be right in line with the energy level of the girls at that point in the day. There wouldn't be much for them to try eating, but we thought they'd enjoy the hibachi chef performance. We arrived on time and were shown to our seats.
At 6:30 a manager came by and gave us some bad news: the other large reservation scheduled to be at our table had not shown up. The chef could come out and do the cooking and performance for just us, or if we wouldn't mind waiting until 7pm there would be a larger group. Since a big part of the show is the chef interacting with the crowd, if we were OK with a later start time, then we might get a better show and he'd get us a bottle of wine for the inconvenience.
We took the 7pm option, since the babies weren't grumpy and we thought it might have been weird if the four of us occupied a table for 12. We milled around the art gallery and got drinks at Mixx before returning for 7 (meaning the chef shows up at 7:15pm.) The table filled up quickly this time and the show began.
While our drink and appetizer service was good, I'd consider our particular chef's performance below average. He wasn't as energetic or engaging as some of the other tables and didn't sing as many songs.
There was also a foul-up in terms of the main course. I'd ordered the classic seafood (shrimp, scallops and calamari) while most other people at the table chose the "Asuka" (filet mignon and shrimp.) During the serving process, the last portion of steak intended for someone else ended up on my plate. Normally I'd be OK with extra food, especially nicely cooked beef, but I felt bad for the person who had to wait for a new filet to be cooked.
My actual meal was flavorful, but having the babies made it difficult to enjoy the experience. The later dinner time eventually caught up with everyone. Because they didn't sit in high chairs very well, having a baby on one's lap or front-facing carrier meant that it was more difficult to reach the food. I also felt like I reached a state of "full" earlier and didn't get to enjoy each course.
I'd suggest not doing this venue until children are old enough to sit on chairs themselves (maybe with a booster seat) and eat with only minor assistance.
Cagney's
Our second specialty dining package meal occurred at Cagney's. I'd read complaints on the CruiseCritic boards about changes at the venue – higher priced items, decreased steak quality, and poor and lengthy service. While there were definitely some upcharge items on the menu with a supplement over and above the Ultimate Dining Package, the food quality and service was great. Wine refills were fast and generous and my NY Strip steak came out at a perfect medium-rare.
For science (and this review), I did order the Black Tiger Shrimp Trio as my appetizer to see if the $5 upcharge was worthwhile. They were quite good, but the additional 20% auto-gratuity makes it a $6 item. At effectively $2US per shrimp, Kayla thought I was ridiculous, and I feel only a little ridiculous after the fact given that ahi tuna tartare and thick cut bacon were also available as included UDP options.
I do like shrimp, though, so on our next cruise I'll be sure to try the "default" shrimp cocktail and come back to compare.
The other high compliment I have is that the Caesar salad dressing was both bountiful and delicious. Kayla said that it was the same dressing across all venues, but during our meal at Cagney's it really stood out.
Atrium Bar
I took some photos of the bar menus. It looks like they'd been revised recently since the one at our table had a couple "Topmast Libations" that were different from the menu at the bar. The first couple of pages had the footer "38573 Fleet Generic Bar Menu Update R8 12/18", and the last few had "40570 – Fleet Generic Bar Menu 9/19", so it looks like perhaps some sections hadn't been replaced with the September 2019 version.
Bayamo
Bayamo is the seafood premium restaurant, also known as Ocean Blue on other ships. This is the only specialty dinner at which the babies were thoroughly pleasant and we really enjoyed the experience. It's a shame it only took most of the cruise for both them and us to get better acclimatized.
I can highly recommend the pan-seared scallops, and the seafood linguini was a decent main course. While I don't have names for any of our servers – really, a failing in my review notes – the attention, personal touch and friendliness from everyone during this meal would be hard to top from any land or sea-based restaurant.
Great Stirrup Cay and Silver Cove
Some backstory is needed to explain how Kayla, the girls and I ended up in the "super-swanky villa area" for our day at Great Stirrup Cay.
I'd offered to organize the Meet and Mingle event on our roll call thread. We had about 20 signups by late October, and I figured that would continue to grow slowly until sailing. A few people reached out to me and mentioned that there was a large group for this cruise on other social media, including events such as meetups, pub crawls and a slot pull.
CruiseCritic restrictively moderates their forums. They don't allow mentioning specific travel agencies, or permit travel agents or tour operators to directly offer services. Posts are quickly deleted if they go off-topic or turn nasty. The main restriction that trips many people up is their prohibition against Facebook for roll calls or coordinating onboard events.
The official reasons for these restrictions have to do with privacy and avoiding disruption, but it's arguably about locking people in to the CruiseCritic platform. Unfortunately this butts up against the way that people tend to use the Internet these days. For many, Facebook is the entire Internet – the place where they get all their messages and have conversations with friends (and strangers.) They're comfortable with using it, and image and video hosting is already built in and doesn't have arbitrary technical restrictions. There were nearly 400 people in the Facebook group for this sailing when the ship left Miami.
I reached out to the Facebook group administrator to see if he'd mind coordinating and cross-referencing our planned events without falling afoul of the forum rules. Kevin, who is also a CruiseCritic member, was a reasonable and friendly guy. He was happy to combine the Meet and Greet, and adjust the slot pull time. In our case, CruiseCritic received a number of new forum signups from this group, so all parties got what they were after here.
Kevin and I stayed in touch as the sail date approached, and he and his wife Mary Ellen offered to let our family come along as guests to their villa at Silver Cove. I was apprehensive at first, given that we'd be bringing babies along, but they seemed unconcerned. We'd already booked a clamshell anyway, in case plans didn't work out.
Hint of the Haven
We met up with Kevin outside the Haven entrance on Deck 17 just before 7am, and he let us into the complex. We went through the courtyard and ended up in his suite, which was definitely the largest cabin I've seen in person on any ship. It's listed at 1307 square feet with a 395 square foot balcony, and has a higher vantage point than the bridge.
(The Royal Loft Suite on Symphony of the Seas exceeds this level of extravagance, with two levels and 1744 interior square feet; and the Iconic Suite on Celebrity Edge is listed at 1892.)
Since this was the first time we'd met Kevin and Mary Ellen in person, we introduced ourselves over coffee while making sure the babies were fed. We also met Gil and Tammy – another couple sharing the villa for the day. When everyone had finished their caffeinated beverages and checked out the highly opulent cabin, a Haven concierge directed us down a crew elevator and right onto the tender boat over to the island.
Other side of the island
Silver Cove was entirely separated from the rest of the island. To get there, you first check in and get a "Villa Guest" wristband, then get on an off-road shuttle starting close to the "Tour Info" booth, which goes down a back road to get to area 17 (Silver Cove Reception) in the map above. Once you're in the complex, you can't feasibly reach the rest of the island without taking the shuttle back. I suppose you could walk along the road, but I have a feeling this would be discouraged by island staff.
After our hosts checked in at reception, we went further west towards the lagoon villas and were directed to 131 as our unit for the day. The villa itself was very well appointed, with plenty of seating in a living area and a full bathroom including shower. There are also one-bedroom and two-bedroom villas available for a higher price.
The prices you see online are typically ranges, which speaks to a tiered/dynamic pricing strategy. The studio unit we were in was listed in the shore excursions brochure at $499US, with the two-bedroom villa at $999US. Maybe the daily rate on shorter cruises or older ships would come in closer to the lower end of the range.
When we arrived at the unit about 8:20am, staff were milling around trying to get things set up. This was despite the first tenders starting at 7am, so we weren't on the island exceedingly early. Beach towels, drinks and other logistics were being handled by separate people. I think there's a distinction between crew who come over from the ship for the day, and those who stay on the island. The two teams don't seem to communicate effectively. Drink service was slow to start; I think we ordered six mimosas for the group and it was probably 20 minutes before the waiter returned with them. The wait was noticeable at least.
Another less-than-luxurious finding was the minimal amount of food available until 11:30am; there were chips, salsa and some fruit available, but certainly not in enough quantity for 6 people if you hadn't eaten breakfast. Admittedly you'd be in a similar situation on the main part of the island, but I'd have expected more snacks as part of the experience. You're paying for a premium product – shouldn't a villa operate more like the Haven butler service and have funeral sandwiches and gummy bears on tap?
Mid-morning tender
After alternating between the beach and the amenities of the villa, I headed back to the ship slightly before 11am to retrieve some additional baby supplies and a piece of photo ID for Kayla. While we all had ship cards, we'd been warned repeatedly that returning to the ship would require photo ID for anyone above 18. Since we'd left quickly that morning and were taken out of normal passenger corridors, she hadn't gotten to retrieve it, and nobody wanted to be stuck dealing with vessel or island security when we wanted to leave.
I was one of the last ones on the tender, and it arrived at the ship around 11:20 and took a few more minutes to disembark everyone. My trip back to the cabin, errands and return was brief, and I was back on the bottom deck of another tender by 11:35. Unfortunately, we didn't depart again until 12:05. I'm not sure if it's a capacity or time requirement when the boats move between the cruise ship and land, but if you want to maximize your time on the island, make sure you bring everything you need in the morning.
I dropped off the necessary supplies at the villa, and a kind staff member had already brought Kayla a plate of lunch – so the level of service had definitely improved. I wandered over to the Silver Cove Restaurant and procured an excellent feast – they made me fresh pizza and I also had a decent burger. The buffet area was also definitely cleaner than the main Jumbey Beach Grill had been last time in February 2019, with no noticeable swarms of houseflies, but that's the minimum I'd expect.
I did wander after lunch, and found a key point about Silver Cove: it was not complete. Going east from the Silver Cove Restaurant, the Ocean Villas were all fenced off so you couldn't even try to get closer to what was previously the westernmost accessible area on the island. The villa structures looked to be present, but seemed like concrete shells only. I didn't notice any glass or furniture either. Because the path was blocked off as well, I couldn't confirm or deny presence of the newly added food truck.
Last tender to get back to Escape was at 3:30, and we left the villa around 2pm. The line for the boat snaked outside the covered security area, ending near the first set of washrooms on the island, but I'd estimate we were really only in the sun for 10 minutes before things started to move. We picked seats on the bottom level, out of the heat and direct UV exposure, and were back at the ship by 3:15. Staff were not checking photo IDs, just ship cards, so I suspect that requirement is probably related to whatever MARSEC level is in place.
After the long day, the babies were especially miserable. They were briefly able to enjoy some beach toys, lying on a blanket on the balcony, but were overtired and only wanted to sleep when laying directly on someone. While the ship did indeed stop at Costa Maya, Harvest Caye and Roatan, partially owing to this reaction from the kids and partially due to a docking issue, we didn't go to ports on any other days (of course, it helped that we really liked the ship amenities.)
Premium ponderings
I think for myself, and many people I know, the proposition of dropping at least $300US (and probably closer to $500US) for 6 to 7 hours of some beach conveniences just doesn't resonate. The biggest problem with Silver Cove isn't anything to do with Silver Cove, but the amount of time spent going to and from the ship on a tender boat, including passenger loading and unloading. The same could be said for Great Stirrup Cay on its own though. Even on past cruises when we just had the $40 clamshell booked, I felt like we had to go as early as possible and try to squeeze as much as we could out of our time there.
NCL absolutely needs to build a pier for this island. It is so much more apparent being in the Lagoon section just how close Royal Caribbean's CocoCay is to Great Stirrup, and it looks like a lot of fun over on the other island. They have a water park and a hot air balloon (that statement should be whined in the voice of an impatient child), and don't have to spend upwards of an hour round-trip to get to the action. To just be able to walk off the ship is a huge advantage.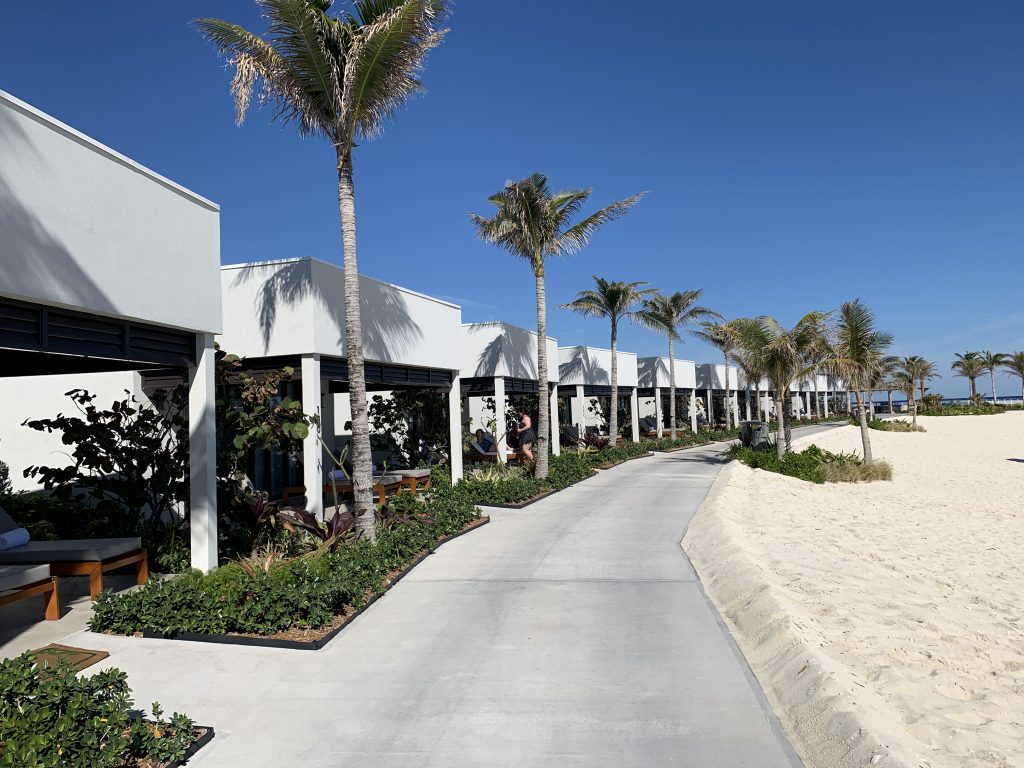 The value in a villa at Silver Cove is being able to have a beach day without some of the less desirable parts. Easy access to towels, beach floaters, a fully configured private bathroom, centered steps away from a lagoon and bar is definitely a premium experience. It was refreshing to not be covered in sand and salt water on the tender back due to the shower facilities. Having a home base to head back to, keep the babies out of the sun and let them nap was definitely something we'd have missed in our original clamshell plan.
A cost-per-person basis is perhaps a better way to evaluate the villa. Even assuming the $499US pricing, it's just over $83US apiece for the day if you have six people. There are a number of folks who I think would see that price point as money well spent to avoid crowds, have a blast of air conditioned comfort and be able to enjoy their drink in a tropical paradise – just slightly removed from the sand. I think as NCL operates this section and gets some of the service kinks worked out, it'd be a good (if expensive) option for groups of couples or large families.
CruiseNext
For newbies to cruising, CruiseNext is NCL's "buy a deposit to apply to a future cruise" program. I made my way down to the desk on the first night around 8:45pm to try and take advantage of a promotion that seemed to be in our favour. The active "DoubleUp!" promotion let you apply two deposits to any category of stateroom. In the past, using two deposits on the same sailing was restricted to balcony cabins or higher.
Coincidentally, we had an NCL cruise booked in June 2020 in an Oceanview cabin with one deposit already applied, and final payment wasn't until February 3. Adding another deposit and then immediately redeeming it seemed like a good way to get $125US off our next sailing.
(Of course, the June 2020 sailing never happened, but this was a good way to save money in theory.)
There was a short line of three people in front of me, but their transactions wrapped up quickly. After letting the representative know I wanted three deposits, he remarked that three was an unusual number. I explained my plan and while they weren't able to guarantee that it would work, since the promotion might not be renewed as of February 1, it was worth trying.
If you're contemplating a similar transaction, be aware that the CruiseNext certificates did not show up in my NCL account until the last day of the cruise, so timing is everything. The CruiseNext team were more than happy to suggest that one should always have a couple deposits on file in case one of these deals came up, but they're a bit biased in the matter. In my case, I am seriously considering an inaugural transatlantic voyage on a Leonardo-class ship in 2022 or 2023, so having some funds locked up with Norwegian didn't seem like an entirely terrible idea.
Meet and Mingle or Meet and Greet?
Since the first day was a port day, the Meet and Mingle occurred on Day 3 of the cruise. The front doors to District Brew House opened around 11:45am for our noon event, although there were a couple knowledgeable participants who had used the unlocked back door by cabin 8162 and had already situated themselves in the prime booths.
The bar was in full service and as people arrived, appetizers (chicken wings, spring rolls and dumplings) and senior staff circulated, asking for feedback and generally warming up the crowd.
We also had live music and beer samples, which was a great approach for people unsure about what they liked; DBH can be intimidating at first if you're not a regular beer drinker.
I made my way around to as many groups and people as I could reasonably interact with during the event. We had a wide selection of those who were NCL loyalists and those trying Norwegian for the first time. I'm estimating 60 people showed up for the event. Kevin also took sign-ups for a slot pull at 1:30pm. I dropped by but didn't participate, as it was quite crowded and I wasn't sure when I'd have to leave.
Unscheduled events
One of the more relaxing bits of this cruise involved a family camp-out with some towels across three loungers, just at the end of the Waves Pool Bar. The girls were able to lie down with us on either side. It's a covered area, with easy access to drinks, and the buffet is on the same level so snacks are also not difficult to obtain. I did have to moderate my hot dog intake to avoid spoiling dinner.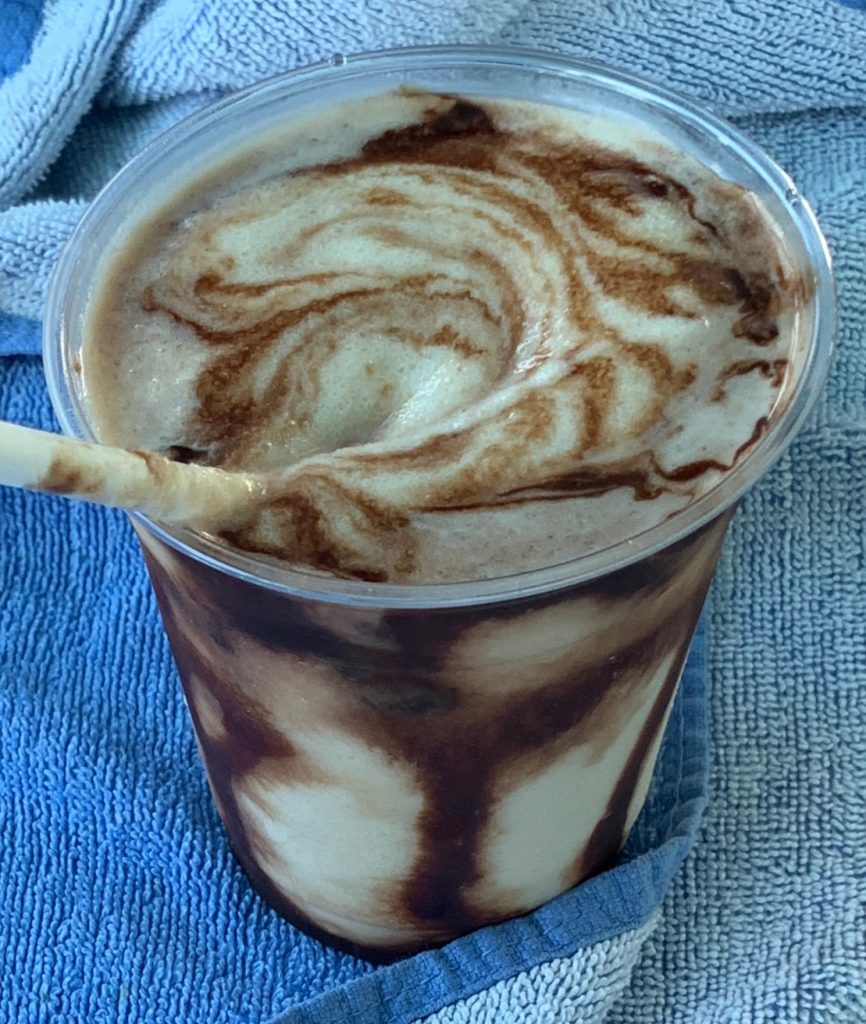 Harvest Caye was the other port we thought might be a nice beach day, but there were some initial docking issues that threw the timeline off. We were scheduled to arrive at 7:00am but were still not tied up about 40 minutes later. The cruise director and captain began to make announcements: during the docking process, one of the pieces of equipment on the pier broke and it was unsafe to continue. I don't think we hit anything, but it wasn't exactly clear what had happened.
Cruise Director Jacky was preparing everyone for having to use tender boats. This had an estimated travel time of one hour, although it was unclear if this was round-trip or one-way. The captain then decided to attempt to dock "on the other side." This took about another 45 minutes and we ended up successfully docking in the same position (although perhaps facing the opposite way) as our Getaway cruise in February 2018.
While we'd also reserved a clamshell here, all excursions ended up getting refunded (and once again, our $50/port credit covered the cost). By the time all was said and done, we weren't up for the logistics of a beach day with little ones and ended up going to the Atrium instead.
Gift shop
The gift shop was actually pretty sparse, unless you wanted a Guy Harvey accessory, shirts from ports that we weren't visiting on this cruise, or exorbitantly priced diapers. Sure, if you'd wanted tanzanite or a brown diamond (I call them "poop diamonds") or a gigantic, heavy watch, the shops on the port side had those and many more expensive trinkets. But basic souvenirs didn't make much of an appearance. I guess they figure people will buy that stuff in the ports.
Kids' corner of bad spelling
The Atrium ended up being a great place to spend a chunk of our day. We found seating in the back corners and put down a couple blankets and toys. The babies could stretch out, roll around, and generally play more like they did at home. Throughout the day there was also waiter service, and the bar was never far away either. We had some exceptionally good cookies brought to us in the afternoon, which I thought was a nice touch for people watching the movie or whatever event was occurring on stage.
One thing we did notice constantly around the ship were printed signs with either minor typos, poor grammar or blatant misspellings. This even extended to official placards on doors: a closet on one of the upper decks had a blue-and-white engraved "Jaccuzi Equipment" (correct spelling: Jacuzzi with two Z's). There were some great examples in the Atrium area:
Perhaps the most egregious was the one we spotted the next day for Magaritalville merchandise:
Typo'd signs aren't going to ruin my vacation, and are such a minor, pedantic thing to point out that you might imagine my day job is being technically correct (the best kind of correct.) I also appreciate that perhaps the people producing these signs do not communicate in English as their first language. But Magaritalville? Margaritaville is a venue onboard! It's listed as a venue at every bank of elevators and, I assume, printed on some of the shirts themselves!
Then again, the "made in Germany" emergency instructions on the back of every stateroom door use "Role Call" instead of the correct "Roll Call"… and suggest that people proceed "immediatly" to their assembly station, so maybe this is a losing battle.
You'll be leaving soon…
On the final sea day, there were only a few things left unsaid or undone. We attended a special reception with senior officers in the District Brew House, again compliments of hotel manager Deepak. Once again, appetizers and beer samples were plentiful, and we were able to personally compliment the team and staff on their exceptional efforts.
This type of event is very much a way to get the Net Promoter Scores up, and targeted at those who are more likely to respond (you know, those surveys out of 10 – where 8 and below seem to be treated as "terrible", 9 is "below average" and 10 is "merely good"). In this case, our experiences were at the top end.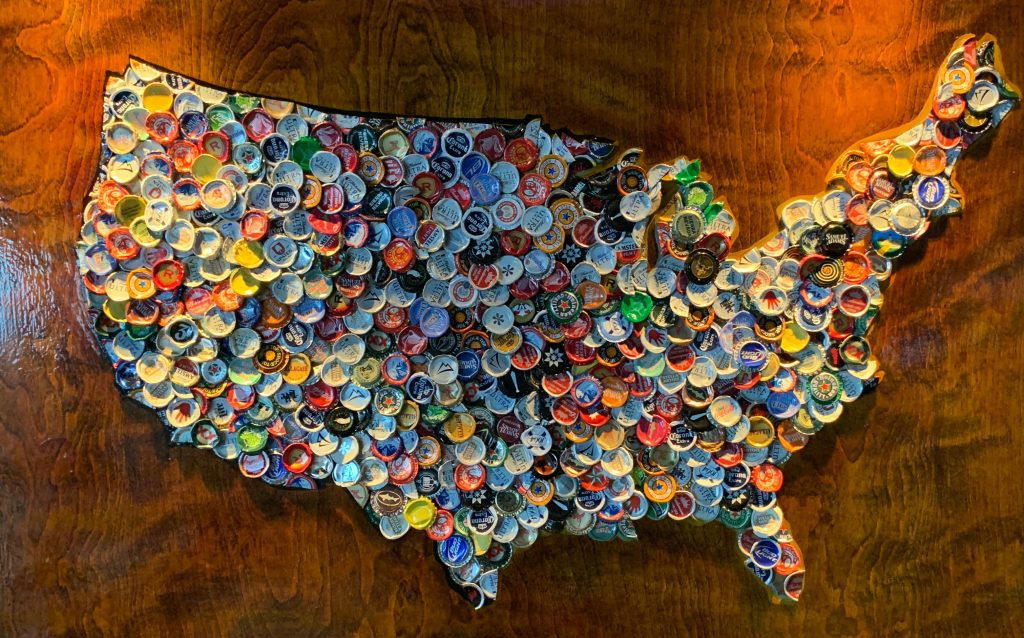 When we left the next day, we opted to use the final perk of priority disembarkation, but waited until our timeslot for arranged transportation to MIA. This was actually a mistake: if you get the gold priority debark luggage tags (or can walk off) and have the option to be escorted off the ship, leave as early as possible – your luggage will be there and you'll catch the first coach to the airport. We got off the ship quickly, but ended up standing in a large, disorganized line outside the cruise terminal as people were allocated to buses.
Our flight and journey back was fairly uninteresting in terms of logistics, although the WestJet checkin desk at MIA is a pretty terrible experience since they're not a major US carrier. There's insufficient space to line up, wrangle bags and you keep getting cut off by other travelers trying to get to where they're going.
The babies slept nearly the during the whole air travel portion, but screaming occurred for 55 minutes straight on the drive home. Notably, my Apple Watch gave me a high heartrate warning and threatened to call emergency services unless I confirmed I was OK. It was probably the first time I've been truly glad to get back to my snow-covered house after a cruise.
Escape vs. Bliss
Since it's quite difficult to compare the Escape to our previous cruise on Sky as they're such different ships, I have a few thoughts on Bliss compared to Escape, since we have fairly recent experience with them both.
The RFID card readers ("tap to pay") on Bliss were probably one of the best conveniences in terms of room entry, service at District Brew House and muster drill attendance verification that I missed on Escape. The swipe-card system on Escape failed numerous times at the bar, was harder to enter the cabin with baby and baby accessories in tow, and seemed quite dated in comparison. I suspect NCL will add this capability during the next refurbishment.
The lack of go-karts and laser tag on Escape didn't bother me much, but the absence of an Observation Lounge caused high traffic volumes in other common areas (Waterfront, pool deck, Atrium.) I think the "busy-ness" of the ship has been well-represented in many other reviews of the ship that you can find online.
It's unclear to me why Escape is the only ship in the NCL fleet with an active Guppies Nursery childcare program. While we only used it once and it carries a significant expense, I think if sailing with kids under 3, this is a compelling reason to choose Escape over any other Breakaway or Breakaway Plus class ship. You at least can use it if you need a couple hours to yourselves.
There is really so much to do on both of these ships and we hardly scratched the surface of what was to offer. With older kids, the rock climbing wall, pools, water slides and mini-golf would certainly be great distractions. Versus the Bliss amenities, at least with kids under 3, Escape definitely remains a competitive option.
Retrospective
If you were to ask the question "should you go cruising with infants?", it isn't a clear-cut decision. It truly depends on age, food requirements and temperament in new travel situations. Be prepared to think of it as a trip rather than a relaxing vacation, and understand that you won't be out at O'Sheehans until the wee hours of the morning – or even District Brew House for that 9pm comedy show, or possibly your dinner reservation at 6.
What I'd prophesized to coworkers and friends is that a cruise would just be like parental leave, with the convenience of easy access to food a couple floors away. In reality, the abbreviated sleep schedule was probably the biggest detractor. With a full night's sleep, you can better handle situations during daytime hours that are not ideal . Our girls were not consistently on solid food and the time spent in restaurants or procuring meals – not insubstantial when taking a cruise – ended up being boring for them.
Certainly, now and as we look forward to cruising safely in the future, I'm glad we took this cruise to be better prepared for future experiences. The Splash Academy program for kids 3 and up is definitely something we'll want to take advantage of, but it's not out of the question that we do this type of sailing again.
There's a CruiseNext certificate on my account expiring in December 2021, so we have another cruise on Escape booked for late next year (which may or may not happen, of course), and the girls will be older but not quite qualify for the Turtles class. So maybe look forward to that review?