This post is part 5 in a series of 7 about our vacation on the NCL Getaway, from February 18-25, 2018. You can read the other parts here:

Part 5 – Harvest Caye and Roatan (this post)
Day 4: Harvest Caye (vs. Great Stirrup Cay)
Awoken to the rattling of the VOIP/PoE phone across the desk, and combined with the time change of minus one hour, Kayla and I were able to rouse ourselves in enough time for a full service breakfast at Savor. She selected the Eggs Benedict, and I chose the eggs to order (over easy) with a side of link sausage. It was a fairly standard breakfast offering, but nothing to complain about.
Since this was our first time at Harvest Caye, it was worth comparing to our excellent time at Great Stirrup Cay – the other NCL Caribbean "private destination."
Tender boats versus direct docking: At Great Stirrup Cay, you book a ticket for a tender boat and then sit far too close to other passengers. If you get on the top deck and it's sunny out, prepare to be overheated and fully UV-irradiated by the day star by the time you get to the island or back on the ship. With Harvest Caye, there is an actual dock for the ship and then a fairly lengthy, covered walkway to the main attractions. Harvest Caye wins this one – I'm sure it was a "me too" reaction to counter Disney's Castaway Cay though.
Inclusions: If you happen to have the Ultimate Beverage Package, it works on Great Stirrup Cay, so your day can be filled with various tropical drinks for no additional expense. Harvest Caye is "no inclusions" – the food and beverage locations are logically separate from the ship. Pricing on the LandShark Bar & Grill Facebook page shows a 12-oz beer for $5.49US, margaritas starting at $9.50 and burgers and sandwiches all landing in the $13-$15 range. Or, you could just go back to the ship and eat at the restaurants that you already paid for.
Resort vs. beach day: Harvest Caye has a gigantic swimming pool as the central attraction, much like you'd expect to find at a high end tropical hotel or resort. GSC is more of a beach destination with no pool.
No clamshell needed: We didn't try booking a clamshell, despite it being one of the better purchases at GSC. With where we were sitting at Harvest Caye, it was definitely possible to find enough seating and shade near the beach without needing to regularly change places.
Given these differences, my preference for any future NCL Caribbean cruises would be a stop at Great Stirrup Cay, but your mileage may vary if you prefer a pool over the ocean or don't feel the need to optimize beverage consumption. I suppose a lot of people would consider the LandShark bar an excursion in and of itself too.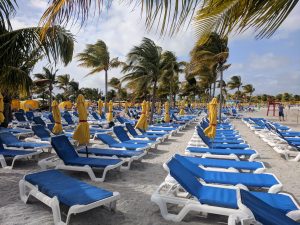 My notes aren't too specific about lunch or the afternoon of Day 4 (meaning it was probably a hot dog at the buffet and time spent reading outside the mojito bar) and the evening just noted an "excellent but busy dinner at Taste."
Today's notes also included a mention that most of the toilets in public areas exclusively sported a motion sensor, with no apparent way to trigger the manual flush. This resulted in both premature flushing action (see: Poseidon's Kiss), as well as occasional difficulty in activating the toilet when desired.
Questions for Google:
How did pound cake get its name? If you believe POPSUGAR, it originally contained one pound each of flour, butter, eggs and sugar for a total of four pounds.
Movie with Dev Patel/Nicole Kidman/Rooney Mara: We watched a few minutes of this movie in the room, which turned out to be Lion (2016). From the summary, the ending turns out to be reasonably uplifting, but Kayla was correct with her suspicion that not everyone would be nice to the child.
Day 4 Freestyle Daily
Day 5: Roatan, mudslides and Million Dollar Quartet
Today's breakfast was at O'Sheehan's, which had essentially the same menu as the main dining room.

Roatan was pretty much what I expected from the pre-cruise excursion offerings and online reviews. At the dock (actually known as "Coxen Hole"), it's a small two-level plaza of shops. Attempting to head out the gate, you can expect to run the gauntlet of independent tour vendors, and after that it looked like we'd need to grab a taxi to get anywhere.
The real problem for me was that the "things to do" list was pretty much beach days, zip lining and animal encounters. I get too twitchy just sitting around all day, and previous writings have expressed our degree of indifference for the other options. We'd also spent a fair bit of coin on the other excursions and just weren't sold on a tour of the town.
So at Coxen Hole we got off the ship, walked around for fifteen minutes, were badgered into a photo with the NCL mascots, and then returned to the pool deck on the Getaway.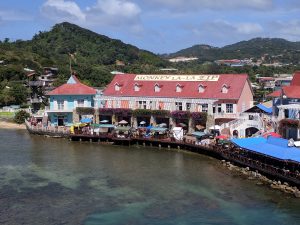 Positioning ourselves in either the shallow end of the adult pool or the most shaded possible area of a hot tub, the afternoon was spent trying new drinks and avoiding UV radiation with frequent re-application of sunscreen. Both Kayla and I took a liking to the mudslide, which is an under-appreciated (and uncommon) drink in southwestern Ontario, but absolutely hit the spot in the Honduran temperatures.
After extracting ourselves from the pool, we tried to get a seat at Shanghai's for potstickers, noodles and other Asian foodstuffs. Given that we had a show reservation for Million Dollar Quartet at 7:30, it was probably not the smartest option. Seating capacity is only 49 according to the ship features list so a bit of a wait was likely.
We were quoted half an hour to be seated, which seemed entirely manageable, and we perched at the casino bar close by. Initially, we didn't think this would be a problem – with two people, NCL has usually been able to get us seated in under the quoted time. An additional 10-minute delay pushed the start of dinner to 6:40pm. Despite getting drink and food orders in as quickly as possible, the dinner service at Shanghai's did take 50 minutes. This resulted in our arrival at the Getaway Theatre as the show had already begun.
After milling around at the rear of the theatre for a few minutes, we were lucky and an usher was able to direct us to two seats together on the far left side, three rows back. It wasn't a terrible view, but obviously not prime seating. I guess it worked out okay, but it was stressful and I don't like being late, especially since we'd reserved well in advance. I also think if we'd shown up thirty seconds later they might not have let us in the front door. Nobody's fault but our own for mistiming things, but next time I'll give a 90 minute dinner buffer after the estimated seating time.
The show itself was the usual high quality that NCL offers in their main stage productions. Having seen Million Dollar Quartet recently at a local community theatre, it was interesting to compare the performances and try to pick out the small details that changed. The actor playing Jerry Lee Lewis, in particular, did an excellent job with facial expressions.
Every time I see one of these performances, it gives me a healthy level of respect for how these stage shows are adapted to the cruise environment. This one wasn't heavy on set pieces or special effects, but still ran smoothly. You kind of lose yourself in the immersion when these things are done right; walking out back into the "floating hotel" after the show is done can be quite the adaptation.
Day 5 Freestyle Daily