This post is part 3 in a series of 7 about our vacation on the NCL Getaway, from February 18-25, 2018. You can read the other parts here:
Day 2 at sea: Rock the boat
The downside of being at the extreme front end of the ship was apparent in the early hours of Monday, when we were jolted awake overnight several times with cabinets rattling and above-average movement of the ship. Both of us woke up at 5am and tried to get back to sleep, then later awoke at 9am to different kinds of noises: a high-pitched, whistling, wind sound from the front door, accompanied by low-pitched, repetitive bass from the cabin next to us.
It turns out that when your cabin is directly at the end of a long hall, the design of the passageway causes an effect not dissimilar to that of a wind tunnel. Kayla, who has less tolerance for soothing ocean sounds than I do, gave the cabin door a mighty hipcheck to silence the noise.
Unfortunately, this action only remedied half of the problem – I was still very conscious of the bass line emanating from the next cabin over. Eventually I was irritated enough to get up and on with my day, while my wife was able to ignore the low frequency and fall back asleep. Upon exiting the cabin, the stateroom beside us had its door slightly ajar, leaking the cacophony of noise into the hall as well.
I'm really not sure what to do in these circumstances – it didn't feel worth a complaint, and I think the price difference between the rooms (Haven vs. oceanview) might make the staff more reluctant to enforce any sort of noise bylaw. In any event, I don't recall similar morning music happening for the rest of the cruise, so the problem didn't come up again.
I ambled up to the buffet and encumbered my plate with pork, waffles and potato products. Very shortly after I sat down, a server came over and offered coffee right at the table, which was a nice perk.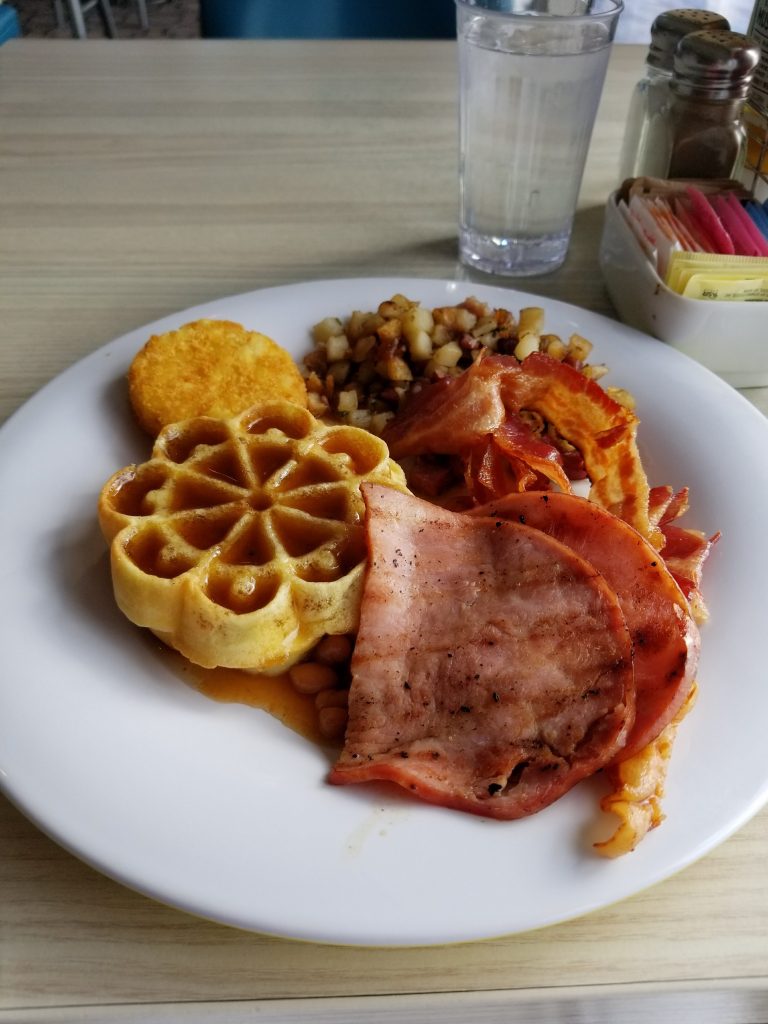 After finishing breakfast, I went back to the cabin to collect Kayla for the CruiseCritic meetup, which was held at Cagney's. This was probably the best one we've been to out of all the NCL cruises – staff greeted everyone as they came in, and the officers shook our hands and introduced themselves directly to us, providing their direct phone extensions and responsibilities on the ship. Serving staff brought around muffins and smoothies (quite good). It felt very personal and it was a great customer service experience.
We ended up meeting another family at our table and discussed a variety of cruise and Canadian topics for a while, before parting ways and heading to the Sugarcane Mojito Bar.
There also was a lengthy detour to check out the lunch options before getting to the arduous task of imbibing rum in all its various formats. Savor and Taste both offered the same menu as embarkation day, so we again ascended to Deck 15 and had tasty burgers from the buffet.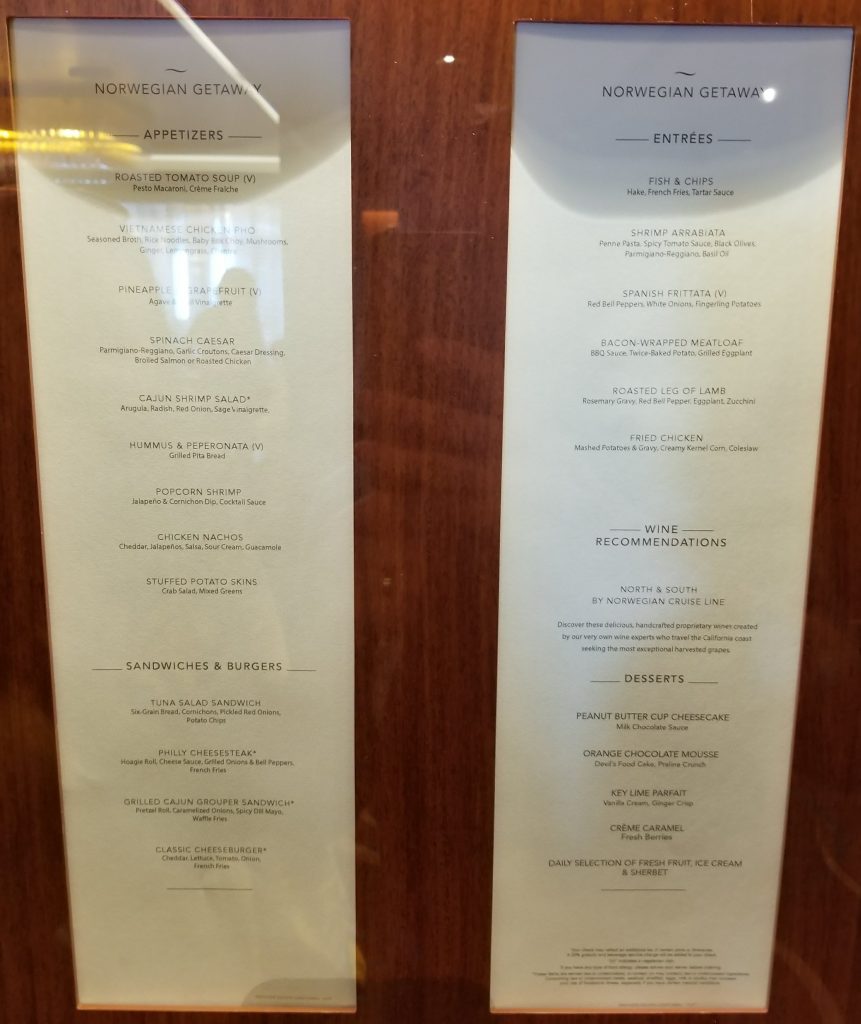 Our next route around the ship took us to most of the bars to investigate the menu options. With the change-out of Shaker's for Sugarcane, Kayla's preferred Lavender Patch martini was nowhere to be found. As she graciously/reluctantly accepted an alternative drink choice from the atrium bar, an announcement was made about a change in our ports of call.
It turns out that at least some of the excessive vibration and rocking the night prior was not our imagination, nor entirely related to the extreme forward position of our cabin. At some point during the night, the ship had to be turned around towards Key West to drop off a passenger with a medical emergency. As a result, our port schedule had to be adjusted, simply due to how fast the ship could go.
The change was about as inconsequential as possible. Our Day 3 port which was supposed to have been Roatan, Honduras merely swapped with our Day 5 port of Costa Maya, Mexico. No cancellations, so I don't have any exciting eavesdropping to share in terms of people screaming about how their vacation was utterly ruined.
This put us into only a mild predicament. We had booked the "Chacchoben Extreme" shore excursion for Costa Maya with The Native Choice (aka Chacchoben Ruins) outside of the ship, and there was no free way to contact them. After debating the merits of paying for WiFi or an in-room phone call, we figured we'd just show up at the Native Choice tour office the next day and see if their claims of watching cruise ship port schedules were accurate.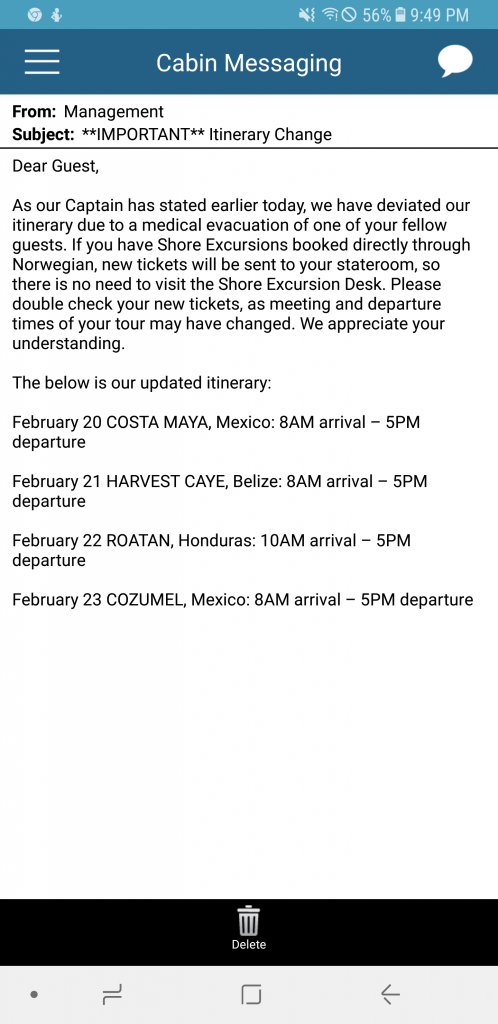 Once again, we went back to the mojito bar until it was time for our first specialty dining booking at Ocean Blue, 6:30pm. We were seated promptly and given a waterfront or inside restaurant option. On the Breakaway we'd gotten an inside table, so exterior was selected to indulge in a new, presumably exciting experience.
I'm pleased to report that Ocean Blue still seems worth the upcharge from the 3-meal specialty dining package offered as a perk. When we booked it online prior to sailing, the increase was $23.70 CAD per person including gratuity/service charge. Both Kayla and I had the snapper, shrimp and lobster platter as an entree. Tasty dinner, attentive service and arguably the best bread-like baked good on board.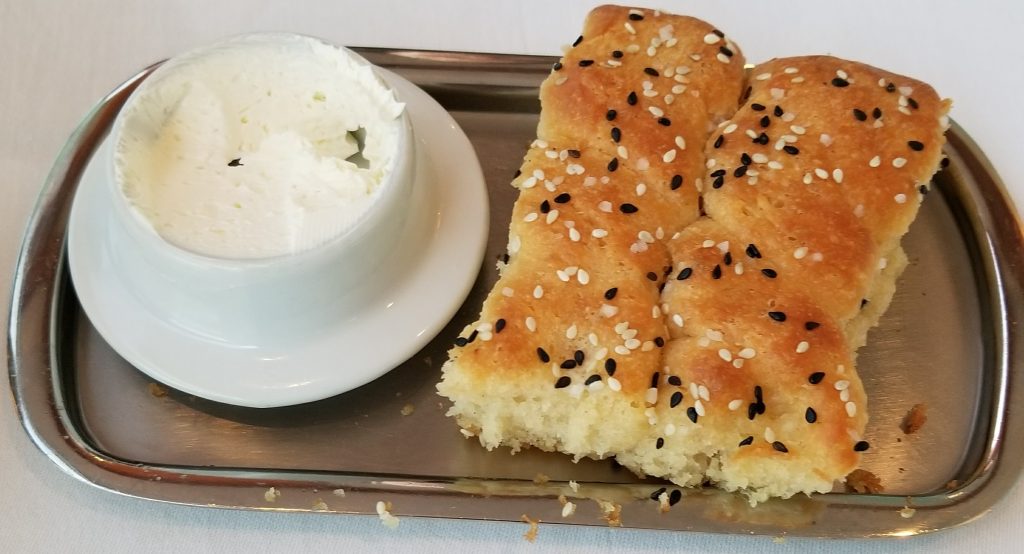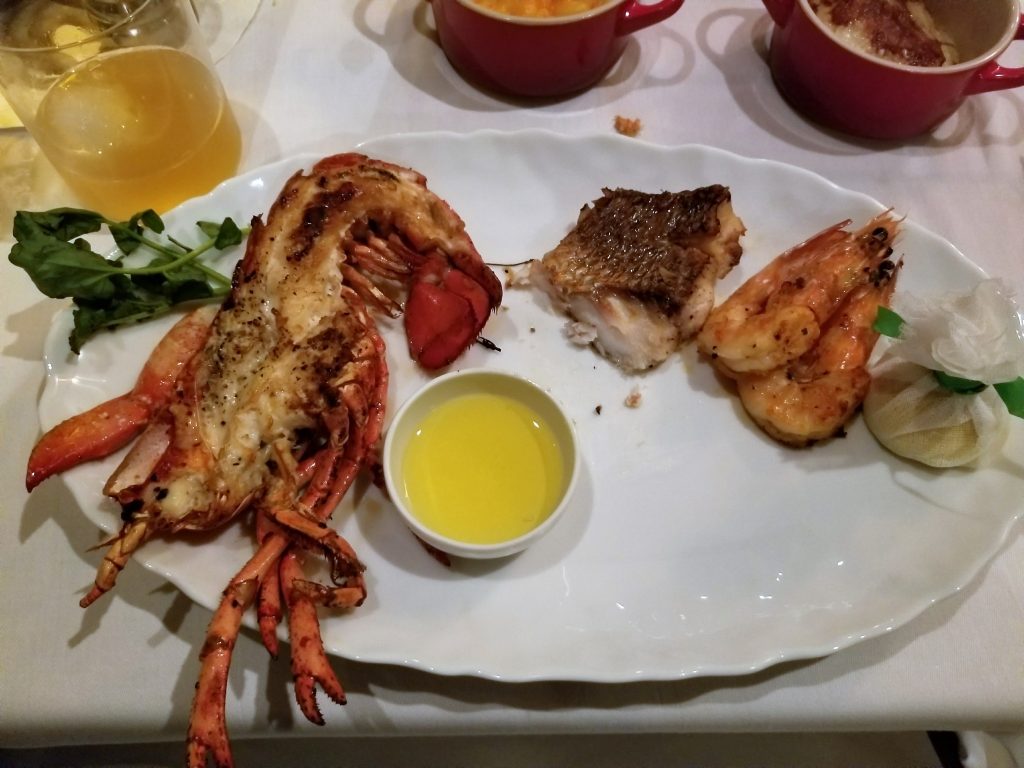 The post-dinner activity was "Karaoke Blast" at Fat Cats, where Kayla sang several songs, and I sat at a table and got zero drink service from the staff. It would have been inconvenient to head out the main door and get in the way of the stage each time I wanted a beverage, so I amused myself with the number of people trying to exit through the staff corridor.
Day 2 Freestyle Daily