This post is part 6 in a series of 7 about our vacation on the NCL Getaway, from February 18-25, 2018. You can read the other parts here:
Day 6: Fishin' in Cozumel
One of our more in-depth excursions this trip was to take a fishing charter while in Cozumel. We'd done some research and settled on Cozumel Charters, selecting a 4-hour bottom fishing tour on an economy-class boat good for up to 4 people. We picked the bottom fishing option over deep-sea fishing, again mainly due to online reviews claiming that there was a higher likelihood of catching something. I am pleased to report that the collective knowledge of the Internet did not disappoint and we had a great time.
After submitting our details and 30% deposit by credit card, we got a confirmation email shortly afterward, containing a list of detailed instructions including where to meet the charter, what to bring, keeping the fish (they're yours) and where to get them cooked if you'd like to eat your catch. There was also a handy PDF acting as confirmation and an invoice. The rest of the payment is made in USD at the port when you get picked up.
Our instructions were to take a taxi to Puerto Abrigo after disembarking the ship. There's a bit of up the stairs, dodging the shops, and down the stairs to get to the taxi pickup at the port, but the first person who asked if us if we needed a cab was in fact a legitimate port representative. The 10-minute ride there cost $10 US plus tip; there is a whole conversion racket and they don't take credit cards, so you might do better with pesos if you already have them. As of May 2018, apparently the standard rate was $15 US so I don't feel like we did too badly.
At Puerto Abrigo, there was no sign or other indicator for Cozumel Charters (although the initial email, which I should have read more closely, said that it was "door two by the beer store".) After looking confused for a minute or two, we met our crew who were in the process of prepping and loading the boat. They took the outstanding money, gave us a mug to commemorate the beginning of the journey, and then we were off to fish!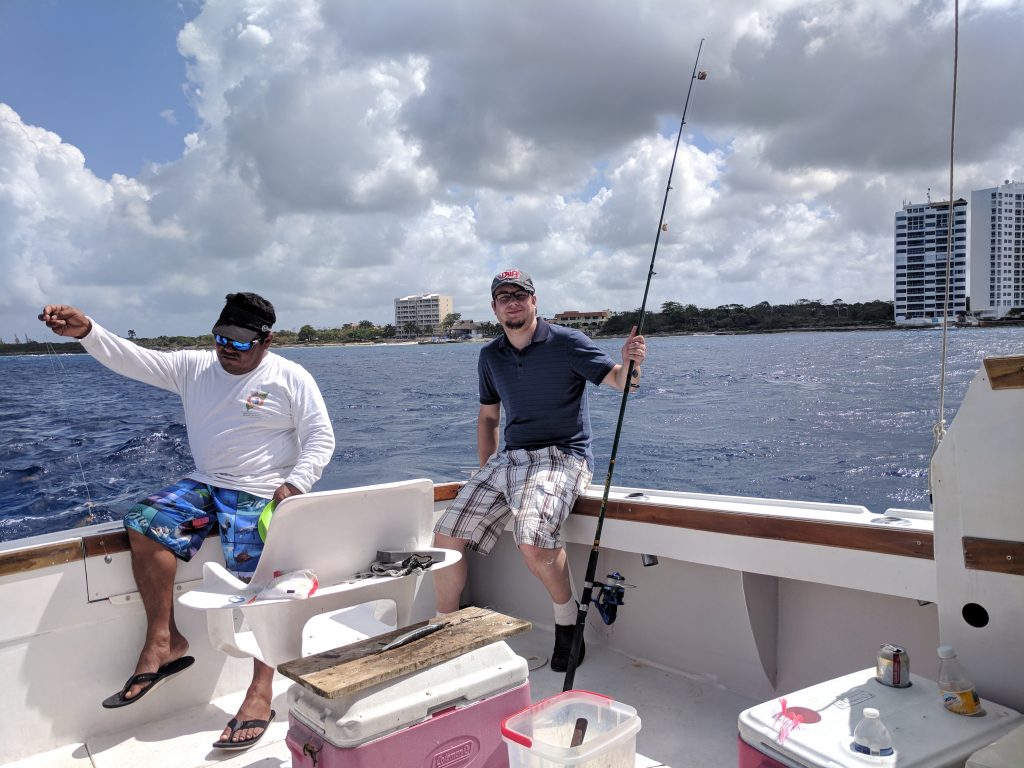 Over the course of the morning, we caught ten or twelve fish, most of them (generic) grouper and three of which were red snapper, which later make an appearance on our lunch tray. Weather conditions were good during the trip, the crew was very friendly and we were offered plenty of beer and water throughout. I was shocked at how close we got to both the Getaway and other cruise ships while on our journey – it's hard to tell the exact distance, but you could definitely make out rivets and other small mechanical details on the larger ship. It's hard to appreciate the scale of these mega-ships until you're right beside them.
A deviation from the initial plan did occur; while the instructions said to go to Margaritaville and have our fish cooked there for lunch, the crew suggested a different location along the main road (Av. Rafael E. Melgar) called El Coctelito. I was a bit suspicious in that there may have been some type of kickback or other less-than-upfront reason for this diversion, but I didn't see anything untoward – to be honest, after the fact it just seemed like it was closer to the dock.
We returned to the marina and selected our three red snapper. One of our crew members cleaned and filletted them, and put them in a plastic bag for us to take away. We were able to flag down a cab fairly easily just walking out to the road, and then arrived at the restaurant in only a few minutes ($7 US ride).
At El Coctelito, we let our waiter know we'd brought our own fish, and he returned fairly shortly and let us know that it'd be $8 US/person for the cook to prepare a platter with the three fish and some accompaniments. This seemed quite reasonable, so we ordered a couple drinks and sat back. And what a platter it was!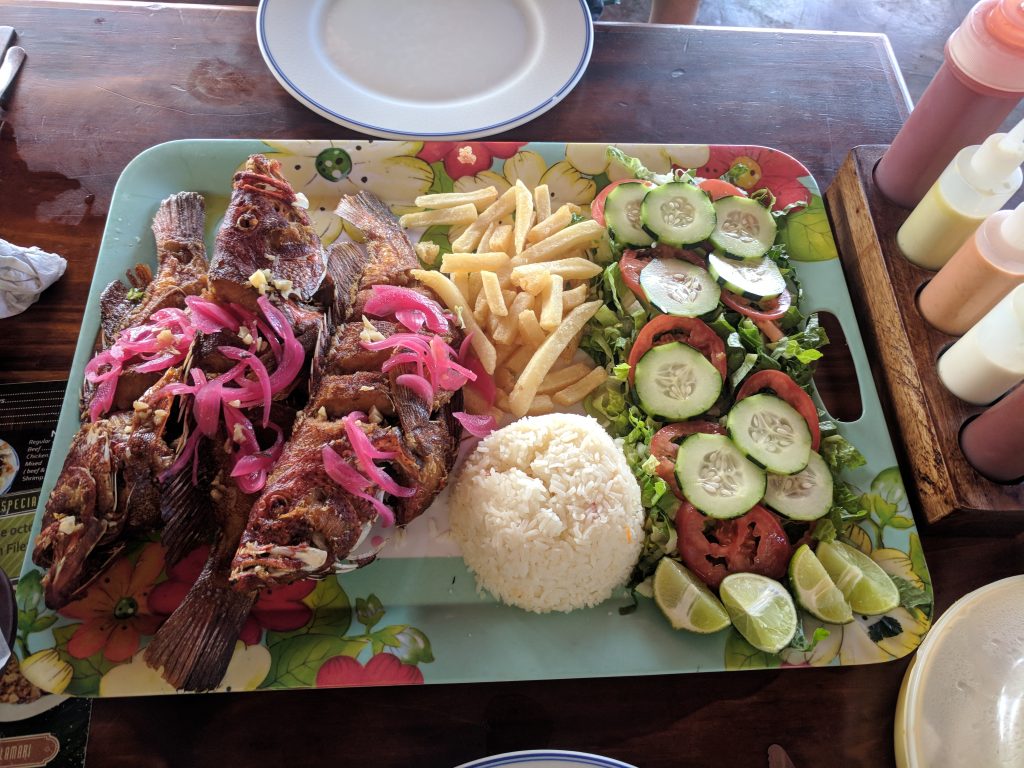 I don't think I've had fish quite that fresh before. Avoiding some of the less edible parts (teeth, fins) was a bit difficult, but totally worth it. Not pictured above were the tortillas that were also included, so we were able to pick apart the red snapper and construct fish tacos fairly easily. The sauces to the right were also flavorful – none of them blisteringly hot, but they complimented the fish very well.
In terms of payment, the restaurant took both pesos and USD cash, as well as Visa. If you wanted to pay by credit card, they did the USD conversion first at a rate that I'm sure qualifies as usury, so my dearly discontinued Chase/Amazon.ca card (with no foreign conversion markup) was less useful here. We were easily able to walk back to the ship from the restaurant, which took about a half an hour at meandering speed.
Full of fish and back on board
I have an unusual number of notes from the evening of Cruise Day 6, so I'll try and distill them into something of practical use for readers. The most important one seems to be that at about 4:15pm, the Sunset Mojito Bar and surrounding seating became unbearably warm due to the sun hitting it at just the right angle. I had to retire to O'Sheehan's to continue making use of the Ultimate Beverage Package without getting crisped. During my time being a bar fly and badgering a group of people about their experiences at the steakhouse, I made several observations that I believe are worthy of sharing:
Restaurant wait times were entirely red. In the atrium areas, there are several TVs that indicate the expected status of each dining room – all specialty restaurants and Taste/Savor/Tropicana. Each half-hour time block is colour-coded as green ("Plenty of Room"), yellow ("Filling up Fast") or red ("Worth the Wait"). By 5pm everything, including the main dining rooms, was "Worth the Wait" up until 9:30pm. I also overheard people specifically booking Savor and Taste to ensure that they got their preferred time, which is normally not necessary in our experience.
At 4:49pm – just over ten minutes away from departure – an announcement was made looking for about a dozen people to check in with Guest Services. Given how close we were to sail-away, I had high hopes that we'd get to see a missing tour group sprinting down the pier. The announcement was repeated in Spanish at 4:58, which I guess would be a good idea if your primary language wasn't English and you were looking for people that might be consuming mudslides at the pool. Anyway, we appeared to sail on time. Despite my desire to see people run after the ship, brought on by my high school years of chasing early-departing buses in winter weather, I genuinely hope we didn't leave anyone in Cozumel.
Advice to non-Canadians: Nanaimo, British Columbia is not pronounced "Nah-KNEE-mo".
There were quite a few CruiseNext promotional announcements made throughout the evening. I cynically think that they needed to hit a quota and were behind, because on other sailings the announcements tended to be more casino and duty-free related.
Returning my attention to the bar, the primary task for one of the staff members seemed to be consolidating liquor from multiple partially-filled bottles into one. For example, they'd remove the lid from one bottle, then put a "free-pour flow spout" on another and transfer its contents into the first bottle. While I'm all for efficiency, I couldn't help but wonder if this practice was legitimate from a health code standpoint. Turns out, it's called marrying bottles and is less of a health infraction than a criminal one – it violates US federal law under 27 CFR 31.201 and 26 US Code section 5301, upon penalty of up to $1000 and/or one year in prison. In the port of Miami, you'd also be subject to Florida Statute 565.11, which classifies it as a second-degree misdemeanor.
Now, technically, we were either in Mexican or international waters at the time, and I can't be certain that I observed a federal crime worthy of a year's prison sentence. Frankly I'd be a poor witness given that I'd probably consumed said liquor – or maybe that makes me better positioned to testify for the United States Attorney as a personally affected individual? Guess we'll never know.
Potential legal and health issues aside, here are the relevant bar menus from the evening:
Some additional observations:
The "Family Circus Workshop" occurring in the atrium had terrible music, making it difficult to maintain my sanity and write notes for this review.
The ATM fee in the casino was $6 US for a withdrawal during this sailing – they allude to a fee in the daily newsletter, but are unspecific about what it is. There's also a 3% fee to have casino funds deducted from your account balance, which makes sense given that there's likely a credit card transaction involved at the end.
One of the shipboard displays was showing "The Window Channel", which is apparently less of a channel and more of a collection of relaxing videos that you can license (or stream, for $8 a month – take that, Netflix!)
The well vodka is a brand called Krakus, allegedly a Polish vodka whose website no longer loads. Specify your brand when ordering – you can get Grey Goose, Absolut or Belvedere included with the beverage package.
Kayla and I suggest that whoever is responsible for outside audio address a critical overdrive issue, where the sound coming from the Community-brand loudspeakers on Deck 8 was absolutely blown out, clipped and grating.
We ended up at the buffet for dinner this evening, likely due to the occupancy rates of all other restaurants. Most food was fine, but worth mentioning is a negative review of the unfortunately grainy blue cheese that Kayla ate: "It made my mouth unhappy very quickly."
Day 6 Freestyle Daily