This post is part 2 in a series of 7 about our vacation on the NCL Getaway, from February 18-25, 2018. You can read the other parts here:

Part 2 – Embarkation and Sail-Away (this post)
Day 1: Embarkation
After checking out of the Residence Inn, we caught an Uber to PortMiami for $21US and went through the entrance at Terminal B, which was being used to board all the odd-numbered passenger decks (eg: 5, 9, 11, 13 and 15) – Terminal C had the even-numbered floors.
The ride to the port was 27 minutes, and it took us about another fifteen minutes to get through security and half-way through the check-in line on the main floor – so I'd estimate we spent about half an hour total waiting before getting on the ship.
Despite our experience with NEXUS cards being the key to avoiding confusion in Port Canaveral, the port agent in Miami wanted nothing to do with them and didn't even flip past the picture page on our passports. I guess the next approach will be to offer both passport and NEXUS, and see what the agent prefers for identification and immigration purposes.
We were issued ship keycards with the appropriate indicators for our dining and beverage packages, which I would suggest is a key thing to verify before leaving the check-in desk. Later on in the day, a few folks at the bar in front of us were missing the package codes, and told that they'd have to go wait in line at Guest Relations to get a sticker.
What's your number?
After getting to the second level of the terminal via escalator, the process was a bit misleading: there were perhaps fifty or sixty people milling around in a fairly large waiting area with chairs, and people were proceeding onto the passenger boarding bridge. There didn't appear to be any line, so we walked to the back of the room and were asked for our boarding number card by the representative. Uh, what? I knew from previous experience that they controlled entry in New York by assigning laminated cards somewhat in order of arrival. This time, though, nobody told us we needed a boarding card, none had been issued downstairs, and there didn't appear to be anyone handing them out on this level.
We walked towards the entrance to try and find someone to resolve the situation, but ended up at a rope barrier next to the coffee, tea and water station. By this time several other people behind us had been told the same thing, and were in a similar state of confusion. Eventually an NCL employee appeared at the escalators and was badgered appropriately; it turns out they had "run out" of boarding number cards and we were supposed to board after group #25 had been called, and they were on #22 or #23.
He answered the same question for a number of groups of people, before skittering off (with people still arriving, attempting to board, and getting turned away for not having a boarding number.) Negative five points to the representative for failing to stand at the top of the escalator and offer a proactive explanation – even a sign would have been beneficial here.
A common complaint on the CruiseCritic boards comes from people who have an affinity for Coke products who are disappointed about NCL's exclusive deal with Pepsi, and then get indignant when they can't bring liquids on the ship. While I have close to zero sympathy for people who don't read the rules and then try to get special treatment, I will advise that at least in PortMiami Terminal B, in the second floor waiting area, there is a Coca-Cola vending machine selling bottles for $2US apiece. You'd be able to get these in your carry-on bag with no problem as you're well past the security checkpoint.
Lunch and launch
The boarding path caused us to enter the ship on the bar side of O'Sheehan's, which was packed with people getting their first beverages (all port-taxable!) We made our way through the crowd and down to Deck 6, where a crew member stopped us in front of Mixx Bar and asked if we were looking for lunch. When answered in the affirmative, she indicated that both O'Sheehan's and the buffet had food available. We pried a bit further and asked whether the main dining rooms were open, to which we were answered in the affirmative but that it was busy and there might be a bit of a wait. We decided to take the risk, and were immediately seated in Savor. I'm not quite sure why we were discouraged from this option.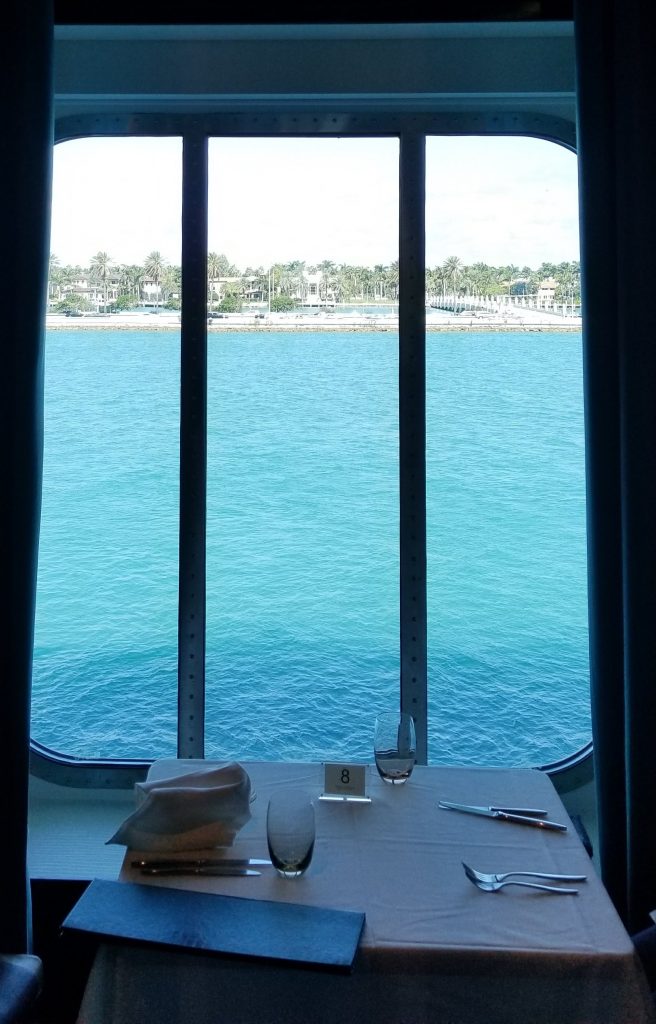 The lunch menu was identical to the one on the Epic in December 2017. Not complaining, because there are pretty good selections. I think all except the pickiest eater would be able to find something palatable. I was also able to make a crack about the roasted tomato soup containing crème fraîche.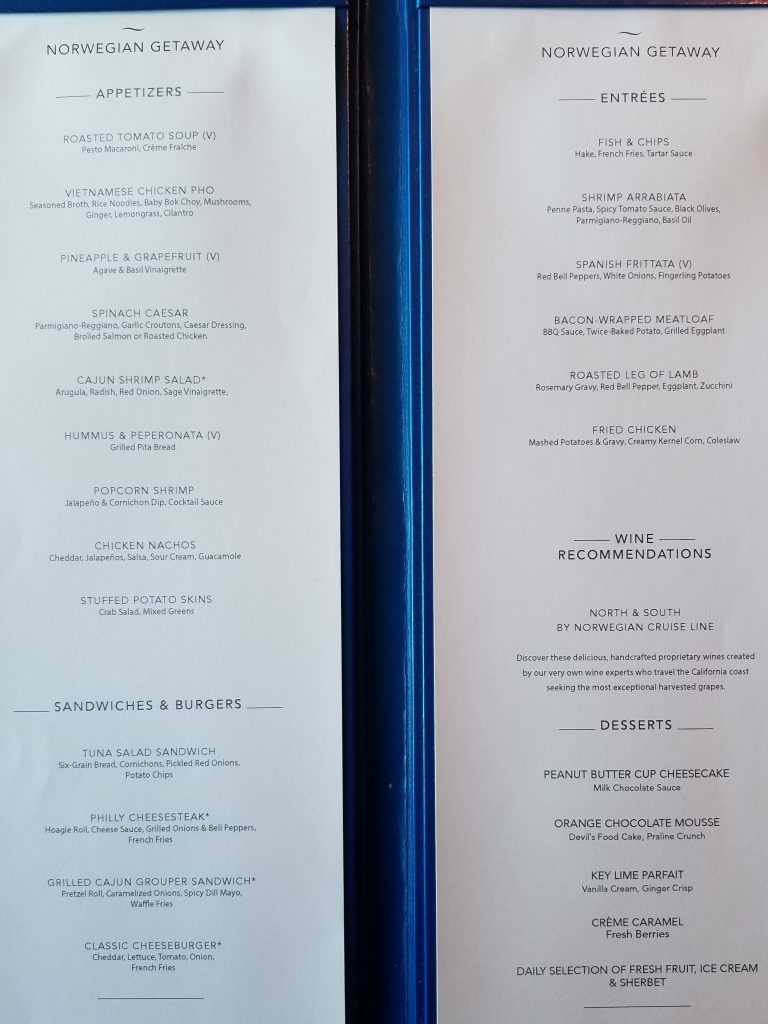 I opted for two appetizers in the form of popcorn shrimp and chicken nachos (pictured), which continue to be a good embarkation day choice. Every staff member we encountered was friendly and prompt at addressing any requests.
We also overheard one waiter proactively explaining to another table about the port tax on alcoholic beverages while still close to shore, which I commend – people don't like seeing extra charges if they're not sure what they're about, even if the charge is less than a dollar. I still think NCL should call this out more clearly in pre-cruise literature, especially which ports are subject to these taxes and an approximate tax rate.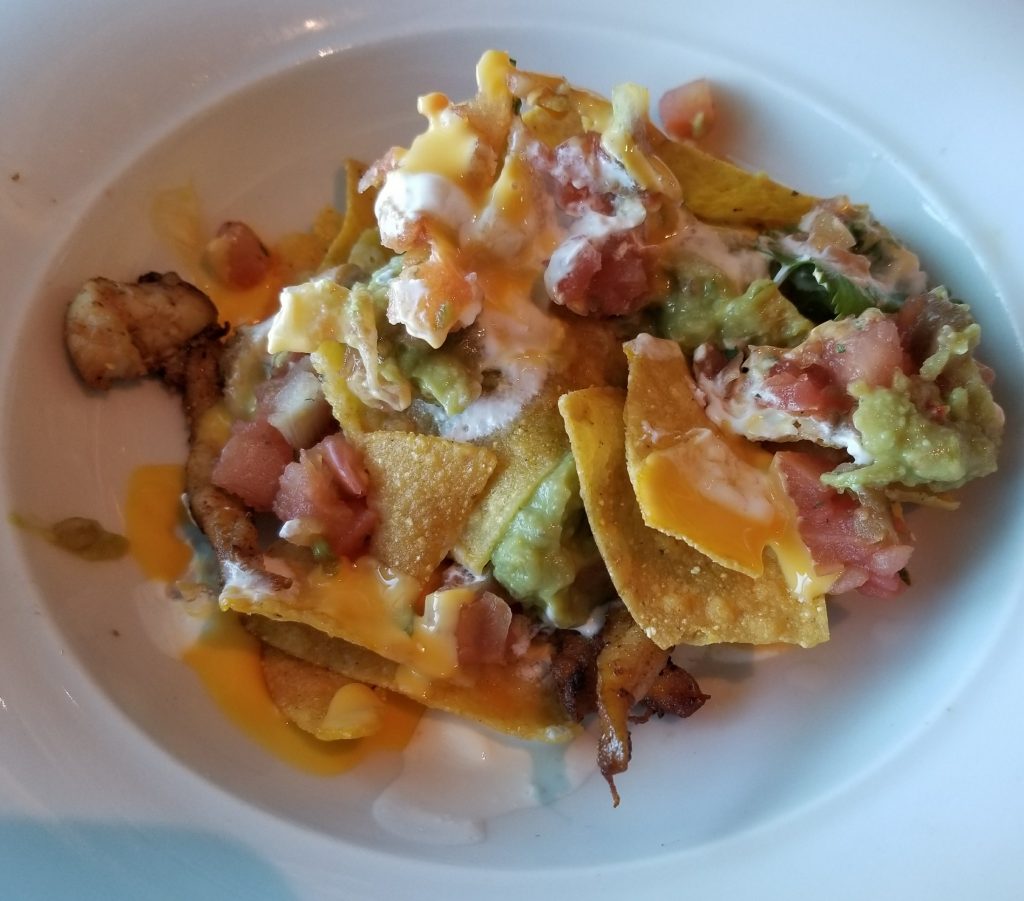 Kayla once again had the grouper sandwich and claimed that it was better than the one on the Epic, because the bun was not soggy this time. She also picked the key lime parfait for dessert, which I tried a bite of and would also recommend.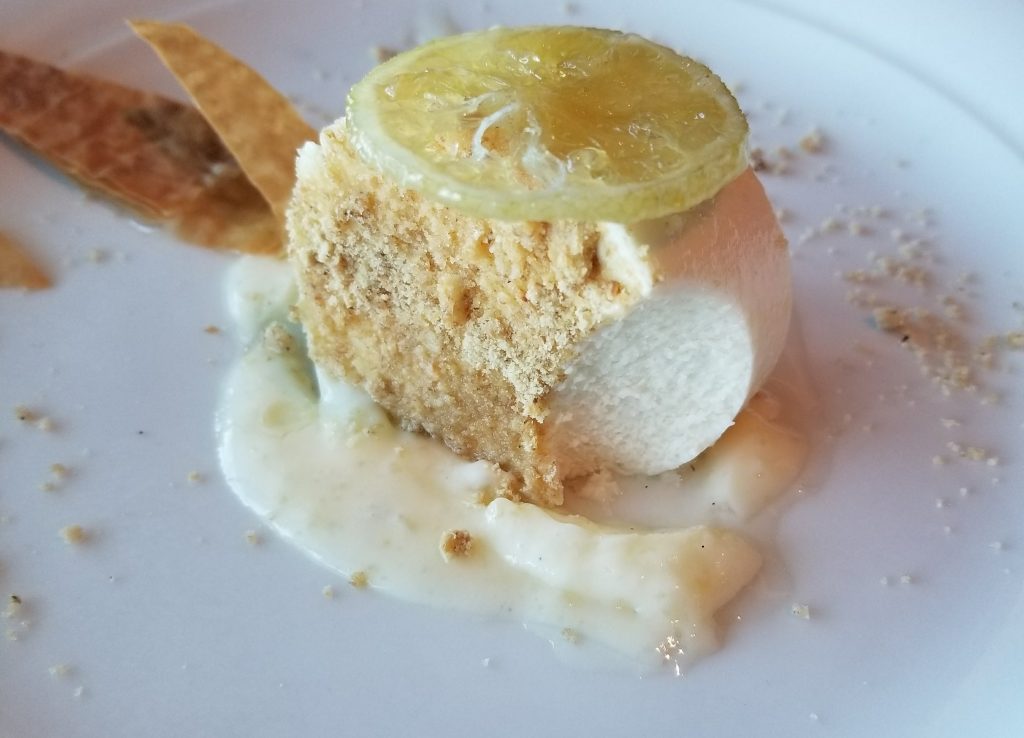 We did a bit of eavesdropping on the table next to ours, mainly brought on by one of the passengers not liking the difference between what was described on the menu versus the food that was received. We don't think there was anything wrong with the food, just that the guest took one look at their entree – I believe it was the cheesesteak – and didn't want it. The staff were entirely amenable to swapping the meal for a different one.
While the replacement meal was pending, our neighbours continued their conversation about a religious sermon – right up until the point where a question was raised as to how one spells the word "pedophile." At that point, we decided to mind our own business.
During the middle of our lunch, at 1:35pm, the cruise director made the announcement that staterooms were now available for access. We were impressed at how early this was. This was super convenient as we were able to head to the cabin right after finishing food and drop off some items.
OA-ceanview stateroom
Our previous three cruises with Norwegian have all been in cabins with balconies – one BD, one B1 aft, and one guaranteed mini-suite that ended up being a MD. For this booking, the price difference between an oceanview cabin (one with an exterior window) and a balcony cabin was going to be close to $500CAD for both of us.
Given that we could still get both the beverage and dining packages included with an oceanview room, and didn't use our balcony very much on the Epic, it was worth saving the money and seeing if the experience was significantly downgraded. With the Waterfront on the Getaway, we didn't miss having a balcony at all.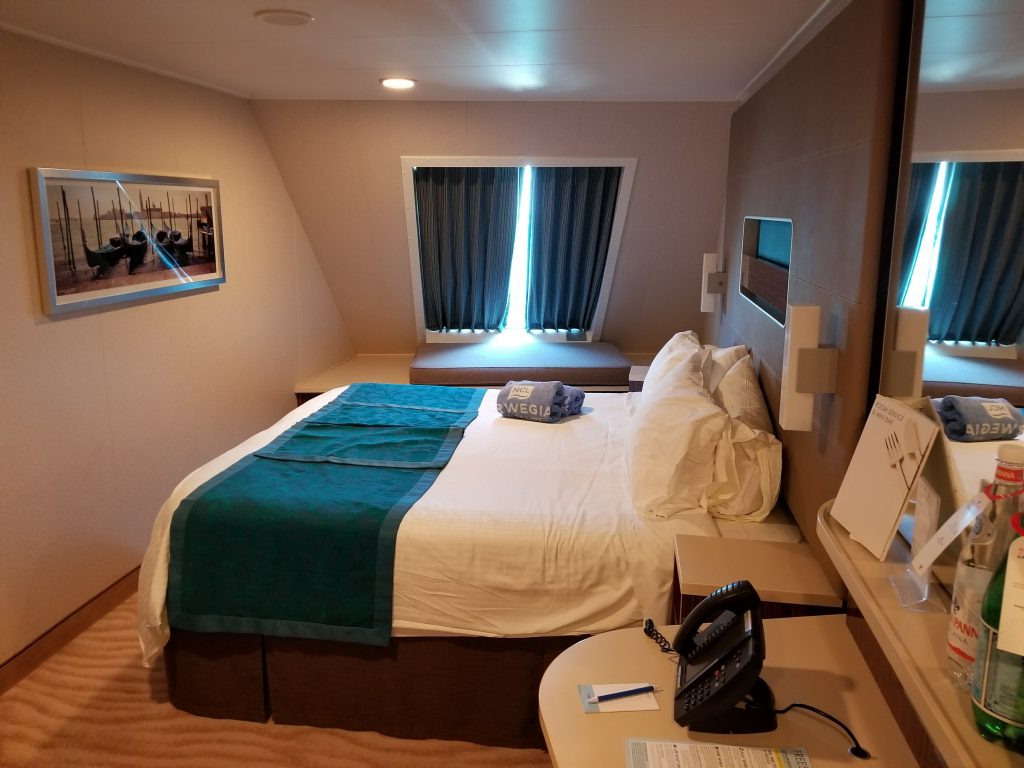 We selected oceanview cabin 13104, at the front of the ship and almost as close to the port side as you can get. There is a H6 Haven Penthouse beside it that is technically "more port", but also has a PrivaSea enclosed balcony due to its forward position on the ship.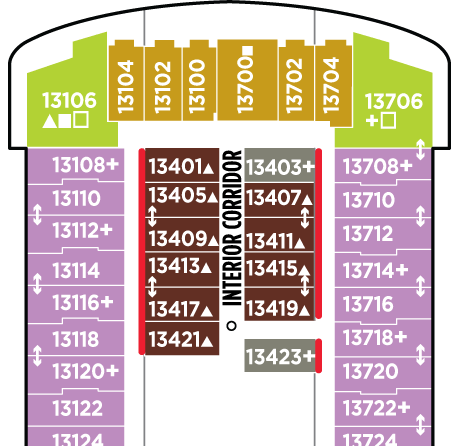 There was plenty of space in the cabin for the two of us and all of our luggage. Underneath the window was a set of storage cupboards, in addition to those underneath the television and the table with the phone. The bathroom was well laid out, especially compared to Epic, and also had numerous shelves and an under-sink cupboard.
The oceanview window had a small plaque on the bottom right of the frame, asking passengers to close the curtains in the evening to minimize light reflecting onto the bridge (which is on the 14th deck.) This seemed like an entirely reasonable request, as we did not want to be responsible for impeding the vision of anyone trying to maneuver a 1068.3-foot-long ocean vessel. We did take several looks out of the window with all the lights off, but there wasn't much to see after the sun went down.
If you looked out the window to the upper right side, you could see why reflecting light might be a problem for the bridge as it was only a few feet away. Another interesting feature was that the bridge windows had wipers – something I never would have thought about, but probably a very useful feature during wet weather.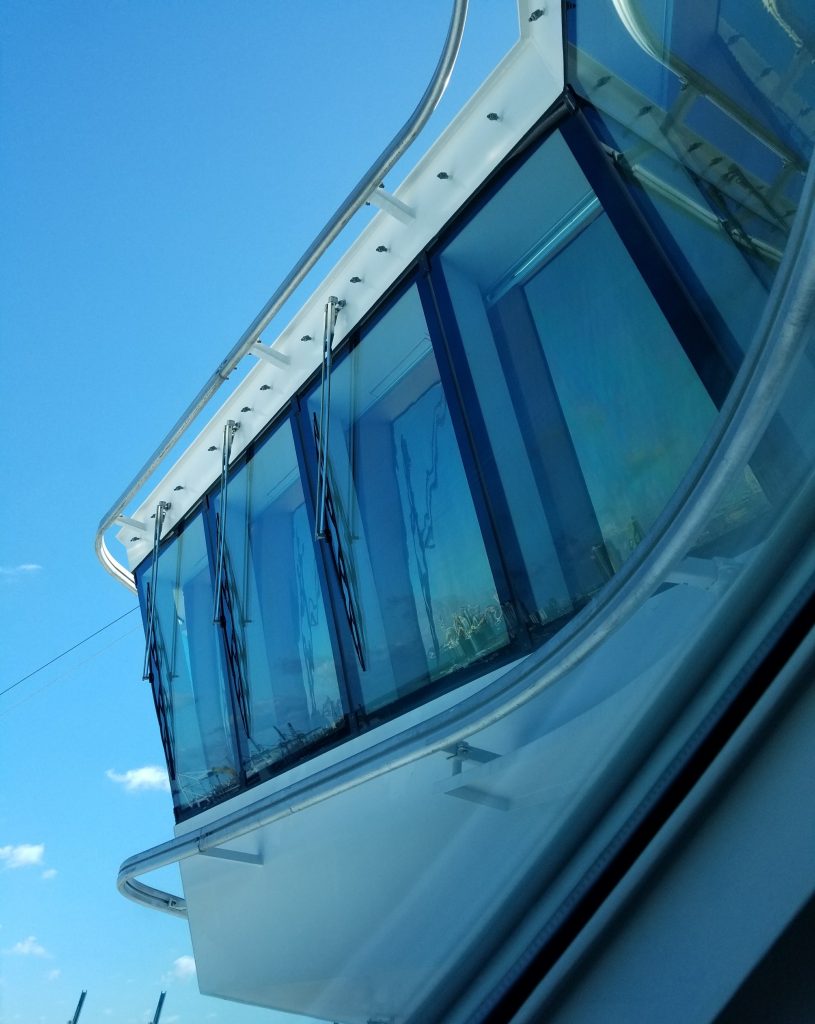 After dropping off our bags, we ended up at the public side of the Vibe bar on deck 17, where Kayla acquired a Blue Moon and I selected an Angry Orchard cider for a total of $1.11US out of pocket in port taxes. We then just took our time staring out at Miami and enjoying the wonderful temperature.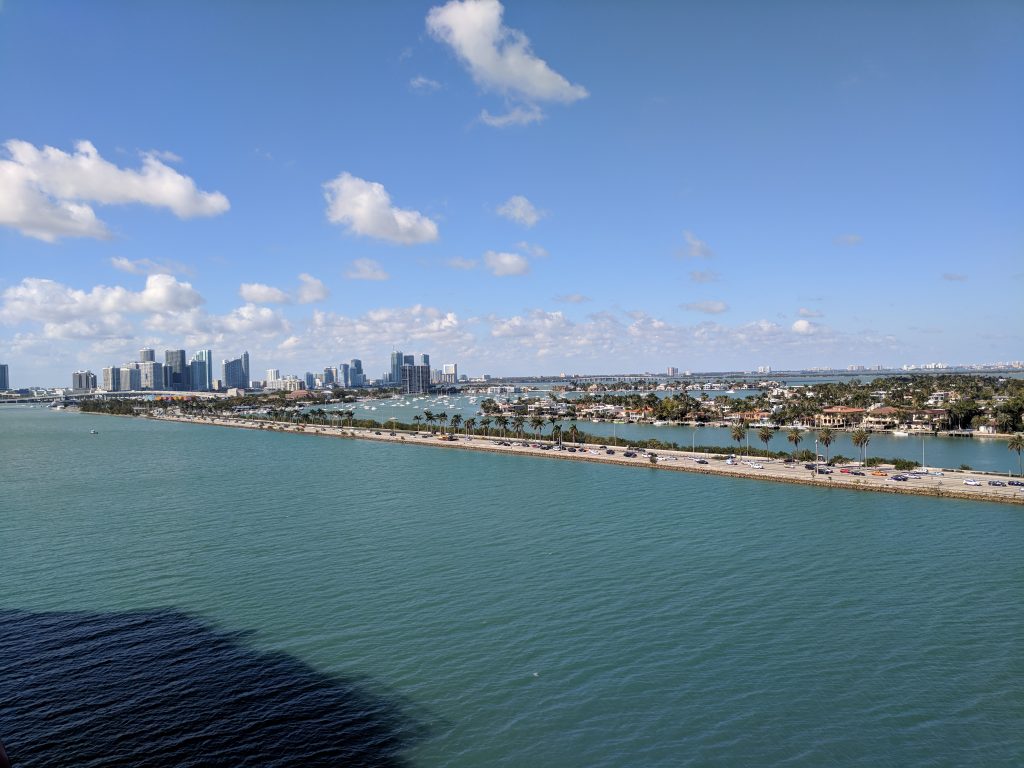 Once it got closer to 3pm, when all services wind down for the the lifeboat drill, we began to head down a few decks and grabbed another round of drinks on the way (damn you, port taxes!) Our muster area was "B" which corresponded to O'Sheehan's, and our specific station was port side of the ship in the dining room area.
I wasn't really a fan of the drill location. There's quite a bit of noise from the atrium area, where a much larger group is assembled and receiving instructions. Without the benefit of a large theatre screen, you're also dependent on the crew member with a megaphone to enunciate; it's not in sync with what is being spoken over the ship's PA system. The O'Sheehan's area also doesn't seem to be built to handle a massive influx or exodus of passengers, unlike the theatre, so getting somewhere else after the drill officially ended seemed to take longer than necessary.
After figuring out that we needed to cut through the arcade entrance to exit, we went and sat in the water feature at Spice H2O. It was kind of a combination of a wading pool and waterfall; I hear this has been "enhanced" on Escape as a grotto (read: fake-looking stone facade.) There were very few people taking advantage of the feature, and it was a great way to cool down a bit as the ship pulled out of port.
By about 5pm I was getting hungry again, so we meandered over to the buffet with the intent of having a snack. I got a hot dog with some side salads (coleslaw and potato) and Kayla got a hamburger, which she reviewed very highly. This made a satisfactory dent in our appetites, and by the time we were finished up, it was time to head out to the Waterfront on deck 8 and begin taking advantage of the Ultimate Beverage Package, now without port tax.
Mojito mania
One of the differences between the Getaway and other Breakaway-class ships that I didn't expect was that the exterior bars on the Waterfront are not the same across the fleet. Breakaway's outside bars are Malting's, which focuses on whisky but offers most beverages, and Shaker's, which concentrates on martinis but also has most other types of liquor available. Getaway swaps Malting's for the "Sunset Bar", which seems different in name only – it has a wide selection of booze with the "standard" bar menu. Shaker's is subbed out for the Sugarcane Mojito bar, which is a much more significant change.
The Mojito bar has a smaller menu with ten featured mojitos, which means that you might not be able to get your favourite drink there. The bar stock is heavily weighted toward Bacardi rum products, although there are a few bottled beers available as well. I wouldn't expect the staff at Sugarcane to be able to make a Caesar or most of the frozen drinks, and this got some people tripped up.
The only reason I mention this is that given the proximity of the Sunset Bar to the Humidor Cigar Lounge (with an outside smoking-permitted area), you may be more limited in terms of where your significant other will want to sit and read a book. If they're not totally into the smell of a dozen or so robust, overpriced Honduran cigars and the bravado that accompanies their owners, your option for an outside seat with easy access to drinks is by the Sugarcane Mojito bar.
Now, this isn't even close to a gasp-my-vacation-is-ruined discovery, but for my future reference, here are the NCL ships and their exterior bar offerings as of March 2018.
| Ship | Waterfront Port Bar | Waterfront Starboard Bar |
| --- | --- | --- |
| Breakaway | Shaker's Cocktail Bar | Malting's Beer and Whisky Bar |
| Getaway | Sugarcane Mojito Bar | Sunset Bar |
| Escape | The Cellars Wine Bar | 5 O'Clock Somewhere Bar |
| Bliss | Sugarcane Mojito Bar | Malting's Beer and Whisky Bar |
I'm definitely not one to turn down a mojito, though, so we began to work our way through the list. All the bartenders we spoke to said that the raspberry guava mojito was the best-seller, and I think for good reason – it was much less of a classic mojito, and instead a delicious raspberry rum cocktail. My other preferred drinks from this menu were the "Spicy Passion Mojito" and the classic Bacardi Mojito.
I will say that even though I do enjoy jalapeno peppers, the combination of it with cucumber in a mojito format was not entirely satisfying. Likewise, I skipped the Brugal Ginger mojito as I think I had enough Brugal rum to last a lifetime on a previous vacation to the Dominican Republic. There is a reason I've nicknamed it "Brutal" – because the cheapest version is somewhat of a punishment to drink.
Since Kayla and I were still both fairly full from our snack, we sat outside, enjoyed the sea breeze and numerous rum-based beverages, and didn't feel the need to make it down to the dining room until about 9pm. I was delighted to find that Taste was serving the same prime rib special that was advertised at O'Sheehan's and the buffet. I had heard good things about it from other cruise reviews, and was finally able to try it myself – the beef lived up to the positive feedback, and there was adequate horseradish.
We also ventured outside our usual pick of "North and South Red Blend" after determining which wine-by-the-glass options were under $15; I had the Tempranillo Rioja Vega Crianza (Spain) and Kayla went with the Pinot Noir Estancia (California). Both were excellent choices and became our constant wine options for the rest of the cruise. We had great service from servers Tineshe and Ashton that evening, who kept up with the clearly hectic pace of the proceedings.
During the course of ordering dessert, we were advised that the Buena Vista coffee ($9.95) was not included in the beverage package. Even though we weren't charged for it on our Epic voyage two months ago, it wasn't worth arguing over, and I never did get to try ordering it at a different restaurant. I was also slightly adverse to paying $10US out of pocket accidentally. I would suggest if anyone else encounters this situation, just order a shot of Jameson to go alongside a regular coffee; you won't miss the "heavy cream" much.
The offline Google queries of the evening were:
How do you get Norovirus? After seeing at least two individuals in the men's washroom that evening "wash" their hands without soap, I didn't especially need an answer to the question. Seriously, you're in a highly populated environment where you've probably touched all manner of glassware, silverware, railings, and door handles. Take the soap and save yourself (and others) the gut rot.
What would it take to get a 3rd "A" in butter? Prompted by the packets served with dinner marked as "AA". This query doesn't come up with the expected results, but searching for "USDA grades of butter" reveals that "AA" apparently the highest grade – there is no AAA. The 1989 version of these standards indicates that AA may only have a slight "feed" flavour, but must have a definite "cooked" flavour. I can assure readers that the butter we consumed did qualify as AA by not having any B-grade tastes, such as "musty", "scorched", "utensil", "weed" or "old cream".
Is it common to order half Pepsi and half Diet Pepsi? The Internet did not have a great answer for this restaurant order – although I did learn that "From the exciting fizz when you sip it to the satisfied "aaah!" when you taste it, Pepsi® brings a refreshing attitude to everything you do."  MetaFilter provided an interesting distraction once again with a discussion about waitstaff and their tendency to encourage Diet Pepsi for customers of a certain… carriage.
Day 1 Freestyle Daily