This post is part 7 in a series of 7 about our vacation on the NCL Getaway, from February 18-25, 2018. You can read the other parts here:

Part 7 – At Sea and Return to Miami (this post)
Day 7: From buffet to steak
Our last full day was at sea, involving a trip to the buffet for both breakfast and lunch. Again, there was nothing exceptional to point out at either meal, but both of us didn't have any complaints about the food. We always seem to find quite a few things we like and the buffet has no shortage of options. It seemed like the bar stock at the Garden Cafe had deteriorated by lunchtime as there was a much more limited selection of beer available. Other bars didn't seem to have the same issue throughout the day but it was a noticeable change upstairs, possibly indicating the impending end of the trip.
In the early afternoon we did a circuit of the Waterfront on deck 8, finding the Sugarcane Mojito Bar to be too windy, and the Sunset Bar to be less of a sunset and more of an oven-like heat and light experience. Kayla went to try and find a seat with a happy medium between the two extremes, while I milled around the Sunset Bar. Another indicator that the cruise was wrapping up was that the bartenders were actively soliciting people to fill out comment cards.
I later asked a crew member about the best way to submit compliments, and he was indifferent about whether the good words were put on a comment card or submitted in the officially emailed post-cruise review. I expect a lot of people don't bother filling the online form out unless there was something egregious (or not-so-egregious but just wanted to complain.) A 5-star scrawl on liquid-ringed cardstock from a half-in-the-bag, sunburnt bar patron is probably a more reliable way to get points toward your "Vacation Hero" piece of flair and a bigger share of the Daily Service Charge.
By 3pm I had planted myself at O'Sheehan's again and caught a bit of the Future Cruise presentation. Definitely a sales pitch, but occasionally you get some information about future sailings and ship repositionings that isn't widely disseminated online. Some advice for the presenter, though – make sure you're signed out of Lync before starting your slides: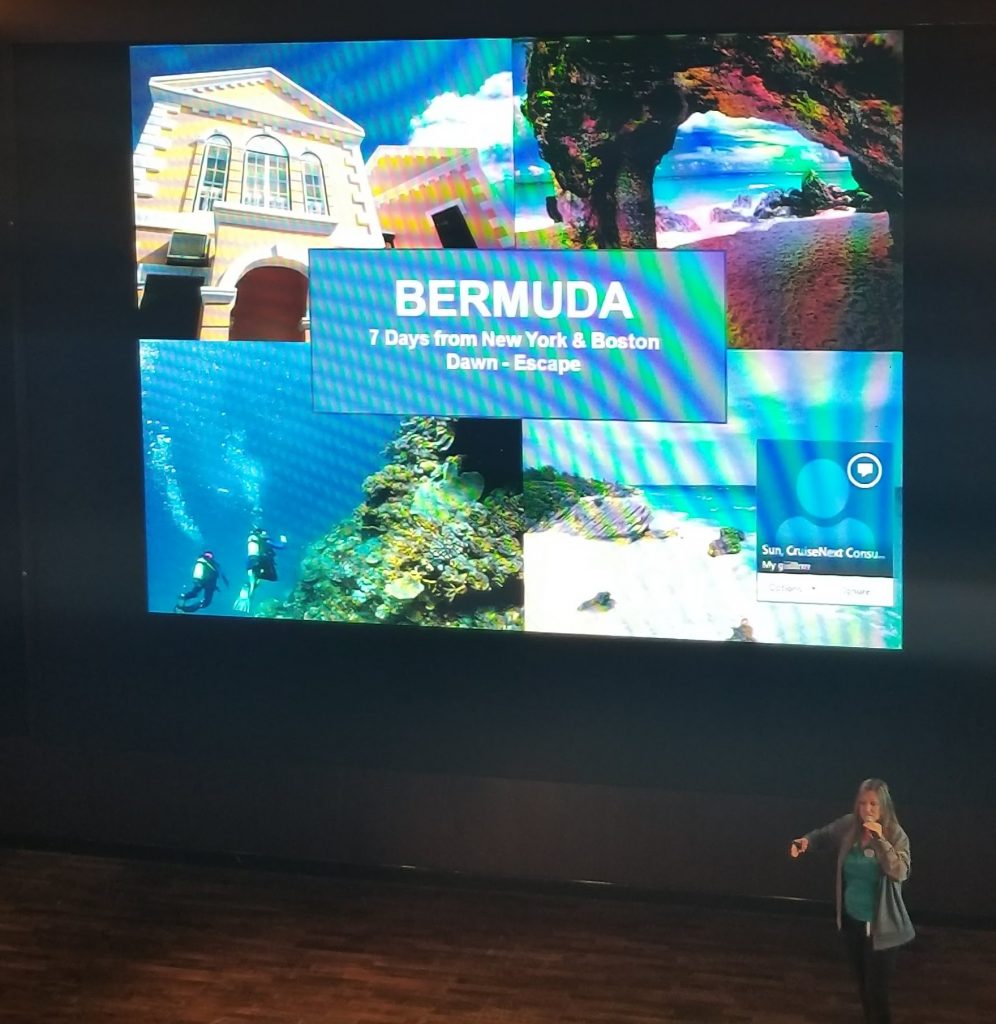 Of course, the high point of the evening was our visit to Cagney's for a large quantity of meat. The background music selection had an inordinate amount of Taylor Swift – at least significantly more than I'd expect for a steakhouse soundtrack. Again, forgive my lack of detailed content and photos here; I was focused on inhaling my steak and wine and was neglectful in considering my readers. Rest assured Kayla and I both fully enjoyed our dinner despite the odd choice of music, and had a relaxing evening despite our impending return to shore.
Day 7 Freestyle Daily
Post-cruise: Element Doral, M.I.A. Beer Company and flight rebooking
Upon disembarking the ship, we tried to get an Uber to our hotel. Pickup took a fairly long amount of time due to the traffic at the terminal and where non-taxi vehicles were allowed to pick up passengers. I'd suggest that if you need to get out of the area quickly, a taxi would be a better bet since they seem to have a direct path out of the port complex.
We arrived at the Element Miami Doral in just under half an hour. The hotel is in the same complex as the Aloft Miami Doral, and the two properties share an outdoor pool and some food/drink facilities. We were lucky in that the front desk clerk was able to get us early check-in in exchange for signing up for a (free) Starwood Preferred Guest membership. The system didn't like Canadian addresses very much, but it ended up getting sorted out and we were able to access our room well before the usual afternoon entry time.
Having stayed at an Element-branded hotel before, they tend to focus on environmentally-friendly attributes – lighting, climate control, and encouragement to reuse towels and bedding for one's stay. At the front door of the property we were greeted by "Eco" the robot – sadly we did not get to use its services.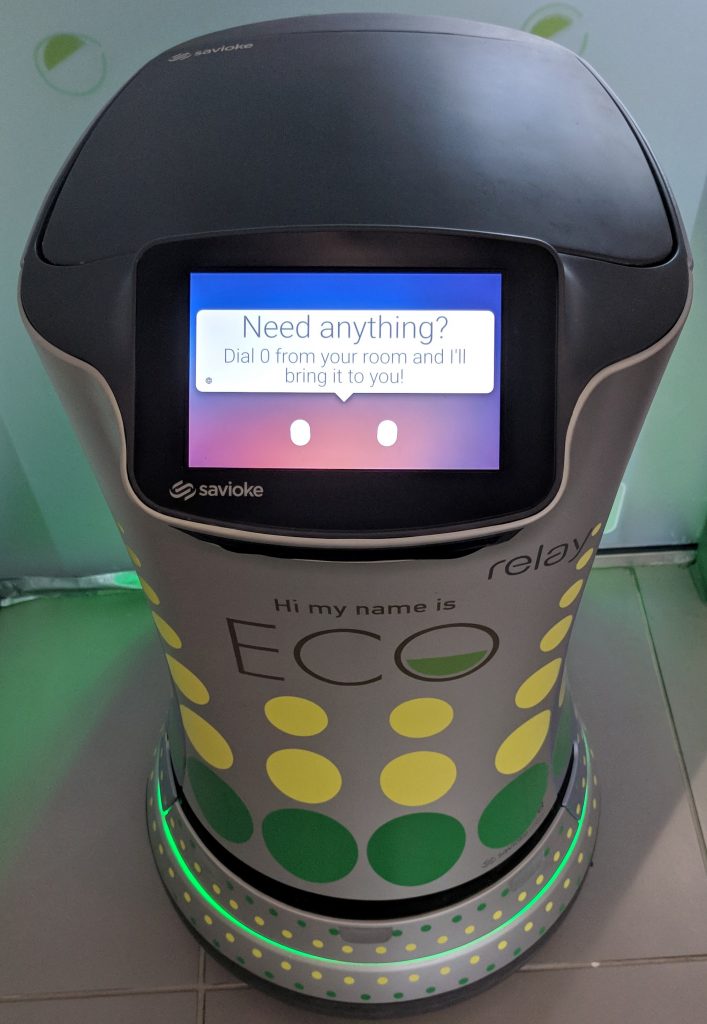 The restaurant at Element appeared to be closed, and also seemed a bit fancier than we were comfortable with, so we walked down the street to M.I.A. Beer Company. This was a great choice – there were dozens of beer options and the food (some Cuban, some Mexican, some traditional American) was tasty enough that we returned for dinner the same night!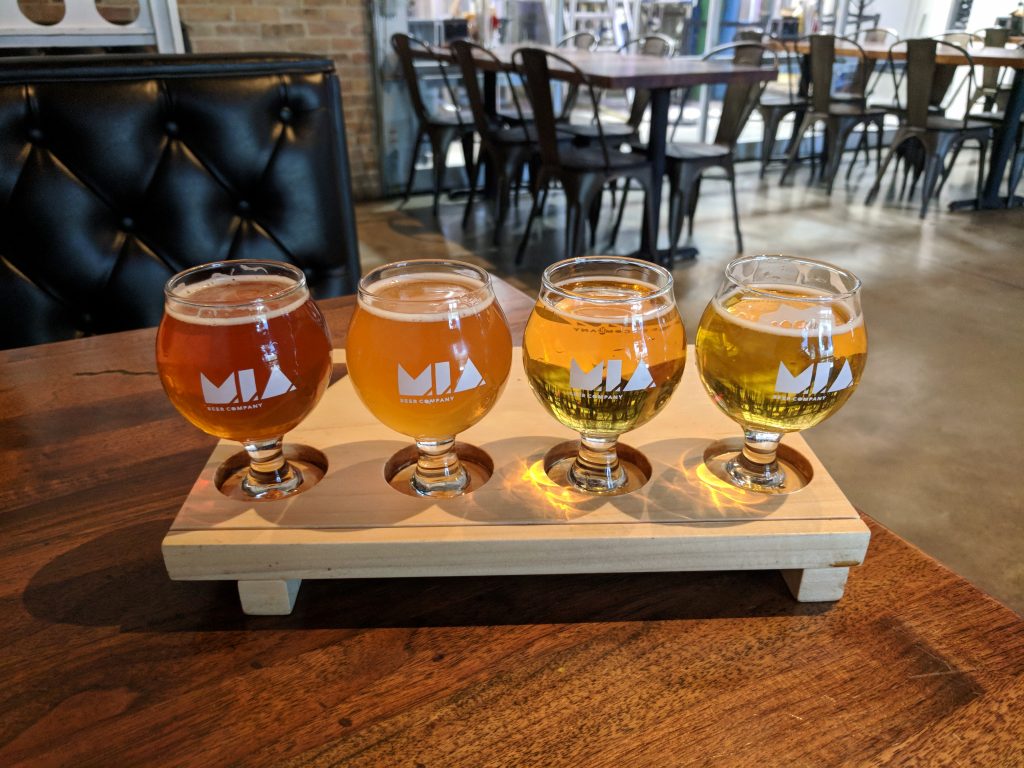 The next morning I awoke to an email advising that our flight home to Toronto had been cancelled, with no additional information in the email as to how to proceed. The Air Canada web portal for managing flight cancellations was also unhelpful and advised that I'd need to call in to get things sorted. I managed to leave a callback number with AC, but when the representative called back they had no definitive information and suggested that they were still in the process of rebooking everybody automatically.
As I started pacing and considering getting to the airport early to try and sort out the situation, the rebooking email came in – it was only about a 2 hour delay from original departure time, so not a huge problem. We did have to go through the seat selection process again, so it was a good idea to keep an eye on the flight status.
The replacement plane was a 787 Dreamliner, which has neat window-dimming technology and upgraded entertainment systems, but the aircraft it looked like it hadn't been cleaned in quite a while. There was significant dust and debris around the air vents, overhead bins and other surfaces. I hope this isn't the usual experience, or else it's a shame that they're not taking care of the new, expensive planes.
Wrapup and post-cruise opinions
With the conclusion of our voyage on Getaway, this puts us at four cruises total since 2015, all of which have been with NCL. At this point I think we have a pretty good idea of what to expect out of the Norwegian product, what we like and what to avoid. We still have two deposits left with NCL and there are some requirements for the next booking with them:
Ship: Breakaway or Breakaway Plus class with Waterfront is absolutely mandatory. It's much less busy than the pool deck, easy access to drinks and you get to enjoy the sea breeze.
Destination: Anything other than Western Caribbean. Eastern or Southern Caribbean would be OK – we have yet to make it to the various Virgin Islands – but I'd take a Panama Canal, transatlantic or repositioning cruise as long as the temperature held out.
Length: 7 days minimum, but I'd love to take something longer than a week in the 10-12 day range – especially if it has a good number of sea days so we get to really take advantage of the ship amenities.
Cabin class: Inside or Oceanview, unless there's a good deal on a low-tier balcony cabin. The specialty restaurants are good, which we'd give up as a perk with the Inside rate, but at that point the à la carte pricing might be reasonable enough to do once or twice.
What to avoid: Shopping seminars, art auctions, other upsell opportunities.
My next review will likely be much shorter, focusing on the key parts of an Alaskan cruise that we took in August 2018 with a larger group of family members on the Celebrity Infinity. Until next time!