After finally publishing the 11,000-word epic that was the NCL Getaway review, I found there was far too much content for friends, well-wishers and Reddit stalkers to tolerate, even when split into seven parts. Perhaps I should have called it – BuzzFeed clickbait style – "7 Weird Things You Must Know About Cruising Or You'll Fall Off The Ship!" Of course, then I'd have to pad the content with ads and create a quiz to find out which ship best represents you.
This review of our cruise on Celebrity Infinity to Alaska is about half the size, and will involve a number of comparisons between Norwegian Cruise Line and Celebrity Cruises (since those are the two lines we've sailed on so far.) I'm definitely glad we did the cruise with Celebrity, even at the least so I have a better idea of a premium RCCL product, as well as an understanding of what older, slightly smaller "hardware" has to offer.

I would likely sail Celebrity again if the right opportunity presented itself, but with a few changes based on this experience. My wife Kayla was a bit more negative on Infinity, mainly due to the constant upsell of specialty dining. 
Booking and planning
We'd originally booked the August 19, 2018 7-day sailing with Celebrity in April 2017 after investigating a variety of options. Both the round-trip Vancouver/Alaska itinerary and choice of cruise line were selected in consultation with family members. It was agreed that everyone wanted the Alaskan experience and preferred to sail out of a Canadian port. At the time, NCL's options were all out of Seattle.
I ended up booking through Expedia rather than directly with Celebrity. This decision was mainly made from a pricing standpoint, as Expedia still had the least expensive "category 12" inside cabins available, as well as a $50/stateroom onboard credit, and Celebrity did not seem to expose the lowest-priced option on their website. The booking was routed to a real agent at a Vancouver CruiseShipCenters location. While I'm still doubtful as to what a travel agent adds to the experience, the entire booking and pre-cruise process worked out well, even with a few changes and requests throughout the year.
This was also the first time we'd booked an inside cabin, disregarding all the Internet suggestions that a balcony is near-mandatory for an Alaskan cruise. After our cabin crawl on the Epic, reviewing the sizes of the staterooms on the M-class ships, and finding it was double the price to upgrade to an Oceanview, we went for the cheap-seat, third-class, bowels-of-the-ship Inside option. Having seen both types of cabin in person, there was also no discernible difference between a category 12 and category 11 inside stateroom on Infinity.

If you're planning on doing the same thing and flying in, definitely price-compare flights on Expedia, Hipmunk, Google Flights and the airline directly. Expedia's flight pricing constantly was higher than any of the alternatives, making points accrual or redemption a net loss. We kept looking through the end of 2017 but kept finding $600+ pricing for round trips with reasonable flight times. In mid-January, we were able to get a one-way flight to Vancouver on Sunwing for $275.86 CAD per person – which seemed decent enough, and I was willing to overlook my last experience with Sunwing. We booked one-way as Kayla and I planned to stay for a few days in Vancouver after the cruise but didn't have concrete plans.
Then in late February, we received a 22% discount code in an email from WestJet, so the resulting YVR to YYZ one-way, mid-day flight came to $186.12 CAD per person. (In a Santa Fe with highway fuel economy of 26mpg, at ~2700 miles from Vancouver to Toronto, with gas averaging $2.906/gallon – it would have been more expensive to drive, plus 42 hours in a car.)
One of the other pre-cruise tasks was selecting shore excursions. For the ports on this cruise (Icy Strait Point, Juneau and Ketchikan) there didn't seem to be a whole lot of options outside the cruise line offerings, all of which seemed fairly expensive. A number of providers' websites redirected to booking directly with the cruise line, which I assume was some sort of contractual obligation and/or capacity control mechanism.
I ended up continually checking the Celebrity web portal before sailing, and booked excursions in both Juneau and Ketchikan when they were advertised with at least a 15 or 20% discount, saving about $25/person compared to regular pricing. We didn't end up selecting an excursion for Icy Strait Point, which I'd categorized as a purpose-built tourist trap.
Travel to Vancouver
We stayed in the Accent Inn Vancouver Airport the first evening, as our flight didn't land until 10:15pm and it took a while for checked bags to show up. The Accent Inn definitely fit more of a motel or motor inn profile than a hotel, but there was an airport shuttle, the rooms were perfectly fine and it was close to a Denny's for breakfast the next morning.
The staff were pleasant, accommodating and assisted in getting transportation to the car rental location the next day after Avis' imitation of "we'll pick you up" turned into "I'm the only guy on shift, get here yourselves."
Prior to the cruise, our family also enjoyed a four day stay in Dave and Katy's incredibly beautiful, well-furnished log cabin in Garden Bay, BC. I can't say enough positive things about this experience and our wonderful hosts – they legitimately deserve a 5-star rating, top marks or whatever highest grade the review system permits. If you're considering a relaxing time on the British Columbia coast with your group, this cabin is where you want to be.
Port of Vancouver and embarkation
We drove in from Garden Bay on the morning of the cruise, taking the 8:40AM ferry from Langdale back to Horseshoe Bay on the mainland. If making the same trip, ensure you book in advance through BC Ferries to ensure you get your preferred time slot. The drive was smooth, uneventful and involved one stop-off for gas prior to returning the rental vehicles to the Avis location on Hornby Street.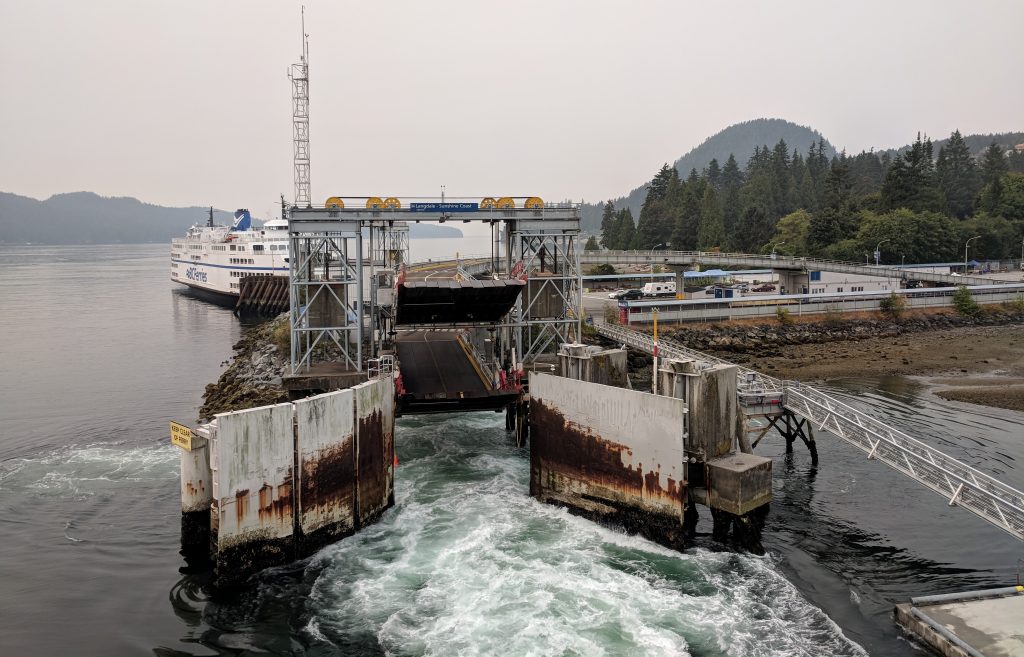 The Canada Place cruise terminal is entirely walkable from the car rental at 757 Hornby – since we were with a group, we took all bags out of the vehicles, had two drivers return the cars, and then they walked back to the terminal to meet the rest of the group.
Of the cruise terminals we've been through (Vancouver is the fourth), it probably ranks at the top of the list in terms of organization. There was some initial confusion finding the exact entrance, but the porter/bag drop-off area is under the street level, accessible by drive-through ramp as well as a set of stairs and a ramp for pedestrians. The under-terminal luggage area had signs all over indicating that tips were not required, nor were we harassed for them by the porters – so that's a big plus for Vancouver over Port Canaveral, NYC and Miami.
After dropping off checked bags, you enter the terminal and ascend an escalator to the check-in level. We assembled our party members and stood in line for check-in and keycards. The line was short and moved quickly. The agents here seemed competent and friendly, although there was a slight amount of logistical confusion when trying to use my credit card as payment method for two cabins. We tried to have both groups go to the same agent in the theory that it'd be easier to swipe the same credit card, but the line controller was bound and determined to hold up the "separate cabins, separate agents" rule. Once Kayla and I were checked in successfully, we merely moved one wicket to the left to join our companions, and handed over the relevant credit card when prompted.
Because the cruise goes to US ports, you have to go through US customs in Vancouver. Kayla and I both have NEXUS cards, which continue to smooth the process of cross-border travel. Celebrity had explicitly made NEXUS available as a "proof of identity" option during online check-in. This seemed to have been the trigger for the agent to give us a large blue plastic card, which we handed to the customs line coordinator. Instead of being sent to a lengthy queue for an electronic terminal, we were immediately directed to the last customs booth on the right. We provided passports to the agent at his request, answered some fairly standard questions, and then were waved through.
By this point my phone was "blowing up" with text messages from some of our party who were already on board. We avoided the photographer – we're not buying the photos anyway – and accepted some complimentary  cocktails once on board. These aren't present on NCL, at least not without a high status level or Haven cabin.
One of the first things we ran into after the free drinks was a set of staff offering upsell options: beverage packages and premium dining packages. We declined all of the above, but this wasn't the last of the upgrade badgering during the cruise.
After taking in the view of the Grand Foyer, we ascended to Deck 10 to join the party at the Oceanview Bar – now our vacation could really get started.
Beverages
Selecting a package
One of the first orders of business was to locate some adult beverages, and by the time we arrived our travel companions had already been besieged with a beverage package upsell from two waiters. They had each just signed receipts for $10 Caesars, and were perturbed about repeating the experience not just today, but repeatedly over the remainder of the cruise.
On our previous cruises, Kayla and I always had NCL's Ultimate Beverage Package as a Free at Sea option, which has historically cost between $266 and $377 CAD out of pocket for both of us in gratuities. Since only twice-the-price Oceanview-and-up cabins on the Infinity sailing had a beverage package included, our initial thoughts for this vacation were to "pay as you go" since we'd be spending a lot of time off the ship in ports.
After reviewing the brochure and existing receipts, and figuring that we would easily spend more than $45/day in drink purchases, we attempted to make a deal with the bar server. He implied that if we all bought the package it might get us a better deal. An attempted negotiation to secure the $55US/day (plus 18% gratuity) classic package for the price of the standard plan ($45/day) met with no success, and there was no flexibility offered from the bar manager either. The group ended up buying the standard plan from a different bar server, and felt a bit cheated given the sales pitch.
I apologize for the quality of the brochure image below and cutting off the premium drinks, as we were actively debating the merits of the standard and classic packages at the time it was photographed. I managed to locate a PDF intended for group bookings, where the second page includes the drink information as of October 23, 2018.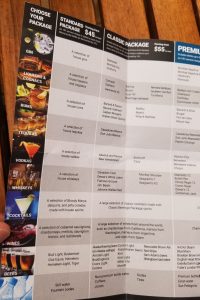 As one might expect after signing for hundreds of dollars, our interactions with the bar staff immediately after purchasing the plans were pleasant and involved rapid-fire deliveries of trays of drinks to our group. Later in the day and for the rest of the cruise, we ran into the limitations of the standard package – which I will now refer to as the Cheap Plan.
The Cheap Plan
My primary gripe involves the exclusions: most bars offered a selection of pleasant-sounding cocktails on their menus, and the Cheap Plan includes exactly none of them. It was a lousy experience entering the Rendezvous Lounge, reviewing the entire drink menu, and finding out you couldn't have any of them without paying full price (not even just an upcharge.)
The bars and servers were also inconsistent with what was available in the plan itself. Speaking to two different servers or bartenders could result in either successful drink acquisition or being told a nicer version of "not with the Cheap Plan." Likewise, even ordering a daiquiri at the pool bar involved negotiation: the difference between a Cheap Plan daiquiri versus the $9 one on the menu seemed to be a splash of grenadine or simple syrup, and you might accidentally get the second option if you weren't clear about it.

It got to the point where we would preface drink orders with "we have the Cheap Plan, can we get X" or "what can we get". Our sommelier in the main dining room got used to this, and figured out the optimal approach for our table after two evenings of main dining room service – for example, when we ordered prosecco, he was able to translate that to "the only sparkling wine option in the Cheap Plan" and procure the necessary bottle.
Over the course of the cruise, we spent a significant amount of time on the pool deck in the hot tubs. The tubside wait-service was generally inconsistent or slow, which may have been a throttling mechanism or just related to bar server staffing. To increase our rate of service, we typically elected one or two representatives from the group to exit the hot tub, take keycards, get the bartender to fulfill several drink orders at once, then bring drinks back for the whole party.
Twice, despite explicitly avoiding any drink not in the Cheap Plan – nor signing for anything – I had a charge for a premium drink placed on my room account. The first time I went to Guest Services and was able to get it removed, but ended up just not bothering to address it the second time and eating the $9.44US cost.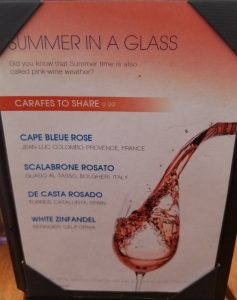 Another surprising scenario Kayla ran into was that you couldn't order a cocktail and water at the same time – not even a bottle, just a glass of tap water. There seemed to be a five-minute throttling mechanism between drinks of any type for the same guest, which is incomprehensible to me if one of them is just "still" water, as permitted in the Cheap Plan. You'd think the responsible thing for Celebrity to do would be to encourage guests to rotate between booze and not-booze.
This also happened at multiple bar locations, so this was either a widespread misinterpretation of a policy or a truly stupid decision from above. We've never encountered this issue on NCL, even when one of the non-alcoholic drinks is a soda water or pop, or even if the same person ordered two drinks – such as an Angry Orchard cider with a Fireball chaser. I have to wonder if the problem would have happened with a non-Cheap Plan.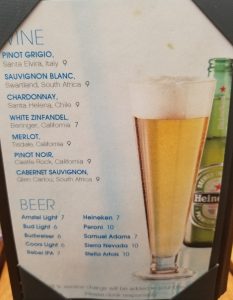 For the beer drinkers out there who might be contemplating the standard package and thinking "oh, I could get by with those", selection was also a problem. Tiger didn't seem to be available anywhere on the ship. There were also pool deck servers who had carts full of ice and beer, but the options were pretty much every brand but the ones in the Cheap Plan.
Unlike NCL's Ultimate Beverage Package, where drinks are generally included up to a given dollar amount – and every drink has pricing listed – the Cheap Plan doesn't distinguish what an acceptable dollar figure is, so even someone trying to stay within the agreed-upon boundaries is likely to encounter issues. The only sure thing was ordering "X n' Y" – rum n' coke, gin n' tonic, scotch n' soda as a few examples.
One positive for Celebrity is that on all our Norwegian sailings with the UBP, Norwegian has passed along state taxes (averaging perhaps 60 cents US per drink) until you are a certain number of miles from shore. This didn't happen on Infinity – I'm not sure whether it was that the Vancouver and the Alaskan ports we docked in didn't have this tax, or if Celebrity manages to account for things differently.
For me, the biggest takeaway here was that the Standard Beverage Package was sufficient for our needs, but came with a lot more hassle and restrictions than I wanted to deal with on vacation. Any future Celebrity cruise booking we make absolutely must include the Classic or Premium Package as a perk, likely necessitating a more expensive tier of cabin, or we have to bite the bullet and buy it prior to sailing. Sometimes there are occasional discounts on the beverage package, similar to how shore excursions will go on sale intermittently.
Food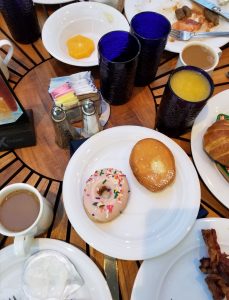 Select vs. Traditional
When booking, we had the option to choose between either Celebrity Select or traditional dining. Even booking the cruise over a year prior to its sail date, the earlier of the two traditional time options (5:45pm) was "sold out" and therefore dinner in the main dining room would have begun at 8:30pm every night. This didn't seem reasonable to us – if you wanted to see the entertainment that evening, or simply avoid crankiness due to hunger, food that late just doesn't work.
Something that would have been nice to know in the context of making this choice is that all the evening schedules had an early and late show. These shows were opposite the traditional dining times, so if you had the late dining version and wanted to attend the magician/comedian/performers of the night, you'd just have to do it before eating. However, having early dining also might cut your port time short – for Icy Strait Point, arrival was 4pm and all-aboard was 9:30pm, so if you wanted to do an excursion while there was still daylight you'd be stuck.
Traditional dining is in contrast to the Select option, where you apparently can"simply come to the dining room whenever you'd like to have dinner". This method appealed to us – we're used to the NCL approach where there are no set dinner times. You might have to wait a few minutes for a table, but can reduce this by either going at slightly off-peak times, or just taking a buzzer and hanging out at a bar for 15 minutes or so. We picked Select and didn't really think about it further until actually going for dinner at Trellis Restaurant.
I'll qualify further remarks by mentioning that we typically had seven people in the dinner party, which I can respect is both an odd number and significantly different from a logistics standpoint than our usual two.
Reservations
In practice, Select Dining on Celebrity operates much differently than NCL's Freestyle Dining. When arriving for dinner, you would wait in one of two lines, one of which was for cruisers with reservations or traditional dining times. The other line was for walk-ups, where they would try to slot you in. It seemed clear that having a reservation was the key to avoiding a queue of indeterminate length.
Making reservations also seemed to have a degree of complexity and inconsistency that I wouldn't have expected. The documentation in Celebrity Today indicates that you could call to make inquiries between 9:00am and 5:00pm. A member of our party tried to secure reservations for the group immediately at 9am daily, and each day was given different, conflicting information about when one could both book reservations (sometimes 9am was allegedly too early to book), and the available seating times that evening (occasionally only very early or very late.)
We also found out that asking for "7 people" on a reservation didn't matter. If you didn't mention all of the cabin numbers of your party when booking, or the reservation attendant didn't properly denote them when checking in, you would be directed to a table that was sadly undersized for everyone. We became very good at rattling off the series of cabin numbers to the podium staffer.

Part of the complexity with reservations might be due to the staff making an effort to keep your party with the same waiter, assistant waiter and sommelier every evening. This seems to be a more traditional cruising experience that some people put a higher value on. When I talk about our cruising experiences in the real world, some people think it's a nice touch, and some are very much against it – one comment I got was that having the same waiter would interfere with their goal of being as anonymous as possible on vacation. For us, the positive here was a consistent sommelier who could work within the Cheap Plan constraints.
On a future Celebrity cruise, I think I'd still stick with the Select option – both 5:45pm and 8:30pm are fairly incompatible with my preferred dinner time, especially if it's going to be a long meal. I would also see if Select dining times could be reserved online prior to sailing. Some commenters at CruiseCritic and around the rest of the Internet have mentioned this as a possibility, but I didn't see it in the web portal for our cruise.
Quality, choice and availability
Logistics aside, we didn't have any complaints about the quality or quantity of food on the ship, both in Trellis and at the buffet-style Oceanview Café. The main menu had a good variety each night, although generally our appetites required at least two appetizers, and occasionally someone would need a second entree before dessert. Our waiter was great with figuring this out and occasionally brought around another entree for the table preemptively.
Kayla especially liked the cheese soufflé on the menu, as well as the sit-down breakfast we had in the Trellis Restaurant. They seated us with two other couples in the morning, which was fine – although we would have preferred to be given the option to share a table or sit on our own.
While the newer NCL ships have O'Sheehan's or Local Bar and Grill serving as 24-hour options, food service on Infinity wrapped up at midnight. The late-night option was a section of the Oceanview Café offering a pizza, pasta and salad bar. I enjoyed a gigantic plate of pasta and pizza one evening, and definitely scalded my mouth in haste to ingest the calories. The lack of a post-midnight option didn't end up being a negative here, but I can't say I'm not looking forward to a hot dog, Reuben sandwich or wings at 1am on our next NCL jaunt.
Celebrity takes some points over NCL for offering a lobster night in the main dining room, which I've never seen on a Norwegian cruise. If you have Netflix, check out Mega Food: World's Biggest Cruise Ship for an idea of what the logistics behind this operation are. I was able to secure two lobster tails and felt like I had done my duty to deplete the onboard seafood stock. The only problem was that some of the other menu items that night were extremely tempting choices too!
Onboard life
Despite being a smaller ship than the Norwegian Epic or Breakaway-class of vessel, excluding big-ticket attractions like water slides or rock climbing, the number of venues and onboard activities on Infinity wasn't a detriment in comparison to the giant ships. There always seemed to be something to do, watch, or listen to. I also noticed increased availability of bar and buffet seating; while Infinity is a smaller ship physically, the population density in public areas was noticeably lower. We could nearly always get a table for four at the Oceanview Café without trouble, which is something that usually requires a few laps on the NCL ships.
The dailies are filled with the usual entries for fitness classes, the spa, the casino, art auctions and shopping, but also had some unique (and free) activities. One that we attended and really enjoyed was the "Heartbeat of the Operation Galley Tour", which had quite a large number of attendees. The entire bottom level of Trellis Restaurant was used as a staging area, and was full of people by the time staff started escorting smaller groups into the restricted areas.
Definitely take this tour if available. There's a sharp contrast between how public areas are decorated versus the very stark, functional crew areas, and you get a better idea of the scope of feeding a small town of people for a week.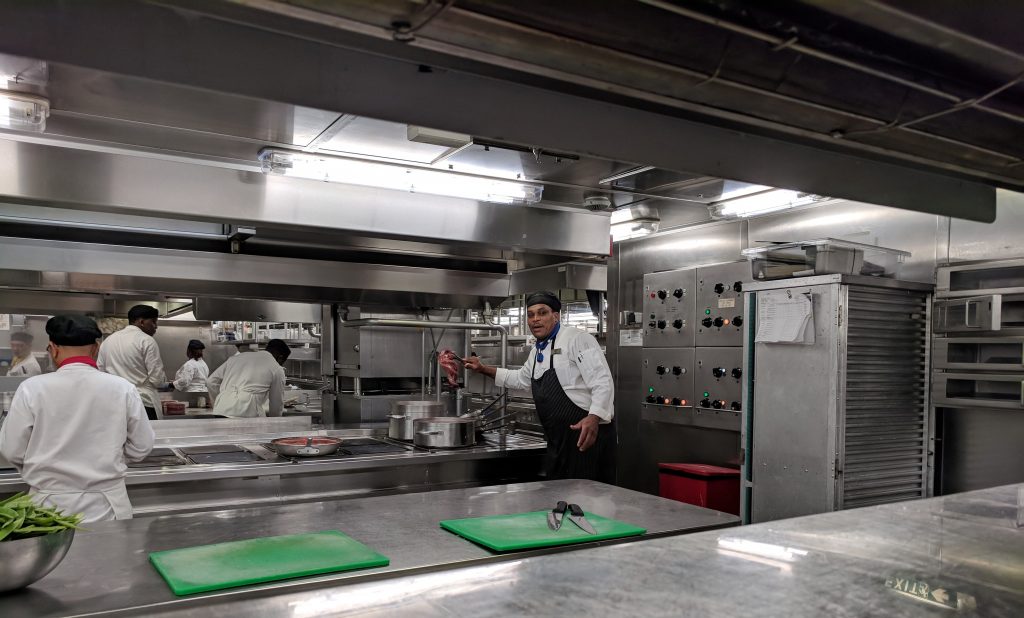 NCL charges extra ($99US last time I checked, but it may be more now) for a behind-the-scenes tour. I believe theirs includes the laundry area and "I-95" corridor, which would make it more comparable to the 2-hour, $79/person Inside Access Ship Tour also available on the Infinity. However, as the complimentary galley tour ended, there was a bit of a twist. The groups exited through a premium restaurant, containing a maze of tables with displays of food and drinks. Staff made a valiant attempt to sell specialty dining and premium drink flights until we were able to weave our way out.
Constant upsell
We now get to what both Kayla and I think was the single biggest negative about the cruise. As mentioned earlier, within two minutes of boarding we were asked about beverage packages and specialty restaurant bookings. Then while sitting at a table by the Oceanview Bar, the beverage package sales attempts continued from every drink server until we relented.
Now, I can't really fault Infinity's bar staff here. In context, there is a group of people in their mid-20's and early 30's who have made their first stop a bar at the aft of the ship. Some of the group had expressed interest already, and nobody wants to pay for a drink outright if we're going to commit to a plan that will include it. And as any salesperson knows, it's way easier to turn a "maybe" into a "yes" than a "no". So when I mention constant upsell on the cruise, I'm excluding embarkation day where we actively engaged in a beverage package transaction.
The problem: Every subsequent day involved a specialty dining upsell. There was the obvious blockade at the end of the galley tour, peddling for-fee restaurants. Nearly every time we exited the Oceanview Café, or entered the deck 10 midship area via elevator or stairs, we had to run the gauntlet of turning down specialty lunch and dinners. The hardest sell was specifically for a $40/person "Crab Shack" lunch or dinner.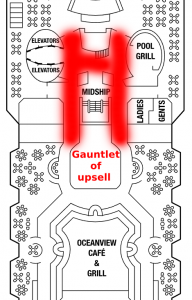 We were typically full of food from the buffet, or trying to get to the pool deck to meet up with the rest of the group, and got really sick of the interruptions. There's someone with a big plate of crab legs in the way of your desired path, who tries not to back down after your first objection or refusal. We even had a good reason – our shore excursion in Ketchikan was going to involve eating as much crab as possible! It was just easier to keep a walking pace past the staff and make good use of the expression: "No, thank you."
It didn't end with inconveniently-placed salespeople though; on the fifth night leaving Juneau, we had just wrapped up our dinner service in Trellis. When our waiter came over, another gentleman accompanied him with the telltale plate of crab legs. Our waiter then went into the sales pitch for the Crab Shack dinner that would occur next night. This was quite off-putting, given that we'd just finished quite a good meal – why would we want to do anything else tomorrow?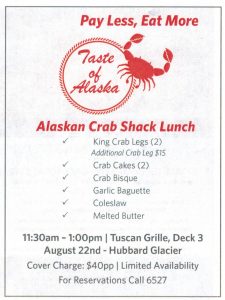 We've never encountered any main dining room waiters on Norwegian clearly pressed into service to sell specialty dining, nor do I ever recall being propositioned in a high-traffic hallway to change dinner plans. The entire experience raises quite a few questions. Is this a corporate directive from Celebrity, or is this the ship's food and beverage manager trying to make their numbers? Did they stock too much crab, resulting in some screw-turning? Or is this something common in the mass-market cruise industry in general, and we've only encountered it for the first time?
Regardless of how the upsell came about, it was distinctly not a premium experience, and felt closer to being accosted by beach vendors. I sincerely hope that it doesn't happen again on any of our future cruises, no matter what line they're with.
Unexpected inclusions
In contrast, there were a few services on Infinity included with the cruise fare that would have been chargeable on NCL ships. Specifically, the covered spa area pools and hot tubs, spa café, and sauna areas were complimentary. Access to these requires Thermal Suite passes on Norwegian, currently $333 CAD/person/week on Breakaway-class vessels if bought online beforehand. I used most of these options and it was a pleasant surprise to be given a key to a sauna-area locker without getting hit up for money.
The Alaskan trip also included complimentary lectures from a naturalist, who narrated our time at the Hubbard Glacier as the ship rotated around. He didn't seem like he was putting on a sales pitch, unlike other port shopping or spa sponsored events. We were also permitted out on the forward helicopter pad that day to get a better look at the glacier, which I'm sure Norwegian would also try and find a way to charge for – or restrict to Haven guests only.
Other enjoyable activities
We enjoyed and would recommend some other activities/events onboard:
Grab several blankets to shield yourself from the wind, lie down in one of the couch-like sections in the rooftop terrace (deck 12 aft), and watch a movie. The film Kayla and I caught was Ready Player One; I'm sure she was sick of me saying "that's not how the book went!"
Take part in the Silent Disco – you get a pair of headphones and can pick between one of three channels, and the earpieces light up red/green/blue depending on which music you're tuned into. We did a late-night session at the Constellation Lounge that was Battle of the DJs. Combined with "gin n' ginger" from the Cheap Plan, I danced more than the zero amount I'm usually amenable to.
The "Frisky Feud", which was a Family Feud style game on the last evening where Cruise Director Shawna asked risqué questions. Slightly more fun than the Newlywed Game, because you get to yell out suggestions to the contestants.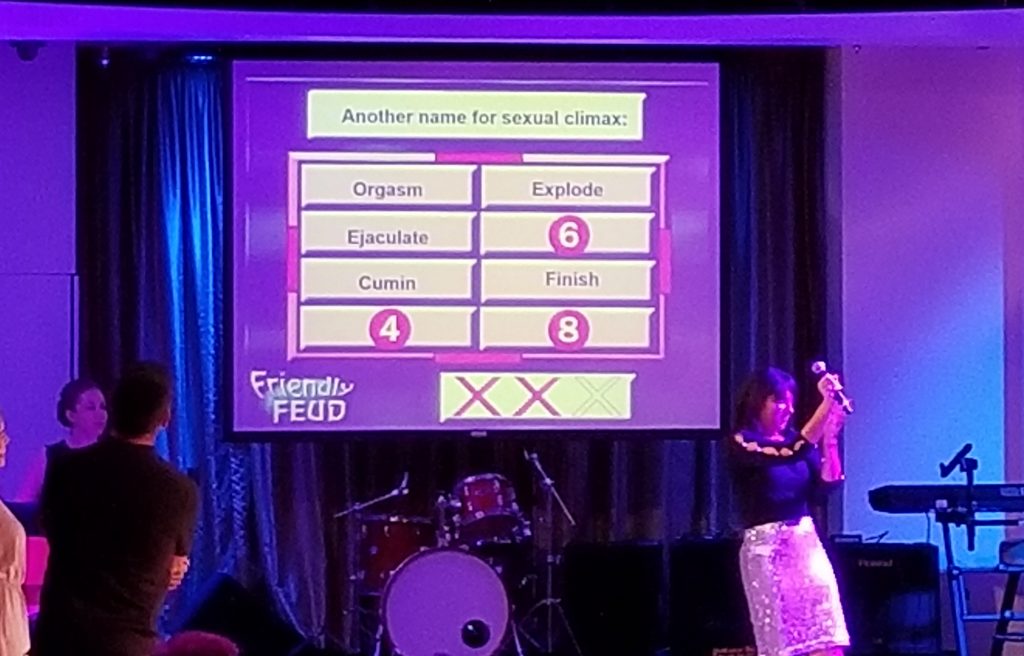 Ports and shore excursions
Icy Strait Point (Hoonah)
Our first stop on this cruise was at Icy Strait Point, a cruise-exclusive port sitting at the edge of the town of Hoonah, Alaska. It offers a few restaurants, a salmon cannery museum with retail, and a variety of tours available. The biggest attraction seems to be the "world's largest" zipline, although there are other activities such as whale watching, kayaking, boat tours and hiking.
I was initially fairly negative on this port, since the curated experience seemed like a more efficient to get cruise passengers to part with their money. To be fair, the tourist village serves its purpose well – while there's not a lot to do outside of "spend money", and you might get 15 minutes of distraction from the (free) museum, Icy Strait Point was clean, well-maintained and everyone seemed friendly. We weren't especially interested in the shopping and excursions on offer, so we walked down Cannery Road into town. There is also a shuttle with a fairly minimal cost.
It took about 40 minutes to walk to what I would consider "the edge of town", just past the elementary school. By the time we got there and turned around, around 5:30pm, most places in town had closed. It was disappointing as I was really curious about Icy Strait Brewing, which looked like an interesting brewpub. During our walk, I better understood why Icy Strait Point is so necessary: the town clearly needs money, and it's only accessible by sea or plane. The way you're going to attract tourists is by having a large-enough port with enough polished things for two to six thousand people.

By this point, a few in our group were seeking Internet access; some just out of withdrawal and others needing to check work email. While there is some AT&T-based cell coverage available, paying $7 for a day of US roaming seemed wasteful for the amount of time we'd be in port. The restaurants and tourist centre in Icy Strait Point offer WiFi – presumably with purchase, but the DHCP address pool was undersized for a cruise ship's worth of devices. We were able to see the signal, but couldn't obtain an IP address and thus access the Internet.
Rather than get into UniFi troubleshooting mode, we stopped in at the Office Bar, which had reasonably-priced Alaskan Brewing Company bottles and complimentary peanuts. Our server was good-natured, even when dealing with a table transfixed by the glow of their phones. I would recommend taking the half-hour walk out of port and stopping by.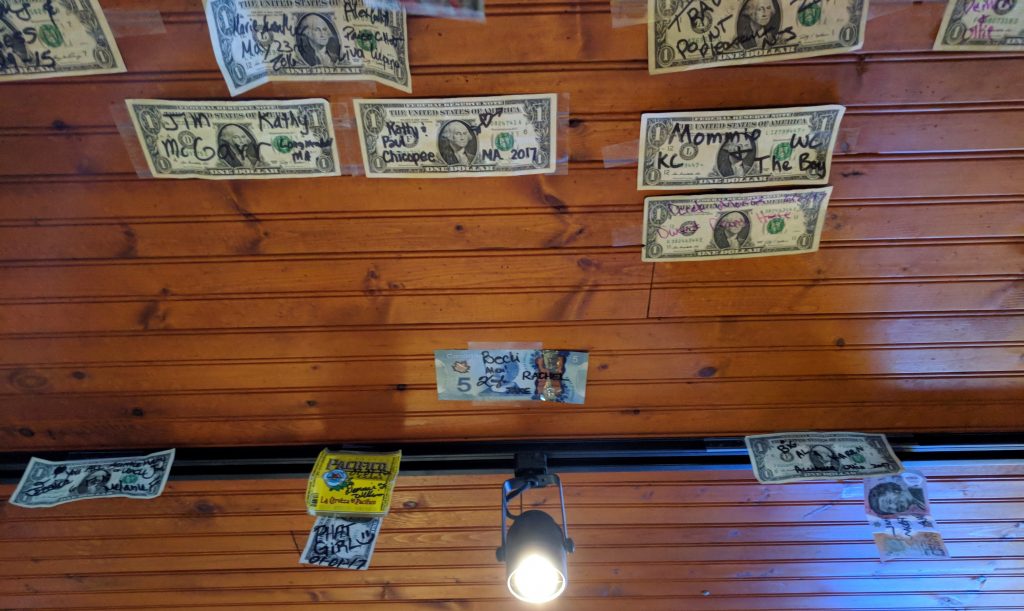 Juneau
Mostly buoyed by government jobs and tourism, Juneau was a slightly more active port with a variety of options. Kayla and I opted for a combination whale watching/Mendenhall Glacier photography tour, purchased through Celebrity and provided by Gastineau Guiding.
As far as wildlife tours go, I think we did about as well as you could expect – we saw bears, whales, sea lions, salmon and lots of ice. Our guide Skip did a great job and gave a basic photography primer along the way.

After the excursion we met up with the rest of our party at the packed Red Dog Saloon, where we were lucky enough to get a table crammed into the corner. The food was decent and I enjoyed a few beers as well.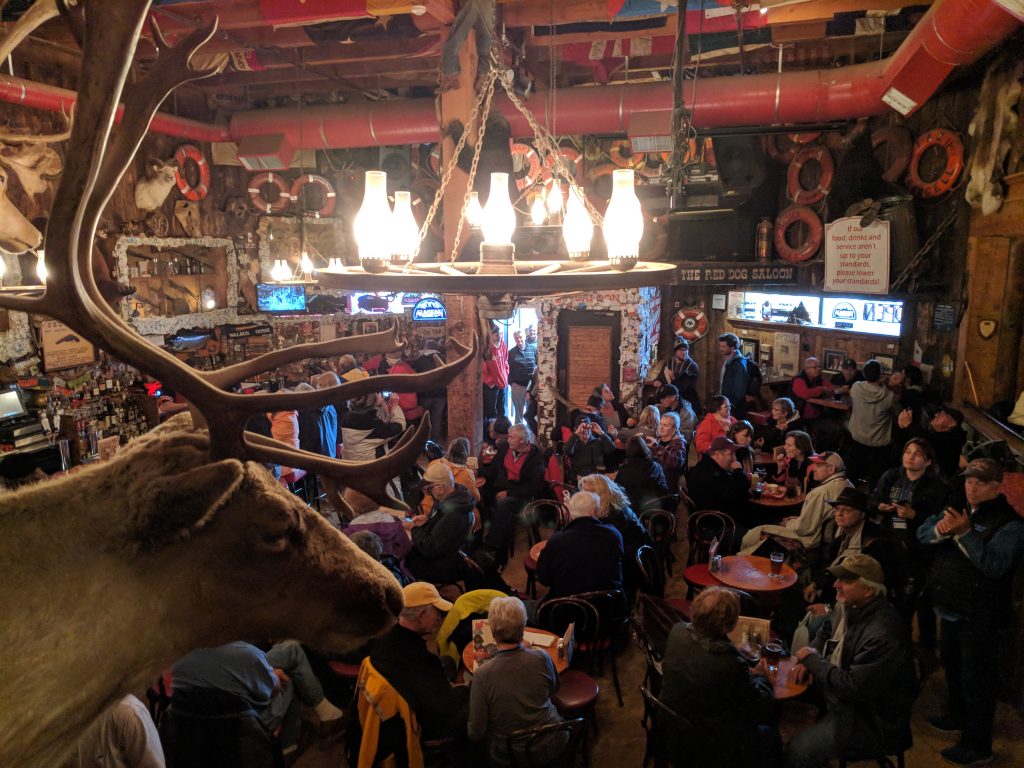 There seemed to be quite a few options for things to do in Juneau, even if you didn't want to book a ship excursion. One of our party hiked up the Mount Roberts trail here and enjoyed it, although he advised that you should be in fairly good shape and prepared for a proper hike (eg: water, proper shoes.) I think if we're ever back, I'd look into the Alaskan Brewing Company tour – it was listed at $25/person and included six beer samples.
Ketchikan
Our last port was Ketchikan, and we booked "Wilderness Exploration And Crab Feast" at George Inlet Lodge. It took our bus (with one functional windshield wiper and leaky roof) about 20 minutes to get there from the cruise area.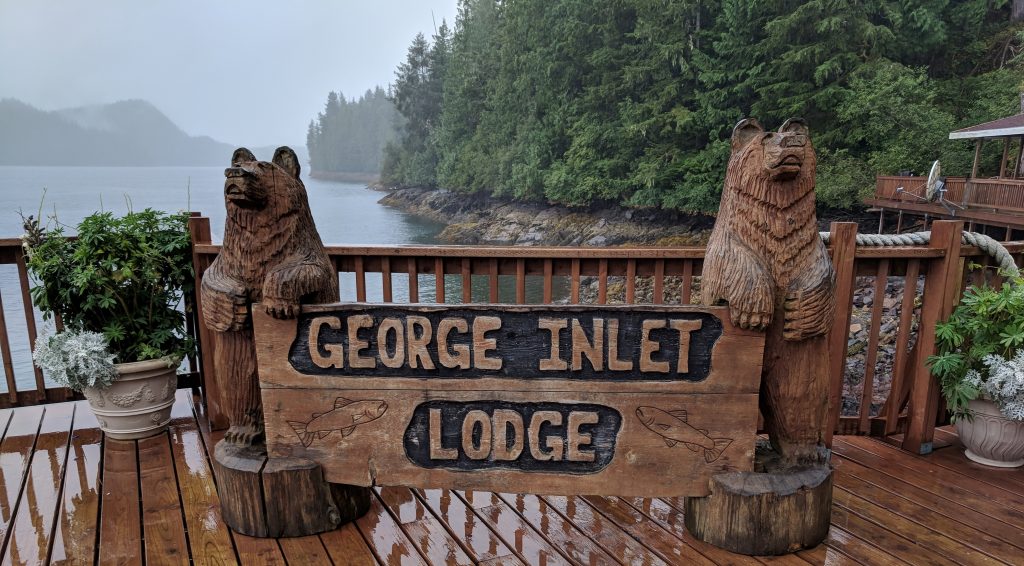 This excursion effectively was an excuse to eat as much crab as you could, in about an hour and a half. I believe we achieved that goal.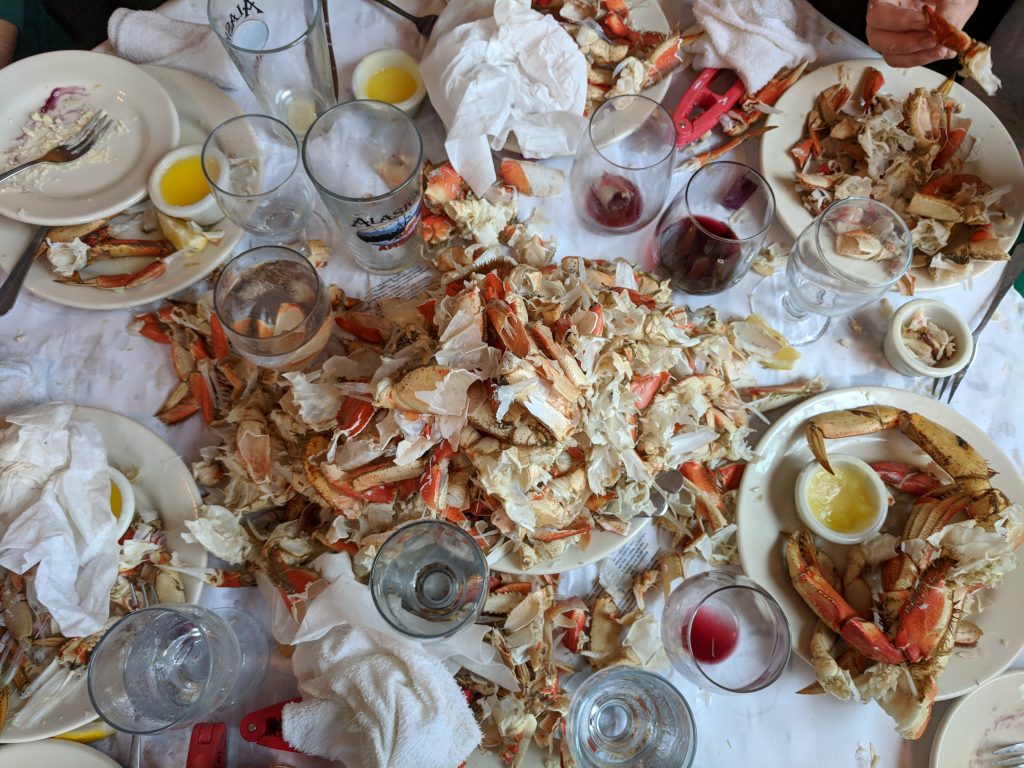 They also do a shell stacking competition, which should be seen as a distraction on your way to consume crab. The final judging in the contest is based on the height of your structure from the table, so you can rig things by using beer and water glasses as a base, then augmenting the top crab-based structure with cutlery to support the shells as required.
Anyway, we "won", which is to say we were asked to stand up in front of everyone and perform a "crab dance" with no other prize. The contest and ceremony was at least five minutes worth of my life that I could have spent eating more crab!
Our tour was also conducted in the dreaded reverse order, so we went out on a boat after our meal (rather than before) to do the wilderness exploration piece, all the while trying to digest. Not bad, but next time I'd skip the tour – there is now a direct booking option with just the meal and transportation.
Disembarkation and wrap-up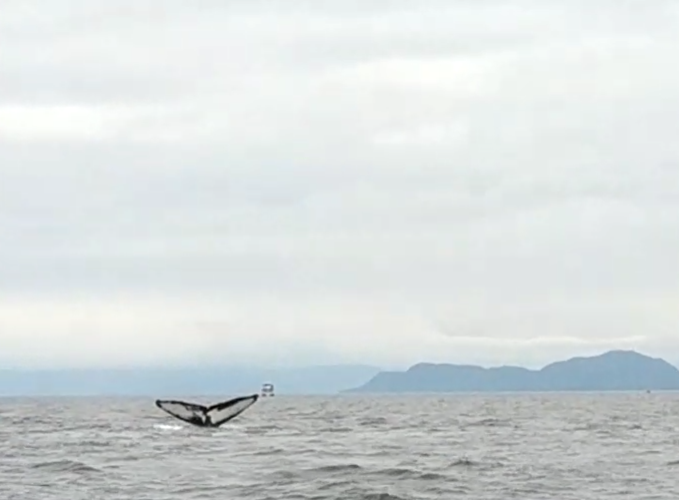 Kayla and I spent the last night in the Constellation Lounge trying to make the best use of our Cheap Plan, as well as play the aforementioned Frisky Feud (mainly by yelling out synonyms for the contestants to ignore.) We had absolutely nothing to do the next morning, and our AirBnB in Vancouver wasn't accessible until later that afternoon, so we stayed in our room as long as possible and then found a lounger in the solarium area on Deck 10 in which to lightly nap.
Around 9:45am, a staff member came around and advised that the last groups were now disembarking. We reluctantly made our way off the ship and into the port, spoke briefly to a Canadian customs officer, and then were out on Canada Place with our luggage. A smooth experience, but one that always makes me wish we'd done a longer cruise.
Norwegian vs. Celebrity
As I wrap up this review (three and a half months after the fact), I'm anxiously counting down to our next departure on Norwegian Bliss, where Kayla and I expect to travel to the British and US Virgin Islands that we missed on Epic two years ago. I keep looking back and am glad we took this trip – especially with family and friends – and have somewhat mellowed on the differences between NCL and Celebrity. 
The Cheap Plan drink package was just a frustrating experience all the way through. It's one of those things where I made a decision that I thought I could live with, and then kept finding the inconvenient seams of exclusions and limitations. 
Likewise, the badgering for specialty dinner packages definitely was a negative, but NCL does do comparable things with spa treatments and casino, art auction and bingo announcements. It was just a bit more in your face – especially when pushed after a MDR dinner – than we were used to.
I have started to understand why certain people think Norwegian has more of a "nickel and dime" approach; the saunas, enclosed pool and hot tubs are all things that would be extra on a NCL cruise, so it was nice to be able to take advantage of these things as part of our base fare on Infinity.
You could argue that the proliferation of specialty restaurants on Norwegian is also a money grab, but Celebrity's approach where Blu and Luminae are only available for higher-end staterooms is arguably worse.
So, Celebrity again? My requirements would be a newer ship, beverage package squared away, perhaps with a distinct itinerary unavailable on Norwegian. Kayla would like to enjoy fewer upsell opportunities, too.
Dailies and other documentation
Dailies
Day 1 – Vancouver, Canada: Page 1 | Page 2 | Page 3 | Page 4
Day 2 – Inside Passage (Cruising): Page 1 | Page 2 | Page 3 | Page 4
Day 3 – Icy Strait Point: Page 1 | Page 2 | Page 3 | Page 4
Day 4 – Hubbard Glacier (Cruising): Page 1 | Page 2 | Page 3 | Page 4
Day 5 – Juneau, Alaska: Page 1 | Page 2 | Page 3 | Page 4
Day 6 – Ketchikan, Alaska: Page 1 | Page 2 | Page 3 | Page 4
Day 7 – Inside Passage (Cruising): Page 1 | Page 2 | Page 3 | Page 4
Other documentation