As summer started disappearing in Southwestern Ontario, Kayla and I began to pine for another week on the ocean featuring better temperatures. With some finagling of work schedules and liberal use of credit card travel points, we secured an inside cabin on the new Norwegian Bliss for the week before Christmas.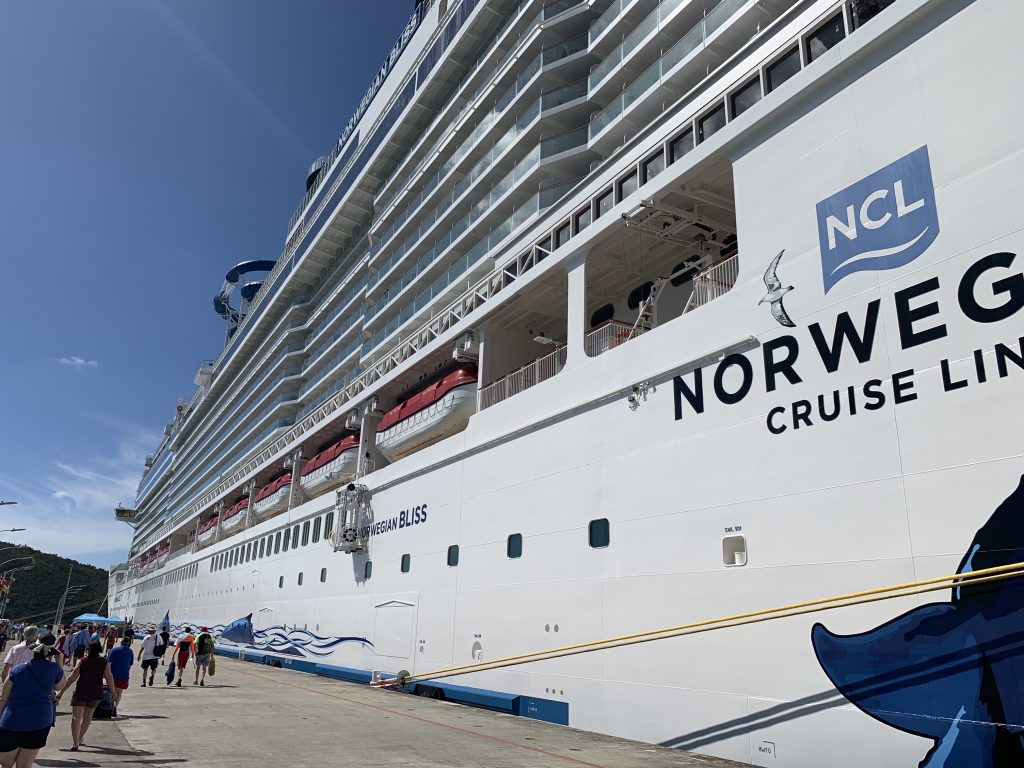 This was our fifth NCL cruise, and the combination of ship and staff made it arguably the best sailing we've been on. We've gotten into a good position with pre-trip planning and now have a decent handle on Norwegian's processes and amenities. Bliss is a decent refinement of the Breakaway class, so it was fairly easy to navigate having been on similar ships.
Pre-cruise
Flight and transportation
We flew WestJet into Fort Lauderdale (FLL) rather than Miami, as the price difference at the time of booking was about $100 CAD more per person to land at MIA. Takeoff was slightly late as the flight attendants were stuck in customs. There was also a bit of turbulence during the landing, but we safely touched down around 11:40am.
Uber prices from the airport to our hotel varied fairly wildly; the online fare estimator indicated that the route should cost about $30US, but even after repeatedly force-closing the app and waiting several minutes between attempts we didn't see an UberX option for less than $55US. We ended up using "Uber Pool Express", which requires that you wait at a specific location and get in the car within two minutes. You may also be paired up with another traveller or two.
Pool Express worked out very well for us at the airport, since the pickup location was exactly where we were standing in the Terminal 1 rideshare area, and we each only had one carry-on suitcase. There was supposed to be another passenger, but nobody showed up at the pickup point at the other terminal, so away we went to the hotel.
The Uber cost ended up being $35US, plus a tip to the driver. We were in the Christmas spirit after his navigation of the packed freeway and judicious use of the express lane.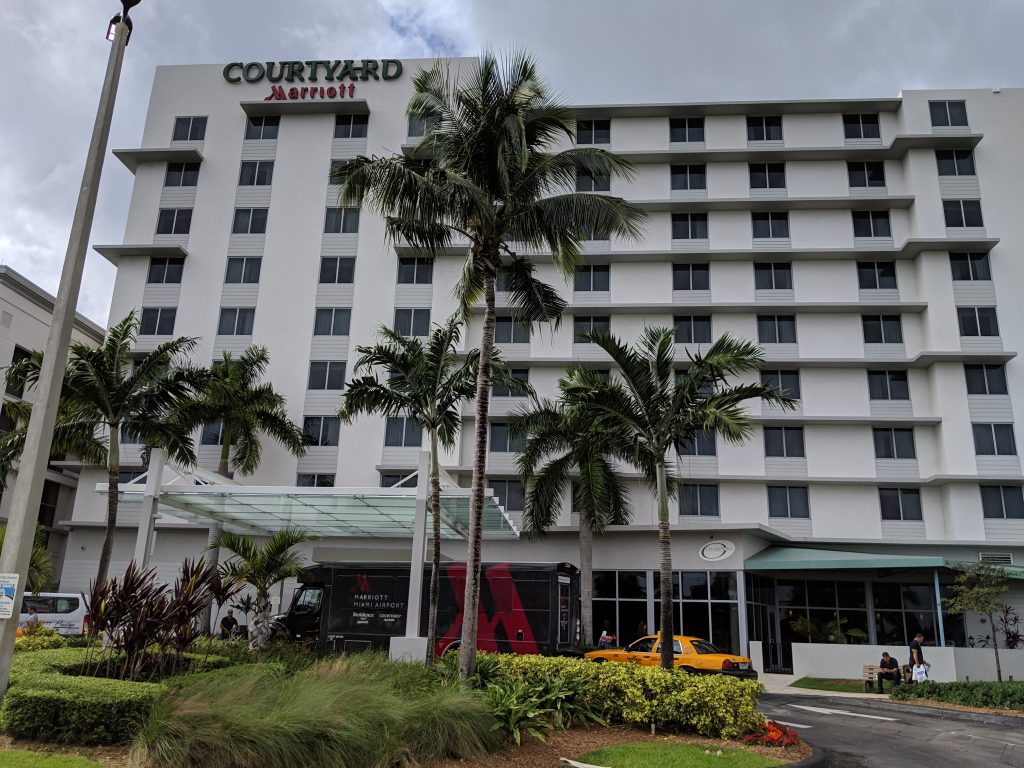 The Marriott complex, lunch and dinner
After our late arrival in February to the Doral/West Residence Inn, I was bound and determined to stay somewhere with easy access to food. On the date we needed, the Residence Inn Miami Airport was at a premium price, so we selected the Courtyard Marriott in the same complex. We arrived around 1:40pm and could check in immediately into a room on the third floor (really, the second floor.)
After dropping our bags off and a quick shower, we went downstairs to Champions Sports Bar in the lobby. I had the "Philly" steak sandwich and an amber ale, and Kayla had the antipasto salad. All were decent options and successfully staved off grumpiness.
We then walked to a Walgreens in the Central Shopping Plaza about 10-15 minutes away. It was a good walk in the daytime, although some of the route after dark might be a bit intimidating. The plaza also had a K-Mart and a Spanish/Cuban grocery store, but we didn't explore either of those places. We acquired house-brand high-SPF spray sunscreen and DEET-infused bug spray wipes.
I absolutely do not recommend the Walgreens SPF 90 spray sunblock. Unlike other products that go on dry, it creates an oily layer on your skin that starts to peel off right away. I'm not sure whether this is an artifact of the high protection factor, but we'll be sticking to a name brand option in future.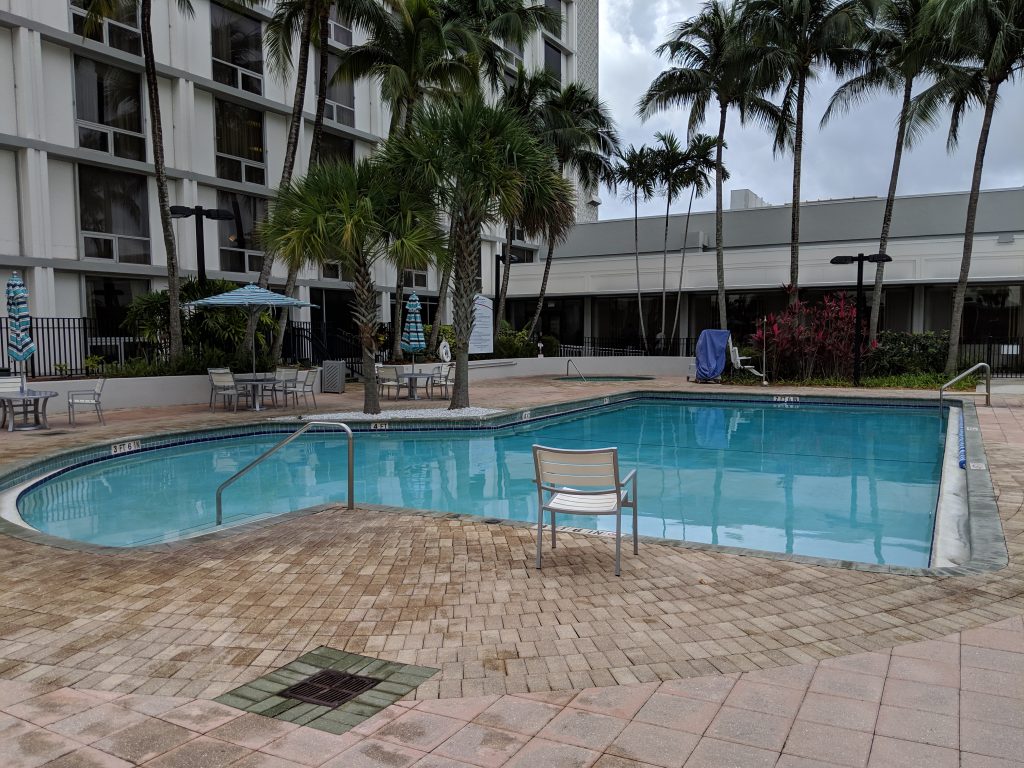 After returning to the hotel, we lazed around in the room for a bit. The Netflix app on the smart TV was not functioning, and the next best option on cable was to watch Guy Fieri. Around 6pm I went over to the Cane Fire Grille at the Miami Airport Marriott property. There is an outdoor path between the properties, next to the pool area (the pool is open until 11pm.) Some of the ground-floor rooms in this area are very exposed when they have their curtains open, so if you're staying at the non-Courtyard Marriott property, beware these rooms from a privacy standpoint.
Cane Fire had a happy hour from 5-7pm, which is $5 for selected draft beer, $6 house wine and $9 cocktail of the week. I went for several Shock Tops.
Some additional notes about the Marriott:
Announcements were made in the lobby about airport shuttle departures. I did not hear these at the Courtyard.
The WiFi networks don't appear to be completely unified between the properties, and the Marriott network wanted $15/day (Courtyard didn't need any details or payment for basic access.) I was able to get connected with "Marriott_PUBLIC" through their captive portal at the Cane Fire bar though.
There's a fairly well-stocked pantry/store. This might be a good option for quick snacks or drinks for the room, but we didn't need anything.
The bar still had nine free seats at 6:15pm and didn't seem to be incredibly busy. It closes at 11:30pm while Champions closes at midnight.
Dragging myself away from the drinks, I went back to the room at the Courtyard. Kayla and I selected Latin Cafe 2000 for its decent-looking menu and reviews. We were very pleased with the service, selection and location (a 9 minute walk from the hotel.) I also developed an affinity for Cuban coffee, which appears to basically be coffee with a heap of sugar in it.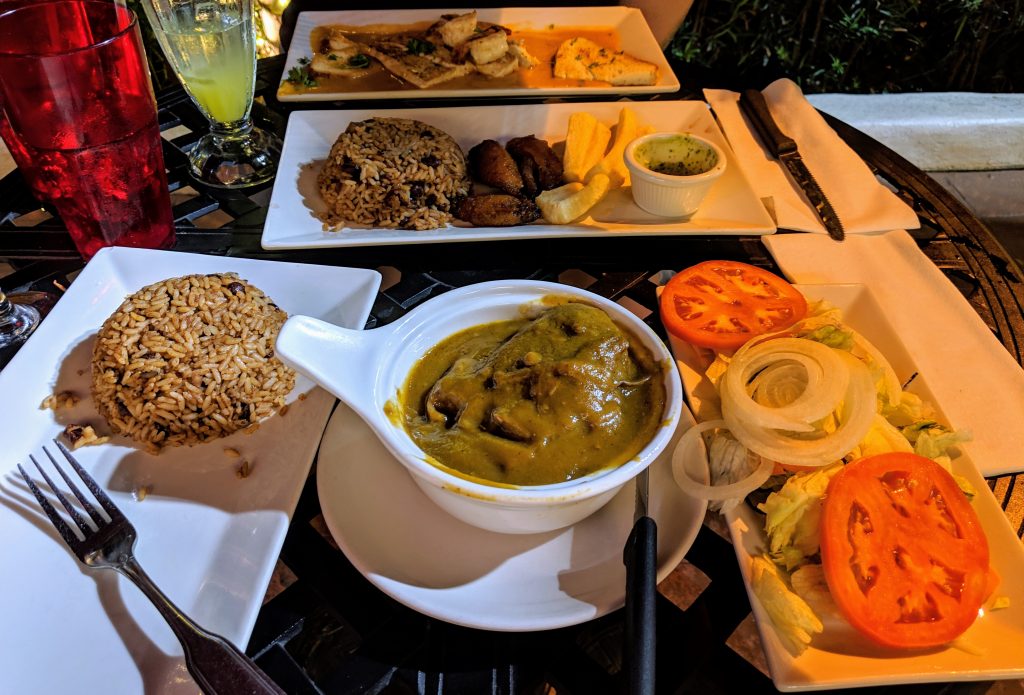 Day 1 – Miami and embarkation
Hotel checkout and cruise terminal
We checked out of the hotel at 10:15am. There was a small line ahead of us, with many people evidently getting ready to head to the port. We were able to borrow a stapler to affix luggage tags from the front desk. I really need to remember to bring a small stapler of our own next time.
To PortMiami, Uber Pool was listed at $9, UberX for $16US, and Pool Express was in the $6-$7 range. There was also plenty of regular taxi cab availability at the front entrance. We opted for the regular Uber Pool, as the Express pickup point could have been anywhere in the sprawling Marriott complex.
In a stroke of luck, our driver had just finished dropping a passenger off at the hotel, so we waited perhaps fifteen seconds total for her to circle around the entrance and pop the trunk. Nobody else joined us in the two-minute time window, so once again it was just the two of us and the driver.
As we approached the port, we had a small debate about which terminal we should get dropped off at. Our NCL eDocs indicated Terminal C, but the overhead LED signs kept directing Bliss passengers to Terminal B. I was fairly confident that the ship loaded passengers on even decks from one terminal, and odd decks from the other. I insisted on a drop-off at Terminal C, which turned out to be correct.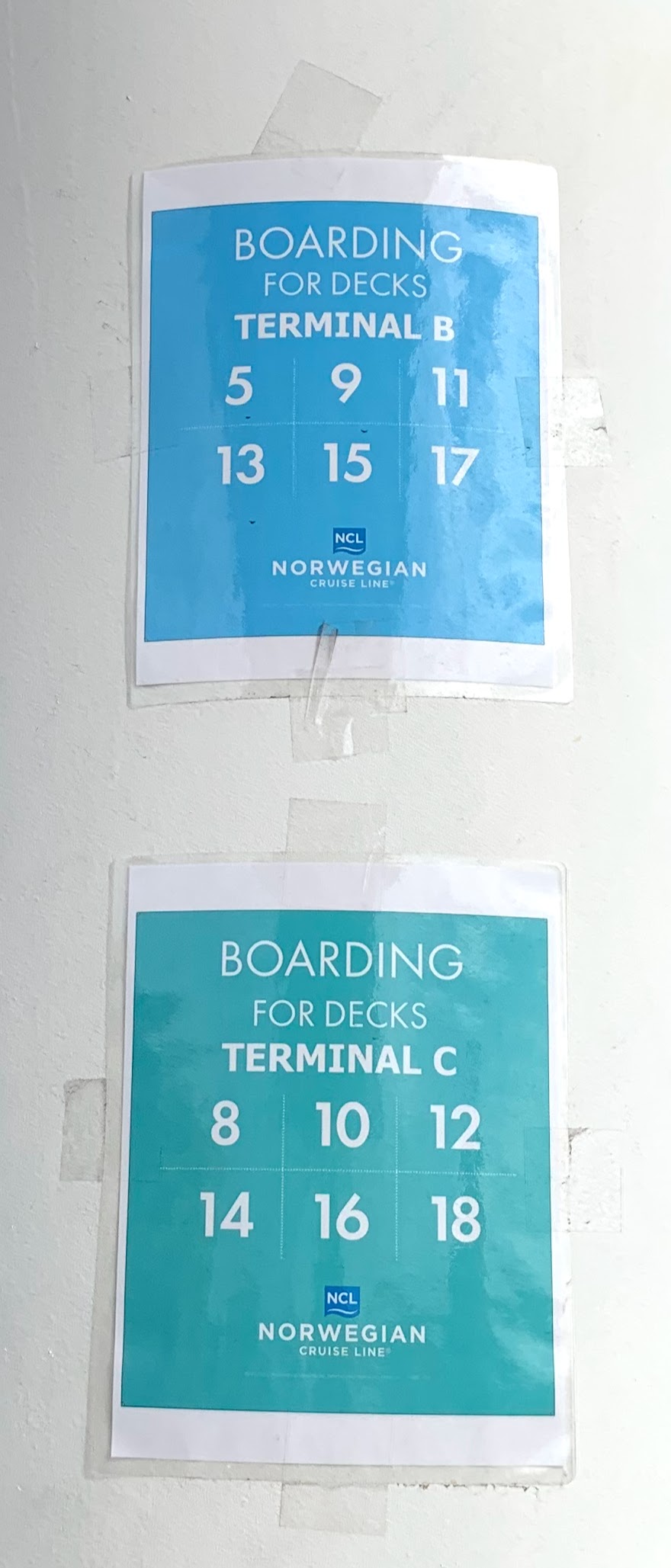 After passing the pillar, we briefly spoke to a porter who was entirely uninterested in taking our carry-on sized bags, and said we should just walk on with them. The bags didn't get in the way too much before we had access to the room – and we avoided the obligatory porter tip.
Embarkation and onboard reservations
By far, this was the smoothest boarding process at any port we've been to so far. We arrived at the security checkpoint at 10:50am, had keycards in-hand at 10:58, and immediately boarded the ship by 11:03am without waiting for a boarding card.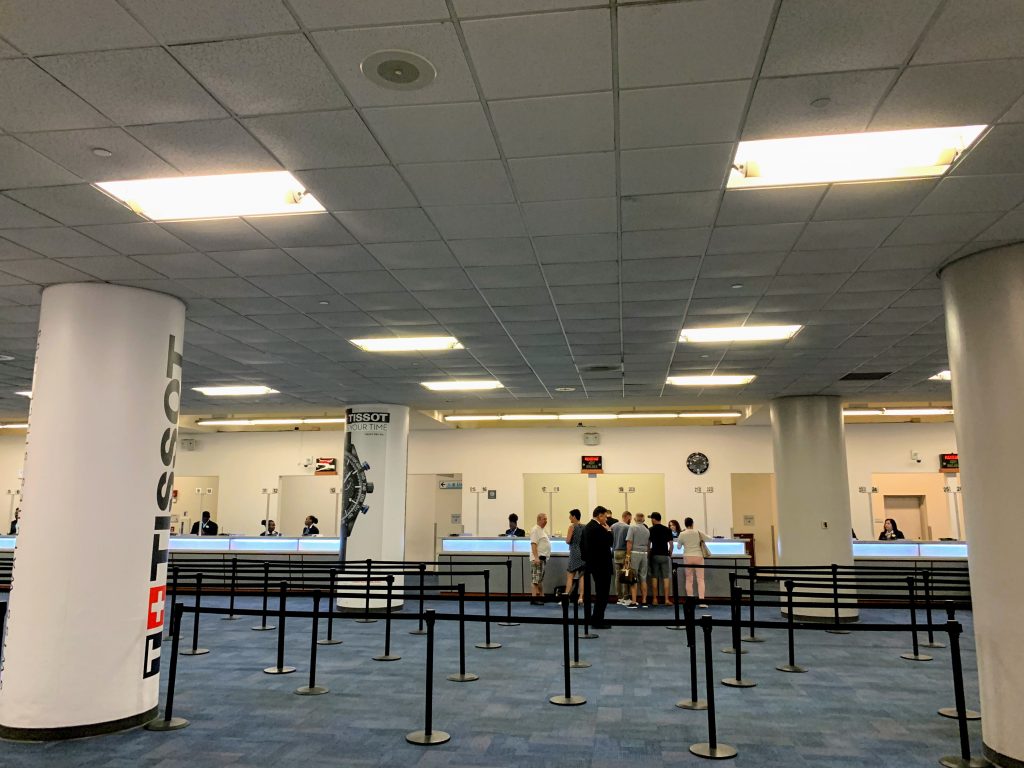 Two changes contributed a bit to the speed-up: first, NCL now uses a credit card that you provide in the My NCL online portal, and therefore the agent doesn't need to swipe it at the check-in desk unless you want to use a different card. The second change was that if your passport picture was recent enough, they used a scan of it instead of taking a new photo with a webcam. For those keeping track at home, NEXUS was not requested here.
We made our way through The Local (essentially a slightly-less Irish O'Sheehan's) down to The Social Comedy Club on deck 6, where representatives were taking entertainment, go-kart and laser tag reservations. Restaurant reservations could be made in Teppenyaki for all specialty dining. I was able to secure a table for two at Los Lobos at our preferred time the next evening.
Both the NCL app and touchscreens around the ship were not showing any availability for go-karts or entertainment, so I opted to stand in line for the go-karts to try and secure a spot. They'd split the line into two: go-karts and laser tag to the left, and entertainment to the right. Despite staff repeatedly mentioning that only one person needed to stand in line per cabin, the area was packed with people ignoring this request.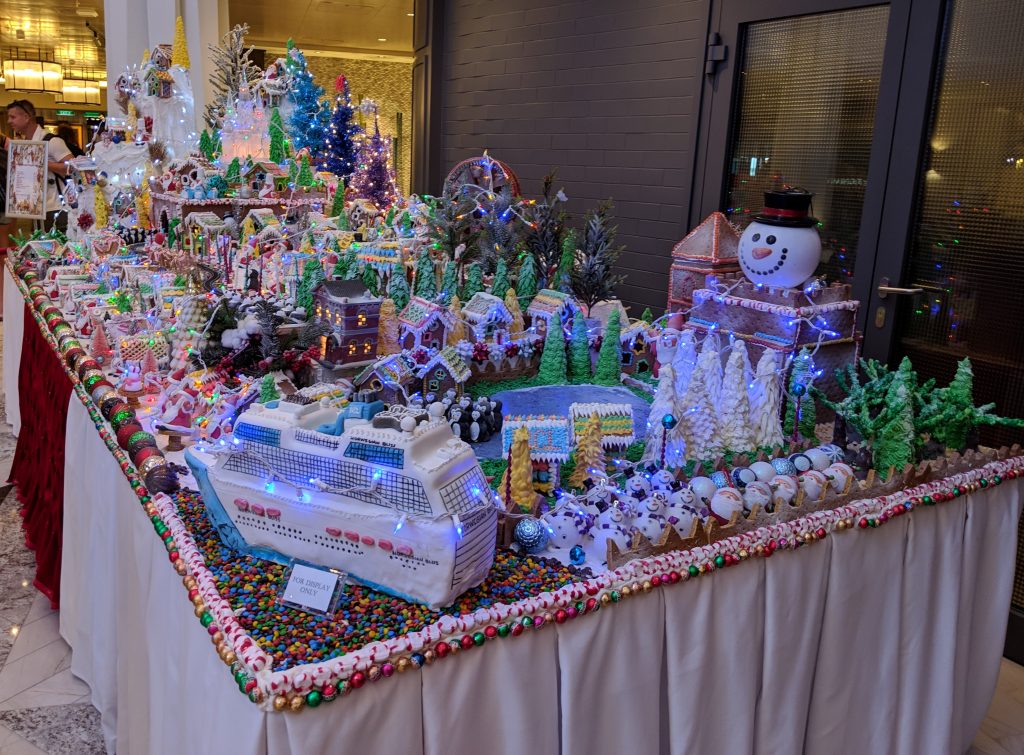 I waited from about 11:15am to 11:45am in the go-kart line, while Kayla wandered around and got some photos of the menus and decor. She also got confirmation from the Starbucks staff that they do take gift cards and room credit, but not cash. For gift card use, she was asked to come back in approximately two hours when their system was fully up and running.
At the front of the line, I selected a go-kart time of 10:00am on the Nassau port day. I wanted a morning slot as they have several warnings about not driving under the influence of alcohol, and figured I'd both be awake and sober at that point.
Our mistake at this point was not splitting up and putting one person in each line. We noticed an 18+ comedy show running at 10pm on one of our free evenings, and by the time we got to the front of the entertainment line we were told that it was completely booked up. We opted for an 8pm, all-ages show instead, and finished the process by 12:10pm.
Lunch and stateroom
Following our usual strategy of avoiding the buffet and 24/7 restaurant on embarkation day, we went to Taste and were seated right away. We had our orders placed by 12:20pm, appetizers were there in five minutes and food followed ten minutes after that.
I had what is now my regular appetizer order on the first day: popcorn shrimp and nachos. Kayla had the pineapple and grapefruit, and both of us picked the tuna salad sandwich for our entrée. Initially the tuna sandwich came without the side of potato chips, but they were delivered twenty seconds later without needing to ask.
Lunch was followed up with key lime pie for dessert. It took a while for our order to be taken due to the arrival of a table of 11, but wasn't a serious inconvenience. We were done with the meal slightly after 1pm.
Staterooms were announced as ready at 1:15pm. When going up to deck 14, though, it was 1:26pm and the hallway doors were still closed; miscreants who barged on through found that their keycards were non-functional. On Bliss, the exterior doors have RFID/tap to unlock capability, which is always a nice change from the magstripe readers on other ships.
Staff began to open the large doors about ten minutes later, at which point you could get into individual cabins. I think next time we'll wait about 20 minutes after the "rooms are ready" announcement to make our way to the passenger decks.
This is the first time we'd stayed in an inside cabin on Norwegian, and it didn't disappoint at all compared to the Oceanview or Balcony class – at least for the two of us. The furnishings were modern and tasteful, the bathroom and shower adequately sized, and the bed was comfortable.
We'd originally booked an "ID" guarantee, and got assigned room 14619 in the I1 Family Inside category. The upgrade didn't provide any additional square footage in the cabin, but the benefits were a higher deck, a more mid-ship location and two Pullman beds available (so the cabin could take up to four people.) The beds were entirely stored in the ceiling, so they didn't take up any extra space. They would have required a special key to unlock them, which I assume is part of your room steward's responsibilities.
If I'd have waited to make go-kart reservations until we got access to the cabin (using the TV), I would have been out of luck for a preferred time. 6:30pm and onward was generally available most evenings, but some nights didn't have anything until 10pm. Specialty dining still seemed entirely wide open in terms of times for two though.
Onward to the District Brew House
District Brew House was perhaps my favourite bar on Bliss, and for good reason. There were some-twenty types of beer on tap, and another forty options in bottles or cans. They also had a standard selection of other liquors and mix available. I sat down at about 2:20 and had a Seattle Dry Cider in hand by 2:25, despite the influx of people attempting to get bar service before things started wrapping up for the muster drill.
One helpful change on this sailing was that each bar had an explicit sign noting the Miami port tax on liquor, so you weren't surprised when the sixty-ish cent charge hit your bill. This is definitely a good move in terms of transparency.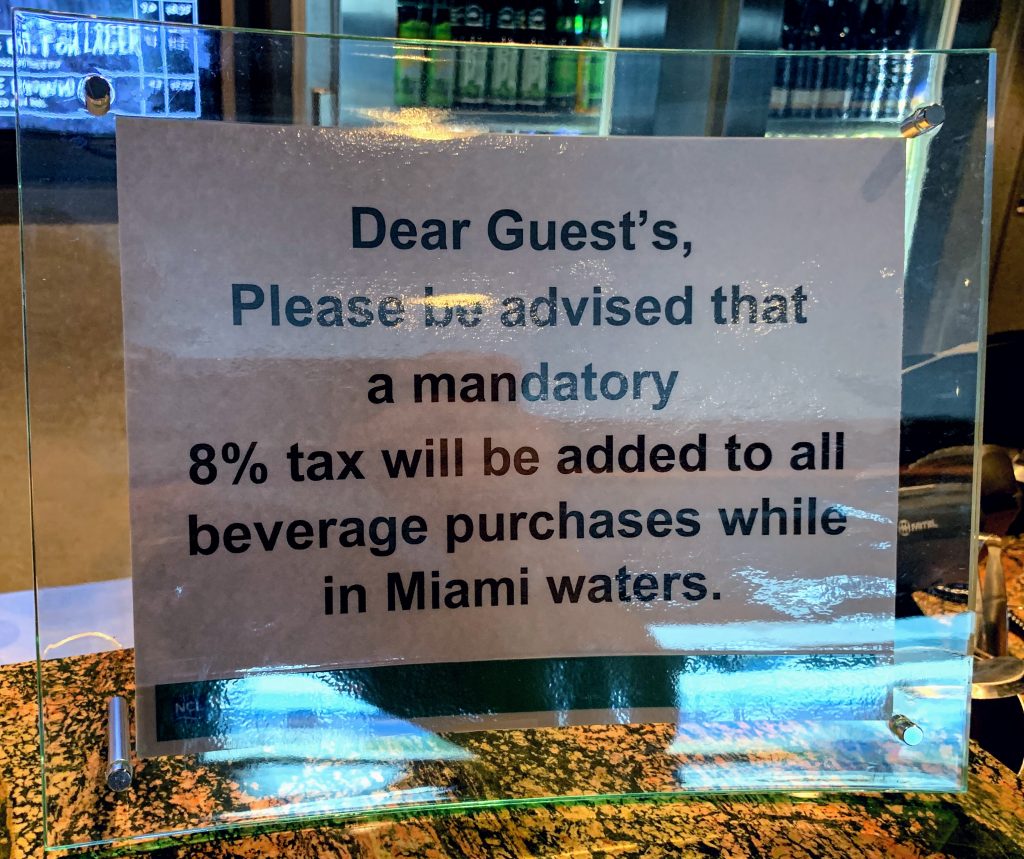 After polishing off the cider, I proceeded to a La Rubia; it was a nice and light blonde ale that provided a decent segue to the bar's temporary closing. Unlike other bars such as Maltings and the Mojito bar, the Brewhouse didn't bring down a large metal gate in front of the booze to signify closure. Instead, the bartenders just made themselves scarce around 2:45. When patrons continued to arrive up until 2:55, they seemed irritated and confused as to why nobody was around to serve drinks.
At 3pm, I returned to the stateroom to rouse Kayla, who was taking full advantage of the inside cabin's darkness for a post-lunch nap. We malingered in the room as the initial announcements were made, and then headed down to our muster station in Maltings at 3:20. This station is definitely a downgrade from sitting in the theatre, since they kept packing passengers into the area and the temperature kept increasing. At one point we exited the door to the Waterfront to cool down, but were promptly told to come back inside by the safety lead. Hard to argue with that.
The drill wrapped up at 3:54pm, but it was impossible to get to the other side of the ship due to the large number of passengers in the hall. We found seating outside the Cavern Club and drink service resumed by about 4:15. The ship then did a complete rotation in the harbour, and we passed Symphony of the Seas, a Carnival ship and MSC Seaside on our way out to the ocean. We hit the end of the sea wall by 5:15pm and were entirely out of port 20 minutes later.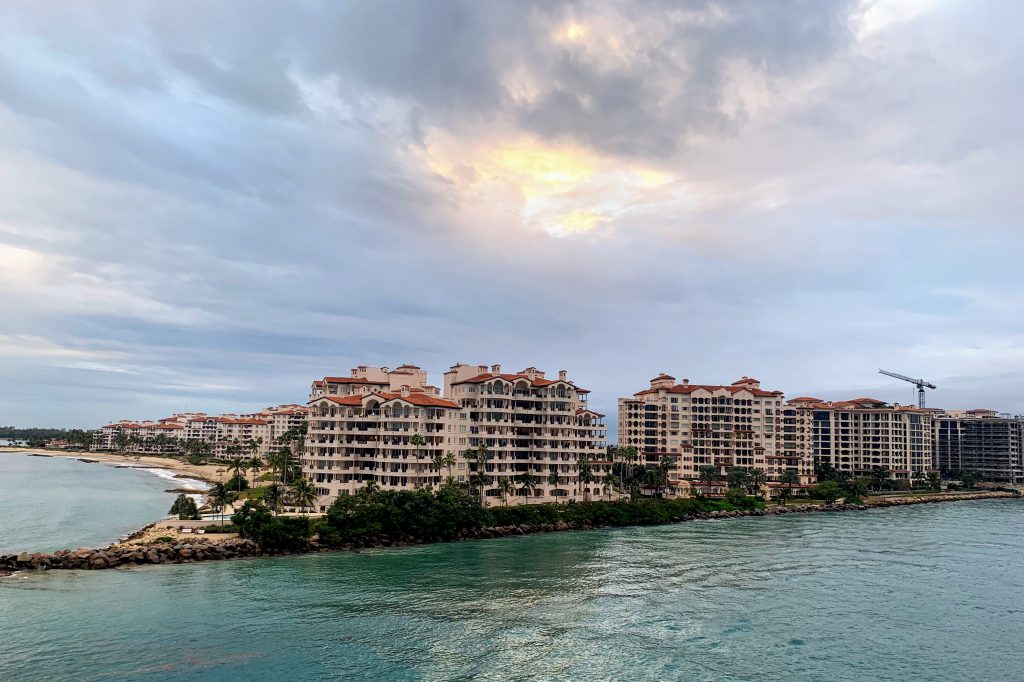 Dinner at Savor, then the Observation Lounge
Dinner started around 6:20pm, and once again we were reminded of how much we prefer the "Freestyle" experience on Norwegian over Celebrity. There's no waiting for a table, prompt service and preemptive wine refills occur without being dependent on a sommelier. Between the two of us, we tried the following menu items:
Smoked Mozzarella Ravioli
Seafood Gumbo
Sautéed Shrimp Scampi
Beef Sirloin Medallions
Warm Chocolate Lava Cake
Seasonal Fruit Plate
One thing that we did notice was absent here from our previous trip on Celebrity Infinity was the butter selection; there were typically three choices every evening in the main dining room (such as regular, herb and garlic, and sea salt.) NCL offers standard packets of butter only.
After dinner, we wandered around the top decks, ending up in the Observation Lounge on deck 15. Much has been already written on the Internet about this area, but it is definitely a great addition to the onboard spaces, and would be especially useful on an Alaskan cruise or in inclement weather. It was excellent on later days, during the afternoon, when they brought out salads, sandwiches and other snacks – and there is full bar service.
We spent the rest of the evening at the Observation Lounge bar, listening to Suzanne (pianist/vocalist) and talking with some other passengers. The bar shut down about half an hour before midnight, so we stopped off at the Mojito bar on deck 8 to conclude the evening, and were back in the cabin by 12:15am. Unfortunately, as you might be able to see in one of the bar menu pictures, I left our Day 1 daily behind so this review will have an incomplete set!
Two notes about the booze at the Observation Lounge: even the default Topmast Libations cocktails were being made with call liquor (middle shelf), and not the well liquor or from pre-mixed containers. Having said that, apparently the US Tax and Trade Bureau regulations against marrying liquor still don't seem to discourage senior bar staff from consolidating multiple bottles into one, which I've now witnessed on two ships.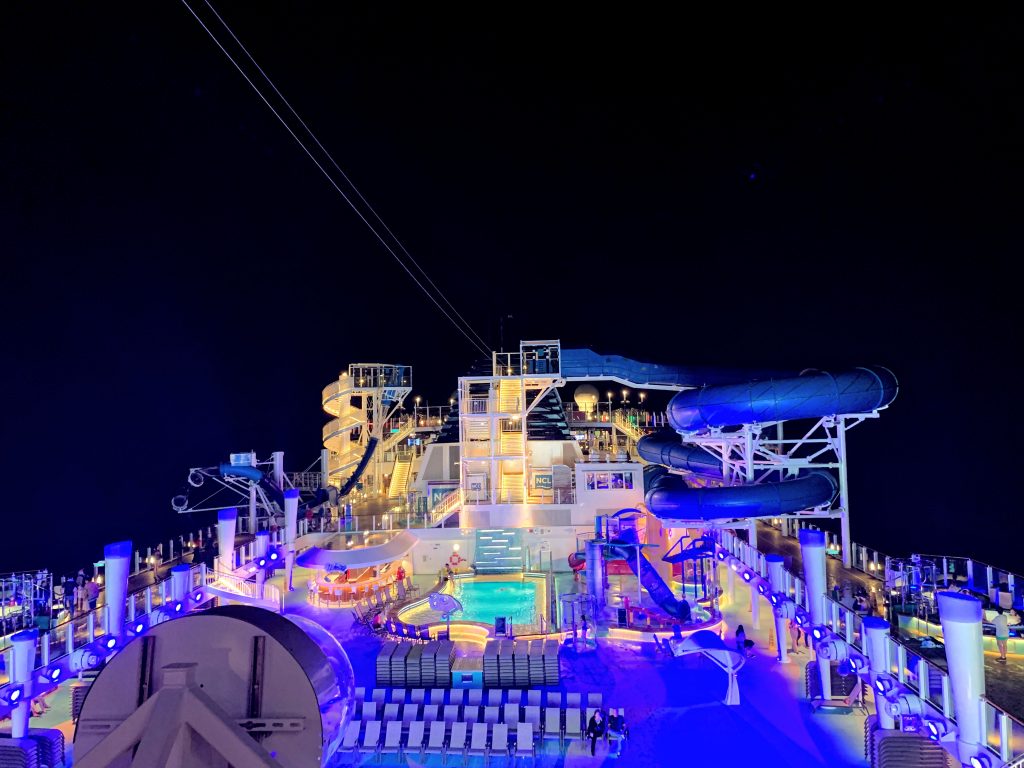 Other observations (not the lounge)
Cruise Director Silas did an excellent job enunciating and speaking clearly, which has sometimes not been the case with cruise directors on other sailings. While a cruise director is really not a make or break part of the experience for us, it was good to be able to hear announcements in all parts of the ship.
I was finally able to access the Norwegian phone app on iOS (it kept giving a "Sorry, but this page didn't load properly" message) by force-quitting it, then flipping the switch under Settings > Norwegian > Clear Data on Next Start. This allowed me to log in again with ncl.com credentials and everything worked properly from that point.
District Brew House has a rotating list of "all-stars" on their LCD displays, which was a leaderboard of passenger beer consumption. You need to register to participate – I didn't bother doing so, but the top contender had consumed 130 beers over multiple cruises.
No upsell evident. Two stations were set up with specialty restaurant menus, but that was the extent of the promotions. The daily specials such as prime rib were always at The Local or the Garden Café, which are included in the base fare.
There was some discussion on CruiseCritic as to the grade of toilet paper on the ship, and if there was a difference between the public restrooms and staterooms. I can confirm that all the toilet paper is single ply, marine-grade – although some sheets have a different pattern of dots. Please, don't bring your own four-ply, scented, lotion-infused TP and expect that the resulting cauliflower will flush properly. It can take out the septic system for a whole block of cabins.
Day 2 – At Sea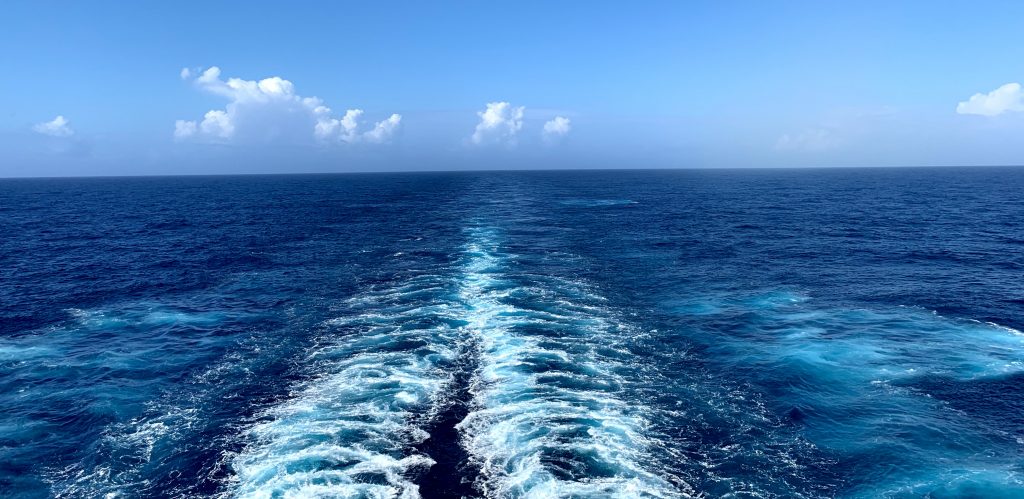 Cabin conditions and breakfast
I woke up twice in the morning at 7:45 and then 9:30. Announcements in the hall started at 9:50am, but were not entirely discernible with our door closed. Ship movement was evident, but much more of a gentle rocking than what we've felt in cabins located more forward or aft on other ships. It's hard to tell whether this was mainly due to the newer/larger ship or the more midship stateroom location.
While there was no phone rattling on the desk like last time, there was definitely some noise ingress from the hall – mainly the sounds of cabin doors slamming and conversations. It didn't bother us much, since the sound faded quickly when the other passengers moved towards the elevators.
By 10:30 I was fully awake and went to the Garden Café to acquire breakfast. Service was still in full swing with a good selection of traditional morning meal fare. I powered back some meat, cheese and potatoes, and then went for a wander on the Waterfront.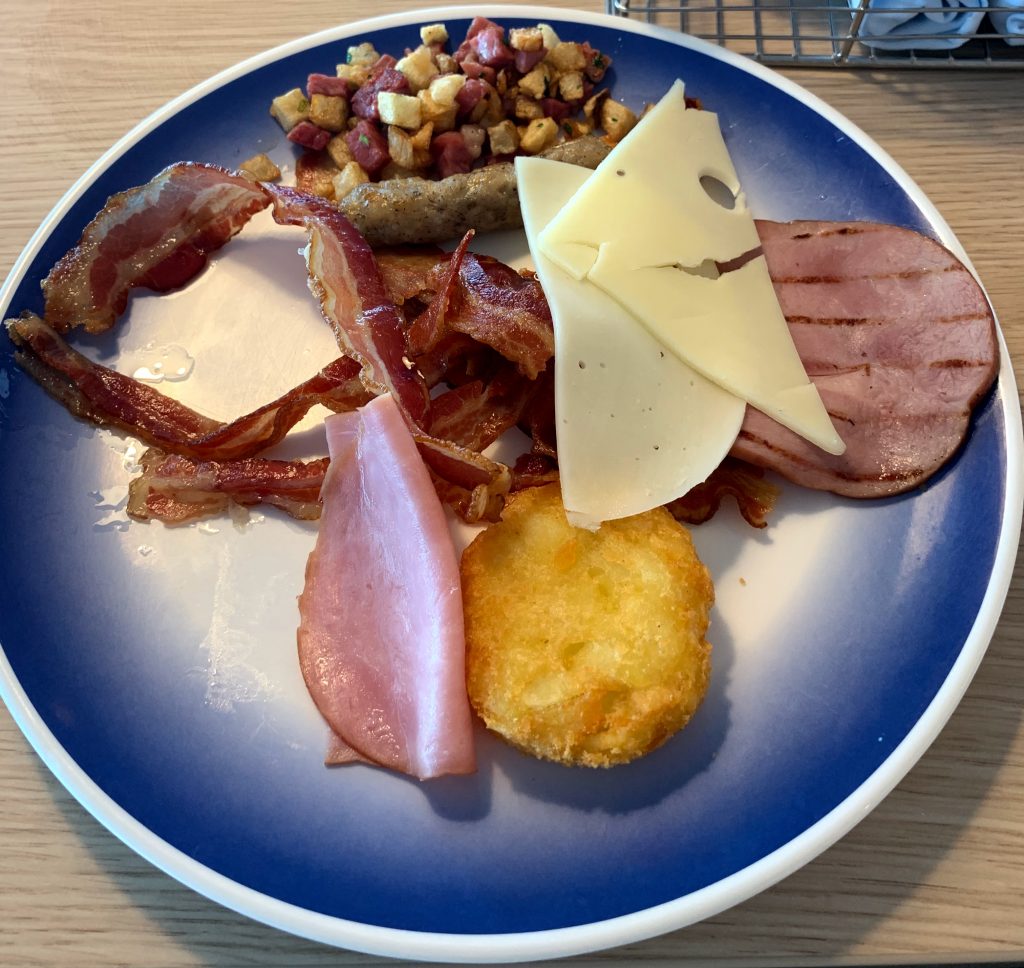 Neither of the exterior bars were open yet, but by 11:15am the Mojito bar was in active set-up mode. I read for a bit, then collected Kayla and proceeded to the District Brew House for the CruiseCritic Meet and Mingle at noon.
Meeting and mingling
This social event was well organized. The volunteers from the CruiseCritic forums had pre-printed name tags for those who had given details online, and a few staff wandered around serving appetizers and mimosas (or champagne) to the crowd. All the usually expected officers showed up as well.
There was also a bingo game provided by the organizers to encourage people to mingle. Each square on the bingo card contained a question, such as "Who has been on more than 5 cruises?" or "Who packed over a week ago?" Then you'd introduce yourselves to other folks, and write their names in the bingo squares if they answered "yes" to a question.
Kayla really enjoyed the "Bliss Bingo" as a way to meet everyone else; I liked the theory but stuck close to my wife and shared her card, which I'm sure was not strictly following the rules set out by our friendly organizers. Let's be honest, I probably wasn't going to go around and talk to people by myself proactively.
Another nice addition was that various ship departments donated several prizes for the group, including a bottle of the mediocre Duc sparkling wine that you get for being a return cruiser. We listened to some speeches, confirmed the times and places for the slot pull and pub crawl, and then were promptly evicted at 1pm to make way for another group to use the space.
Gamblin' and drinkin'
The slot pull began at 1:30pm, and had an interesting organizational twist. When you put in your $20, you picked a card from a deck, and then the rank and suit of that card determined which order you got to take your turn in. It made it fairly easy to sort out who was going next, and the cards were quite shiny – making them a good souvenir.
We ended up at a Wheel of Fortune machine and played $5 (max bet) per pull, three pulls per person, which ensures that winning the top prize would have been possible if someone did hit it big. Sadly, luck was not on our side; our $20 investment returned only $14 once everyone had taken their chance at the slots. I believe there were prizes for the top two participants, including wine of both the Duc and non-Duc varieties.
After poking at a few more machines and donating some more USD to the casino, we made our way back to the Observation Lounge for a late lunch. I selected a variety of meats and salads. I was thrilled with the options, but later found out the pasta and potato salads weren't available in the Lounge every day.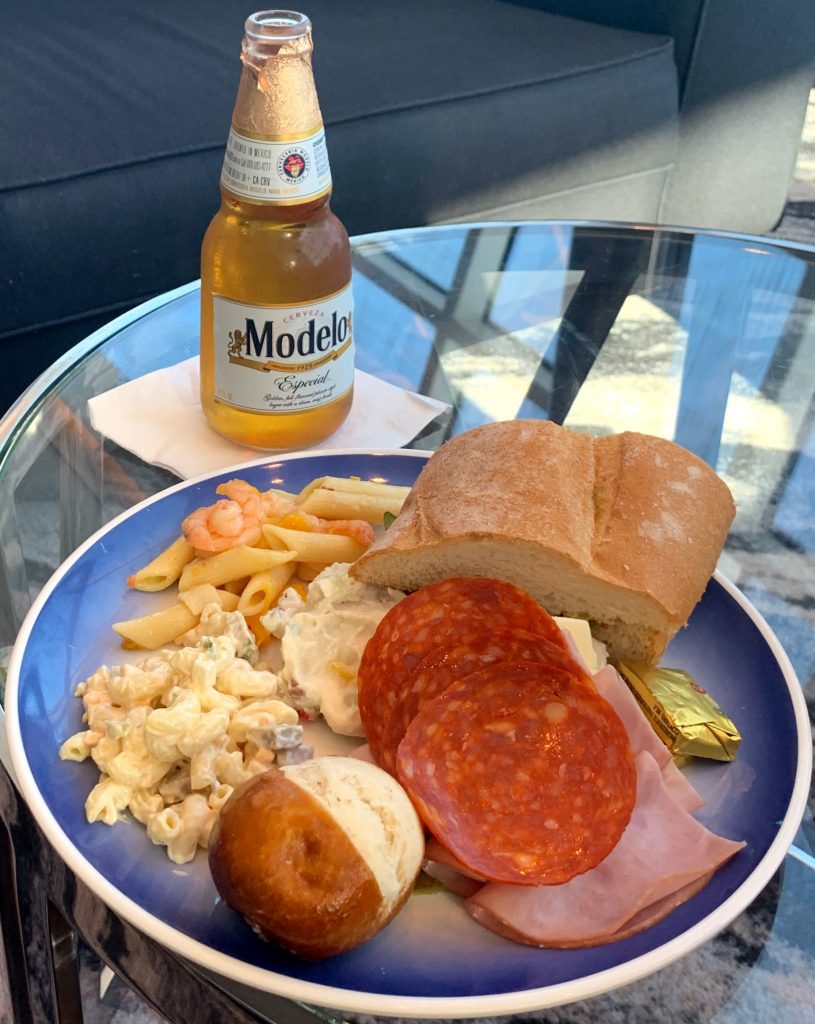 The Pub Crawl started at 3:30, and we made it to four of the five planned bars on the ship (public side of Vibe, The Local, Sugarcane Mojito and back to Observation Lounge) simply due to time and logistics constraints for those with earlier dinner reservations. My favourite shooter was served at Vibe, where the bartender combined Licor 43 (vanilla) with cream to create a mini-beer. I may have had more than one of these.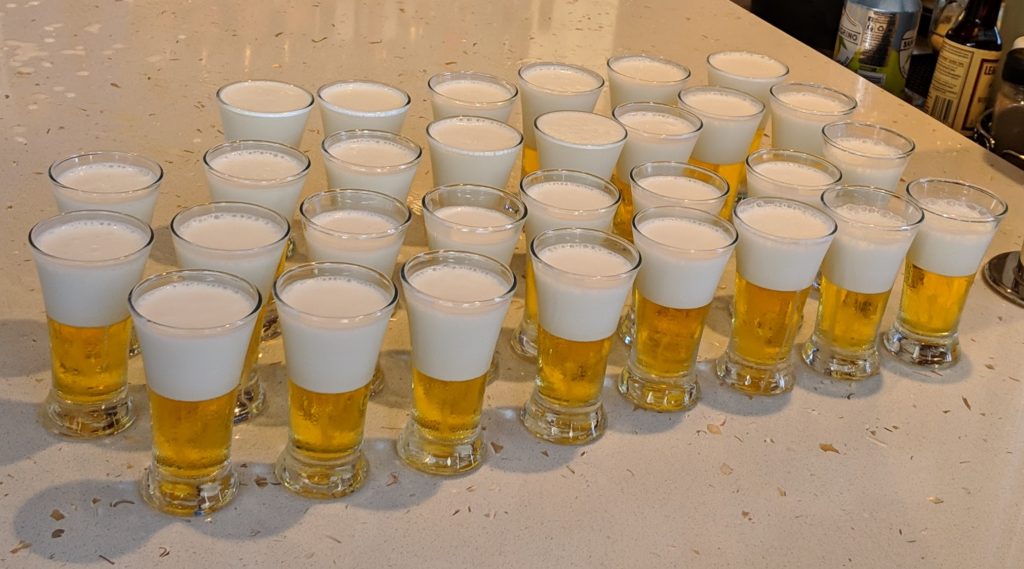 At each stop, our delightful hosts also gave us each a playing card (two at the Observation Lounge, our final destination). The person with the best 5-card poker hand won… something that neither Kayla and I can remember. Perhaps simply admiration from the group, or a bottle of Duc? We wrapped up our conversations at around 5pm as people began leaving for dinner.
A huge thanks to all the organizers of the CruiseCritic events, specifically Jen, Charlie, Brandi and Paul for being on top of everything. I'm planning on organizing a Meet and Mingle for an upcoming cruise, and will definitely take some ideas from these events to make everything run smoothly.
Los Lobos, a la carte
From about 5:10 to 6pm, we sat out on the Waterfront by Sugarcane Mojito Bar, where I consumed at least one raspberry mojito. I continue to rave about this area on the *away class ships – it is the exact thing I want out of the cruising experience: a breezy, shaded-yet-warm spot with drinks, bar snacks, and the ability to read for an uninterrupted stretch of time.
Kayla and I returned to the cabin around 6pm to get ready for our specialty dinner at Los Lobos. Our reservation was for 6:45; we showed up perhaps 5 minutes early and were seated quickly at an inside table. This was the first time on NCL where we've not had a dining package included with our booking, so the meal was entirely on our own dime. I am pleased to report that the experience was extremely worth it.
The service was prompt, and we received blue and yellow corn chips with salsa right away. We ordered the following items, none of which disappointed:
Guacamole en Molcajete (tableside). Our server gave us the option for spiciness and we chose medium. The house guacamole we tried later was spicier, but the flavour profile of the tableside version was much better – it tasted quite fresh, and the construction process is quite a show. I think next time we would ask for one increase in heat level.
Los Tacos (Rajas and Crema). (Update: I was mistaken about the taco order; Kayla would have preferred the de Pescado (Mahi-Mahi) tacos, noting that Rajas and Crema were "all corn".) Kayla also said she would have liked a "mix and match" option with the other fillings (the other choices were marinated pork and grilled poblano pepper strips). This came with the house guacamole.
Burrito Rojo with shredded pork, which was accompanied by the Mexican rice and refried beans.
Kayla also added a side of Mexican street corn.
I also tried both a spicy margarita (from the drink menu, which was presented on a tablet) and then a regular frozen margarita.
This was quite a lot of tasty food and we didn't make it to dessert. Both of us were disappointed at not having room for an order of fried beignets. The tableside guac is definitely a highlight for both the prep experience and taste. Sharing one entree and splitting the sides, the "Buñuelos de la Abuela" might be within reach.
¡Havana! at 10
We concluded our meal at Los Lobos around 8:20, nearly rolling out of the restaurant considering how stuffed we were. The previous show in the Bliss Theater was just letting out as well. Using my less-than-brilliant math skills and the Freestyle Daily, this meant we could expect to spend about an hour in the next performance.
Dragging ourselves up the flights of stairs to the Observation Lounge, we sat and digested until about 9:35pm. ¡Havana! wasn't scheduled until 10pm and we had reservations, but based on our Getaway sailing where we nearly missed a show due to a lengthy dinner, I wanted to get there about half an hour early.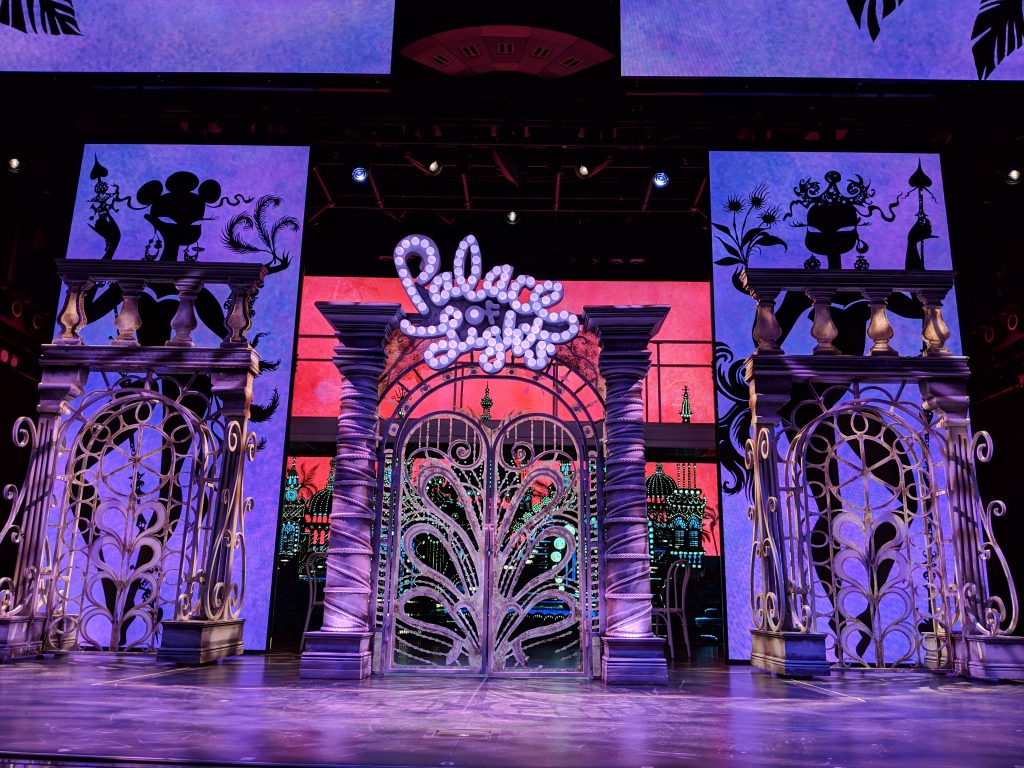 When we got there, though, the theatre was nearly empty. We picked seats in the centre of the second row, but could have sat in the first row without a problem.
One change I did notice from other NCL ships was the absence of a bar directly inside the theatre. They did have a bar server periodically wandering around and taking drink orders, but it would have been difficult to get their attention unless you were seated closer to the aisles. Alternatively, you would have had to either exit to The Local bar (midship) or go up one level to District Brew House, neither of which would be great options when there's a more popular show.
¡Havana! proved to be about the right length, beginning promptly at 10pm and ending by 10:53. It was definitely more of a classic "revue" with music and dance performances, and didn't have much of a plot. It certainly did not have the polish of a Broadway-style production, like Jersey Boys was later in the week or what we've seen on other Norwegian ships (Blue Man Group, Rock of Ages, Priscilla and Million Dollar Quartet.)
I was entertained, but I can certainly see how it might be polarizing for people either used to NCL big-ticket entertainment or more conventional cruise performances like magicians, comedy acts or variety shows. Likewise, ¡Havana! was sort of in a gray area in terms of who it was meant to appeal to. It wasn't a family-oriented show – there were some guys without shirts and a fake-out where one of the female performers almost exposes her breasts to the audience. Nor did it especially seem to resonate with either the younger or older crowd.
Not to say that the show was bad, but there were also a wide variety of options in Happening Today in the same timeframe, if I were to cruise on Bliss again or recommend something else:
Beatles tribute band in The Cavern Club
18+ comedy show in The Social
Acoustic country band in "Q"
Musical performers in Atrium, Sugarcane and Observation Lounge
Music and comedy in District Brew House from 9pm to midnight
Decades Dance Party in Spice H2O at 10:30
Jake gets a nightcap
After making our way back to the cabin around 11:10pm, I was dispatched to locate some cold water with ice and ensure it made its way into Kayla's water bottle. At the buffet, all of the water and ice dispensing stations have signs advising not to fill up water bottles directly, and to only use the provided plastic cups. This might have been a health and safety regulation, or to avoid large queues at the machine during peak service periods. Regardless, I couldn't find a specific water bottle filling station on that deck, so please comment with what the socially legitimate way to perform this task is. I'd be extremely grateful.
My next stop was at District Brew House, which was packed with people listening to Jim Badger's music/comedy set. It sounded like a good time, but there was a significant lack of seating. There was one barstool available, but it would have been very close quarters with the other patrons. I opted to continue towards midship, where I found that the exterior Cavern Club bar was closed down but the inside Maltings Whiskey Bar still had a few staff serving drinks.
As I sipped a bottle of Heineken (best before date of September 2019), my notes from the day indicate that I didn't think I got good use out of the Ultimate Beverage Package. On later review, that assessment was definitely questionable – I had managed to space out a dozen drinks out over the day with the pub crawl included, and excluding the present beer.
Doing some back of the napkin math, even in the pessimistic case where my partner doesn't use the UBP at all (but still has to buy it), the gratuities of $185.87 CAD, plus the difference between a "Sail-Away" rate and a cabin including the beverage package puts me at break-even in 3.5 days. Port days might influence this number, but what this tells me is that I should never book a fare without UBP. It just makes economic sense!
By 11:36pm, the first stage of overhead lighting ("you don't have to go home, but you can't stay here") turned on at Malting's, but the bartenders were still serving drinks and not in aggressive clean-up mode. This quickly changed and by 11:45pm I was prompted for another beer. Service definitively cut off at midnight. Several scotch drinkers appeared out of a venue and tried to order at 12:05am, but at that point the second phase of lights were on and everyone was directed to The Local.
I passed back by the District Brew House again at 12:20, but the front doors were solidly closed, so it's another venue where closing time is midnight. A circuit back down to The Local showed that it was still bustling, but I decided to call it quits for the evening and head back to the cabin. If you're looking for a garbage can, they are inset in the metal at the end of each elevator bank. Not immediately obvious, but nice to know.
Day 3 – At Sea / +1 hour
Hot dog "breakfast"
We were awakened at 8:30am (ship time 9:30am) for a Code Alpha medical emergency announcement, which was broadcast directly into the cabins. Last time this happened on the Getaway we had our ports reordered, so I resolved to pay close attention to announcements today to determine whether there would be a change to the schedule.
It turns out that both of us like sleeping in, so another hour of dozing in bed occurred before I got up and began rattling around. I did poke at the reservations available on the TV, but had to try a few times to get the menus to cooperate and not hand back a "woops".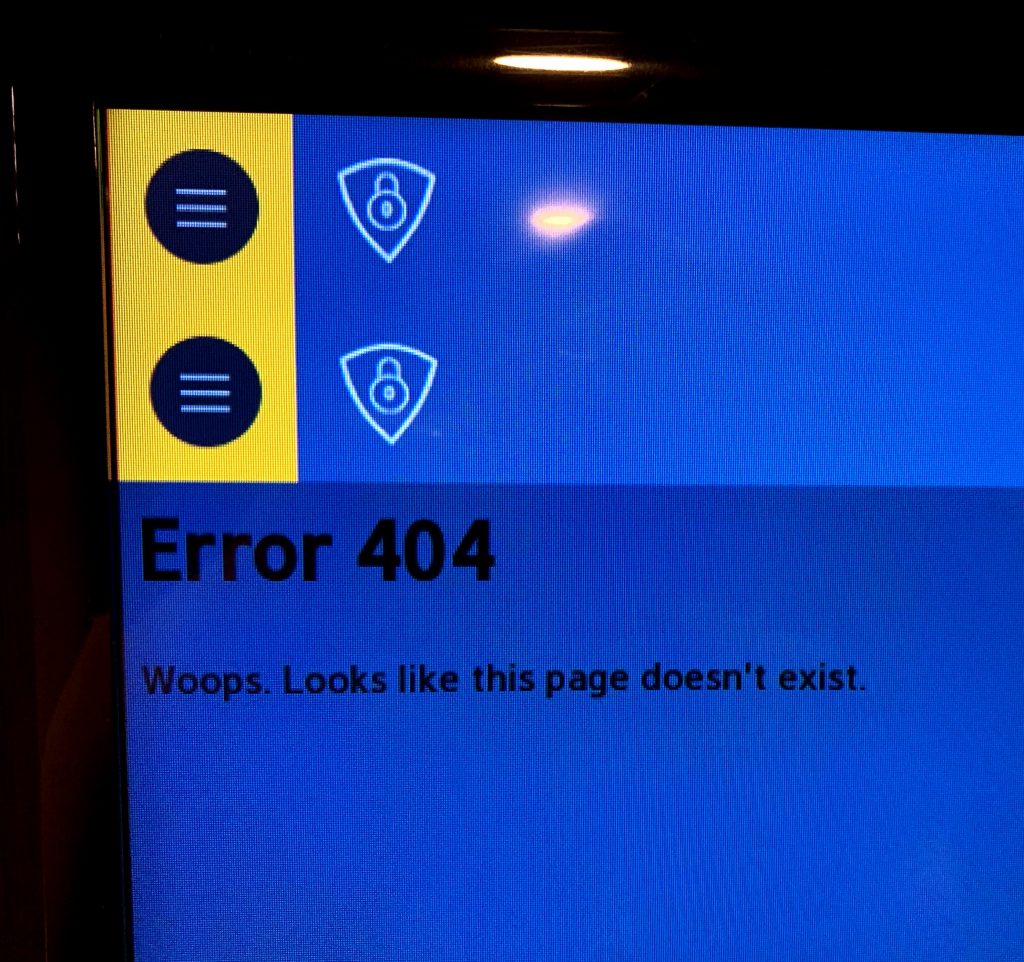 Of course, my network security mindset sees an HTTP error, and perhaps placing an inline tap just before the TV's network port could reveal some interesting traffic. But I'm on vacation, don't have a Packet Squirrel here, and would really rather enjoy the UBP and copious amounts of food than get kicked off in the Virgin Islands and banned for "hacking the network."
Instead of gray-hatting, then, I continued to poke at the reservations interface and was pleased to find that an 18+ comedy show had opened up on the last day at 10pm. I secured this booking, but there didn't seem to be any way to cancel our existing 8pm reservation through the TV or mobile interfaces. There didn't seem to be any penalty for no-showing on complimentary events; I didn't especially want to talk to anybody else or risk any other bookings getting cancelled accidentally, so we figured we'd just skip it and let the standby line fill our spots.
By this time it was creeping up on 11am, and I began the process of convincing a still-sleepy wife to exit the cabin and acquire food. Without the slight daylight ingress either from a porthole or balcony, it is quite easy to lose track of time in the morning. We really enjoyed this aspect of an interior stateroom; I have a hard time sleeping with any light sources, but it requires a bit more commitment to waking up.
We caught the early beginnings of lunch at 11:20am in the Garden Café.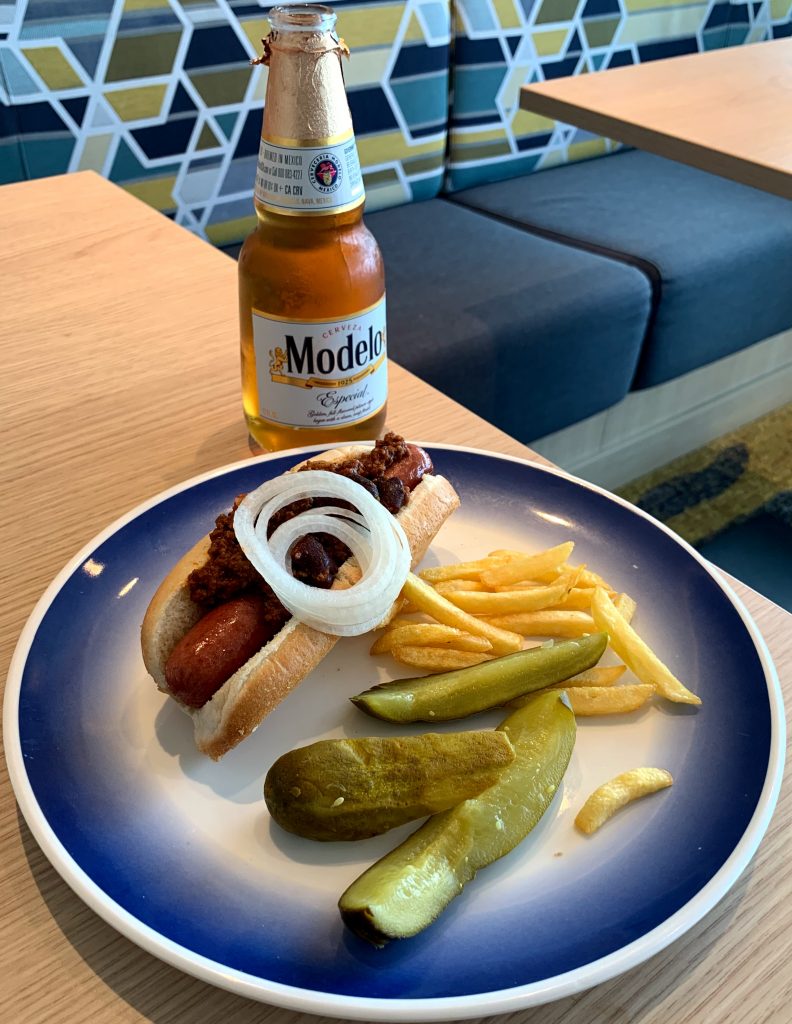 As pictured above, my introductory meal was a hot dog with chili and onions, some pickles on the side and a deliberately small portion of fries, plus a Modelo to start today's ingress into the delights of the beverage package. Kayla had some fruit which I'm sure was a better choice.
Spice and sun
Post-hot dog, we travelled up one deck and aft to Spice H2O. The chairs in this area are positioned closely together, much more so than on other NCL ships; it's also a smaller area in general. The trick is to try and get a set of deck chairs near the umbrellas. You can more easily get out to get to the bar or washroom (rather than crawling over your significant other) and have shade if necessary.
I continued on the Modelo theme for most of the afternoon. The bar was quite busy – there was either a successful marriage proposal that had just occurred, or a large wedding party. A small courtesy of an occasional $1US tip was helpful in terms of accelerated drink service. Our bartender (whose name I forget, likely due to the Modelo) had the beer uncapped and Kayla's drink prepped as soon as he saw me approaching.
As the day progressed, I switched to spicy Caesars to change things up a bit. All the bartenders recognized and constructed it appropriately despite its Canadian heritage. We'd spent several hours in indirect sun at this point, and with the poor quality of the Walgreens spray it was time to move to a less UV-intense location.
Unfortunately, 3:45pm on Bliss means that the buffet area is closed, and there's no dedicated hot dog/hamburger grill area outside like you might find on Epic. Never fear, though – to the Observation Lounge, where there's something delicious up for grabs!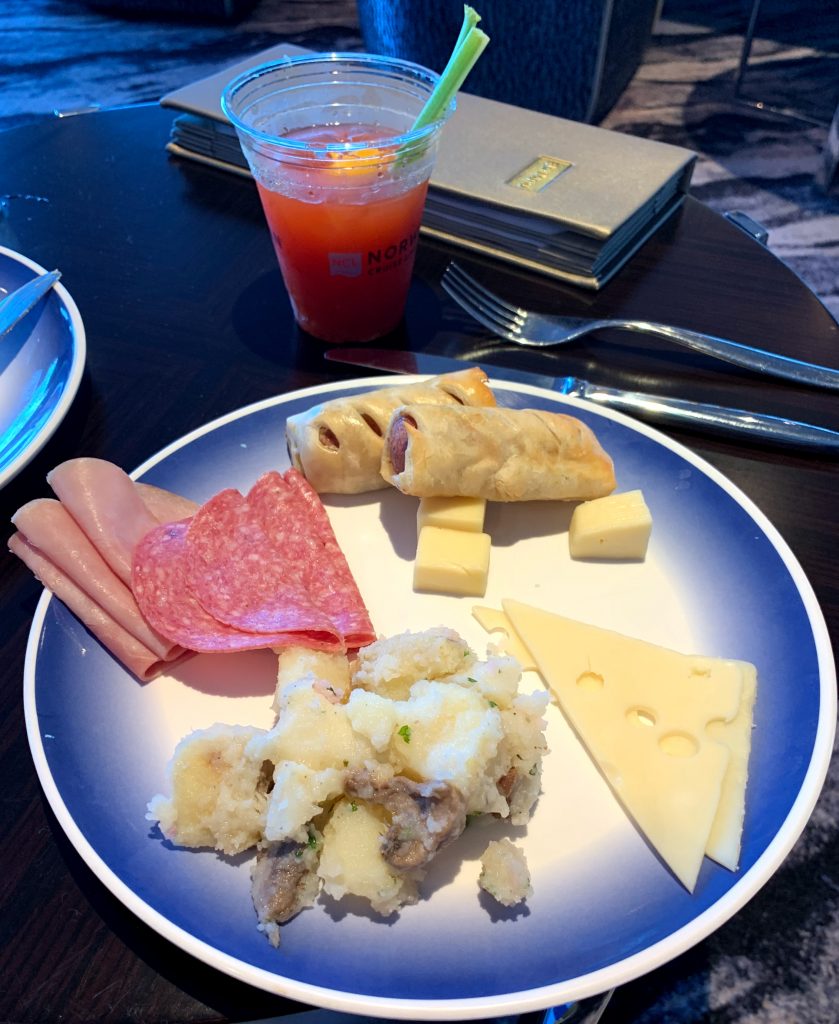 All the loungers were in use but we found a nice couch to congeal at for a bit until we'd finished our food. Then, it was back to Sugarcane Mojito Bar / The Waterfront for pre-dinner drinks, featuring a spicy mojito, and a show by Bong (Jonathan) the bartender. Definitely ask about his "magic" toilet – but let someone else make the wish.
Dinner and DBH
Upon our arrival at Savor at 6:56pm, presumably a peak time for dinner, we were advised of a 15-20 minute wait. This didn't bother us at all, and we sat down at the Mixx bar where I took advantage of Grey Goose being included with the UBP, and also took advantage of ordering it with cranberry juice in a judgement-free environment. You, too, can have a brightly coloured, delicious vodka-based cocktail on the high seas.
(As of January 2019, NCL has shuffled some of the brand-name/higher end liquors into the "more than $15US" category, resulting in an upcharge even with the UBP. This list apparently is still getting adjusted due to negative feedback. There are plenty of liquors still included, so it doesn't significantly impact my future cruise plans, but just making note of it for readers who require premium drinks.)
The estimated wait of 15-20 turned into exactly 7 minutes – our buzzer went off at 7:03pm, and we were seated at the exact same table as on Day 1. Our server Jenifer was able to offer Kayla an entree-sized salad (which I'm now kicking myself for not getting a photo of) and once again, we enjoyed both excellent dinner service and tasty foodstuffs.
I ordered the "Whole Roast of Sirloin" as my main course, and despite it not being pictured here either, rest assured that my appetite was entirely satiated and that it lived up to my exacting standards of meat and potatoes.
We were out of Savor by 8:08pm, putting dinner at nearly exactly one hour. We didn't feel rushed, but neither was the meal too slow-paced. Both the service and quick seating may just be an artifact of a table for two, but I continue to be impressed by the high caliber of the experience in the main dining rooms.
Our next destination was to the barstools at District Brew House, where our drinks never went dry due to the exceptional and friendly efforts of AJ and Englebert. Jim Badger began his comedy/music set at 9, which I found very entertaining. We were able to speak to him briefly before the show began, and he was quite friendly as well. I laughed at nearly all the material, especially the parts where he interrupts the song to… badger the audience members.
There was one part of the set that missed the mark, and I only mention it because it was the low point in an otherwise decent performance. While he is singing along to Van Morrison's Brown Eyed Girl, he makes a crack during the "transistor radio" line sounding like "trans sister." It came off as inappropriate, like some of the anti-gay slurs tossed about freely in early 90's culture, and didn't line up with the rest of the material. Here's hoping that this bit gets taken out of future routines.
DBH shut down right at midnight and we were off to bed. It was a good thing, too, because my beer had started smiling at me.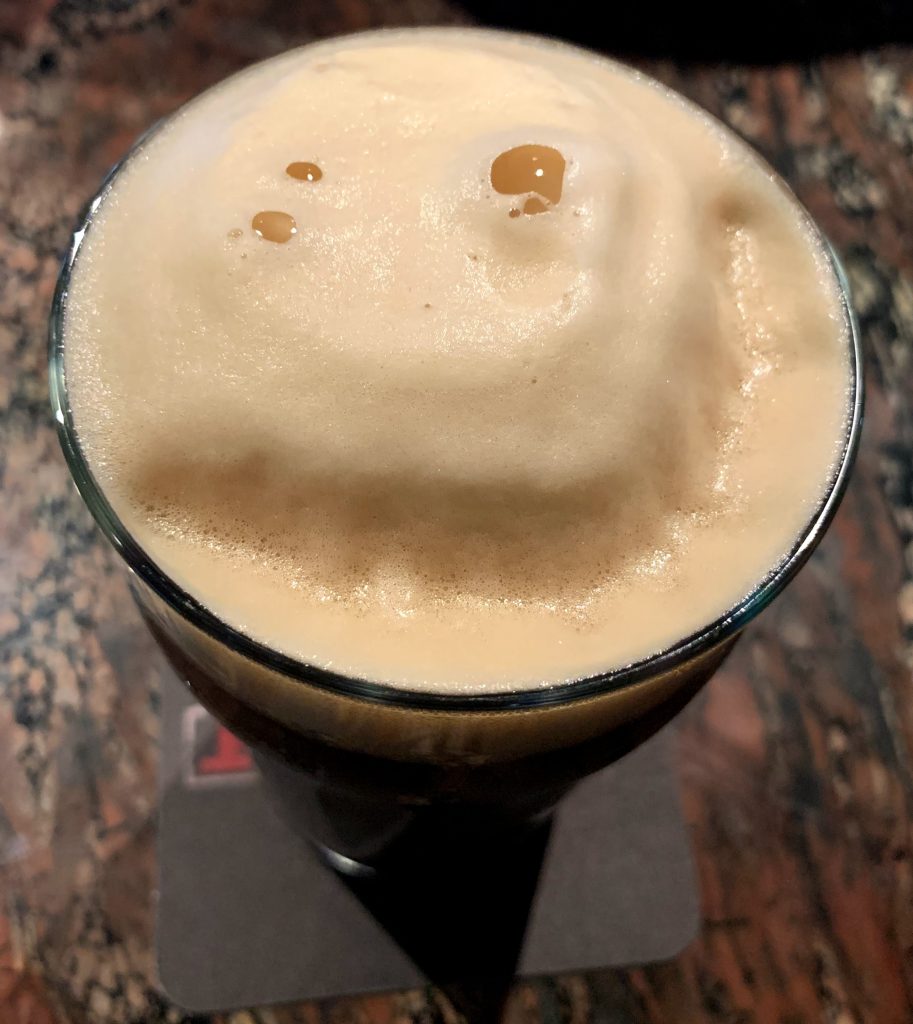 Day 4 – St. Thomas, US Virgin Islands
Local cuisine
We didn't have any excursions booked on this sailing and weren't on any particular timeline, so port days also allowed us to follow a lazy morning schedule. Unfortunately, the first port day brought about a crew safety drill, so from about 10am to 11am Cruise Director Silas' announcements in the hall (including a mock "abandon ship" alarm) bled into the cabin. There was an inordinately lengthy roll-call section where Silas called out a seemingly endless stream of employee numbers that had not scanned in at a safety station.
Somewhat disgruntled, we decided to go to The Local for their lunch offerings before heading off to shore. I was able to get my long-awaited Chicago-style hot dog. Can you tell I'm kind of into hot dogs?
The white bean and turkey chili had a bit of a kick to it, and the hot dog was everything I was hoping for. An odd thing occurred when I tried to order a draft beer: I was told that they didn't have them, and apparently the bar offerings were different on the restaurant side versus the bar side of The Local. I was then offered a bottle of Miller Lite, which I accepted, but Miller wasn't even listed on the drink menu. This seemed a bit unclear as I assumed the service bar for The Local was… well, the bar maybe twenty feet away from the restaurant with multiple service stations.
Down to the port, but back again quickly
Upon conclusion of our lunch, we walked off the ship into Charlotte Amalie and trekked down the dock area. Bliss had the last berth, which was the furthest from the town.
It was quite hot at this point, and our terrible sunscreen was doing us no favours. We admittedly hadn't done much research into the ports. Without an excursion booked, we wandered around the Havensight mall area and were thoroughly unimpressed with the shopping options. Our only actual stop was outside a "tourist office" on the street down from Gate 2, where we mooched Wi-Fi from their unsecured network and confirmed that our house had not burned down in our absence.
So instead of getting suckered into purchasing a fine piece of tanzanite or a comically heavy diving watch, we boarded the ship again and watched the island from the shade of the Waterfront. We're kind of predictable.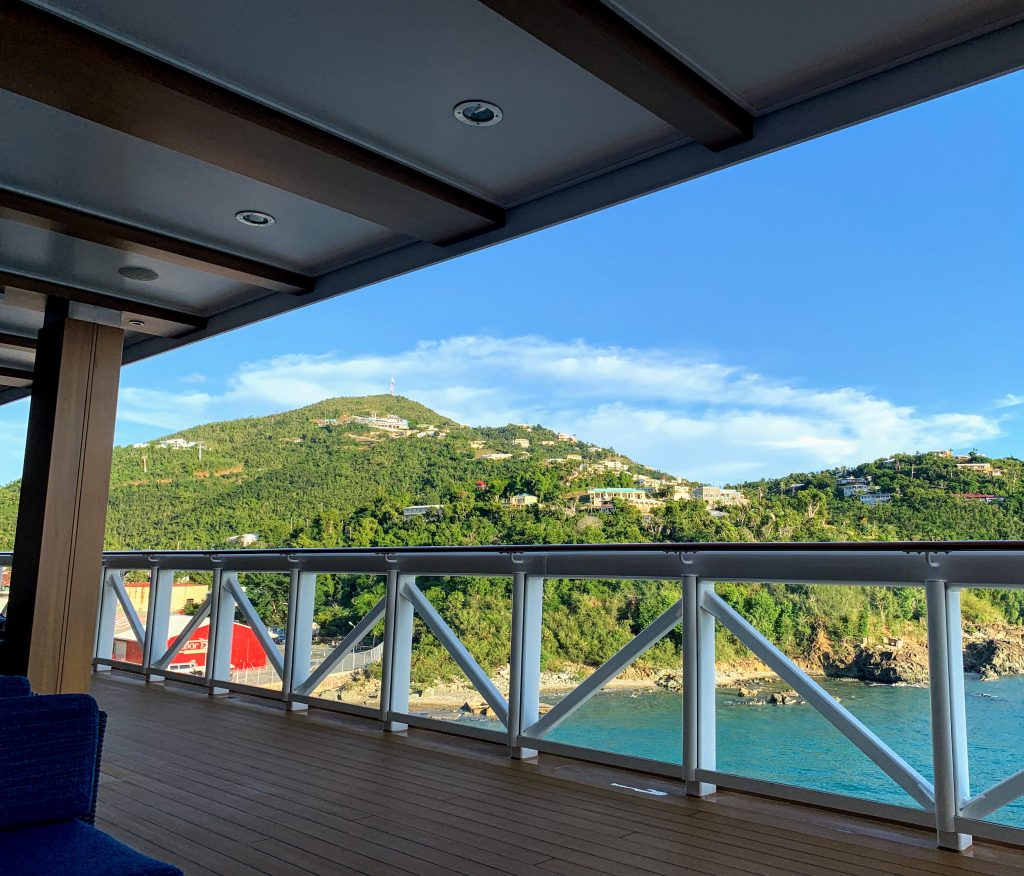 My shorthand notes imply that at one point we had a second lunch in the Observation Lounge, but I can't find any photos to substantiate that claim. The more likely story is that I just gorged myself on bar snacks and raspberry mojitos until it was time for proper dinner.
Proper dinner and an early night
This evening, we selected the Manhattan Room, which is something we'd avoided on other sailings (as well as the equivalent Tropicana Room on Getaway) because it seemed like a more upscale main dining venue, implying a level of dressing up that seemed like too much to bother with for an included restaurant. You should not worry about this – a clean, intact shirt and pair of jeans was well above the average level of attire that night.
The following items were consumed by the wife and myself:
Corn and Crab Chowder (with crumbled bacon)
Pasta e Fagoli (bean soup with bacon and pasta)
Shrimp and Mushroom Alfredo
3-Cheese Baked Ziti
Warm Bread Pudding
Chocolate Espresso Cake
The Alfredo was quite worthwhile for being on the Classic (consistent every day) menu. It had a really rich, creamy sauce and the mushrooms were quite inoffensive. I tend to be very selective about fungi in my food but these didn't pose a problem.
After that much food, we were exhausted and headed straight back to the cabin. We both read for a bit and tried to make ourselves comfortable and I can confirm the bedside USB chargers have a hard time with the current required for an iPad. No warnings about slow charging speed, but its battery level maybe only went up by 40% overnight. My recent-model iPhone didn't have the same problem and was ready to go every morning, but if you have a larger-screened tablet you may want to use a wall charger that can deliver the extra juice.
Day 5 – Tortola, British Virgin Islands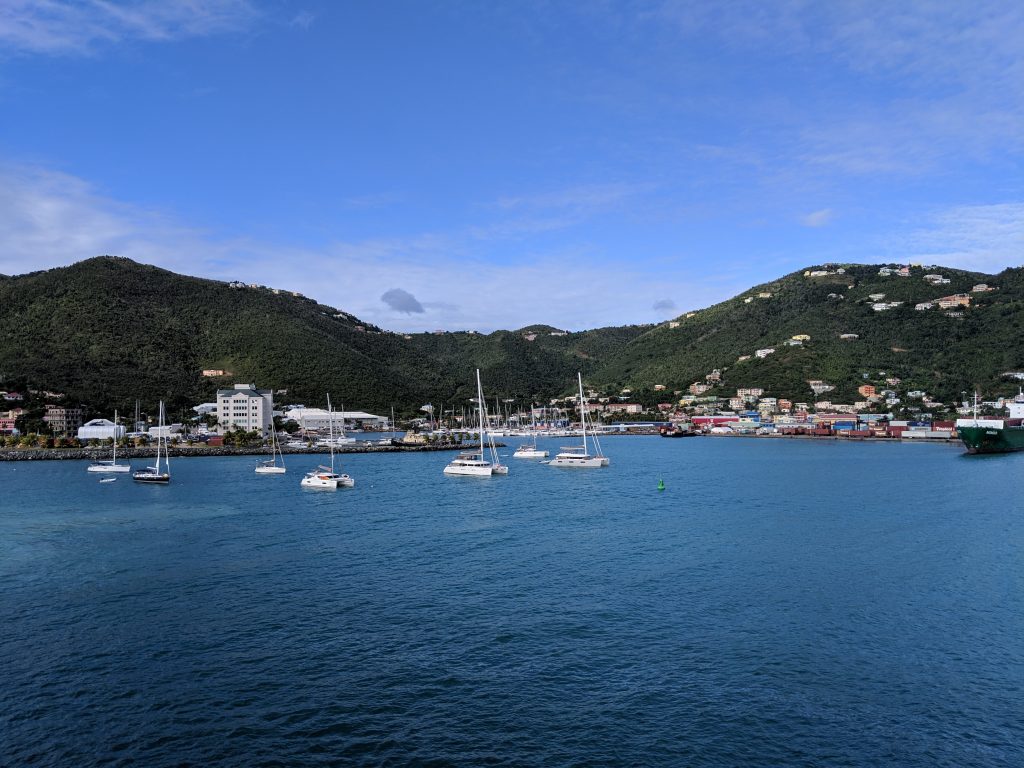 Checking out the competition
Without the interruption of a crew drill, and an entirely smooth docking process, once again we slept soundly in our dark quarters until lunchtime despite our 7am arrival in Tortola.
The buffet was quite good this morning. Top marks go to the thin-crust ham and corn pizza, and the full complement of salads was also available.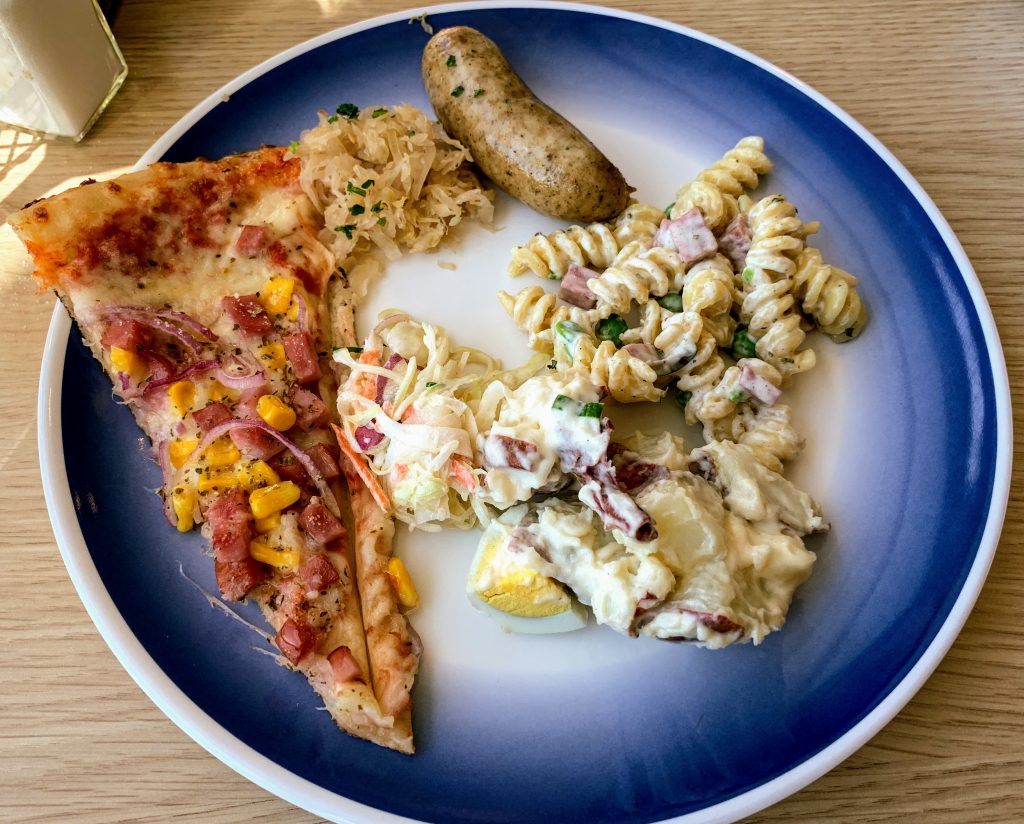 We were also docked next to the Celebrity Edge. At the time, I assumed Edge had already been sailing for a few months, but apparently this was actually a "maiden" Eastern Caribbean voyage from FLL on December 16. There is also some confusion about the terms "maiden" and "inaugural", but let it be known that technically this would have been Edge's sixth voyage with paying customers.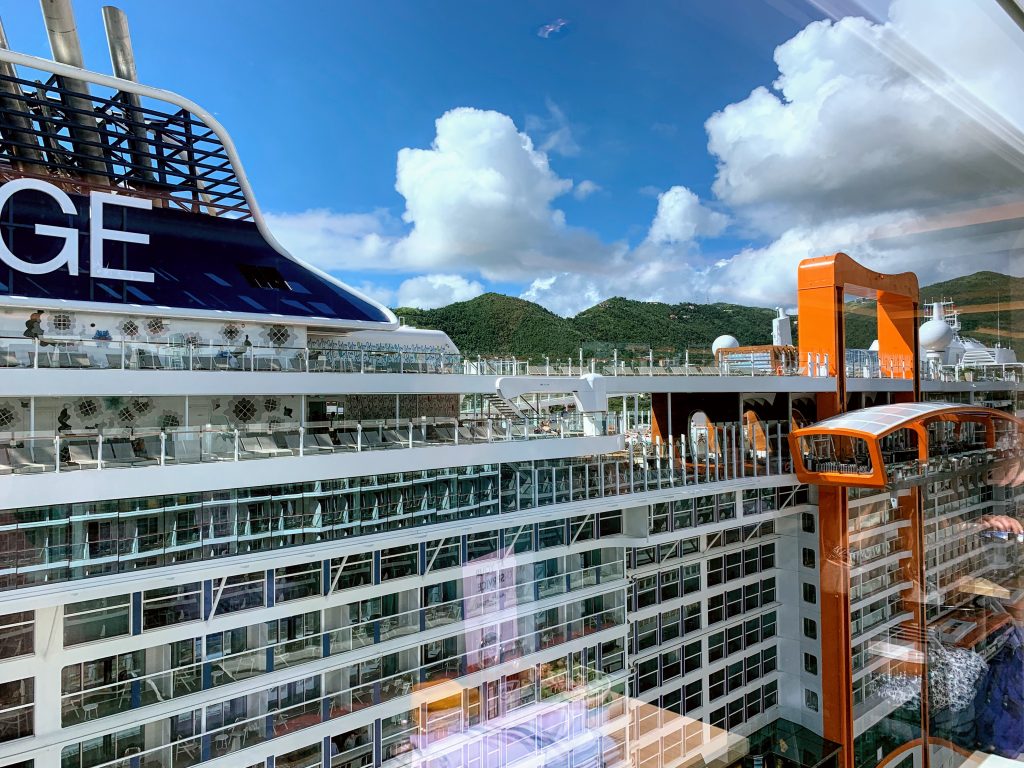 The more I check out the press and reviews about Edge, it definitely piques my interest. I think if we decided to book another Celebrity cruise, it would either be on this ship or the upcoming Apex in the same family. It's a more direct competitor to the newer and larger NCL ships that we've experienced, and I'd have a better grasp of some of the particular quirks inherent to a booking on X (specifically, booking a cabin that includes a better-than Cheap Drink Plan.)
Back and forth on the Waterfront
Next up today was an attempt to finish reading as many of the books in Ian Fleming's James Bond series as possible. To do that, I gravitated toward our usual spot on the Waterfront just down from the Sugarcane Mojito Bar, and consumed not only my literature, but a vast selection of drinks and BBQ-seasoned bar snacks. For my money and vacation experience, there is really nothing better.
The Mojito bar side of the Waterfront also has several significant advantages. First, you get to avoid the smoke emanating from the cigar lounge close to the Cavern Club exterior bar. Then, when the number of mojito-based cocktails wears on you throughout the day: never fear. The proximity of seating to the District Brew House made for easy, repeated invocation of the following playbook:
Rouse oneself from the couch, chair or lounger
Walk inside the ship, tapping the "open door" button with the back of your hand to reduce exposure to other passengers' cruise crud
Immediately turn left towards the DBH. If required, first turn right into the appropriate restroom facility and perform necessary functions. (WASH YOUR HANDS POST-FUNCTIONS.)
Acquire a draft beer from Englebert or AJ. After several of these loops, I was "Mr. Jacob". Not going to argue with that.
Exit outside and feel the sun and wind on your face, reveling in the fact that you're not scraping your windshield off in -20 weather
Stop by the exterior Mojito bar and pick up a drink for Kayla
Return to the loungers, emitting a sigh of satisfaction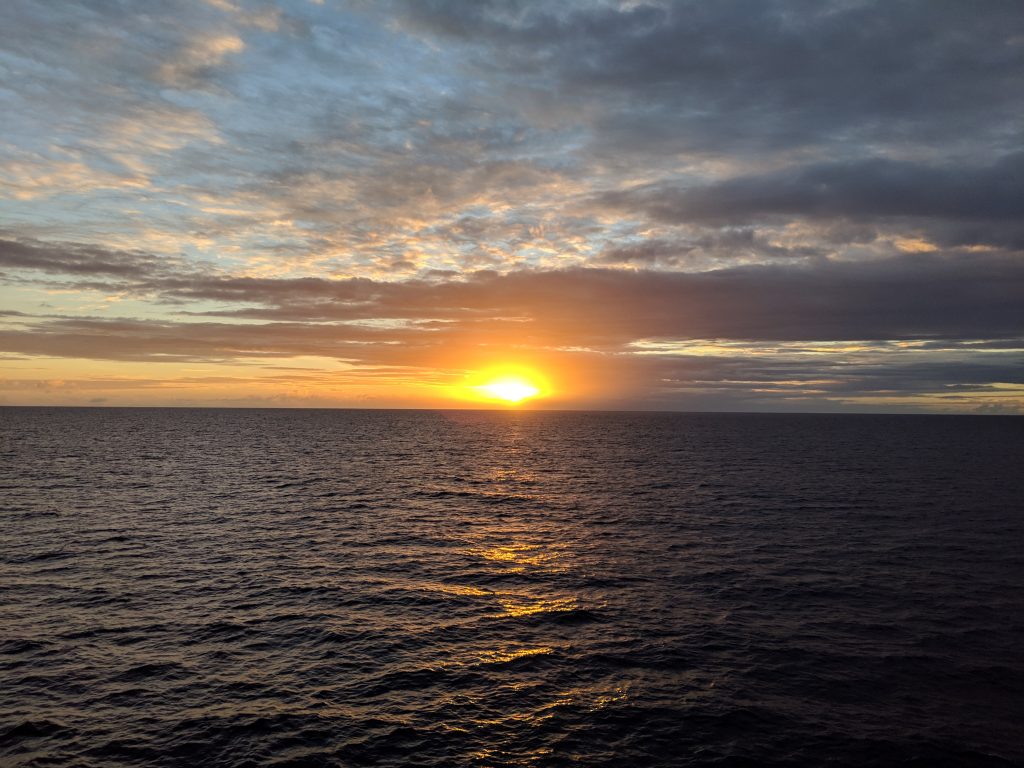 You might guess here that we didn't get to exit at the British Virgin Islands. All along, this had really been my plan – to spend as much time on Bliss as possible. Our meager interest in NCL-organized tours, shopping and general desire to relax all contributed to the "ship is the destination" attitude. Maybe next time, we can find something more authentic and local where the objective is not to dodge the tanzanite salespeople.
All things in moderation
Savor was our restaurant of choice this evening, but we skipped dessert and shared the main course of beef short rib ragu. Based on how groggy we felt the previous night after dinner, we went a bit lighter on the food, with the understanding that there would still be other options if hungry later.
Post-dinner I went back to the District Brew House for some more beer and caught about half of Jim Badger's set, which didn't change much from the first night we saw him – there might have been one song swapped and the jokes were the same. I wrapped it up around 10:30pm and then went upstairs to check out the Garden Café options.
In a departure from our other late-night ship experiences, most of the buffet was closed except for a small grill and pizza section – no pasta bar, and no desserts or baked goods. I guess another option here would be to consider the 24/7 menu at The Local, but I don't recall other NCL ships having such a limited selection at this point in the evening.
What we did have from the grill were small portions of fries with Bearnaise sauce, hot dogs, chili, pickles, and pizza. Burgers and chicken burgers were also still available but that would have been far too much food.
Day 6 – At sea / -1 hour
Laziness reigns supreme
I'm sure all of you are sick of hearing about how we got up late, missed breakfast and went to the buffet for the beginning of lunch. I won't lie and say this didn't happen today as well.
The pasta station seemed much more limited than on previous vacations. The cooks were heating up exclusively penne noodles with Alfredo sauce, and then the customization was limited to additions (think mushrooms, onions, and cheese.) They also had a pre-fab container of spaghetti with olive oil. I was disappointed that they didn't seem to have a meat sauce or other types of noodles available, but the spaghetti (plus a chili oil) was satisfactory.
A lot of the food options also seemed to be slightly strange combinations of the previous day's offerings. As one example, the potato salad had Chorizo sausage in it, which was unexpected – and I'm certain it was a key component in Day 5's Mixed Grill dinner special.
I can also confirm that Taste and Savor had a lunch menu that was identical to the one from embarkation day.
Afternoon and evening exploits
Changing things up, we spent an hour listening to Suzanne play piano and sing inside the Sugarcane Mojito Bar before proceeding out to the seats on the deck.
By about 4pm I had the definite feeling that my nose was sunburned and was starting to feel a bit too warm. Kayla was still in good condition so I retired to the cooler temperatures in the District Brew House, occasionally popping back outside to confirm that everything was copacetic.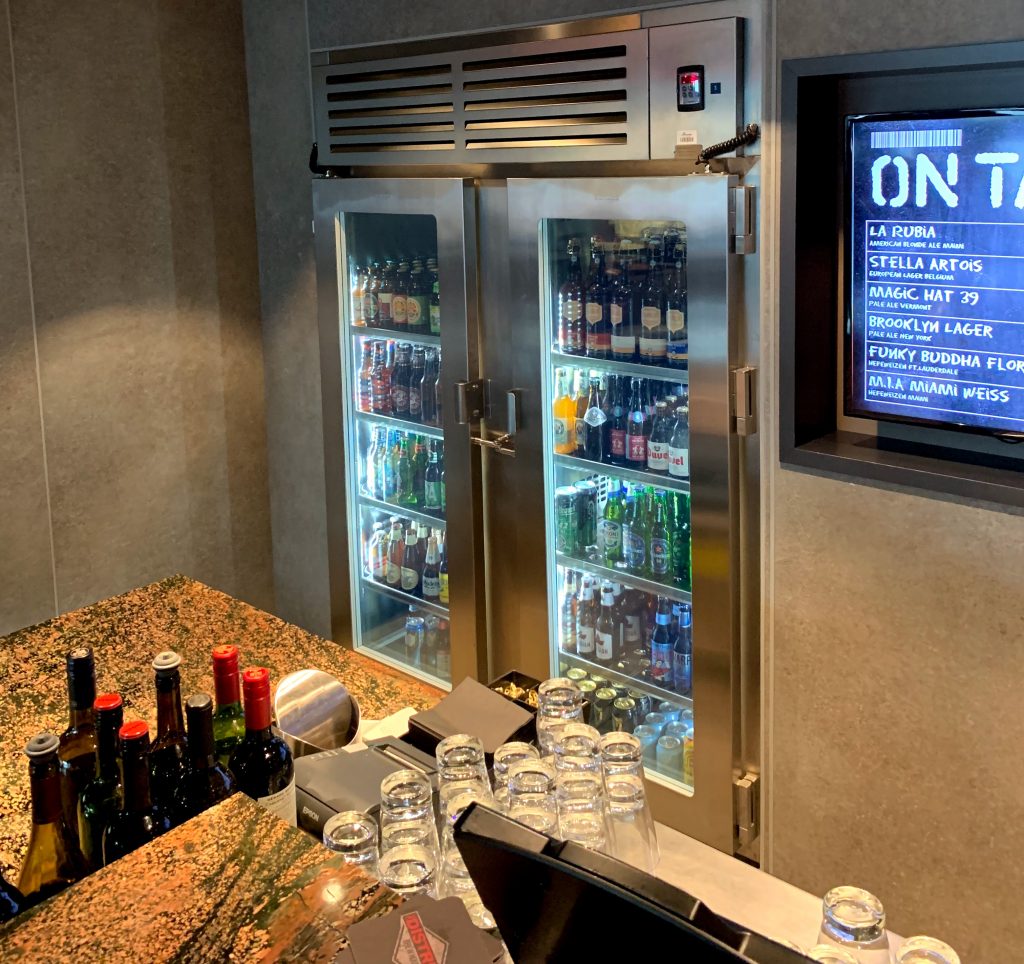 Walking down beside the Bliss theatre on the port side of the ship, Deck 7, there was a distinctly unpleasant odor of sewage mixed with antiseptic chemicals. There weren't any visible wet spots on the carpet nor were the drying fans out, and this was the only part of the ship that I noticed had this displeasing smell (it wasn't like Infinity, where when it stank in one of the ports, it seemed to permeate the entire deck.) Leaving the theatre later that evening, I didn't notice any bad smells, so props to the crew for handling it.
We went for a fairly conventional dinner around 6pm in Taste. Once again, the food and service were great. It is difficult to keep coming up with positive adjectives when the experience even in these "free" restaurants is just quite consistently pleasant. Food arrived well-presented, and our waiter took it upon themselves to expedite a drink for me when one of the bars was slightly delayed. I don't really know that we could ask for more.
Authentic, profane Jersey language
Our reservation for Jersey Boys was for the 10:30pm show, and we were both having a hard time staying awake after dinner. Coffee was definitely a necessary aid here, and we managed to arrive at the Bliss Theatre by 10:05pm, choosing seats dead-centre, about four rows back.
In the seat next to me was a gentleman who provided a bit of pre-show entertainment. He belittled Kayla for reading a book before the show started, asked if I was playing cards on my phone (I was, and he thought that was hilarious), offered me a job, and made it well-known to everyone in earshot that he was personally from Jersey.
He left about twenty minutes into the show, exclaiming that it wasn't for him. I suspect it wasn't up to his exacting standards.
On the other hand, the production certainly met ours. It was a high energy performance, technically sound and I couldn't find fault with any of the the singing or acting. The NCL big-ticket shows are polished. While I liked Million Dollar Quartet and Rock of Ages slightly more than Jersey Boys, that's really only down to the musical selections from each.
Day 7 – Not Nassau
Mario Kart without the items
It was time for my premium activity this morning, and I showed up about 20 minutes early for a 10am race track slot. Initially the attendants said I was too early, so I walked around the top decks awkwardly for about 15 minutes before returning. I think from 9am to 10am they were exclusively letting Haven guests in, but it seemed like if you showed up for your time exactly, you'd be let in without issues.
It took about another 20 minutes to go through the safety briefing, have the head coverings handed out, and step into a car. (This is how they avoid lice – each driver gets a fresh fabric mask, and then the hard helmet is placed on top of that.) I had to take my glasses off to let the attendant put the helmet on, and then there was a bit of adjustment needed to secure them back on my face. I ended up putting the arms of the glasses inside the fabric, and then wiggling them down over my ears so they weren't on an angle. Cruisers with the option for contacts should consider wearing them for this activity.
Unfortunately, despite the verbal instructions, recorded announcements and signs advising slower drivers to stick to the right, for five out of the eight laps I was unable to pass a participant ahead of me who had minimal interest in acceleration and even less concern for the cars stacking up behind. They kept trying to tell the driver to move right and eventually directed the vehicle off the track, at which point I opened up on the throttle and enjoyed a brief stint of speed.
I would absolutely recommend trying this activity on Bliss, even at the $10US charge, but I don't think the $99US/unlimited pass is worth it (especially if you'd be taking full advantage of the UBP.) If I was going to do it again, I'd still book in the morning but try for two slots during the week.
No visit to Nassau
We were scheduled to dock in Nassau by 12pm, but it was fairly evident this wasn't going to happen on time due to our position. By 12:30 the captain made an announcement that due to high winds, it would be too dangerous to try and dock the ship. He advised that NCL-purchased shore excursions would be automatically refunded, and that we would try and do a loop around and see if the winds had died down in a few hours.
It didn't feel very windy as we went outside, but this would change later.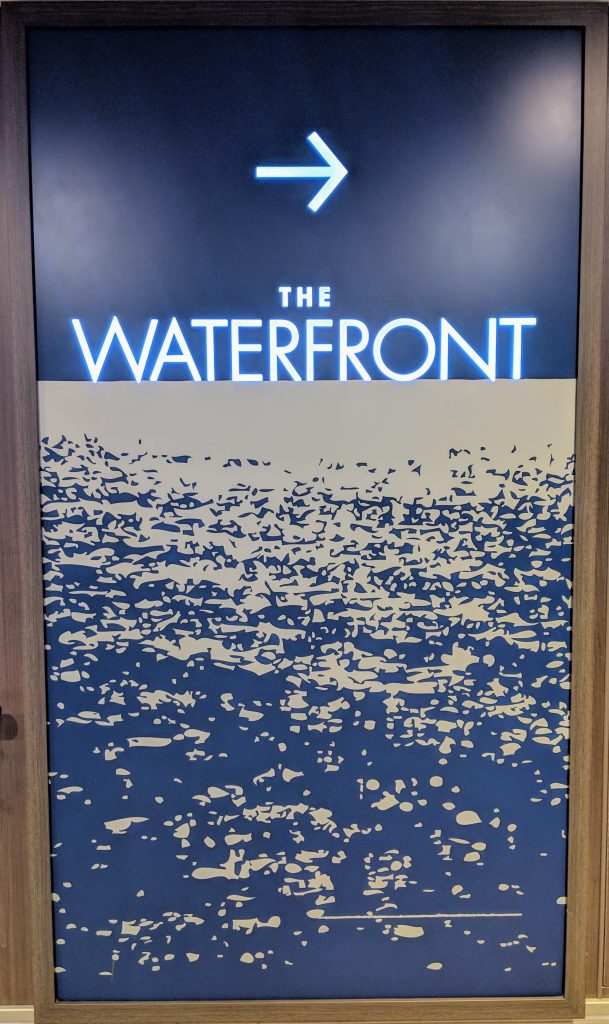 By 2:30pm there was another announcement made that Nassau was not happening today due to the continued weather. The captain also provided a fairly good summary as to why we couldn't dock – the stabilizers have good effect on open water but don't really help closer to shore. I also didn't want a 168,028 ton, billion-dollar ship to be blown into a concrete pier.
For the rest of the afternoon, all the doors between the Waterfront and the inside of the ship on the port side were closed to access. You could still get drinks from the Mojito bar, but had to walk around half of the ship to access a restroom. I used the opportunity to return to our room and collect the complimentary Duc sparkling wine that I'd been putting off drinking.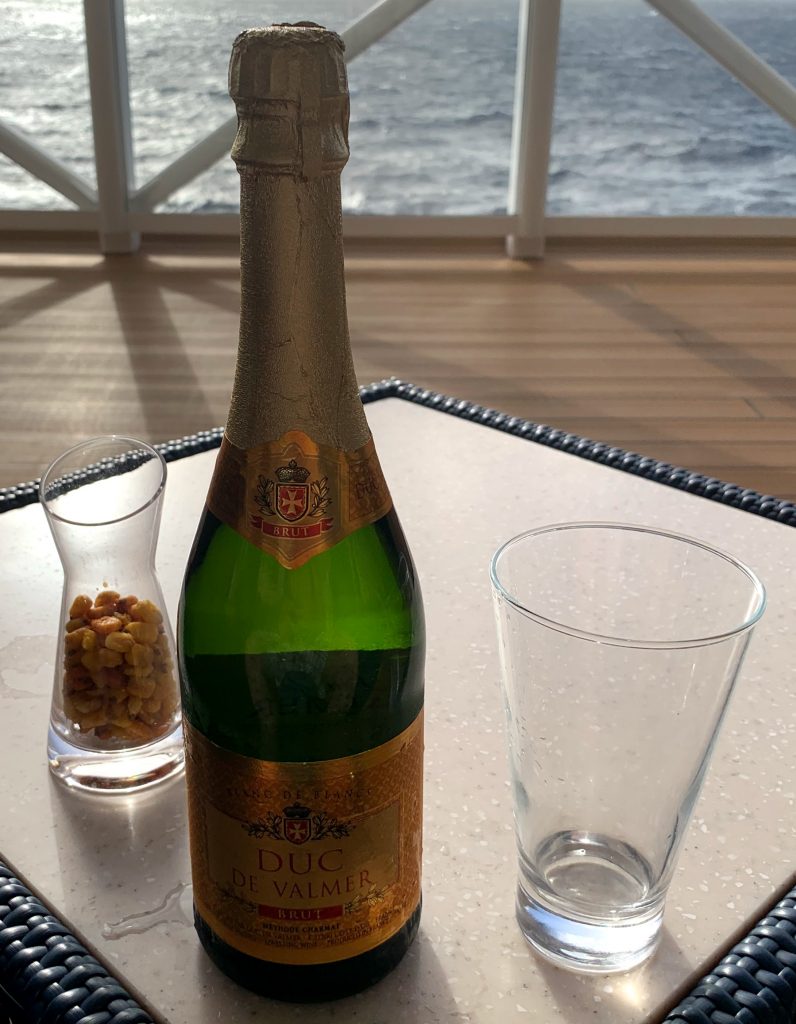 Later that evening, I ended up dining in Taste by myself as Kayla wasn't especially hungry for a dinner of meat and potatoes. As I was sitting at a table beside a porthole window, staring out onto the darkness with waves rolling by, there was another gentleman by himself sitting at the next table over. We got to talking and coincidentally had ordered the same type of wine, so ended up consolidating our tables.
Marco was scheduled to be on a Celebrity ship the next week, and seemed to have the ear of the wait staff – they were constantly checking on him and comped a bottle of wine, which is normally an upcharge even with the beverage package. We had a great conversation and the prime rib was top notch. It was one of those moments where I got to talk to someone as enthused with the cruising experience as I am, and made a nice finish to the evening as we both went our separate ways.
Post-cruise
All things must come to an end, and we chose self-disembarkation the next morning as soon as the announcement was made around 7:30am. There is a significant winding line through the ship to actually get to the outer deck and back into the terminal via skybridge.
The Miami terminals NCL uses have an enraging escalator prior to the baggage claim area. Even if you don't have to pick up any bags, you still have to exit there as Customs/Immigration clearance is on the same level. Due to some arbitrary union or customs rule, you can't carry more than one suitcase per person on this escalator, which differs from the "You'll Be Leaving Soon" handout that just says "you have to be physically able to carry all your bags/suitcases with you."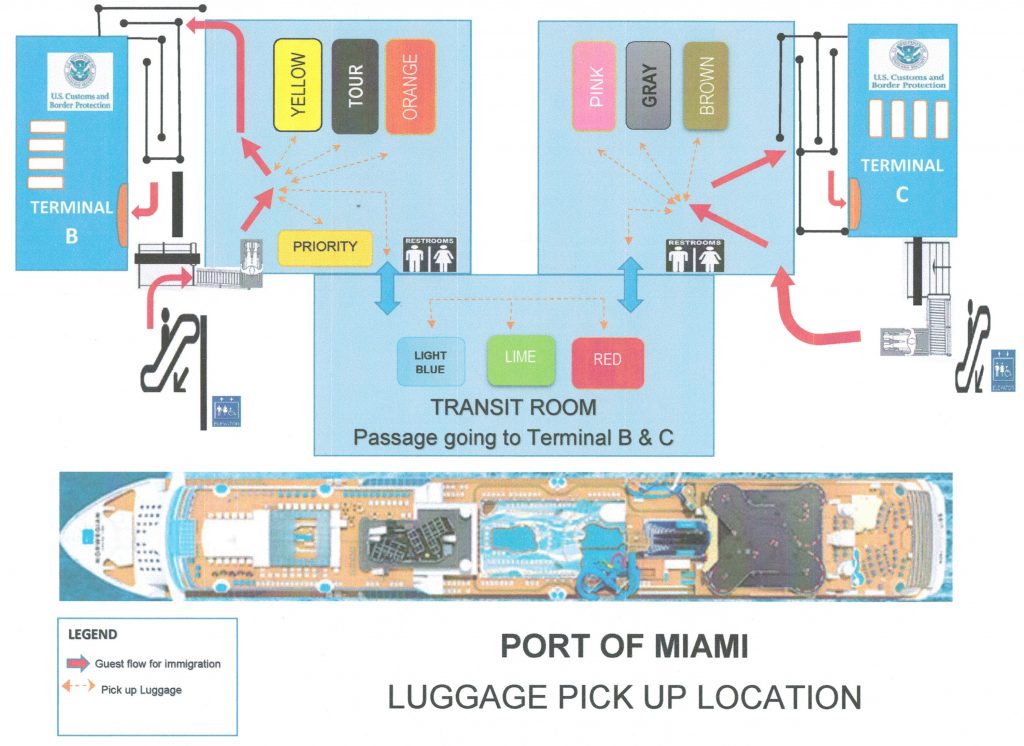 If you get to the escalator with multiple bags, even if you seem competent enough to wrangle them, the terminal staff try to block you from getting on the escalator and demand that you take the elevator down. The elevator always has a lengthy line of people in wheelchairs who probably need that access. People in this scenario typically tried to duck the terminal staff, ignoring the protests of "sir! sir!" as they continued to ride down.
To avoid this, you're supposed to have used the standard process to colour-code tag your large or extra bags and leave them in the hall the previous evening. This will result in them being portered off the ship and into the lower baggage rooms on your behalf. Since we only had one suitcase (and a personal item) each, we avoided the whole fiasco this time.
After a brief interaction with a CBP agent, we were out to the port by 8:15am and headed to the taxi line to the left. There were a large number of people with phones out, looking for their rideshare vehicles. Since we had a flight at noon, I didn't want to risk a delayed pickup. Our taxi driver was a bit aggressive in his driving style, but managed to bypass a lot of traffic waiting for airport dropoff.
Security inside the terminal was then about a 20 minute wait, complicated by the fact that one of the belt x-ray machines broke down about three people in front of us. After that, it was a short walk to the gate, and our AC Rouge flight back to Toronto was uneventful (except for a luggage compartment that wouldn't latch close.)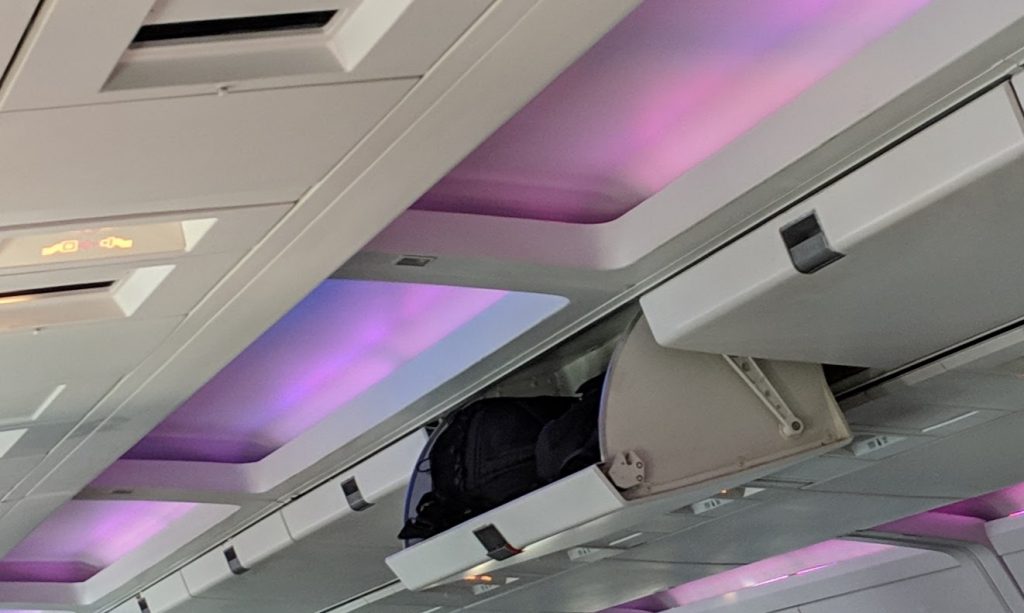 Concluding thoughts
Bliss was a refinement of the Breakaway/Getaway experience, with nearly all of the positive elements of these ships kept, and some unique and distinct additions like the Observation Lounge and the race track. Long-time NCL cruisers may be disappointed in some of the tradeoffs, but this is certainly a ship worth sailing at least once to experience the polish on the cruise product.
We'd absolutely sail Bliss again, and it would definitely make sense for an Alaska route with the spacious Observation Lounge. The District Brew House has got to be my favourite bar on the ship, and I only wish it had a direct Waterfront seating area to complete the experience. Los Lobos was something new for us as well, and was worth the price for the tableside guacamole experience.
Dailies and docs
Day 2 Dailies: 1 / 2 / 3 / 4 / 5 / 6
Day 3 Dailies: 1 / 2 / 3 / 4 / 5 / 6
Day 4 Dailies: 1 / 2 / 3 / 4 / 5 / 6
Day 5 Dailies: 1 / 2 / 3 / 4 / 5 / 6
Day 6 Dailies: 1 / 2 / 3 / 4 / 5 / 6
Day 7 Dailies: 1 / 2 / 3 / 4 / 5 / 6