This post is part 4 in a series of 7 about our vacation on the NCL Getaway, from February 18-25, 2018. You can read the other parts here:

Part 4 – Costa Maya (this post)
Day 3: A lovely pile of rocks in Costa Maya
The title of this section comes from a TripAdvisor review (filter by 3 star/Average) in which the reviewer is unimpressed with the Chacchoben Mayan ruins, declaring them "a pile of rocks". I mean, points for calling it like you see it, but they're historic rocks – what exactly were you expecting?
The docking process this morning seemed unreasonably lengthy and loud, but I'm only an amateur and any loud noises in the morning have been a subject of contention since a very early age.
Before disembarking, we went to the buffet and acquired some food. I'm not typically a breakfast person, but made a good attempt as it wasn't clear when lunch would be offered on our tour. One noticeable omission from the morning buffet was bananas, which I'd figured would be a standard and highly available breakfast item, but none were to be seen. Of course, I didn't actually ask anybody, so this could just be chalked up to early-morning grogginess.
Keep in mind that in general, you can't take food off the ship into the ports lest ye incur the wrath of vessel security and foreign customs officers, so that "apple to go" better be down to the core and ready to be pitched by the time you're on the lower decks.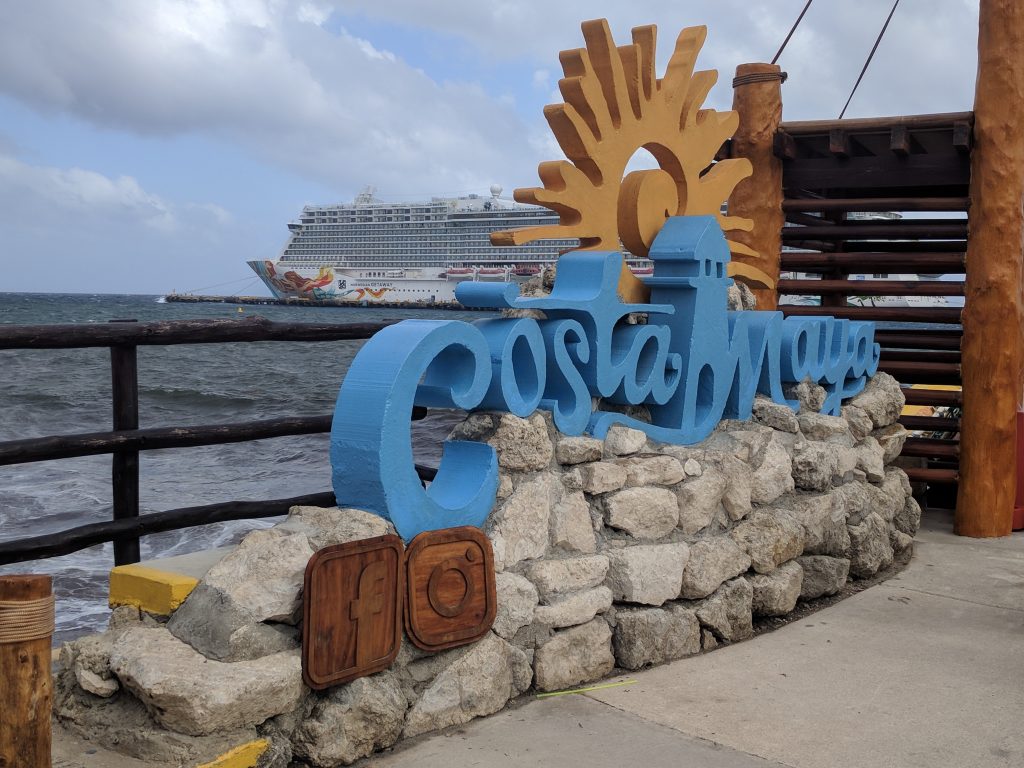 We exited the ship, thankfully not on a tender boat, to the long pier and intentionally confusing-to-exit tourist area. Native Choice had provided a handy map with our booking to locate their office, but unfortunately the more direct path there "under the tower" was blocked by construction, as well as some type of security guard-looking individual.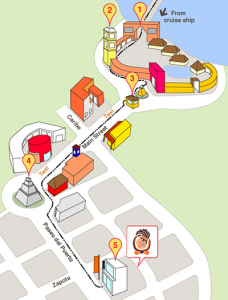 As we were running a bit behind schedule, our trip through the tourist-trap shops (damn you Tanzanite International!) was incredibly irritating, especially navigating through two separate rows of shops before port security. Once outside the plaza, though, the tour office was quite easy to find – down the road, turn left at the Mayan pyramid roundabout, and it was on the left side of Avenida Paseo del Puerto about 300m down.
Both our slight tardiness that day and two-day-early arrival of the Getaway didn't seem to phase the representative, who already had our names on the appropriate list for today's Chacchoben Extreme tour. While the confirmation email did indicate we could pay the remaining balance on a credit card, the preference clearly was USD cash to avoid contention for "the machine."
After receiving appropriately-coloured wristbands to indicate which package we'd paid for, the tour got started perhaps 20 minutes later with us being ushered onto a bus with our tour guide Ron. From there, the tour proceeded as scheduled – about an hour to the ruins, and then just over an hour for both the guided tour portion with Ron and his partner Rudolpho, and independent walking around.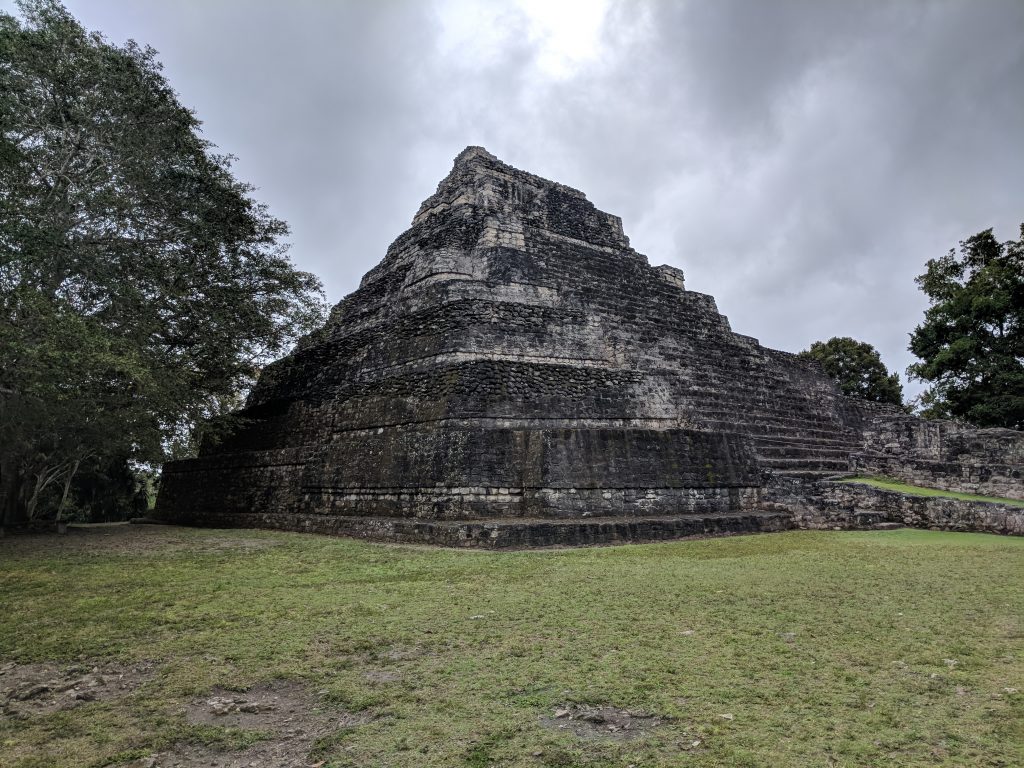 There is definitely a fair bit of walking uphill and over multiple stone steps to get to the topmost ruins, but it's worth doing; they are fairly impressive structures.
After the tour and obligatory rest stop at the service centre, we returned to the bus and made our way to Bacalar Lagoon Resort, where lunch was served and we had about an hour and a half to relax and swim.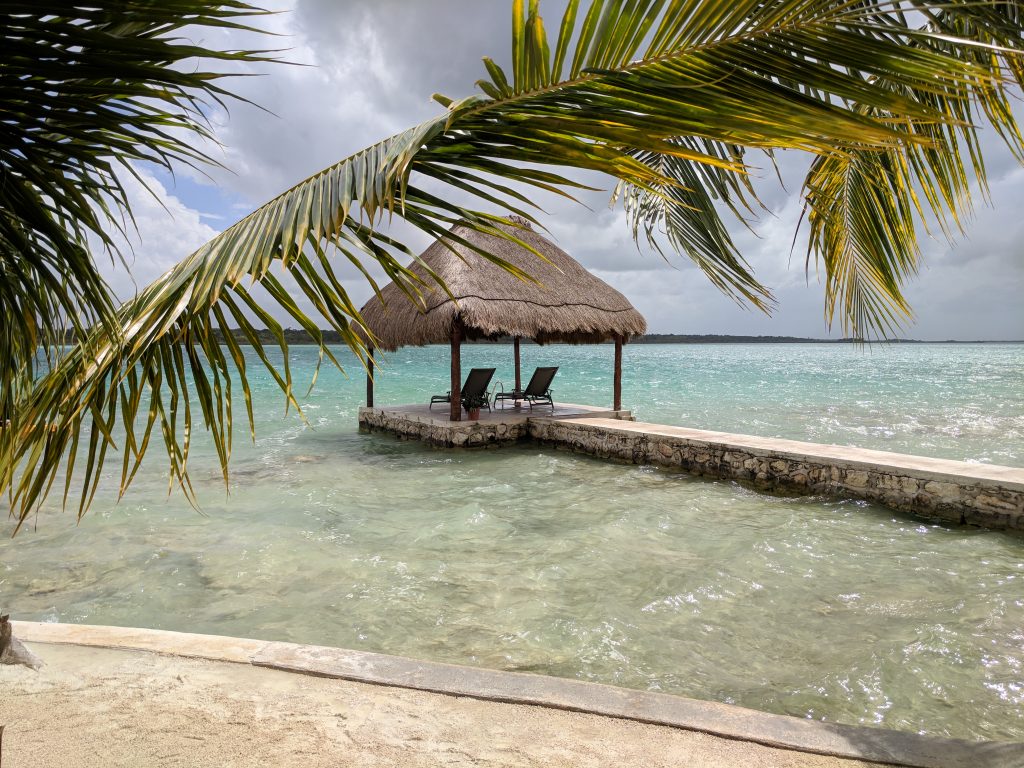 When we booked this particular tour, the included lunch was described as unlimited tacos and drinks including alcoholic beverages. I don't doubt that you could have asked for more food, but it wasn't unlimited in the way I'd pictured it mentally. It's not a constantly available taco bar, and more of a sit-down lunch before proceeding to the beach area. The official description has now been adjusted to represent a serving of "chips and salsa, beef or chicken fajitas, refried beans, rice, vegetables and corn or flour tortillas". I would say this revision accurately describes the food situation.
The drink service was definitely unlimited as advertised. On the less alcoholic side, I can affirm that Mexican Coke is definitely tastier than either the US or Canadian versions. As we approached the end of our resort afternoon, Ron personally ensured that we had taken full advantage of the offer of Coronitas, margaritas and pina coladas.
I would suggest that if you also end your day at the lagoon with a beer in each hand, make sure you have used the facilities at the resort before leaving – several individuals on the 45-minute bus ride back required an unscheduled stop to water the roadside plants.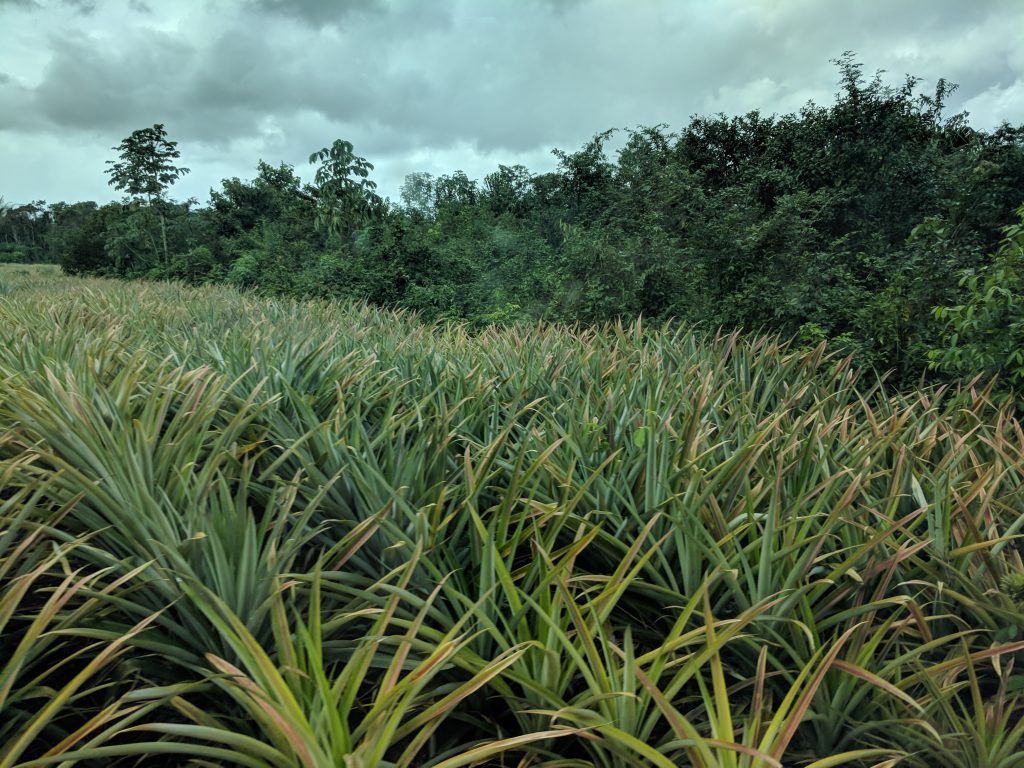 I don't think I have a single complaint about the Chacchoben Extreme tour. From the no-issues rebooking from a too-early ship, to the comfortable bus and good tour organization, topped off with the hospitality at the Bacalar Lagoon Resort (including adequate seating, warm water and existent kayaks), I'd definitely recommend this as an option for a Costa Maya stop. In conclusion, Chacchoben was a very lovely pile of rocks.
Post-ruins milling and dinner
Before returning to the ship, we had a bit of time to review the Costa Maya shopping plaza. Kayla advises that the bathrooms were very clean, and alternated between admiring the animals in the aviary (blue-and-yellow macaws and flamingoes) and being generally concerned for their welfare.
The entire plaza is actually very well-developed, and is slightly less enraging when not in a rush to get somewhere. We had time to note that one of the vendors was selling Winnipeg Jets tote bags, which just seemed like a very odd team to have merchandise for (in addition to the Cleveland Browns and Chicago Red Wings.)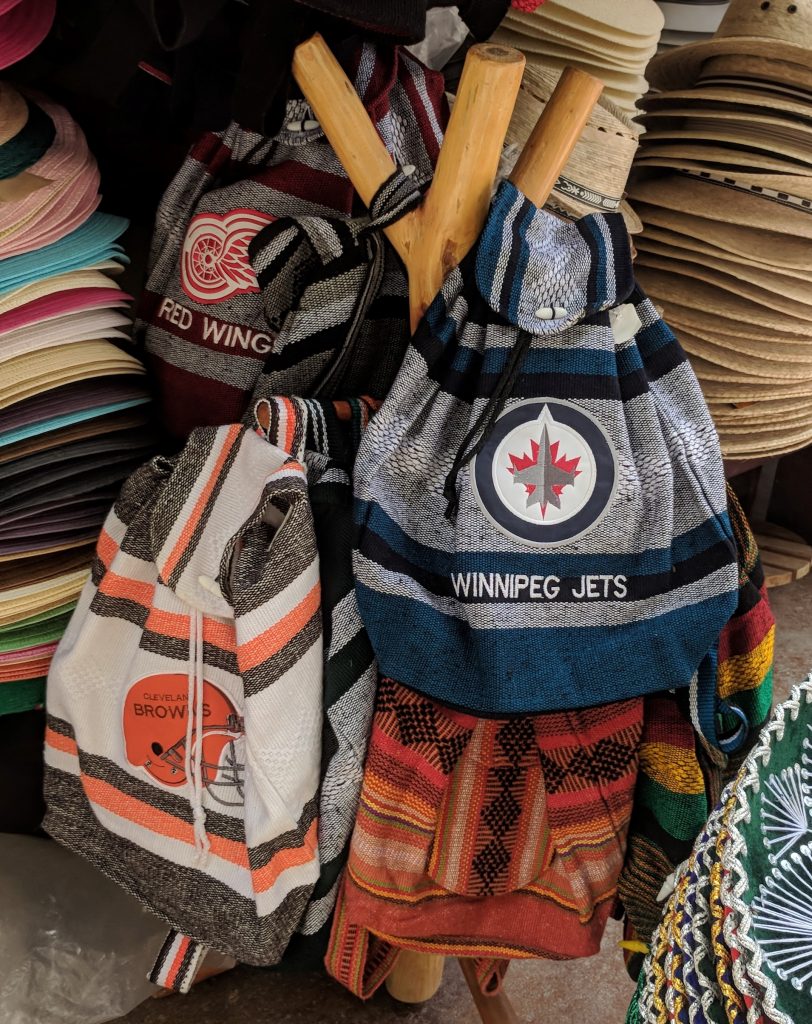 Once back on board, we returned to the cabin and were greeted with a nice plate of chocolates from the hotel director Errol, no doubt due to our attendance at the meetup on the previous day. They were quite nice, and well-appreciated.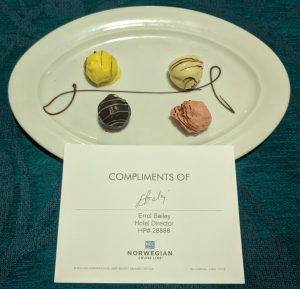 After gobbling the chocolates, we returned to the Sugarcane Mojito bar, only to be flummoxed by the large number of people with the same idea – it was packed! We did have time to kill before our second specialty dinner booking at La Cucina for 8pm, so this wasn't a huge inconvenience. I believe the raspberries and sugar cane in the Raspberry Guava Mojito were major contributors in me not spoiling my premium meal with a hot dog from the buffet.
In terms of specialty restaurant reviews, two cruises in two months lends itself well to a direct comparison when you eat at the same venue. La Cucina on Getaway was a lesser grade all around, versus the Epic in December. Nothing was especially bad but things were objectively not as good:
The restaurant was busier and louder than on Epic. We reserved dinner for 8pm and the place was fairly packed. It was more difficult to hold a conversation and it felt much more like an Italian-American chain restaurant than an Italian bistro.
The occupancy of the place seemed to negatively impact the service. On Epic, we had four or five proactive drink refills and opportunities to order beverages throughout the meal. On Getaway, the first drink service was delayed and we had to ask for refills on wine.
Another noticeable service degradation was the presentation of olive oil/vinegar and bread combination. During our meal on Epic, the server poured the liquids onto a plate for us and made a bit of a to-do of it. Getaway had no such experience – oil, vinegar and bread were on the table but I don't even think our server mentioned them. It's not that I really expect or need dinner and a show, but in comparison it was not at the same level.
Finally, there seemed to be some belt-tightening in what you could order included in the specialty dining package. On Epic, we were able to select an "antipasti/zuppa/insalate", a pasta/risotto, and a "secondi" entree (clearly the Osso Buco) with a side of carbohydrates or rabbit food. NCL's restrictions on Getaway merged pasta and risotto options as part of the appetizer selection, so you could have your calamari OR small portion of gnocchi, not both. I'm sure that this is actually the way the dinner package inclusions are supposed to be, but given that you can order three entrees from the main dining room without trouble… just throw in the additional fifty cents of pasta and pomodoro.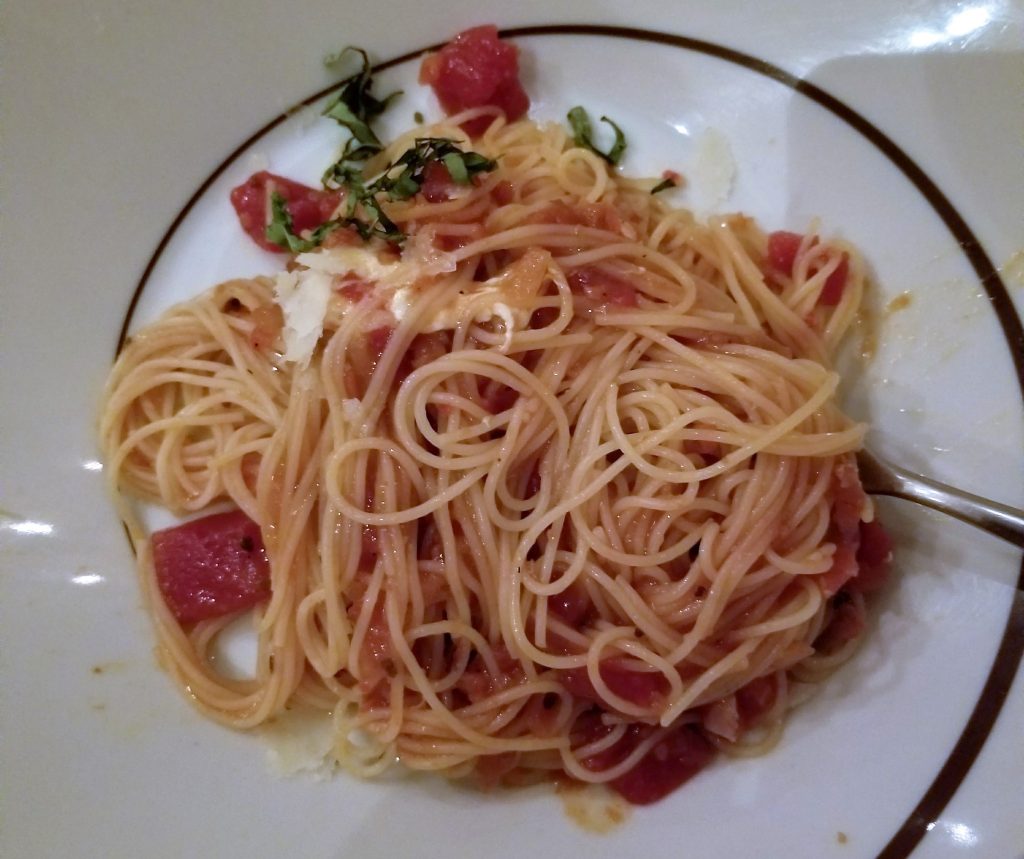 Since we didn't have any Day 2 Google queries, I present the questions from Day 3:
Check if pool area at Costa Maya village is included. With a slightly different query, I have confidence that the main pool at the shopping plaza in Costa Maya is indeed free – but I'm willing to bet a $16 margarita that the vendors would prefer you buy several $16 margaritas and some tanzanite during your time there.
Investigate dog situation in city outside Costa Maya. Turns out that there is a "stray problem" but it's not necessarily as dire as in Mexico City. Not quite as rosy of a situation as Ron purported, but not terrible. I'd be more concerned about the dolphin adventures.
Day 3 Freestyle Daily