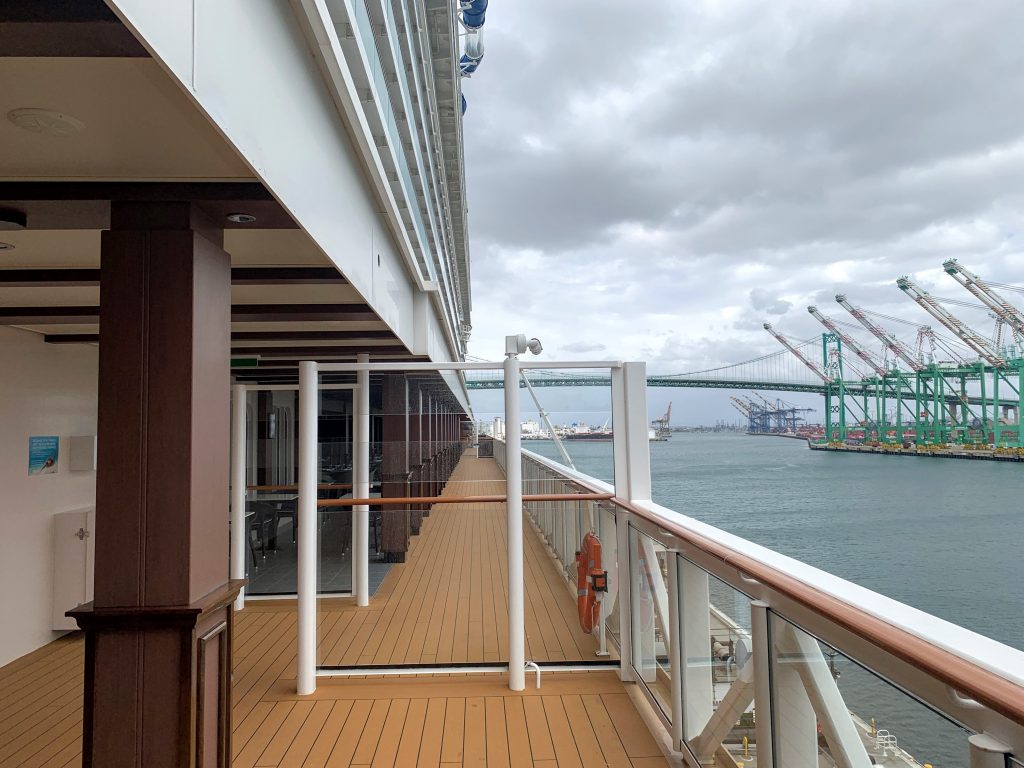 After our January 2020 experience with babies on Norwegian Escape, merely 29 days later Kayla and I were boarding Norwegian Joy on the other side of the continental US. Madness? Questionable life choices? Cruise fixation? All of the above?
The opportunity to sail on a Breakaway Plus class ship with "all 5 perks" (feat. Premium Beverage Package) presented itself, and I found it hard to decline. So let's take a bit of an alcohol-clouded, specialty-dining fuelled, Vibe pass-imbued look at a week on the "westernized" NCL Joy – with day-to-day parenting responsibilities temporarily relieved by doting grandparents.
(This post is being published over two years after the sailing, but I mainly wanted to finish it as a record of our trip – as well as to document one of the last cruises that sailed from the US in 2020 before the pandemic shutdown.)
The kids are alright
Originally, our girls were booked on Joy as well, but after sailing Escape, my hypothesis that "easy access to food solves many problems" did not prove to be true. At their age, they didn't appreciate solid food other than as a novelty. Sleep was also difficult, and our travel soothers, bottles, stuffed animals and blankets didn't work as well as the favourites at home.
(Here is where you may scoff, tut-tut, or yell "I could have told you not to bring babies, you idiot!" at your screen.)
This time the girls stayed home. My mom and dad offered to look after the kids for eight days including the cruise and preliminary stay in Los Angeles. It's an option I'm well aware is not available to many families. It was a huge, generous thing to do, and we debated at length whether it was an offer we could accept. I'm sure my parents had both good times and bad throughout the week – but looking at how the rest of 2020 went, I am glad they got to spend an extended amount of time with their grandchildren before pandemic lockdowns.
Technical arrangements
Once we'd decided that our daughters would not be travelling, there were some well-advised changes we made before showing up at the airport or… ship-port. For flights, we'd booked WestJet which had direct/non-stop flights from YYZ to LAX at reasonable times. We picked a "basic" fare for a savings of ~$40/adult. The restrictions on this fare don't allow seat selection for free (even at check-in), there's an increased price for checked baggage, and changes or cancellations are prohibited – you'd eat the entire cost of the ticket.
Knowing the conditions on this ticket type, even assuming our infants would be along, there were two mitigating factors. First, families with children must be accommodated by the airlines and every effort made to seat them together by Canadian regulation. Second, I still had residual Silver status from a RBC MasterCard promotion, and that includes checked bags (which would have normally been $60 per bag, per direction.)
The downside is that when they say no refunds on basic fares, they really do mean it. When I called WestJet and advised them that our lap infants would no longer be flying, despite the representative's best efforts, our customs, immigration and APHIS user fees were lost to the void ($22.42 CAD per child for this trip.) It was implied that if we'd booked a more-than-basic fare, these charges may have been refundable, but I can't confirm if that's accurate.
With NCL, we had already paid for the cruise in full, but we'd booked with a "3rd and 4th guest free" promotion. As a result, both girls had a $0 fare and $0 gratuity on the invoice. After confirming with our travel agent, NCL fully refunded the Gov Tax/Port Exp/Fees for the infants in the total amount of $385.52 CAD. The entire amount was posted to my credit card 3 days after making the change. It was reassuring to settle things before boarding, rather than trying to show up at the port and saying "well the kids aren't here."
Setting out on our own again
Not wishing to wake the children out of schedule, we snuck out of the house at 05:00 and drove to the Viscount Parking Garage at Toronto Pearson, with my folks eagerly lying in wait for the opportunity to have breakfast with their granddaughters. There were no significant issues on the roads, although Kayla would contend that I spent far too long aligning the Santa Fe in the parking spot.
Without loaded luggage carts, it was trivial to negotiate both the stairs and departures area.
Our NEXUS permissions and lightweight packing ensured we were at our gate by 06:53. Of course, with our flight not scheduled to leave until 09:45 Eastern, we had some time to kill. Doug Ford's changes to liquor sales licensing meant that the booze options on the airport iPads are available 24/7. I chose a mimosa and Kayla went for a margarita, which was kind of an uncanny morning experience.
It wasn't all fun and cocktails, though, as 09:45 came and went without us being the occupants of faux-leather plane seats. Our "hardware" required a swap after a maintenance issue. We departed Toronto just over an hour late, again reinforcing my belief that one should always plan to arrive at least a day early for a cruise.
We made up some time in the air after a nearly 11:00 Eastern departure, and were able to collect our checked luggage and depart for the rideshare lot (LAX-it) by 13:49 Pacific.
Uber's poor corporate behaviour means that most airports and major metropolitan areas treat ridesharing differently than taxis or private transportation. In the LAX case, you have to take a shuttle to a separate waiting area before you can arrange a pickup with ride-share providers. Los Angeles World Airports claim this situation will be resolved in 2023 with a "people mover", which to me sounds like a monorail.
Despite a couple Internet comments about how painfully long of a wait this process was, our total time from getting on the LAX-it bus to actually being in an Uber took 14 minutes, so not really objectionable at all. This was on a Saturday, so maybe weekdays are worse.
At the rideshare waiting area, there were also a variety of human directionals. They assisted new arrivals with such questions as "what's Uber" and "what's an app?" If you're arriving from outside the US and don't have roaming data on your phone, though, the location of this lot – outside airport WiFi range – would certainly be inconvenient.
After a quick ride through a very industrial area, complete with numerous California lane changes, we arrived at the Best Western Plus San Pedro Hotel & Suites at 14:28 local time.
Decent accommodations
This Best Western, located at 111 S. Gaffey Street, had complimentary breakfast, good reviews and an included a shuttle to the San Pedro World Cruise Terminal. Check-in was quick and we were able to sign up for a shuttle time of 09:00. This is a great option for those, like us, who want to be at the terminal early for the most time possible on the ship. The hotel room was spacious and in good condition. The building has a unique Victorian style with some stained glass windows and dark wood trim, but appeared to be well-maintained.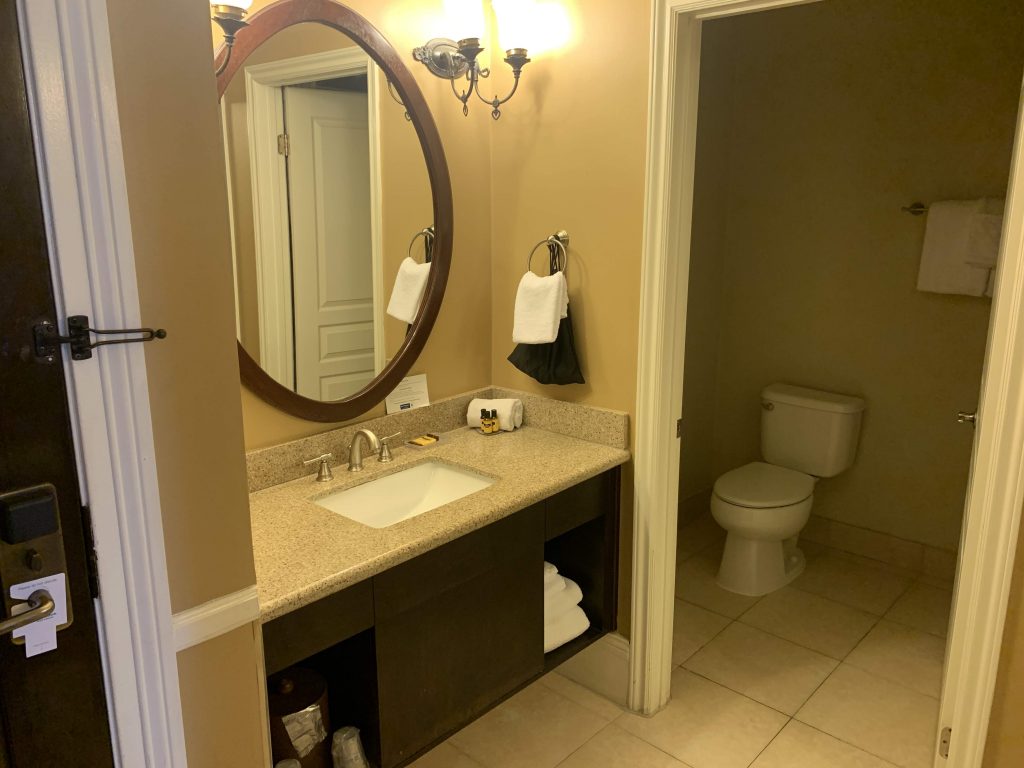 Note: The 111 S. Gaffey St. property was up for sale, listed at $15.8 million as of August 2020, so if you're considering this hotel for an upcoming cruise, definitely check in with the property to see what changes have been made.
We then walked over to the San Pedro Brewing Company for food and drinks, which we agreed was a fairly average brewpub. Their in-house beer selection was quite heavy on IPAs and the menu sprawled a few pages. Service timing also could have been better, but we were definitely overly full afterward. I think I'd give it the whole experience a 3/5 and would definitely check out other options if sailing from LA again.
Post-food meandering
After overindulging in some fried potatoes, we went for an extended walk. Our route was slightly complicated and meandering as the area around W 6th Street had been taken over for filming of 9-1-1: Lone Star, and it was disconcerting to see all the Texas-badged vehicles. It felt like we had accidentally stepped off the plane in the wrong city.
We made it down to the port area on Harbour Boulevard, and witnessed various monuments and plaques dedicated to a variety of sailors who met untimely ends, and the government officials who wanted their names remembered as well. As fans of Rick and Morty, one particular piece of art spoke to us.
Unfortunately we had arrived too late in the day to tour the USS Iowa, so we instead peered at the grey battlecarrier from the gigantic asphalt parking lot and continued to walk further north. The whole area is a really nice place to stroll, but there was a lot of temporary fencing along the waterfront. Hopefully it disappears as various civic improvement projects wrap up.
Our walking route went slightly further north to Berth 93, which was presently occupied with the Emerald Princess. Kayla and I agreed it was odd to see a ship still in port at 17:45, and promptly perused CruiseCritic to try and figure out what was going on. We could overhear some announcements which sounded like the muster drill, but found out later there had been a medical emergency (allegedly of the non-COVID-19 variety) on the previous sailing, requiring four ambulances to the port and delaying the February 29 departure to nearly 19:00.
From there, we strolled back along W 1st Street to the hotel. We enjoyed the much milder weather and had an extended adult conversation that didn't involve the activities of mischievous ducks, bears, or wheels on a public transit vehicle.
That evening we had planned to go out for a late dinner, but had trouble agreeing on a place or even a type of food. I failed to adjust to local time, taking a nap and waking up at 21:45. By that time it was too late for most sit-down restaurants so I just went back to bed.
An early California morning
As one might expect from this offset bedtime, I was wide awake at 04:30 Pacific the next day and spent some quality time with a glowing phone screen in the corner of the room, then wandered over to the 7-Eleven that was kitty-corner from the hotel. I picked up a couple of tall cans of Bubly sparkling water and headed back.
We left the room just before 8 to get our complimentary breakfast. They'd given us a paper voucher for the meal, but nobody seemed to be actively accepting or requiring them. I had a selection of pastries, potato and sausage, and downed a few cups of coffee as well.
Kayla used the waffle maker and had a much more visually appealing breakfast.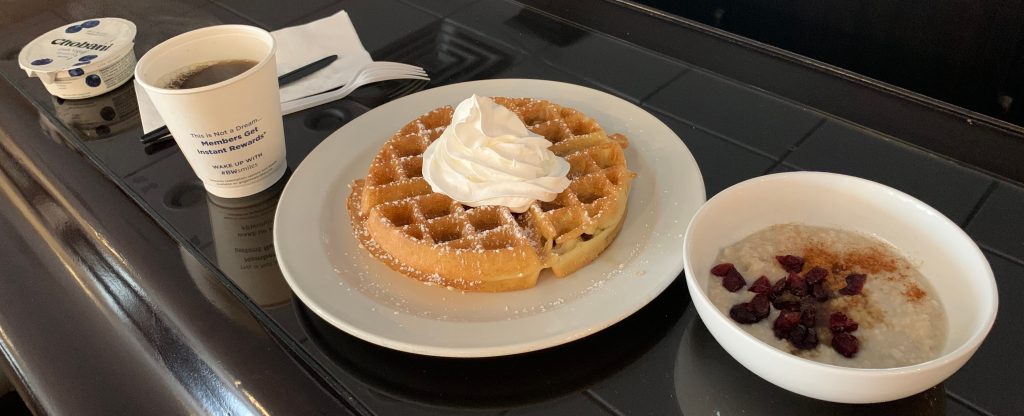 Our shuttle booking was for 09:00, but it was probably another 15 minutes after that before we were led out to the parking garage. On arrival we dropped our suitcases off and assumed our place in what looked like a forbidding line, inside a tent outside the terminal by 09:26.
At 09:47 the line began to move, and a "yay" rippled through the tent. We proceeded to another tent and went through a standard security checkpoint with conventional X-ray machines. By 10:05 we were inside the port building, and queued yet again in a line for passengers with cabins on decks 10, 11 and 12. There were additional lines for other sequential decks, as well as separate areas inside the port for casino, priority (Platinum and above) and Haven guests.
We were "next in line" at 10:27, waited what seemed like an excruciating time for the next agent to be available, and missed out on boarding Group 2 by one card. Group 3 is decent in terms of getting on the ship early, but certainly even in Group 2 you're at a disadvantage trying to get Vibe passes.
It seemed to take an inordinate amount of time sitting in the waiting area. Originally the cruise had been booked for a 15:00 departure, but the online rumor mill indicated that we'd be delayed leaving an hour. It was 11:30, almost exactly another hour after we'd checked in, when a NCL representative came down the escalator – the first sign in terms of being allowed to board soon.
At 11:45 an announcement was made that guests in group 1 could begin boarding, as well as those in Concierge suites – this cabin class was specific to Joy, preserved from the original Asia-focused configuration. At this time, whether out of ignorance or deliberately, people from any and all boarding groups charged up the escalator to the boarding bridge. We're not generally pushy people and tend to follow rules, but I'd argue from where we were, the options were to keep moving forward or get run over. It was a disorganized, uncontrolled situation.
Kayla also got extremely unlucky – similar to our experience in the NYC cruise terminal in December 2016, her photo did not come up when the security officer swiped her card. We didn't get sent back downstairs, but with literally hundreds of people behind us making no attempt to conceal their frustration, the officer tried using a different laptop (which needed to be booted up.) Eventually her photo was re-taken and we could proceed onboard.
Vibe check
During our wait in the terminal, we figured that we still had a decent shot at getting Vibe passes. With no kids this trip, we figured we'd splurge. The sale location changes occasionally and also depends on specific ship, so we decided to head down the stairs and split up for the most likely targets – Guest Services and Maltings Whiskey Bar, which both happen to be on deck 6 on Joy. (Maltings is usually on Deck 8 on other Breakaway/Plus-class ships.)
Passing Guest Services I noticed a sign saying that Vibe passes were being sold at Maltings, so we continued on and found what was a surprisingly short line. I'd say there were about fifteen people in front of us, although some seemed to be holding spots for other folks. We took our place in the queue at 12:06, and completed our fairly pricey purchase of $229US/person at 12:15. The attendant gave us new ship cards, encoding them with access to the Vibe area. This is slightly different than on other ships, where you might get a separate keycard for Posh or Vibe in addition to your room card.
We also received some documentation on the benefits in the Vibe area, and waterproof neon-yellow wristbands like what you might get at a festival or concert. You could put them on your wrist yourself. I suggest making them slightly loose so you can slip them off and on, and don't have to wear them to dinner or overnight if you don't want.
I've included some photos of the Vibe area courtesy of Kayla; click through for larger versions. It was a rather overcast day and we were in sweaters and long pants, but the starboard bar was hopping by the time we got up there around 14:45.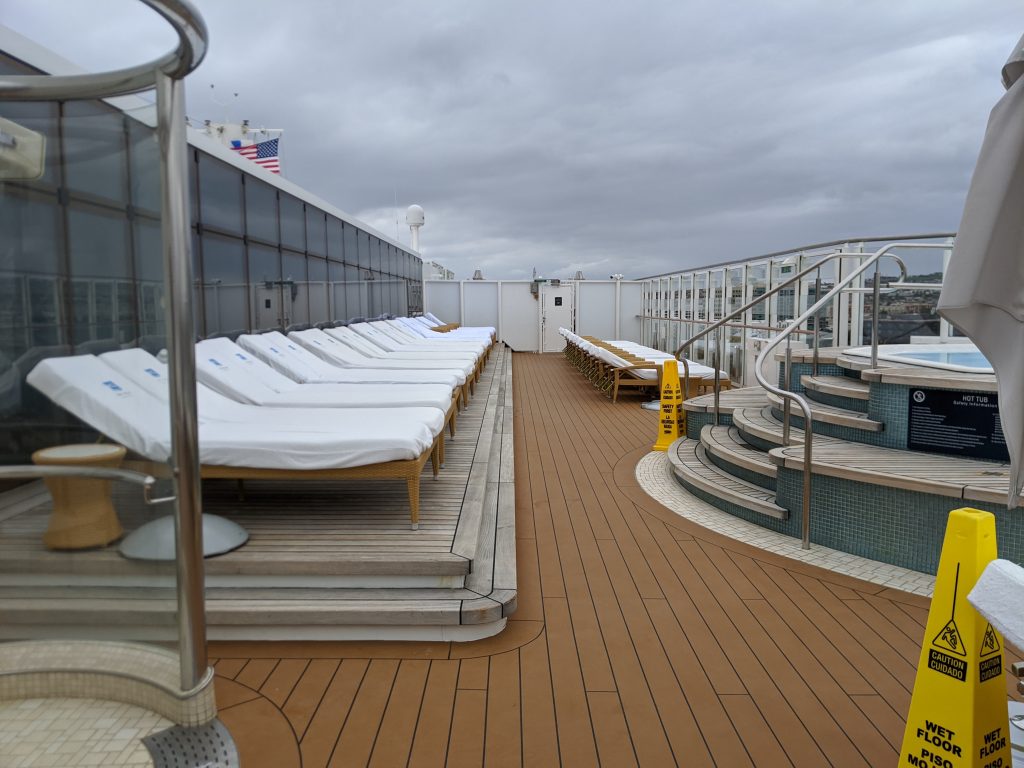 Good vib(e)rations
We spent most of our time on this cruise within the confines of the Vibe area – our logic was that if we had paid for the premium top-deck experience, we'd better make the most out of it. It's hard to tell where to start, since this was our first time in an area off-limits to most of the ship's passengers. Hopefully my ramblings help give a better idea as to whether the experience is worth the cost of entry – both the stress and uncertainty of having to get on the ship as early as possible, combined with the hefty price tag.
In the March 2020 configuration of Joy, the forward section of Deck 19 is limited-access only and divided into two halves: Vibe, accessible from a staircase on Deck 17/18, and then a separate Haven sundeck area at the bow of the ship. This hadn't been reflected on the deck plans on NCL's site, and the staff indicated that the Vibe area was expanded during a recent refurbishment operation. My doctored diagram below shows the changes:
This meant that there were two hot tubs exclusively for Vibe guests and two for those in the Haven, as well as the large collection of loungers on both sides of the ship. You might hear some grumbling on the Internet about this setup being a NCL plot to remove public upper-deck space and get some money out of people at the same time, and that's probably not inaccurate.
On our previous Norwegian sailings, hot tub access on the main pool deck has been extremely sought-after, and you'd have to be lucky or go during dinner hours to secure a couple of seats. The limited number of passes sold to Vibe – I had heard it was capped at 80 on this sailing – combined with cooler weather meant that you could nearly always get a seat in the Jacuzzi without issue.
Another extremely positive aspect of Vibe was the service. It was clear to me that they selected some of the most experienced and outgoing bartending staff for shifts in this area. They were speedy, friendly and anticipated your next drink order, and even out in the loungers someone would be by regularly to bring a refill or ask if you needed anything – "to-your-chair service" is definitely less timely on the Waterfront or other public areas during peak service periods.
I don't think this degree of service and attention to guests is necessarily exclusive to Vibe, though. We've had exceptional bar staff on every NCL cruise we've taken, and I'd suggest that the reduced passenger capacity and square footage in the beach club allowed servers to fill drink orders and scan the crowd much more quickly.
One of the times we were forced to leave the comfortable embrace of Vibe was for a proper meal. There were fruit skewers delivered intermittently at no charge during the day, but in no way should you rely on these for sustenance, especially given the number of beverages one might consume. If you asked the staff, you could get an appetizer menu, but we were warned that there'd be a cost and 20% gratuity. Given that the Garden Café was only a couple flights down, it was pretty trivial to get something from there quickly and then resume relaxing upstairs.
The biggest drawback to the Vibe experience was something Norwegian couldn't control: the weather in early March in the Los Angeles area, and even in some of the Mexican ports we stopped at. It was significantly colder than our experiences in Florida or the Caribbean at the same time of year, ranging between 13 and 17 degrees Celsius on embarkation day with minimal sun. We continued dressing in layers for four out of the seven days. The ocean wind didn't help matters and there were several days we needed to make extensive use of the complimentary blankets intended for Alaskan itineraries.
Mainly due to the lower temperatures, the value proposition for Vibe was not great, but I don't regret the experience since we now know what to expect on future sailings. It's definitely itinerary-dependent; I don't think it'd be worth the purchase on most Alaskan or off-season European cruises unless you planned to be in a hot tub all the time, or really wanted to avoid people in public areas. If you're comfortable camping out at other ship bars, you'll probably get comparable service.
On a standard Western or Eastern Caribbean route, though, without kids, decent weather, Platinum-or-higher early embarkation, and where we might not visit all (or any) of the ports, I'd seriously consider spending the money on Vibe again. Of course, if NCL added the option to book Vibe passes in advance online, that would be a much better approach for customers.
Food and dining
While I really do enjoy the complimentary dining options on NCL ships, this booking included a three-meal specialty dining package, so we had plenty of choices for dinner. We picked Cagney's once and Ocean Blue twice – at this point, we pretty much know what we like. Steak and seafood are hard to beat, but I pine for one day that we're back on a ship with Los Lobos (Bliss, Dawn and Encore at the time of writing) for a Mexican alternative.
Cagney's
We arrived at Cagney's, our first-night option, about 15 minutes before our reservation time and were seated immediately. Our server gave us a very detailed explanation of what our dining package included: one appetizer, one soup or salad, one entree, up to two side dishes and a dessert.
For appetizers, I can highly recommend the Thick Cut Bacon and Ahi Tuna Tartare as good, no-supplement options – and who can't turn down bacon on a plate? The Caesar salad was once again on point, but the lobster bisque needed more lobster morsels (perhaps my tastes trend "more lobster, less soup".)
And while I've focused on appetizers here, the steak options we had were quite decent too – I think this really comes down to personal preference in terms of cut.
The ambient music was also at a reasonable volume. It felt more steakhouse-like than Cagney's on a previous sailing, when we were subjected to unusually-loud Taylor Swift.
Ocean Blue
At Ocean Blue, a number of the menu options are repeated from Cagney's. In this venue, I always try and pick the choices that aren't served at any other restaurant, at least when it comes to the main course.
Top of the list for both Kayla and I are the Pan-Seared Scallops, and I'm also partial to the Ahi Tuna and Avocado Tower. We picked options from the fresh fish section for our mains – although I picked the seafood linguini for our second visit and was quite happy with it as well.
On our second evening at Ocean Blue, we were seated beside a couple who had been the "pier runners" that day. They'd lost track of time (there had been a few time zone changes on this sailing as well), sped back in a cab to get back to the ship, and got to the port just as Joy was pulling away. Amazingly, they were able to hire a local boat to come alongside the cruise ship, and used the pilot ladder to get back onboard. They were then faced with an angry officer who said they'd cost NCL thousands of dollars in fuel for the wait. His response, as narrated to us, was "put it on my credit card."
Main Dining (Savor/Taste)
Breakfast and lunch both followed the standard menus that we've seen on our previous Norwegian sailings, with only a couple different daily breakfast features. We tended to prefer the Garden Café for breakfast, since it was speedier and closer to Vibe – typically either where we were going to next or coming from.
We continued our usual approach of first-day lunch in a main dining room. Kayla was particularly pleased on that the grilled mahi mahi sandwich she had was not soggy on the bottom, and I am always content to devour a plate of nachos.
As usual, for dinner all the main dining venues share a common menu. A few dinner menus used on our sailing are in the gallery below.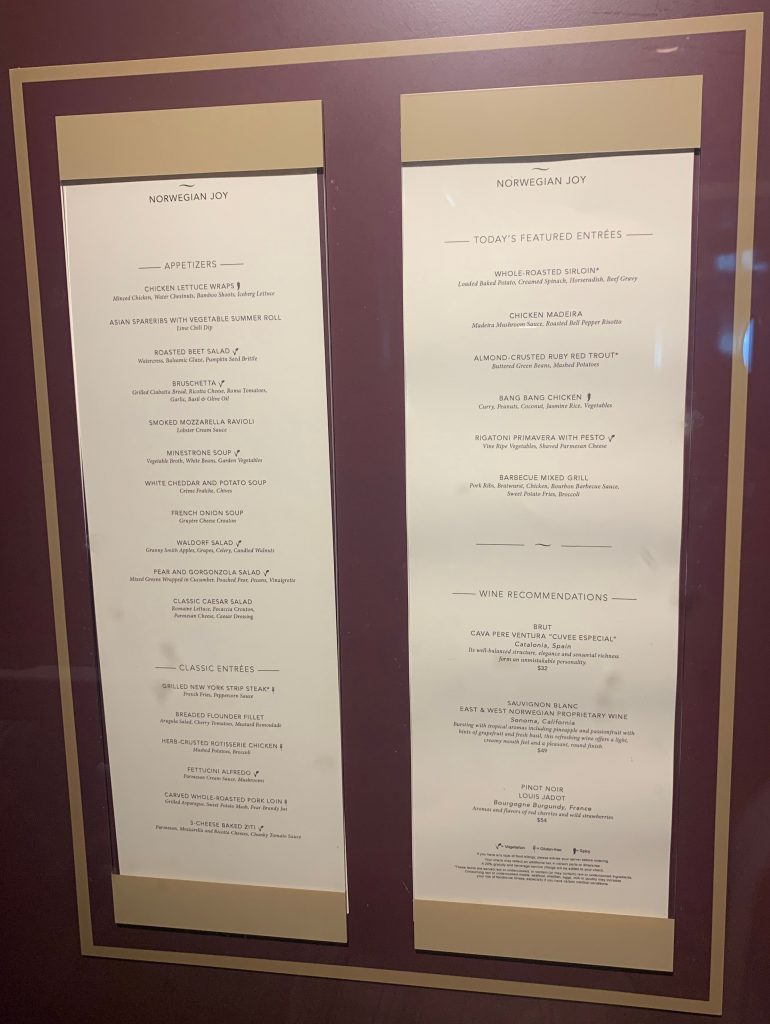 The Local
Above-average pub grub. The Local hit the spot for us a couple times when we weren't thrilled with the main dining room options and wanted a pre-show dinner. I also made the most out of my experience by staying up way too late on the last night of the cruise, drinking at the bar and grabbing a Reuben before heading to bed.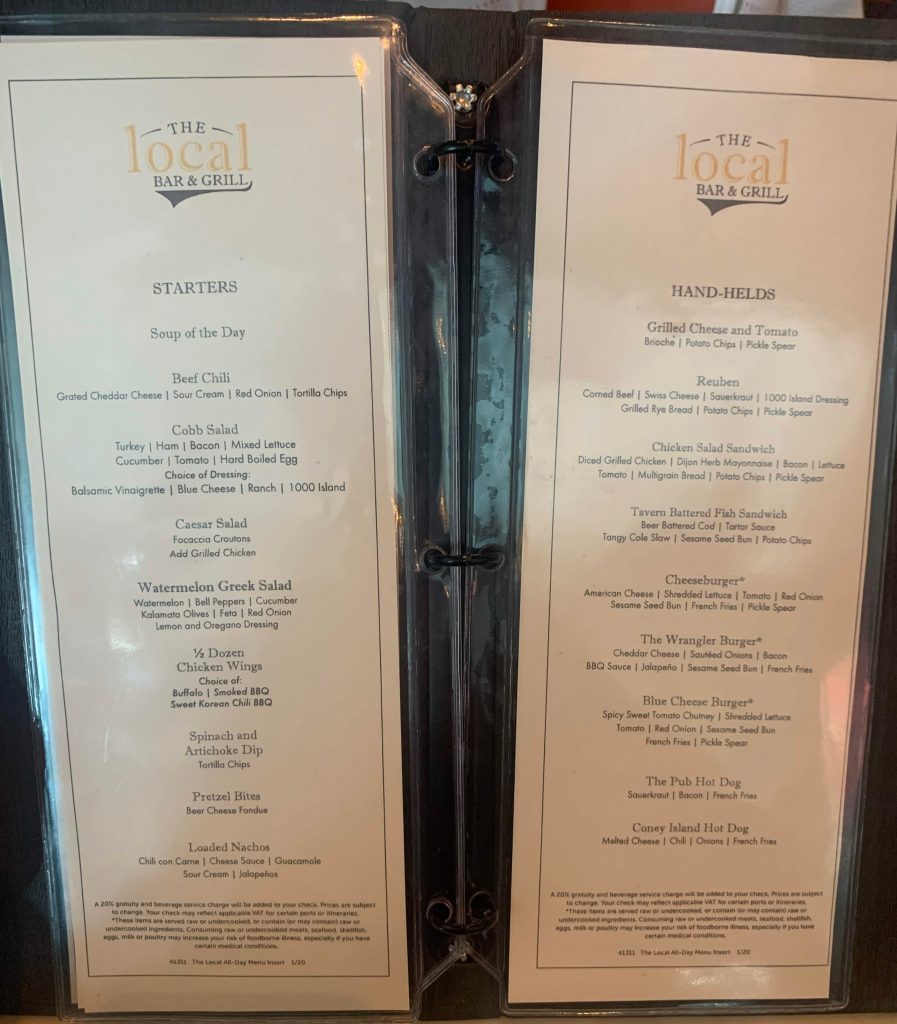 Garden Café
Great variety of options throughout the cruise at the buffet. I didn't notice any oddities like on Escape where the buffet seemed only half-operational at dinner time, and seating was ample every time we went. About the only negative was that spaghetti wasn't consistently available (but other types of noodles certainly were present at the pasta stations, so maybe I just should learn to love all pasta form factors.)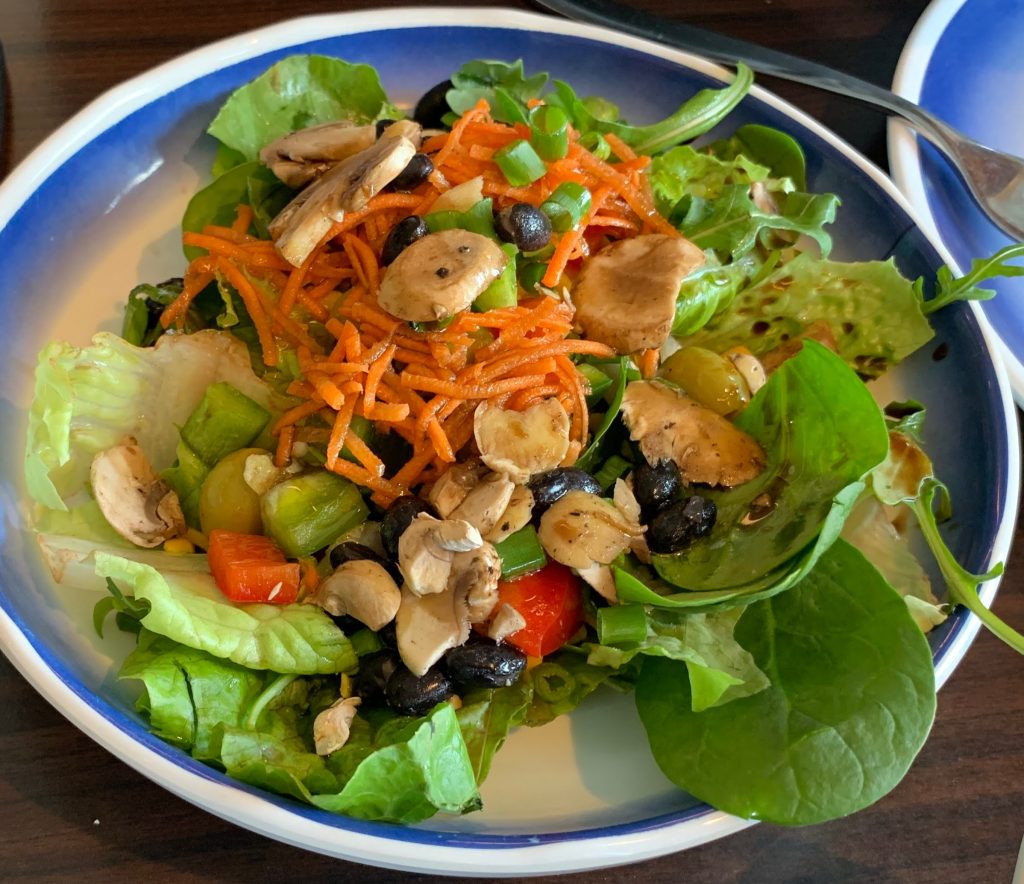 The placards or titles above the sneeze guard didn't necessarily reflect the food underneath, so we'd often circle the buffet a couple times to see if there was something really compelling that just wasn't labelled right. Lots of omelet stations were available in the morning – some busier than others, so it was well worth the time to take a stroll because you could often get your custom egg-and-many-ingredients started without waiting in line.
They were, however, very serious (in four languages) about what could and could not go in the toaster. Remember, fire is our greatest danger at sea.
A wrapup of events, entertainment and experiences
Footloose
Similar to other big Broadway-style productions on Breakaway (Plus)-class ships, Footloose was an entertaining show. This pre- or post-dinner experience moves beyond what one might typically see on other cruises where magicians, comedians or magical comedians are the evening fare. For our 19:00 viewing of the performance on Day 3, we arrived about 25 minutes early, but the staff were not checking reservations; apparently there were a large number of cancellations that evening and thus it was all first-come, first-seated.
There were a few technical issues with the performance, mainly sound-related, but nothing egregious. The show was almost exactly an hour and forty minutes long. Notably, like Bliss and Encore (but unlike Breakaway, Getaway and Escape), there is no bar in the theatre itself so you'll have to bring your drink in or manage to flag down a server.
CruiseCritic events
There was a fairly active roll call thread for this sailing that resulted in a Meet and Mingle on Day 2, held in District Brew House at 11:00. Our fabulous representative Vickie arranged for gift bags, put together a "which port" quiz and generally kept everyone in line and social. NCL went for smoothies and some dessert canapes for the crowd, which in my opinion is a downgrade from the beer samples and appetizers offered to our group on Escape in January. This is hotel/general/food and beverage manager dependent, and probably smoothies are a "safer" option for a varied audience, so just don't assume you'll get beer and wings at the meetup even if held at DBH.
We also participated in the slot pull at 13:30, which wasn't as organized as some others I've attended. It was arranged as a $20 buy-in, and there were no big winners. We would have gotten $7 back each, had we stopped after everyone had finished their allocated pulls – but the crowd wanted to keep going and didn't set a cutoff point. We left when there was only $9 in credit remaining in the machine, which then somehow made its way onto someone's casino card and would likely have been a fiasco to extract. Both Kayla and I spent the rest of the cruise devising plans about how one should run this type of event.
Elements / "You Are Norwegian Now"
The other stage performance, Elements, was also a high-quality production – easily holding my attention through the entire show. Ever since ¡Havana! on our 2018 Bliss sailing was really only "average", and Burn the Floor performances on newer ships certainly wouldn't draw my attention, I reckon attending the secondary theatre shows on NCL ships needs to be judged carefully in light of other activities, venues or even just losing some prime bar seating.
Elements was certainly worth the time, but as the lights went up, our cruise director quickly appeared on the stage and launched into a rendition of "You Are Norwegian Now" – with a huge number of crew and officers making their way to the stage. Apparently this is a common performance, but even with this being our eighth NCL cruise, it's not something we'd ever seen before! While I didn't film it, there's a pretty similar version from Escape embedded below.
At the time I thought it was pretty cheesy, and perhaps even cruel to make the room stewards participate; I'm sure they have better things to do than sing and wave at guests in the evening. (As of 2022, though, I think I'd see this performance a bit differently, and might even get a little emotional.)
Homeward bound
Disembarkation was a bit of a grueling endeavor, not helped by a headache brought on by late-night Angry Orchards and Local sandwich. There was a fairly long line to get through US customs, and the agent didn't seem to believe that we weren't carrying cheap pharmaceuticals or tequila from our Mexican stops. Having not exited the ship at any port, this would have been quite the feat.
We'd booked NCL-arranged transportation back to LAX in an effort to make things slightly simpler that morning, but the organization was lacking, and we ended up spending more time waiting to be allocated to a bus than I'd have liked. I think I'd risk an Uber/Lyft/conventional taxi if sailing out of this port again, even if more expensive.
Our journey home was otherwise uneventful. We were certainly glad to be back in Canada with the constant news about a novel respiratory virus, but that's also a different story.
Odds and end
This particular vacation had some really great high points and some less-than-average ones. I don't think I have any substantiative complaints about the ship or onboard experience; the NCL product is one we're used to at this point and really enjoy, and I can't say enough good things about every crew member we interacted with. Vibe was a nice time overall, but certainly not mandatory for us in future, especially given the price and unnecessary race to board.
The combination of the merely "mild" weather in all ports, in addition to the chaos at the Los Angeles cruise terminal on embarkation and debarkation days mean that a Mexican Riviera route likely isn't one we'll consider in future. While temperatures certainly weren't as bad as sailing from New York in December, for similar money I'd rather sail from one of the Floridian ports and get a true escape from the Canadian winter blahs.
Joy is a ship I would return to, and assuming 2022 continues to get better, we'll be onboard again this summer – albeit with only two specialty dinners as part of the "free" offers.