Join me for my first-ever solo sailing and first time on MSC – probably the most reasonably priced and best overall value cruise I've taken so far. It's certainly a cruise line with notable quirks, but they're definitely a top contender for a future solo trip or family vacation.
Don't believe everything on the Internet you might hear about MSC; I definitely wish my 4-day cruise on Meraviglia had been longer, and for the price it couldn't be beat.
Prelude
2021 drew to what was a really disappointing conclusion, with many COVID-19 restrictions in Ontario still in place and then once again, tightening up further. School re-openings were delayed, first by two days (ha!) and then by two weeks; gyms and indoor dining got cancelled; and rapid antigen tests became the Tickle Me Elmo of the season.
A personal disappointment was deciding to cancel a cruise on Celebrity Apex we'd booked for early January 2022. A few negative experiences appeared on /r/Cruise and CruiseCritic in a short period of time in late December, a couple of which involved Canadians quarantined on ships and stuck in the States for 14 days after getting a positive test result. With children and other responsibilities at home, the boring yet responsible thing to do was to delay the trip.
Celebrity's Cruise with Confidence program did work as advertised. Almost exactly a month after the original sail date, our cruise fares were reissued as future cruise credits good until the end of 2022, and taxes refunded directly to my credit card. Our WestJet flights could also be converted to 2-year credits, and the hotel stay, parking and travel insurance were also refundable. I stewed and moped in mid-January, waiting for the Celebrity credits to clear so I could rebook a cruise.
As the month continued, I kept seeing reports of incredible offers from Carnival for $0, $25 and $50 staterooms in February or March 2022 – just pay port taxes. I've never sailed with Carnival before, and while you can sign up for a VIFP number online without having spent a night on one of their ships, none of those offers materialized for me in the booking portal. I suspect many posters were frequent Carnival sailors, Florida residents, or had previously parted with non-trivial amounts of cash to the casino and were not being entirely honest about their gambling.
The offers I did see from Carnival, though, were decent enough – and by the end of January Kayla had agreed that I could take a short sailing by myself.
A different type of circus
When I went to select a solo cruise, something interesting happened. I'm a huge fan of CruisePlum as it considers Canadian pricing as well. After applying a few filters (3-5 day cruise, February or March 2022, starting from ports with reasonably warm weather and direct flights) a number of MSC ships appeared when sorting by lowest total price or lowest price per day. The Carnival ships I'd investigated were definitely in the same price range, but this opened up some additional options.
I'd never sailed MSC before either, but had seen the occasional YouTube video or social media post with mixed-to-negative reviews and clickbait about "worst cruise ever" mixed in. But there were enough positive experiences, too, and the price was certainly right for a solo voyage: it was possible to get a guaranteed interior cabin on a 4-day sailing on Meraviglia from Port Canaveral (Orlando) for $343CAD, excluding gratuities.
Carnival's pricing for the same length of cruise and similar Caribbean ports was certainly comparable to the MSC ships, but the more I investigated, the better total value MSC appeared to have on shorter sailings especially for solo travelers.
As a point of comparison, Norwegian's pricing for Sky, the least expensive ship meeting these criteria was at least $1000CAD before taxes and port fees, so it seemed like a great opportunity to branch out from my preferred "product".
Canadian currency at booking
Carnival prices all their cruises in US dollars when booking directly, while MSC will display and charge in Canadian dollars when accessing msccruises.ca. Carnival appears to be the odd one out here; Royal Caribbean/Celebrity and NCL both do region detection on their websites, and default to requesting payment in $CAD for Canadians.
If you book a Carnival sailing through a Canadian travel agent, you'll certainly be able to pay in Canadian dollars, so this may not be a significant problem for many people. For any ship sailing out of the United States, the US dollar will be the onboard currency – so bring a no foreign exchange fee credit card, or one like the TD US Dollar Visa if you've got some USD around.
The drink package
For my sailing, MSC offered both a cruise only fare as well as an "all-in drinks + Wi-Fi + onboard credit" package for $100CAD more. The drink package in this rate is their fairly reasonable Easy Plus (drinks up to $9US) which suited me just fine.
Carnival sells their Cheers! drink packages separately, and at $52US/day when purchased before sailing (and more expensive onboard), this tipped the scales most definitively toward the MSC offer. Cheers! also has a fifteen drink per day cap, where MSC, like NCL, doesn't have a stated limit.
Insurance requirement
At the time, MSC required Canadians to carry separate COVID-19 insurance, and suggested the co-branded "All Inclusive Holiday Package" from Tugo. In non-pandemic situations we've previously booked coverage through Blue Cross, but there was only a slight difference in price between the two providers, so I just picked MSC's option for $100.44CAD including tax.
This wouldn't have been a requirement on a Carnival (or RCI/NCL sailing) but it's highly likely I'd have bought a similar insurance plan regardless of cruise line. While I do have some travel insurance benefits though my credit card, health and specifically cruise coverage during a pandemic is something you absolutely want to verify.
Cabin selection
Once I decided on MSC, there were a few more choices to make. The company has many of the usual cabin categories, from interior to Yacht Club (comparable to NCL's Haven or Celebrity's Retreat.) There is an interior Yacht Club class of cabin, which is a unique offering, but I don't think I'd have really taken advantage of all its premium features on this sailing.
For standard cabins, MSC offers three different "experiences" with key features including:
Bella: No additional charge, guarantee cabin assigned four days prior to sailing.
Fantastica: Able to select specific cabin and includes breakfast-only room service. Can request dinner seating time but not guaranteed.
Aurea: 24-hour room service included, access to solarium and thermal areas, any time dining, priority boarding, and a welcome package with prosecco and chocolates. This was unavailable for interior and oceanview cabins.
As the Fantastica option was merely an additional $10CAD for an interior stateroom, I opted for it and selected cabin 10324 on deck 10 aft, similar to the cabin reviewed by Emma Cruises. While I'm sure the Bella option would have been perfectly fine and may have even resulted in an upgrade due to low capacity, I tend to prefer cabins a few levels below the pool deck.
With drink package, Wi-Fi, $25CAD onboard credit and the Fantastica experience, my bill was $453.54 CAD before gratuity/service charge. Unfortunately, there was no apparent way to pay the gratuities online prior to sailing.
Post-booking stumbles
The online check-in process and website for MSC is certainly a weak spot. After successfully booking, I went through the gauntlet of account creation and uploading personal information, including a passport/"selfie" photo. The interface is internationalized in an inconsistent manner, with a large number of typos and confusing English grammar. Some of the photo upload controls were actually in Dutch, requiring some educated guesses as to where to click.
MSC also has a status match option for their loyalty program, which I had hoped to use to match my mid-tier status in the Norwegian Latitudes program. I tried both the Web form and sending an email directly, but heard nothing back from either approach; this seems to be consistent with reports of poor customer service experiences from MSC both pre- and post-sailing.
I also waffled as to whether I wanted to stay closer to Port Canaveral or the Orlando airport, and ended up trying to change my booking with Port Canaveral Quick Shuttle. The phone call I made to dispatch was not helpful. I emailed my change request on January 30, and got an auto-responder; but two days before departure, a confirmation email arrived indicating that my new pickup/drop-off locations had been accepted. I'm guessing they don't schedule bookings until closer to the date, but everything ended up working out pretty well.
One last remark is that I repeated my MSC check-in process and received an eTicket twice. The first time, I'd been assigned a check-in time of 2 to 3pm; on the second copy of the documents, it was 1:30 to 2:30pm. Both of these times were significantly later than I'd hoped for – I like to be onboard for lunch – but I figured I'd just go early to the port and see if they let me on.
Pre-cruise
Toronto Pearson departure
I flew out of Toronto Pearson one day prior to sailing, taking Air Canada to Orlando for what seemed like an uncommonly cheap price of $248CAD round-trip. At this early point in 2022, there was still some throttling at customs but I easily made it through security and US border control. I was at my gate (of course, at what seemed like the farthest end of the airport) in less than 30 minutes from airport arrival. During this period of time, you also needed a maximum 1-day prior antigen test and proof of two approved COVID-19 vaccine doses to fly into the US, before any of the additional cruise line requirements.
The US departures terminal at Pearson was definitely not bustling; there were lots of kiosk closures throughout and nearly everything was dark in the furthest F-gate area on level 1. I ended up at The Burger Federation for a breakfast sandwich and beer.
In what I'm sure will be a persistent sight in many places long after this pandemic truly ends, the water fountains were closed in a tribute to one of the more ridiculous COVID-19 policies.
I don't have much remarkable to report about the flight – it left on time and arrived early. I wish I had trimmed my beard better; this was probably the lengthiest, continuous amount of time I'd spent in a KN95 mask and things were getting itchy by the time I made it outside in Orlando.
Orlando to Port (Cape) Canaveral
Even having been at this airport before, I stupidly neglected to go down to the first level and instead waited far too long outside the rideshare pickup on Level 2. Be prepared to pony up for US roaming if you're coming from Canada, since it took a series of confusing phone calls and text message exchanges with my driver to sort the situation out.
The picture below is the level where you do not want to wait for rental cars, taxis, shuttles or buses – there is angled parking one level down.
Despite the pickup time being booked for 5:30pm as a non-negotiable option, a family of 5 and I were in the 10-passenger shuttle by 3:56pm and on the way. Our driver was happy enough to be departing early. Traffic was good and by 4:33pm we'd gotten close enough to see several ships still in port: Disney Fantasy, Carnival Magic and Mariner of the Seas.
Accommodations and evening
My hotel of choice was the Radisson Resort at the Port, which in Internet searches appeared close enough to the port area and other amenities. Somewhat ominously, though, the shuttle driver heard my destination and exclaimed that I was going to the "party hotel". I had immediate concerns that sleep and large groups of people might be a problem.
Outside the lobby there was a large pool area with tiki bar and boisterous middle-aged folks pounding expensive sugary drinks, but my room was far enough back in the complex, across from the "tropical courtyard" (there were lots of palm trees) and tennis court. In the 300 block of rooms, there wasn't significant noise from the water features or the people enjoying them.
This is of course luck of the draw, so if you were assigned a 100 or 800-series room, it's quite possible things would be much noisier. Even without the pool noise, the room door didn't have weatherstripping, so I did occasionally hear a housekeeping cart or roll-aboard luggage outside. I had no real complaints about the room, but I'd likely pick a more conventional hotel in the area for a future sailing, or stay in the Orlando area and travel to Port Canaveral the morning of.
I'd finished check-in and was in my room by 5:07pm, spent some time freshening up from the plane and shuttle rides, and took a 5-minute Lyft over to the port by Lyft at 6:10. The port area restaurants were packed, and Carnival Magic was the last ship out.
After watching her sail away, I tried to get a seat at several restaurants. Fishlips had at least an hour and a half wait for a table, but had immediate open seating at the upstairs sports bar and the full dinner menu was available. I ordered several pints of Golden Road Mango Cart and the mahi dinner platter. It was tasty, but not that filling, necessitating a second dinner later.
I caught an Uber back to the hotel after meandering around the port area for quite a while, and consumed a follow-up course of spaghetti and meatballs at Zarrella's Italian. They were still actively serving food just past 9pm on this Saturday, and I would highly recommend this restaurant for both the quick service and delicious pasta.
Post-Dinner II, I walked to the RaceTrac gas station next door and secured a couple more beverages, and then walked back to the hotel. After a full day of travel and a nightcap, I was solidly in bed by 11:15pm in preparation for the next day's sailing.
Day 1: Departing Port Canaveral
Pre-embarkation activities
I had a fairly solid sleep without much noise. At one point, I did hear a coughing fit from an adjacent room, which could be heard through the air duct and set me on edge. I poked at my phone, got ready and was on the road by 9am. For breakfast, I walked down Astronaut Boulevard to Southern Charm Cafe and had one of their daily specials with three kinds of meat. The available hot sauce was a nice touch.
Post-breakfast activities involved a walk back to the hotel, a quick re-organization and re-packing of luggage, with a checkout just before 11am. There was a stapler and tape for cruise bag tags already out at the front desk without having to ask, so the hotel certainly knows their audience.
Since there wasn't much else I wanted or needed to do in the hotel area, I took a 6-minute, $10 Uber (plus tip) to terminal 10 rather than investigating any shuttle service. At 11:10am, I figured I'd take my chances and see if they'd let me check in ahead of schedule.
By 11:20 I was up the stairs, through a very short security line and into the main terminal area. The first stop was for a pre-boarding rapid antigen test, which wasn't terribly invasive in terms of nose-poking.
There were no problems with my Shoppers Drug Mart-proctored rapid antigen test results from two days prior, Ontario vaccination record, eTicket printout and health questionnaire, but I still had to go to a separate check-in desk because Canadian documentation was considered different. This was nerve-wracking but no issues emerged at that counter. I was not asked for proof of insurance by anyone in the terminal. They also re-took my picture.
From some photo timestamps, I waited about 18 minutes for the RAT results and clearly passed; the group I was with in the waiting area could proceed to the gangway for boarding!
First impressions
I entered Meraviglia on Deck 5, where I was directed to pick up a "MSC For Me" wristband that was then associated with my room card. Purportedly these were for contact tracing purposes, and passengers were required to wear them throughout the ship. Their normal function as an RFID payment/door unlock mechanism wasn't active, and normally you'd have to pay for this electronic accessory unless you'd booked a Yacht Club cabin.
My first and ongoing opinion was that this ship had so many reflective and shiny surfaces that must have been near-impossible to keep clean. The atrium, elevators, bars, and passages to restaurants all shone and the hallway to the dining rooms absolutely sparkled. Even the restrooms had the sink controls and soap under a reflective, silver bar.
Another MSC-specific quirk is that your onboard account needs to be activated on the ship through a terminal. You don't provide a credit card at check-in or in the online portal; instead, there are activation points around the ship that scan your ship card, then prompt for a debit or credit card. Alternatively, you can deposit cash at the Guest Services desk.
This activation allegedly needs to be done before 11pm on Day 2; it's not clear what happens if you don't and how you remediate it, but there are anecdotal stories of people being unable to get drinks on their second day after forgetting to activate a card.
Unluckily for me, my US dollar Visa card would not activate properly. A fairly generic error message appeared using either tap or chip options, and the Guest Services representative simply ran through the same gauntlet I did and suggested I needed to call my credit card company to advise of foreign travel. This does not seem to be needed with respect to any of the cards I currently carry. I was able to perform activation with my second-choice Rogers World Elite MasterCard without issues (which charges a 2.5% foreign exchange fee, but gives 3% cashback for any USD purchases, so it ends up as not a terrible option.)
I headed up topside to the nearly empty pool deck to check out the view, get myself oriented and then find a lunch option. On the way up, there were signs at the pool bar noting 7% port tax. I was never charged, so the way MSC and NCL account for their drink packages is definitely different. The pool deck and art around the ship is where some of MSC's European flair comes out, as I don't think I've seen another cruise ship with statues adjacent to the pool.
Lunch, cabin, drinks and an attempt at dinner
Throughout this sailing, lunch only seemed to be available in the buffet, so I started my culinary adventures on Deck 15 at the Marketplace Buffet with several pastas, some prosciutto, potato salad and cheese. This was topped off with a bottle of Blue Moon that absolutely hit the spot.
As I was eating, the "cabins ready" announcement was made, and both my cabin and checked bag were available when I returned to deck 10 at 1:20pm. Continuing the European flair, there was opera music playing in the passenger corridors.
My inside cabin was much more muted in terms of decor than the rest of the ship, and quite spacious. Notable inclusions were the split-compartment garbage/recycle bin and shower with solid, clear enclosure (not a curtain.) Having stayed in inside cabins on Celebrity Infinity, Norwegian Bliss and Norwegian Sky, this room was definitely larger than the Norwegian ones, and slightly larger than Infinity but not perceptively (178 sqft vs. 170 sqft.)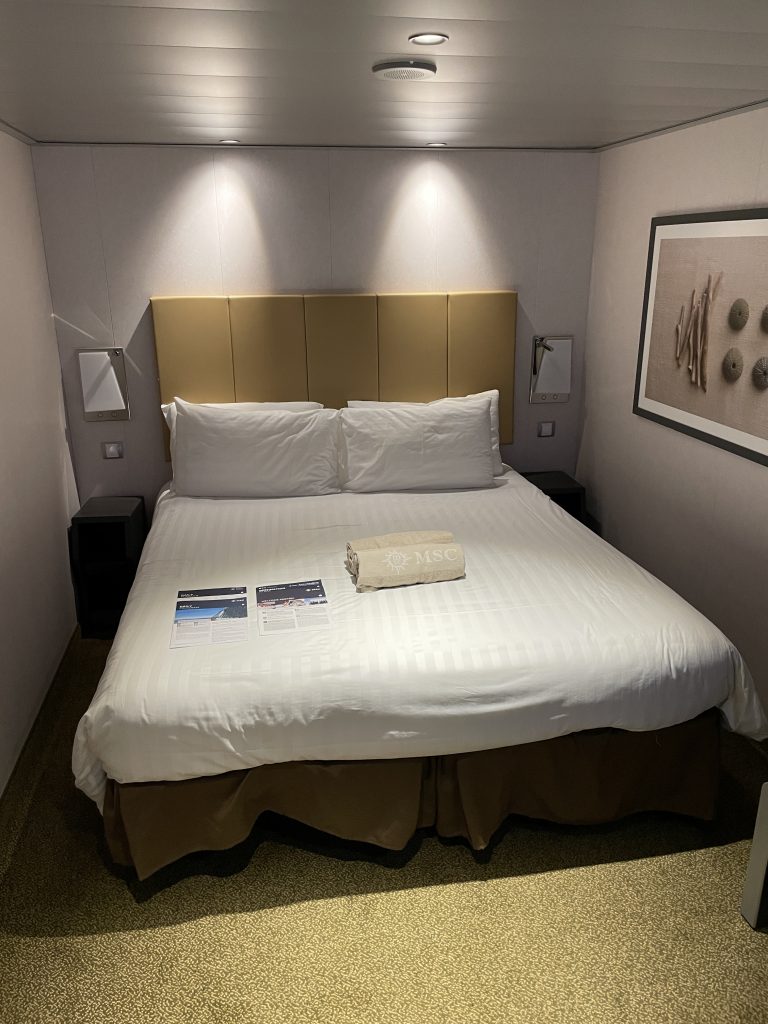 From there, it was onward to the Horizon Bar on deck 16 to further break in the drink package. The bar had the usual pool deck offerings including blended drinks, as well as a fairly good percentage of the liquors included in the Easy Plus package. Some notable terms and conditions: practically, the only beer you could get on the cheapest "Easy" package was Heineken on draft, and there was a 5-minute throttle between drinks but no effective daily limit.
One thing that was a constant source of amusement at this bar was the fresh orange juice machine that cut, peeled and squeezed fruit. Whenever it ran, oranges would bounce out of the hopper and end up in random locations in the bar or on the floor. I did feel bad for the crew that had to chase the citrus but it seems like something that could have been easily addressed.
I explored the ship during the afternoon, still pretty dazzled by the amount of shininess in the indoor spaces. I did also make another trip to Guest Services to sort out my upcoming COVID test. At the time, for international guests MSC was offering onboard, pre-departure PCR testing for $80US and antigen testing for $25US. My return date to Canada aligned well with new regulations; an antigen test done the day before would be sufficient to re-enter the country. I was informed that there would be paperwork in my cabin the next day to schedule a test on the morning of the final day.
Walking along deck 6, to get to two of the main dining rooms, you had to pass through a circular area of wine bottles, bright lights and mirrored surfaces. Confusingly these restaurants are called L'Olivo d'oro and L'Olive dorée (with signs in a script-style font) – on my cruise L'Olive dorée was the only one open, so at least I couldn't mix them up.
Around 3:50pm, I had started a drink in the Brass Anchor pub on deck 7 when an announcement was made that the compulsory safety drill would begin in 15 minutes – despite the cruise planner indicating that it wasn't until 4:45pm. I drained the rest of my beer and returned to the cabin.
The procedure at the time of sailing was to watch a video on your stateroom TV, dial a specific code from the in-room phone to indicate that you'd viewed it, and then head to your assigned muster station to have your card physically scanned by a crewmember.
After this fairly inoffensive muster process (at least compared to the last time I'd sailed, but more cumbersome than other lines during this phase of health measures) I re-ascended to the upper decks to take in the sailaway from Port Canaveral. Notably, on Meraviglia there is a deck 13, but no deck 17 as this is apparently an unlucky number in Italian superstition.
As I watched the lines come in and the ship pushed away from the pier, it was a somewhat emotional moment. I'd made it through the travel gauntlet, ended up onboard, and was actually sailing again after nearly exactly two years. It might seem ridiculous or overprivileged, but being able to cruise again was something I had really been looking forward to.
I stayed up on the pool deck until around 6:15pm, when I went back downstairs and attempted to get a seat at the Waves restaurant for dinner. There was a space for an assigned restaurant on my room card, but there wasn't actually anything printed there. I'd also specifically gone to Waves, as the daily planner had indicated that L'Olive Dorée was for unvaccinated guests.
It turns out that this lack of main dining room assignment posed a problem for the maitre'd. Having arrived closer to 6:30pm than the 6pm start of "early" dinner service, he said that the venue was full. I did confirm that I'd requested early dining time from my check-in documents, but this meant nothing. A drawn-out process followed where he consulted his computer, and eventually scrawled a time of 8:15pm in L'Olive Dorée on my card for this and all future dinners.
Apparently, I should have dropped by earlier in the day (12:30pm-3:30pm, or early for the 6pm dinner service) to secure a table, but even then, an earlier dinner time might not have been possible without paying for the Aurea experience. Both the Panorama restaurant on Deck 5 and L'Olivio d'oro were closed due to low cabin occupancy, which I found out the next day was ~1225 people on a 4488 double-capacity ship.
I was very wary about sitting in an "unvaccinated" dining room for the next four nights, since I needed that negative antigen test to return home to Canada. I perched at various seats around the Infinity Bar on Deck 5 waiting for 8:15 to arrive, and met some absolutely interesting characters in as much of a socially-distanced seating configuration as I could arrange. All of them, like me, were taking advantage of the current discounted pricing on MSC as compared to other lines, and tended to be repeat cruisers.
Reflecting on this situation months afterward, there definitely weren't many unvaccinated folks on this sailing due to the CDC protocols at the time and MSC's own policies, and I'm not sure that any unvaccinated encounters would have meant anything given the pre-cruise testing requirements.

It's also clear that a lot of my experiences on this cruise were heavily shaped by how both global and individual thinking evolved between the start of this pandemic and now. 31 months after COVID hit North America in force, and even just eight months after taking this particular sailing, my opinions, risk tolerance and personal behaviours have changed drastically. The pandemic is still ongoing even as much as certain politicians try to deny it, but I don't think I'd skip out on certain indoor venues, be anywhere near as concerned about vaccination status, and make great efforts to socially distance if taking this cruise again.
Dinner's eventual arrival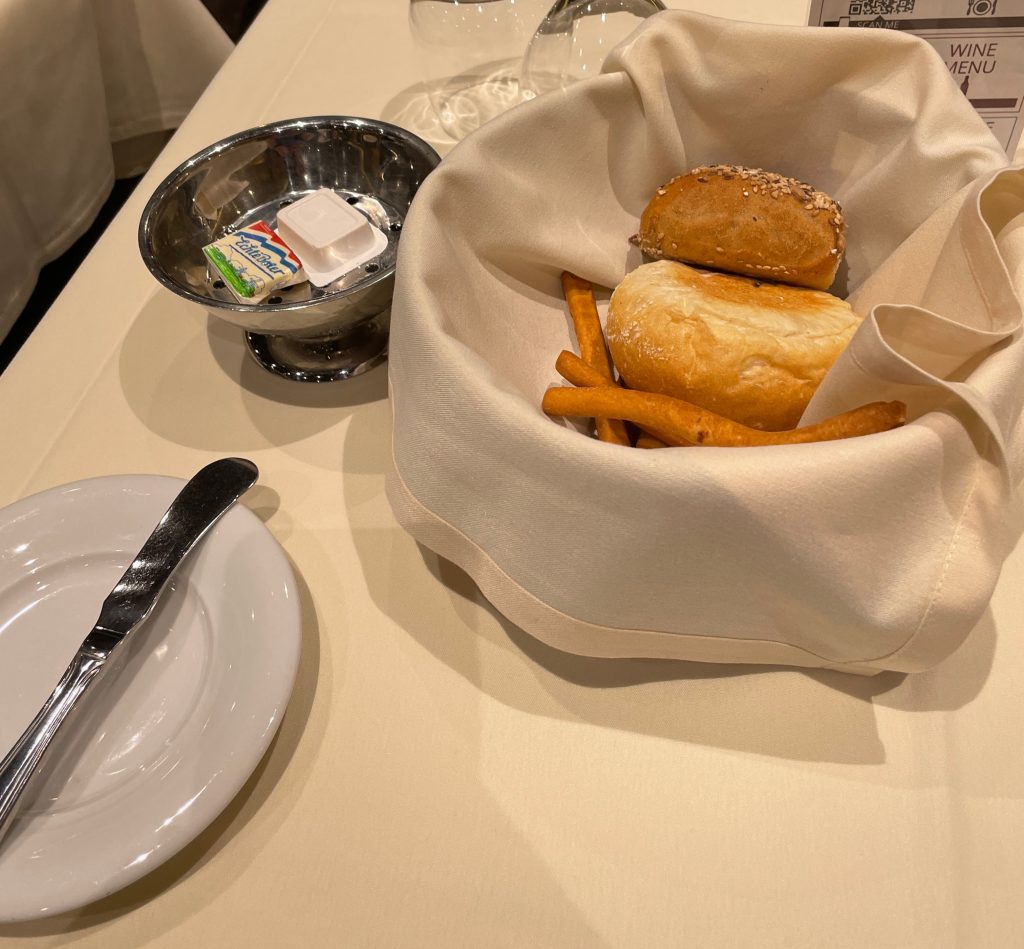 On returning to L'Olive Dorée just prior to 8:15, I was seated by myself at a table for 2. The tables themselves were at a typical pre-pandemic distance apart, but I recognized several of the people surrounding me from other venues, with some still wearing green wristbands from check-in indicating full vaccination. I was given a basket of bread and a complimentary bottle of Acqua Panna to start, which was nice to have directly at the table.
The order-taking and initial delivery of my appetizer happened at a fairly leisurely pace, with the Spanish Delights appetizer of chorizo, cheese and olives not arriving until 8:45pm. Not having wanted to fill up on bread, I immediately devoured everything on the plate.
Pacing was good after the appetizer showed up, with my suckling pig roll arriving at 9pm and dessert at 9:20. All of these courses were delicious and satisfying, with no complaints about temperature of the main course.
All the menus were delivered in electronic format and retrieved by scanning a QR code at the table. I no longer have most of the PDFs, but the menus were the same as those posted at the very well-organized MSC Meraviglia: Cruise Tips and Info from The Jelly Beans. The meals for nights 2 and 3 from their pages were swapped on my sailing.
I slugged my way through dessert, returned to the cabin and promptly fell asleep – a day of drinks and a fairly late, lengthy dinner meant that my energy was pretty sapped. After falling asleep quickly, I woke up around 11:30pm but had no desire to check out the nightlife, and managed to return to sleep.
Day 2: Full day at Ocean Cay
Breakfast with a side of Wi-Fi
I did wake up at the unseasonable hour of 4:45am, mainly due to some rattling clothes hangers in the closet, but was able to fall back asleep after aggressively rearranging them.
The ship's scheduled arrival time at MSC's private island was 7am, but the cruise planner indicated that most shops and bars opened at 9 or 9:30am earliest. I was able to clean up, get dressed and head down to Waves restaurant as L'Olive and L'Olivo were both closed. There was a speedy delivery of a coffee and pastry by 9:15.
A waffle with mixed berries and whipped cream, some bacon and potatoes took slightly longer to arrive, but the waffle was an excellent choice that I looked for every possible time after that. It had a type of crunchy, sugary clusters inside the batter that I don't think I've had before, which the Internet tells me later might be pearl sugar. The berry mix was appropriately tart and the bacon was cooked according to my liking (well-done but not burnt.)
During breakfast I also got a chance to confirm the satellite Internet speed. Since the basic unlimited Wi-Fi was included in my package, and I had limited desire to be social with other folks, I'd been making good use of it to stay in touch with home the previous day. Speedtest reported 1.88Mbps download but was unable to complete the upload test.
Slack conversations, text-based Reddit posts and email all were fairly responsive and usable. Photo uploads anywhere were slow, but didn't typically time out. In comparison to the time-limited NCL service we had on our Joy sailing, this was definitely workable if you stuck to text-based communication services.
Around the island, lighthouse and lunch
Wrapping up breakfast, I disembarked the ship and walked right out onto the pier at Ocean Cay. This is another plus for MSC over NCL's Great Stirrup Cay, which doesn't have a large enough dock and requires tendering to and from the cruise ship.
Compared to Great Stirrup Cay or Harvest Caye, Ocean Cay is incredibly impressive the moment you get off the ship. There's no long dock to walk down, and each area on the island is accessible by concrete pathways in excellent condition. Music is piped in at a reasonable volume to weather-resistant outdoor speakers that cover the entire island, and there wasn't a speck of garbage, a poorly-kept building or rusty furniture to be seen.
The upkeep and quality of the entire place really reminded me of our brief experience in the private Silver Cove section at GSC, which is currently going for $621CAD to get in with the lowest-priced cabana (you might also be able to get access with an island spa treatment.)
After walking nearly all of the paths on the west side of the island, I ended up at the Lighthouse Bar slightly before noon, and spent a decent amount of time there exercising (the drink package, of course.) There was Wi-Fi coverage at the bar and surrounding tables as well, so I was able to catch up on the latest news, weather and gossip from home. One of the bar servers, Katherine, was incredibly friendly and made sure I always had a fresh drink. She tried to convince me to stay on for the next sailing, but unfortunately that wasn't going to fly with the rest of my family.
The Seakers buffet area at Ocean Cay also just served to reiterate the well-kept nature of the rest of the island, with all prep and storage areas visibly clean, few flying insects, a great selection of food, and attentive staff. Comparing to Great Stirrup Cay's general-admission food options, Seakers was absolutely a better experience, and I'd argue also beats the Silver Cove Restaurant.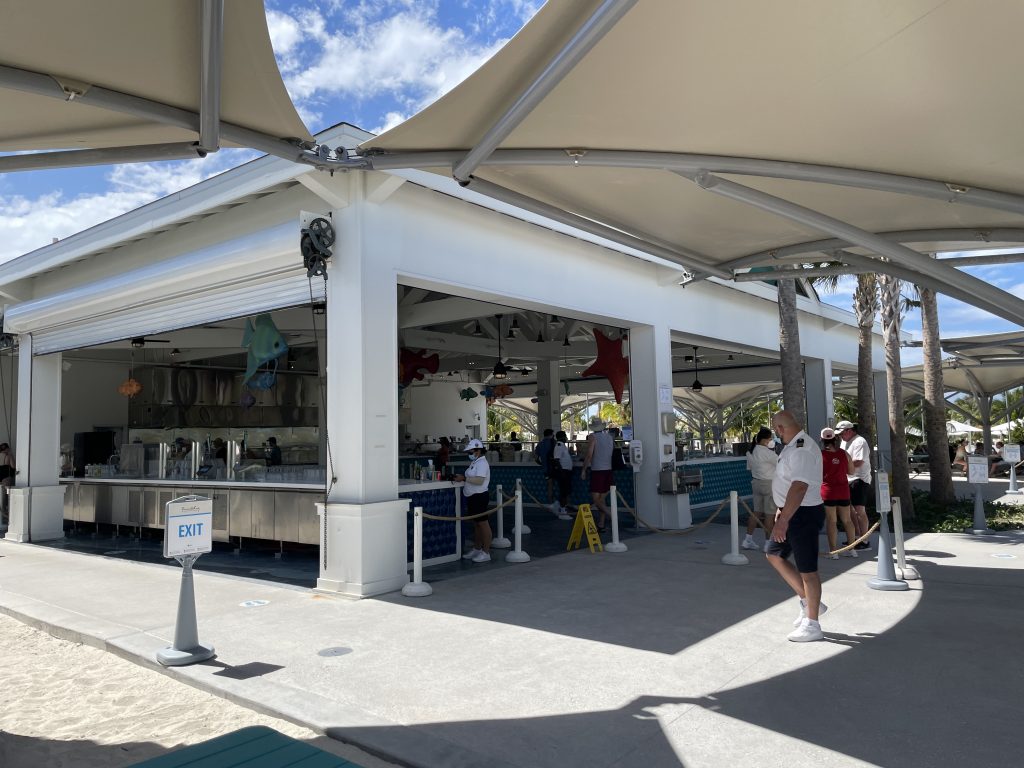 A relaxing roundtrip
After lunch and another stroll around the island, it was time for me to head back to the ship for a shower and nap – something that Kayla and I sorely miss for ourselves when our kids decided to grow out of them. I woke up a couple hours later, spent some time reading in the amphitheatre area outside the Horizon Bar, then went down to the Marketplace Buffet to have some pre-dinner to keep going until late dining in My Assigned Olive Restaurant.
I was surprised to find out that the buffet had shrunk in size from the first day. During my lunch on Day 1, both port and aft sides of the Marketplace were open but the aft section was closed. This evening, only the port side was open, with only a small panel open to the bar on the left.
Nevertheless, there were still a reasonable number of food options, so I expect this was an attempt to try and match the amount of food prepared and cleaning required to the extremely reduced passenger load. I ended up with a very tasty slice of pepperoni pizza and some sliced meats and cheeses, which definitely was the right move. There wasn't any pasta available, which threw me a bit based on all the reviews I'd read claiming an extremely European or Italian experience on MSC ships, but perhaps it, like my official dining time, was also coming later.
In another downgrade from Day 1, the bar had run out of Blue Moon, but the Heineken draft was actually a decent fallback choice as an appropriately cold and carbonated generic beer. I don't think I'd be happy settling for the "Easy" drink package with no other types of beer included, but there were no concerns with the Heineken as a second choice.
With my trips back and forth between the cabin and upstairs venues that afternoon and evening, I began noticing a couple things:
The choice to bring a fast charger was a good one. The dedicated USB-A plugs in the cabin were not convenient since they didn't deliver enough juice. In my case I ended up using a way-overpowered laptop USB-C charger and USB-C to Lightning cable for my iPhone 12 Pro. I had the laptop with me anyway, so the extra weight and space of the charger wasn't a huge problem. It wasn't unusual to pick up an additional 20% charge getting ready for dinner, changing or showering.
As much as I was nerve-wracked about avoiding COVID, the repeated masking and unmasking (required inside, but not actively when eating/drinking; not required outside) was beginning to wear on me, since on a cruise you do tend to spend a lot of time doing things involving calorie ingestion. Most people I'd noticed were fairly good about respecting the rules, although the biggest violators were people who would have masks pulled down under their nose in a basic misunderstanding of human anatomy.
I did return to Whatever Olive Dinner Venue slightly before 8:15, was immediately seated and had much more prompt service this evening. The shrimp pasta could have used a few more shrimp, but by the end I was full. The pre-dinner pizza and charcuterie was the right choice though.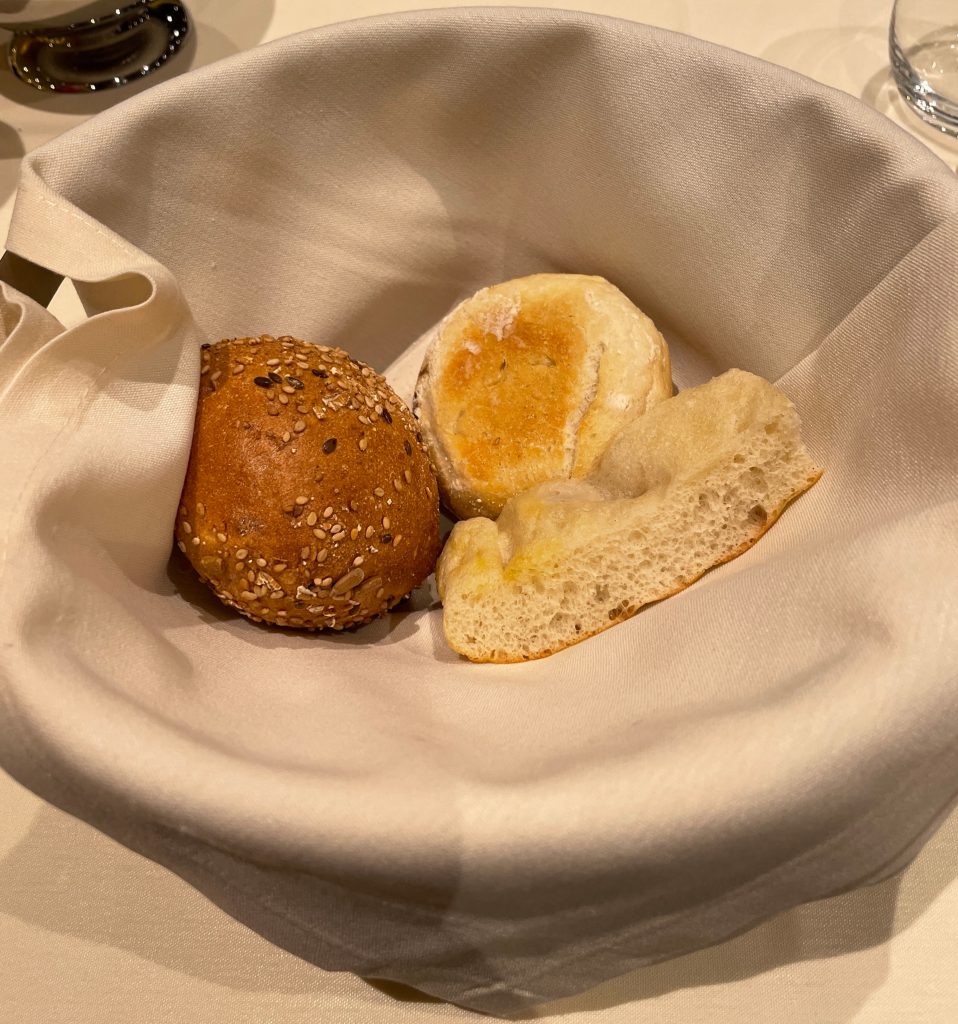 One of the other neat things about this itinerary, and many MSC itineraries that include Ocean Cay, was that it included nearly two full days at the island. As a result, MSC keeps the bars on the island open somewhat into the evening, and puts on a couple light shows at the lighthouse after it gets dark. I did miss the 8:30pm Junkanoo Parade and 9pm Sounds of the Deep events due to Less-Desirable Late Dinner Seating, but made it back over for the 10pm Island Life LED show. The show was worth seeing even though it's less than 10 minutes long.
I did find that the bars did close earlier than the times in the daily planner, but again, this could have been sailing capacity related. I made use of the Wi-Fi coverage and had an interesting discussion with some friends at home: with the ship docked overnight, do you actually have to return to the vessel? Security would obviously know any passengers still out there because you get your card scanned when disembarking, and you probably wouldn't want to stay on the island much past 10:30pm when everything shuts down, but it's not too far a stretch for someone to get highly intoxicated, pass out in a clump of bushes, and make themselves very difficult to locate. There was even a nice evening breeze that might encourage that sort of thinking…
Happily, I did make it back to my cabin at a reasonable hour without the aid of a search party. The Horizon bar/pool/amphitheatre was closed for a private event and the pool bar seemed quite busy. In the spirit of avoiding large groups of people, I had a fairly early 11:15pm bedtime – wrapping up a really relaxing day at a port I would unequivocally recommend.
Day 3: Ocean Cay, continued
I should have used more sunscreen…
Breakfast on Day 3 was once again leisurely, but the delicious sugar waffles weren't a daily menu item, so I had to settle for pancakes with some extra sides. Despite my attempts on Day 2 at sticking to shaded areas for food and drinks, it was clear that the sunny walk around Ocean Cay required more liberal and frequent application of sunscreen than I'd committed to. In other words, my upper back and shoulders were about as crispy as the bacon.
Resolving to do better with sun protection for the rest of the cruise, I wrapped up breakfast and headed ashore to enjoy a redux of Ocean Cay. The ship's departure was scheduled for 6pm, so really you had until about 4pm before crew started packing things up from the food and bar venues.
I would suggest, all things being equal, if you get a chance to take a cruise that stops at Ocean Cay overnight and are into it based on what you've read, heard or seen: confirm what the departure time on the second day is. Occasionally I've seen itineraries where the ship leaves closer to noon rather than 6pm, which cuts out basically half a day of island lounging.
I spent the rest of the morning at the Lighthouse Bar again: a nice ocean breeze, speedy drink service, partially covered areas, usable Wi-Fi and not crowded at all. This is absolutely the kind of "beach" day I want out of any winter trip and it suited me perfectly.
Once again, I enjoyed the island buffet for lunch at Seakers, with my only complaint being that the New Orleans Chicken Salad just wasn't to my taste – the first true food quality miss. The pasta salad also had a generous olive-to-everything-else ratio, which worked out for me but might not appeal to everyone.
Small shopping spree
On my way back to the ship, I stopped in at the shops in the Ocean Village for some gifts to bring back home. I'm definitely not a huge gift-giver and try to stick to one carry-on bag for a week of cruising. I know there are people who will bring back presents from vacation for coworkers, relatives and friends, but that's definitely not something I have the generosity, mindset or physical packing space for.
Normally I'm travelling with Kayla and the vacation itself is the present to ourselves, and we will often just pick up a bottle of something at the duty-free for anyone who helped house or pet-sit, so souvenir shopping tends to be pretty low on the list. Occasionally we might see something neat in passing, and earlier on in our cruising adventures we picked up some trinkets in the port shopping-suggested venues, but that merchandise has pretty much ceased to interest us now.
This time around I did want to bring back something for Kayla and the kids. There were four open shops in the market area offering slightly different souvenir items, so you'll want to check them all for the best options. All of them would allow you to charge to your cabin (unlike many other straw markets in other ports of call, where it's US cash only) and the prices didn't seem too exorbitant. I left with three pleasantly soft, good-quality, reasonably sized stuffed animals: two sea turtles and a whale for $45.90US. They all compressed nicely into my suitcase and arrived home in good shape.
Spoiled scenery
The day of drinking, food, heat and sunburn had taken its toll on me, so I returned to the ship well before the island venues and napped until just before sailaway. Even after waking up I wasn't feeling the greatest, and went out by the sun deck area on Deck 18 aft to try to read and catch some fresh air, but the exhaust from the smokestacks was very pungent and didn't help the situation. In the photo below, you can see Ocean Cay in the middle and exhaust on the right that kind of looks like clouds, but is most certainly a trail of noxious-smelling vapor.
I hadn't noticed this problem earlier in the cruise, but apparently this has recently become a concern on both Getaway and Breakaway in their aft venues and certain cabins after exhaust gas cleaning systems were installed in late 2021. There are enough other places on the ship to hang out, for sure, but like others on the CruiseCritic boards I'm sure it can't be great for your lungs to breathe that stuff in for too long.
Because I still wasn't feeling great, I did not make it to pre-dinner at Marketplace, and even my 8:15 dinner at Something Olive, Something, Something doesn't specifically rate much of a mention. I don't especially have much to say about the food this evening – I picked at it and wasn't offended by anything – but ended up leaving with the bottle of Acqua Panna right after dessert, taking it back to my cabin and calling it a relatively early night.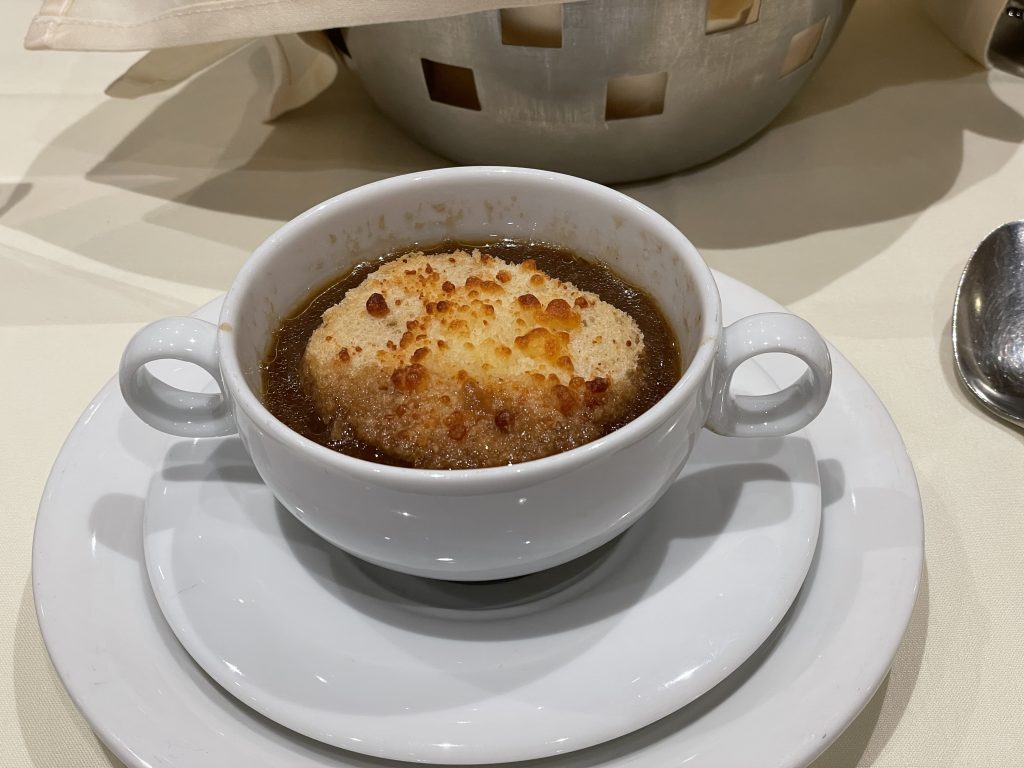 Day 4: Nassau (ship day for me)
Nose poke success
While Meraviglia docked in Nassau on March 2, if you've read any of my previous reviews, I somewhat unsurprisingly decided to stay on board and enjoy the ship for the last full day of the cruise. Waffles were back on the breakfast menu, and I was finally hungry enough to devour a full breakfast including bacon, ham, potatoes and the aforementioned pastry.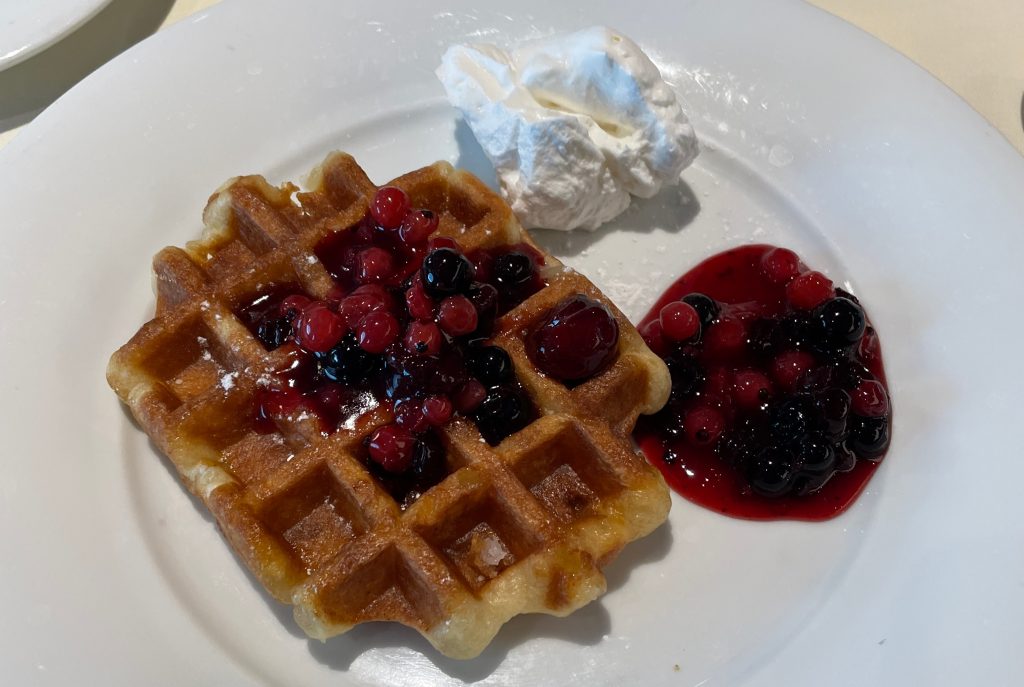 Around 11am I went down to the medical centre on deck 4 for my COVID-19 rapid antigen test. Deck 4 is not shown on the official deck plans, but was accessible from the forward stairs on deck 5 and you can get an idea of its layout at cruisedeckplans.com.
It was mainly a crew area in this section of the ship, but I was politely directed to the appropriate place for my test. I signed for the $25US charge, was taken into an examination room, sat in a chair and had a quite unobtrusive nose swab in both nostrils performed by a physician's assistant. The physician himself was in the next room dealing with someone with what sounded like a real issue. If you're waiting in a treatment room, you'll definitely be able to hear a full medical history and treatment plan from anyone around you.
I was moved to a hallway in between the examination rooms while waiting on the results of the test, and then promptly moved back to the main waiting area when there was a commotion with another patient. After waiting 15 minutes I was informed that the test was negative and the physician signed the paperwork. I was provided with a printed-out report at the front desk that had all the appropriate information required by the Government of Canada to return, including a shoreside lab address.
More food!
With a huge weight off my shoulders, I spent the rest of the morning relaxing in the Solarium area trying to finish some non-fiction ebooks. For lunch, I went to the Atmosphere Bar South on the pool deck, which wasn't really a bar in the drinkin' sense but the equivalent of a Mast Grill/Great Outdoors featuring burgers, hot dogs and fries. The bacon cheeseburger with grilled onions absolutely hit the spot.
I did try to spend as much time in open-air areas as possible; over the course of the day there was what I perceived to be an increase in general coughing from other passengers. I didn't want to get flagged by the RFID contact tracing and have to jump through hoops to return home.
As the evening rolled in, I did return to the buffet for pre-dinner dinner and was able to secure some roast beef with horseradish, in addition to meat, cheese and pasta salad options.
Proper, late dinner in Olive, Olive, Olive included a delicious lasagna entrée. Again, no food quality, service speed or temperature concerns tonight.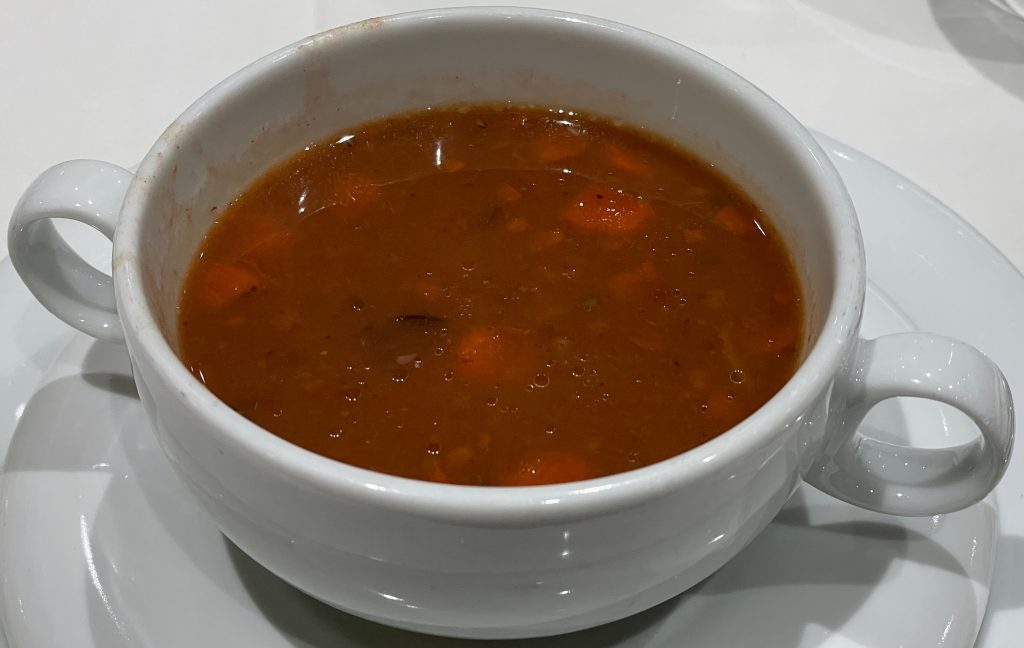 After dinner, I made it to the Carousel Lounge, where I enjoyed a couple glasses of wine (thanks again, Katherine!) while listening to a quality cover band called Off the Record… On the Rocks. Unfortunately fatigue and some of my own hearing issues set in, so I didn't stay for too long, but it would definitely be a decent nightlife option for anyone on this ship.
Day 5: Going home
Disembarkation announcements began around 7:20am, but I was all packed and able to return to Waves for one last shipboard meal at 7:45. No waffles were available, sadly, but bacon, ham, pancakes, berry compote and hash brown patties made a decent pre-disembark breakfast.
While waiting on my food, I took the opportunity to review my bill through the MSC app, which was as expected with no spurious charges. The daily service charge had been processed as a single transaction at the end of day 1, totalling $56USD for the 4-day cruise or $14/day. My $25CAD onboard credit also appeared, ending up as a $18.66USD discount off the total bill. It's cut out of this image, but my Rogers MasterCard was detected as a Diners Club card – no issues with that other than visually though.
That morning, I tried to finalize my ArriveCAN application, but was unable to do so over the ship's Wi-Fi connection. The Wi-Fi which had been entirely functional up until this point, and was still working for other Internet activities, so this could have just been a temporary issue – but I ended up turning cell roaming back on to complete the check-in. Roaming ended up being useful later, as Port Canaveral Quick Shuttle continued to rely heavily on phone and text messaging to wrangle passengers coming off the ship to the correct van.
I stayed onboard as long as I could, but ended up leaving slightly before 9am. With a shuttle scheduled for 9:45am, I didn't want to wait outside too long. It definitely would have been possible to take the 8:30am version of the Port Canaveral Quick Shuttle to MCO.
The shuttle was there on time, but took a while to get going; one of the passengers had mobility issues and needed to relinquish their port-provided wheelchair before descending to the parking area. Port officials would not let the shuttle van park any closer to the elevators, so there was an excruciating and needlessly cruel process where the person had to walk slowly, aided by family members, through a busy baggage area.
One additional consideration for flying through MCO: before going through TSA, make sure to check your gate assignment. I'd accidentally gone through security for gates 1-59 without anybody stopping me, couldn't find a train to the correct gate, and ended up having to exit the secured area and go over to the east hall, where there's a different security checkpoint to get to gates 70-129.
Review wrap-up
I did want to document some more direct comparisons of NCL, Celebrity and MSC based on my experience with this brief sailing, and address some of the criticisms of MSC I've seen elsewhere.
The ship: clean, shiny and confusing
Meraviglia has some of the same layout issues as Norwegian Epic and Celebrity Infinity, which I'm going to somewhat frivolously attribute to all of them being built in the same shipyard. I'll also make an uneducated assumption that similar design and engineering teams would have been involved. Simply put, on this ship it's hard to figure out where you need to go, and it's not exactly a small vessel.
The central corridor of rooms on passenger decks is not intuitive to access, and what's most maddening is that the aft-most elevators, staircases and some of the aft spaces on the deck plans are actually crew-only areas. Often times you'll have to go forward, up and then backward to get where you want to go. I generally don't mind taking stairs on cruise ships, but when you can't even access them for a more direct route to the aft venues, it's really discouraging.
Likewise, many of the higher-up forward spaces are restricted access. This certainly isn't uncommon as cruise lines push the ship-within-a-ship concept, and we experienced this previously on Joy with Haven and Vibe areas taking up nearly all of deck 19 forward. But unlike Joy, which at least has the indoor Observation Lounge accessible to even the lowliest Guaranteed Stateroom passengers, on Meraviglia forward-facing views seem to be an exclusively paid option.
The highly reflective nature of the interior public areas also means that you might be uncertain whether you're staring at a corner, hallway or just a mirror that you don't want to walk straight into. The highly-touted Swarovski staircase in the atrium is actually less shiny than most of the other mirrored surfaces. Good on the crew for keeping things this dazzling, but the cabins and outdoor areas are much more muted and thus functional.
Speaking of cleaning, while there was a similar level of sanitation as I've seen on Norwegian ships, a visual trick I noticed was that many of the carpeted areas would look as if they'd just been vacuumed to precision. It turns out that there's a special tool that the staff use to raise the carpet that doesn't actually provide any suction. Those nice, angled lines on the floor don't necessarily represent a clean area, just a visually appealing one.
I'm sure if I returned to Meraviglia or another ship in the same class, onboard navigation would be less of a concern. The number and type of venues on the vessel were absolutely adequate. The solarium area with retractable roof, popular on Royal Caribbean and Celebrity ships, was also a nice addition and would definitely be an advantage over NCL's offerings in inclement weather.
Similar to Norwegian Epic, Meraviglia also lacks a Waterfront-type promenade deck, so if considering MSC for a future sailing I'd see what was available in the Seaside class – much like how we tend to pick Breakaway (Plus) ships for the Waterfront.
The food: no complaints
Let's address one of the main issues commonly brought up in reviews and YouTube videos: the food situation on MSC, where people either had temperature issues, claimed poor quality or didn't like the offerings ("too European!"). I did not personally have a problem but food is very subjective; there are people who live off soft-serve ice cream and fries for a 7-night cruise, and I personally have found the specialty, French-themed Le Bistro on NCL not to my liking.
There were more limited dinner selections on Meraviglia than on the NCL ships I've sailed. In the evening, the olive-named dining room typically offered five rotating appetizers and five unique daily entrees, with French onion soup, Caesar salad, and pasta/fish/chicken/steak choices available every day. The menu also featured upcharge items including lobster.
Norwegian's main dining room dinner menus typically feature closer to 8 rotating appetizers, plus the ever-present French onion and Caesar options. Then, there's also a set of six rotating dinner options with six more "classic" choices. On NCL ships you also can dine at O'Sheehan's/The Local, which essentially doubles the available options in each category.
Edge-class Celebrity ships also have three distinct dinner appetizer and three additional entree options in each of the four main, themed dining rooms – but more on that when I get my Celebrity Edge notes published.
To throw a wrench in this, NCL has changed to a fixed MDR menu on Prima that also may feature upcharge items, and is expected to roll this out to the rest of the fleet in 2023, so we might start hearing similar complaints from Norwegian passengers over the next year.
The more limited number of selections also was apparent in the Meraviglia buffet, where you'd have a reasonable variety of things to eat but not nearly of the same scope as Celebrity or NCL. Again, it's a different approach and I certainly never went hungry.
What I'm getting to is that even a slight reduction in the number of available complimentary options means that eaters with particular palates, or used to a significant number of choices, might have to settle for dishes they aren't enthusiastic about in the first place. Subsequently if that secondary option doesn't deliver, the entire food experience is deemed sub-par.
Sailing-to-sailing, you're also going to get non-trivial differences in food availability and quantity. The Osso Bucco I had at La Cucina on Sky, as an example, was significantly worse than the same dish on Getaway the previous year. As a result, that entree no longer is an option I consider, even though I know it might have been a fluke.
I'll wrap up my food comments by noting that I didn't try any of the specialty dining on Meraviglia, which seemed quite expensive across the board and had several restrictions on what you could order if you bought a dining package. I imagine if you'd paid a lot of money for a mediocre or bad meal this would definitely be a legitimate objection.
Logistics: could be better, but great onboard service
Similar to our first cruise, the most irritating moments on Meraviglia stemmed from what I didn't know I didn't know. I was glad I'd done a significant amount of research beforehand, and was thus prepared for onboard credit card activation, the contact tracing wristband, and the restricted areas that come with not being in Yacht Club or an Aurea experience.
Being forced into a late dining time was a particular sore point. An 8:15pm start time – so even when everything is operating smoothly, you start getting appetizers around 8:30 – didn't work well for me. It was a definite downgrade from Norwegian's Freestyle dining and even Celebrity's Select/Anytime option, where at least you could try to reserve a different time or wait in a standby line. I think much like NCL, where once you board you have a couple of things to do right away, you need to make the maitre'd station your first stop on an MSC ship.
I've already addressed the absent customer service interaction with respect to status matching, but the most awful thing I can say about the onboard service was that at worst people were merely unhelpful, but at best it was really good – close to the service I've gotten in the premium Vibe area on Norwegian Joy. Nobody was ever rude or dismissive, and the dinner service was pleasant and not overbearing. There was no fawning from the waitstaff, encouragement to order extra dishes, raucous presentations or pre-emptive delivery of second dessert. All of those are things I'm indifferent about or dislike, so it doesn't enter into my thoughts on service quality.
What's next?
If I had to give this cruise a rating on a conventional scale, it'd be a solid 4/5. MSC, especially their newer ships, are in definite consideration for either another solo or full family vacation once kids clubs are operating at pre-pandemic standards.
Because I'm coming from Canada and often during the winter, the full price of the cruise gets wrapped into total vacation cost with plane tickets, pre-departure hotel, airport parking and other incidentals to consider. For a 7-night sailing, currently the price difference between MSC and NCL sailings with similar parameters is about a $400CAD premium on NCL. With the number of cruises we've taken with Norwegian and our corresponding Latitudes status, that $400 difference is probably worth it for the two specialty dinners, free bag of laundry, and other perks. Of course, to get there required eight NCL cruises… and Norwegian doesn't stop at Ocean Cay…
We did end up sailing on Celebrity Edge in April 2022 and Norwegian Joy again in July 2022, which will likely be a much briefer set of notes for each sailing just to mark the occasion. I spent much less time documenting those cruises and more time "in the moment."
We also plan to return to Norwegian Breakaway, this time not from NYC but out of New Orleans in later 2022. We'd originally sailed her in December 2016 and really enjoyed the experience (especially as we considered it an 'upgrade' from our first cruise on Epic) but I never put together a review.
There's also a spiritual successor to our 5-day trip on Sky in the future, this time a full 7-day sailing on Norwegian Bliss in 2023 with our excellent friends. Our 2018 sailing on Bliss is one of my absolute favourite cruises so I already have seriously high expectations – plus with some people we know sharing the experience, it should be that much better.