This sailing with my wife Kayla and father-in-law Cliff was the end of a saga that began in August 2018 and wrapped up in April 2022 with a successful voyage on Celebrity Edge.
I had been excited to sail an Edge-class ship since seeing one in person in December 2018, but was hoping for an experience that wasn't as full of upsell attempts as our Alaskan cruise on Infinity. With Edge, Celebrity has replicated things we like about Norwegian Cruise Line, brought forward differences we appreciated from Infinity, but still had a few odd, unexpected, traditional, or negative elements.
Celebrity's All Included offers, great complimentary food options, ships with unique features and decent technology will be thoughtful considerations when booking a future cruise. While I expect Norwegian will still be our primary choice for sailing, it certainly helps to know what else is out there. Celebrity is a solid backup plan if NCL devalues their overall product too much for us as customers.
Pre-cruise: Arrival in Fort Lauderdale
We flew WestJet from Toronto Pearson to FLL, as the cruise terminal Edge was sailing from was Port Everglades. As usual, this flight was the day before sailing. Parking was at the Value Park Garage, and the train was running as expected.
In April 2022, we still had to:
wear masks in the airport, on the airplane and in the cruise terminal
present proof to the airline and cruise line that we all had received at least two doses of an approved COVID-19 vaccination
supply a negative, proctored rapid antigen test (not more than one day old for US entry; not more than two days old to sail.)
For the purposes of flying, WestJet's online check-in had options to upload vaccination records and test results so that your boarding pass would be marked appropriately, and you wouldn't have to show these documents again at the airline counter or gate.
Because Kayla and I were flying with Cliff, and wanted to stick together, we didn't use our NEXUS/Global Entry privileges at security or US Customs. None of us had checked bags, and the Terminal 3 security line for the A gates moved quickly.
The US customs area, though, was throttled – people with flights that weren't leaving in the next 90 minutes were not allowed to stand in the line. We were directed to a room at the back of the preclearance area and waited about thirty minutes before our flight number was called. Once in the customs line, it moved at a steady pace, and we managed to meet other Canadians who were going to be sailing on Apex.
All three of us were allowed to continue to the customs officer at once, and after a reasonable review of everyone's documents, our party was waved through to the rest of the airport.
The flight took off and landed on time, and we took the complimentary shuttle from FLL to the Hampton Inn Fort Lauderdale Airport North Cruise Port. When we arrived around 2pm, there was no availability for early check-in, but were able to store our luggage until our room was ready. Like in February, my US dollar credit card didn't work with the chip-and-PIN terminal; I ended up spending some time calling TD to get it fixed, and Kayla and Cliff got a great recommendation for a late lunch at Mini Pita in the next plaza over.
Our group split the three-appetizer platter, and I had the gyro platter with rice and Greek salad with a Negra Modelo. The food was all delicious, with very friendly service, and we'd return if in the area again.
We also ran some errands during the afternoon, including a fruitless search for a shoehorn at all the relevant places in the plaza. This device, sadly, is not well-known in that area of Florida.
I set out on my own that evening for dinner and ended up at Old Heidelberg Restaurant, where there was so much delicious German food. I had the Jaeger Schnitzel with sauerkraut and spaetzle and only got about half-way through – it was an extremely generous portion!
Embarkation: Port Everglades
The first order of business on the morning of the cruise was to complete a health questionnaire, which gets activated in the Celebrity app on boarding day. Our check-in time was 11:30-12pm. Based on Internet information that Celebrity was much stricter with these times than other cruise lines, we checked out and took a Lyft over to the port at 11am, and arrived right in front of terminal 25 by 11:15. Before entering the port area, we also were required to show our passports (through the vehicle window) at the front security gate.
After a cursory document inspection which confirmed the presence of antigen tests, vaccination records and cruise documents, we took an escalator up several floors to an airport-like security screening. This was followed by a short line to an agent with a tablet, where our documents were more thoroughly examined and compared to details we'd provided in the app. A series of green checkmarks later, we went ahead to the main waiting area. In total, escalator ride, security, and document review were less than fifteen minutes: very impressive.
Celebrity's substantial investment in this terminal's design was certainly a good precursor to the artistic, appealing ship we were about to board. While I don't think it would be as functional for exceptionally large groups of people – perhaps another reason check-in times are staggered – at limited capacity there was enough seating for everyone. There was enough square footage to wander and not feel as if you were being herded, at least until boarding began. It was certainly a much better experience than Norwegian's use of Terminal C in Miami or any of the Port Canaveral terminals I've been through, and absolutely outranks the zoo at Pier 88 in Manhattan.
We had enough time to visit the washroom and briefly celebrate completing another checkpoint in the voyage, when the doors at the front of the terminal opened and people started swarming toward them. With the Celebrity app and "Xpress Pass" check-in barcode showing on our phones, we jockeyed a bit for position. It wasn't as terrible as boarding Joy in San Pedro but this part of boarding could have been less chaotic. I didn't especially enjoy being crammed close to that number of other people.
From getting up from our seats in the terminal to standing in our cabin on deck 7, it was only twenty minutes, despite being swept up in the crowd and having to cut across a stream of people to get to an elevator. On Edge your key cards are left in the "mail slot" outside your stateroom, so you don't get them in the terminal. I'm still not a fan of this approach, but it ended up working out – the hallway was open for access, and our room was already made up, so we collected our cards, dropped off our luggage, and were able to begin our afternoon right away.
Accommodation: Infinite Veranda 7267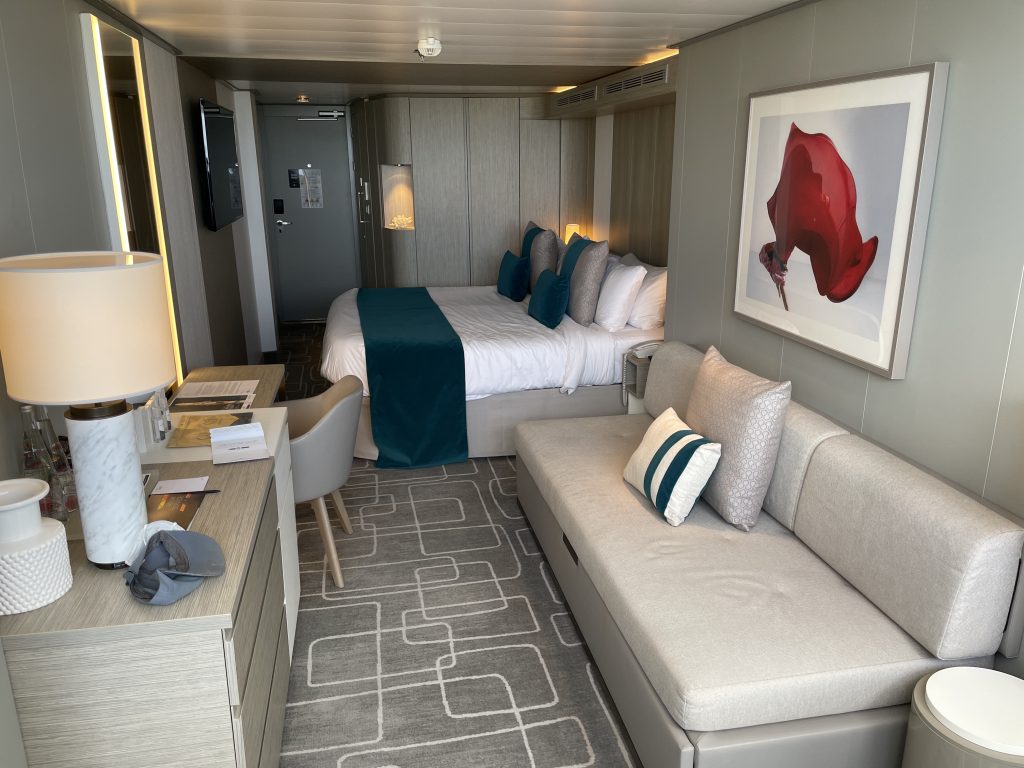 Controversial cabin configuration
One of the more divisive cabin types introduced on Edge-class ships, at least according to seasoned cruisers and Internet pundits, is the Infinite Veranda stateroom. Instead of a sliding door and exterior balcony, these cabins have a set of folding doors that lead into a fully enclosed, uncarpeted area. This area spans the traditional outside balcony footprint and is equipped with two chairs (not loungers) and a table. Finally, there's a large rectangular window, where the top half slides down to let the ocean breeze enter and to peer out of.
I wanted to stay in this type of cabin to experience it for myself, since the arguments against this type of cabin tend to be related to people's beliefs of what a balcony stateroom should be. Critics have pointed out:
you can't get a good amount of sun
there's no sideways breeze
feeling as if you're inside a large box
no separation between people in cabin and on balcony
the folding door mechanism is awkward
they've had problems with the shade/electronic controls not working as expected
the bridge can close and lock the window remotely
This set of critiques boils down to that for a premium veranda price, these rooms seem like a more-expensive ocean view cabin, even though the window is larger and opens.
None of these points made an enormous difference to our stay, and I think we might be the type of passengers Celebrity expects will enjoy this type of cabin. Nobody in our party is into sunbathing, so we tend to prefer shade overhead anyway. On a conventional balcony, you get unbuffered noise from adjacent cabins and can catch glimpses of neighbours on their balconies through the dividers. If not specific about your cabin choice on other ships, you could potentially be assigned a balcony that is uncovered, partially covered, or visible from above or the side. I would consider these configurations to be much worse than the consistent Infinite Veranda.
With three people in the room, we were glad to have the extra "interior" space with the option to expand. Celebrity quotes it at 42 square feet, with the rest of the cabin at 201 square feet. We all used the area to spread out a bit more, and you could leave a bag on the floor, drape clothing over the chair or leave things on the table without the risk of them flying into the sea.
A negative point I did agree with is that with the window open, the air conditioning in the cabin shuts off, which does cause the room to heat up quickly in Caribbean temperatures. It certainly isn't as nice as having that distinct indoor/outdoor separation where if it gets too hot outside, you can just return to the interior part of the cabin.
If you're strongly against the Infinite Veranda, there are more conventional balcony options on Edge-class ships such as the Deluxe Porthole View with Veranda (although these are enclosed/"cove"/PrivaSea-type balcony cabins) or the Sunset Veranda (traditional aft balcony.) On Edge, even the least-expensive inside cabin is 181 sqft, so this handily exceeds the floor space available in Norwegian's Breakaway or Prima-class ships in each category. Advantage, Celebrity.
For future cruises with just Kayla and I, an inside cabin would be more than adequate, or I'd consider a Panoramic Ocean View at 212 sqft or obstructed Infinite Veranda depending on price.
Other stateroom observations
Besides the unique balcony, the stateroom design was more upscale than Breakaway (Plus)-class ships, even Bliss. The fixtures, decor and technology on Edge are of a slightly higher quality:
the sink in the bathroom is a larger rectangular shape
there's a faux-marble tile design for the shower and flooring, rather than off-white walls and rubberized floor
the availability of outlets and USB plugs seemed better on Edge
the TV, HVAC and room lighting controls on Edge integrate with the phone app, and functioned as expected
pool/beach towel service is complimentary, so you didn't have to exchange or sign out towels anywhere
The lighter woodgrain on the cabinetry and shelving also is a nice touch; these design elements make the cabin seem more like a conventional and modern hotel room. From the videos I've seen, Edge-class cabins are more comparable to what Norwegian has done on their newest Prima-class ships.
The ship
Unique venues
The picture above with the "toothy" ceilings is a starboard-side pathway on the pool deck towards the Mast Grill and solarium area. The left side area behind the plants, though, are separately reserved cabanas that cost $300US/day for a 4-person or $150US/day for a smaller, 2-person area. We did not see these in use on our sailing.
The Magic Carpet is a platform on the starboard side of the ship that can be moved to various locations: deck 14 to act as a bar and lounge area; deck 16 as a limited Dinner on the Edge specialty dining venue; deck 5 as an outdoor extension of the specialty sushi/seafood restaurant; and deck 2 to facilitate tendering operations.
The Carpet doesn't move while passengers are on it, and its best configuration was on deck 14, specifically on sea days where the platform could handle overflow from the pool area. It was certainly a quieter venue than the pool deck and service was quicker than the pool bar. Some of the seating options were not comfortable, so you had to try and grab a good chair or spot on the couches.
Eden was a venue that really grew on us throughout the sailing. We'd been a little bit apprehensive about going there – when Edge launched, the first set of sailings had performers roaming around and interacting with guests for the evening show. Since then, Celebrity reworked things, and our sailing featured more conventional nighttime entertainment like musicians and comedians. There were countless spots to camp out with a drink and book, and the live plants brought serenity to the surroundings. During the day it was quiet, but in the evening, you might have a tough time getting a good spot to see the performer from.
In addition to the bar, restaurant and different seating options, there was also a complimentary café area that had grab-and-go sandwiches but also a small buffet section at lunch. I'd suggest checking this out for an alternate lunchtime option – they had an excellent prime rib one day which wasn't available in the Oceanview buffet area.
One place we didn't end up making as much use of as I'd thought was the Rooftop Garden. Like Eden, it features foliage – but a large chunk of the space was uncovered, so during the day you couldn't avoid the sun. The partially covered area belongs to a specialty restaurant, the Rooftop Garden Grill.
At the Grill, it's as if Celebrity couldn't decide whether it was supposed to be a place with upscale burgers and sandwiches, a BBQ joint, or a pizzeria. This seemed like an attempt to offer outdoor dining with a wide appeal. With the Magic Carpet being very seafood-focused (unless being commandeered for the limited availability, $129 US/person Dinner on the Edge experience), the Rooftop Garden Grill is really the only other, full-service "al fresco" dining experience. NCL's Waterfront has more flexibility with outdoor specialty dining options for at least four venues.
Celebrity's approach to the common
I'm sure Celebrity would suggest that their ships have more unique, ground-breaking features than I've mentioned, but I'd like to compare their approach to places you might see on other lines and ships. The implementation of these common elements on Edge is very well done.
Edge embeds a significant amount of art throughout the ship; there's a section on one of the lower decks that looks like it exposes the ship's outer hull. Another hallway, one you would use to access Eden on Deck 5, is a dark passageway with golden, tree-like structures and ethereal music. We were extremely confused initially, but it grew on me over the course of the week.
One part of the ship we really appreciated was the covered solarium area, with pool and hot tub options as well as dozens of loungers. Since our sailing was at reduced capacity, it was trivial to find a good spot where you could alternate between swimming, soaking, and reading. The buffet is also on the same deck, and there's also a more limited "spa café" right in the solarium, so it was easy to nibble throughout the day. Norwegian's approach of making the covered pool area exclusive to Haven cabins is certainly a negative point.
The Grand Plaza and Martini Bar areas were where the ship design seemed illogical. To get from deck 3 to 4 involved getting close to performing musicians on a stage area, and what you might think is an exit on one side of the bar was a set of stairs to the Destination Gateway on deck 2 that didn't ever seem to be open. If you review the changes Celebrity has made for Beyond and planned for Ascent, the two newest ships in this class, the navigation in both of these areas seems to have been addressed.
The Club was a multipurpose venue that was used for a variety of activities and performances, including shorter shows from the same excellent theatre cast. We ended up here often in the evening for some type of entertainment and drinks. Depending on the activity in progress, though, access to the second floor on Deck 5 was blocked by a DJ, band, or the actual performers. Get there early for best position.
Unlike other ships we've sailed – both new and old – access to top-forward areas is limited unless you've paid for it. On Deck 16, starting at the roof of the solarium, the area forward from that is reserved for Retreat guests with a separate pool, hot tub, sundeck, and bar. Deck 15 forward is the fitness centre, deck 14 has the extra-charge thermal spa at the front, and deck 12 forward has two enormous Iconic Suite cabins with the bridge below them. I ran into a similar set of restrictions on Meraviglia, and it just seems odd to not have a good place to look at where the ship is heading.
Another area that's getting an expansion and design refresh on Beyond and Ascent is the aft Sunset Bar. My father-in-law enjoyed this area as there was a dedicated smoking section, but like the Magic Carpet, it also had the occasional uncomfortable seat that you would do best to avoid. Late evenings were spent here, but after the cruise Kayla mentioned that it wasn't well-lit enough for her to feel entirely safe, if she were out on her own. It's a perspective I totally missed – I enjoyed being able to look out into the pitch-black ocean, but the area was dark and had limited visible staff. I know this will be subjective but it's something we'll take note of on future ships.
Lacking maintenance
As beautiful and modern as the venues were, I do want to mention that the degree of maintenance was worse than I'd expected for the ship's age. Edge first started taking paying passengers at the end of 2018 and had just over a year where it was not in service between March 2020 and June 2021.
The most regularly visible issue was in bathroom facilities: in many cases tiling was loose or cracked, seams were degrading between fixtures and flat surfaces, there could be obvious wear around moving surfaces, and many loose or broken locks on stall doors. Outside, I recognize it's a constant battle with the sea and salt air to avoid corrosion, so perfection is impossible – but in corners, crevices and around fasteners, some areas could have used more grinding and repainting to avoid looking rusty.
A version of this comment made it to my official post-cruise survey because it was so jarring. I don't think it's anything that a weekly walk-around with an attentive maintenance supervisor wouldn't pick up on, and nothing that would require a full refurbishment or taking areas out of service. I guess for future cruisers, if this bothers you, try one of the newest Edge-class ships – or Edge herself, a month or two after her next dry dock and return to service.
Food
Different dining locations
Rather than a single main dining room (perhaps divided by dinner time or cabin type, as on Infinity), or multiple main dining rooms serving the same menu (Savor, Taste, and Manhattan Room on Breakaway and friends; the shiny olive-named restaurants and Waves on Meraviglia), Edge has four main complimentary dining rooms decorated in distinct themes, and with several unique menu items for dinner. Those exclusive items are the same every day, while the larger set of appetizer, entrée and dessert items change daily but are the same regardless of dining room.
Here are each of the restaurants, followed by the exclusive items they served in the evenings:
Normandie: French

Appetizers: Chicken pate, potato and gruyere tart, baked brie
Entrées: Beef tenderloin, lavender salmon, rack of pork
Dessert: Opera cake

Tuscan: Italian

Appetizers: Bean soup, octopus carpaccio, asiago cheese flan
Entrées: Roasted chicken, carbonara, porchetta
Dessert: Tiramisu
Note: Tuscan Restaurant on Edge-series ships is a complimentary, main dining room. Tuscan Grille is (confusingly) a specialty restaurant on other Celebrity ships.

Cosmopolitan: Contemporary/North American

Appetizers: Carrot and mozzarella salad, BBQ short rib, scallops
Entrées: Roasted salmon (with clams), chicken breast, NY strip steak
Dessert: Carrot cake

Cyprus: Greek/Mediterranean

Appetizers: Taverna salad, sea bass ceviche, cheese saganaki
Entrées: Lamb shank tagine, sea bass, chicken souvlaki
Dessert: Greek yogurt with honey and walnuts
Main dining rooms
In deference to traditional cruising, Celebrity has a dress code that at minimum requires a collared shirt for men in the main and specialty dining restaurants, as well as the theatre shows. The more-frequent "Smart Casual" requirements get elevated to "Evening Chic" on two of the evenings on a 7-day sailing. Jeans are permitted but only if they are "designer", to which I might argue that Levi Strauss, Joseph Mimran and George Davies are all titans in the world of fashion design. I packed for the dress code so didn't run into any problems, but it's worth mentioning that shorts and a t-shirt probably won't cut it for evening meals.
At the time of our booking, Edge was offering Select Dining Plus only. (The Plus suffix for Edge-class ships just means that you can pick any of the four main dining rooms any night.) This was the inverse of what the Celebrity website implies – that Select Dining is only for a limited number of guests, and traditional early/late dining is what everyone else gets. I could try and attribute this to a less-than-full capacity sailing, but that would be the inverse of how things were handled on Meraviglia.
We knew we'd want to try each of the main dining venues, so using the information about exclusive items and sample nightly choices from the Edge press kit, we were able to book each restaurant once from the website prior to sailing, then picked two of them to try a second time. Normandie and Tuscan were our repeat options.
Astute readers will notice that my math doesn't add up for a seven-day cruise. We did leave one night open without a dinner reservation in case we wanted to try the buffet or a specialty dining venue. Celebrity's All Included package does not actually include any specialty dining. Even with NCL cutbacks in an inside cabin, their Free at Sea promotion has at least one premium restaurant meal.
Once onboard, we did receive a card with a slight typo showing that our assigned dining room was Cosmopolitan, as well as peak dining times.
The paid dining options on Edge didn't seem worth the upcharge, and after several meals in the main dining rooms and Oceanview Café, paying extra seemed entirely optional. For future cruises I'd like to investigate Raw on 5, Eden and Dinner on the Edge, but certainly more for the experience and not that they'd be necessary cruising add-ons.
One personal highlight was that on the second-last night, the main dining entrees included both beef wellington and lobster tail. I'd expected this and started by ordering one of each choice – then followed that up with another two lobster and one beef. This was absolutely the right decision, and they won't double up on your vegetables unless you request it. I was satiated at the end of the gluttonous meal and would absolutely do it again.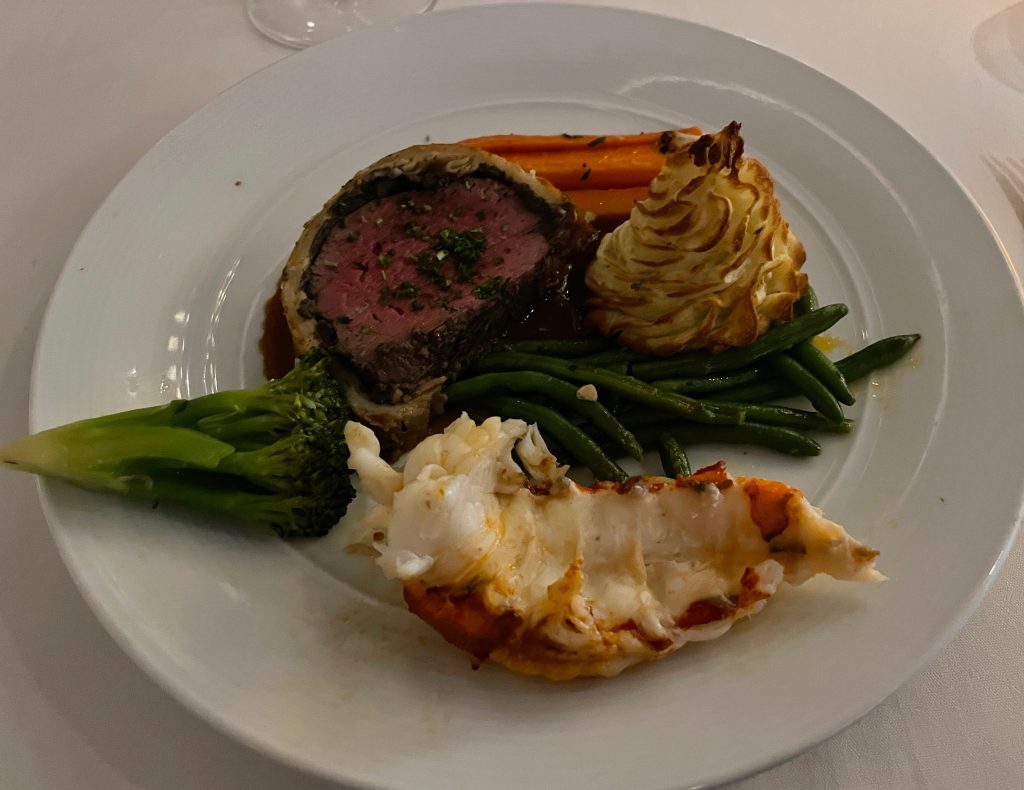 Oceanview Café (buffet)
While not as expansive as the NCL Breakaway-class ships, there were sufficient and quality food selections every day. On this cruise we ate breakfast and lunch exclusively in the buffet – while I know there was sit-down breakfast in one of the main dining rooms, we never really saw an appealing full-service lunch.
My favourite choices included the fresh sandwiches, pasta bar including spaghetti bolognese, late-evening pizza and the plentiful dessert options. There were also daily specials as well as a section present every day with steak, chicken, fish, carbohydrate, and vegetable options – similar to the "Classic" menu items served every day in the dining rooms. Seating was also not a problem.
During this cruise, the buffet was also served by crew. It wasn't a huge inconvenience, reduces presence of other illnesses like norovirus, and I'm sure is extremely helpful in reducing food waste. There was also a large handwashing station at the entrance, so you never really had to wait for a sink. Paper towel availability at every dispenser sometimes suffered, so sometimes you had to walk around a bit with wet hands before finding one with stock.
Again, as on Infinity, there always seemed to be a friendly yet persistent salesperson in one of the key paths to the Oceanview Café trying to get people to reserve specialty dining or buy a multi-meal package. I really feel for the crewmembers assigned to this role – but it does cheapen the whole experience.
Drinks
On-board upgrade
Speaking of salespeople, though, an upgrade option I did take onboard was to move from the Classic Package (the option with an All Included rate) to the Premium Package. I've linked examples of the types of drinks available in each plan. The Standard Package, which was chastised as The Cheap Plan in my 2018 review of Infinity, is no longer present on the Celebrity website.
Buying Premium was already something I'd debated doing online or over the phone before the cruise. There was a measly 5% discount for doing it pre-cruise with my Classic Captain's Club status, but I ended up not going ahead with it before sailing.
At our first lunch in the Oceanview Café, our group was approached by a waiter asking for drink orders, who saw our cards and started into a sales pitch about the Premium upgrade, which includes drinks up to $15 (up from $9) and selected liquor brands. There were several types of wine, beer, and liquor in each category that I thought would be "nice to have", as well as the inclusion of San Pellegrino sparkling water and the ability to order some of the higher end, specialty drinks like martinis with extra stuff in them and craft cocktails.
After more consideration, I pulled the trigger on the upgrade. First, Celebrity does not force other guests in the same cabin to take the Premium upgrade if they already have the Classic beverage package. One in our party doesn't drink alcohol and the other didn't find the added liquor selections compelling, but I was allowed to buy the upgrade just for myself.
(At dinner, if Kayla and I were having the same type of wine, after the first day or two the sommelier would often pour glasses for both of us from the same Premium selection bottle. Of course, whether the more expensive wine was actually the better tasting one is also debatable…)
Secondly, I had $150US in non-refundable onboard credit for the cabin, and the price onboard was $12US per day including gratuity (so $84US total.) This is a discount from the posted price of $18US/day online at the time of writing. Since we didn't have any plans for specialty dining, professional photos, shore excursions or any of the other things that were advertised through daily emails prior to sailing, nor was the iLounge stocked with the latest-gen iPads, the upgrade wouldn't cost us anything out of pocket.
With a signature from me, and a sticker adhered to my card from our waiter, our transaction concluded. Of course, like with many things on a cruise, it was an imperfect choice that I want to document in more detail for readers and myself, in case I'm trying to decide whether to spend the money.
Imperfect choice
To start, the beer, wine and liquor options are only available at certain bars on the ship, and not guaranteed to be on the ship for every sailing from every port. This manifests more often in the whiskey, gin, and vodka categories: sometimes what's missing are the syrupy flavoured variants, while other times it might be your preferred intoxicant. And because the premium options are typically less in-demand than those in the classic column, you might occasionally have to accept a downgrade from, say, Crown Royal to Canadian Club.
I noticed this effect with the beer menu and found that you could get the best results by visiting bars that had the most traffic, with the obvious trade-off of having to wait longer for a drink. The pool bar seemed to be the most well-stocked for beer, while Eden and The Club – despite truly excellent service and the bartenders going above and beyond to suggest alternative drink options or venues – were more limited for beer.
Another unpleasant discovery, similar to the one posed in this CruiseCritic thread, was that many of the unique concoctions at the Martini Bar and Eden were generally priced $16 to $19US, above the $15US threshold. With the Premium drink package, you'd only have to pay the extra $1-3, but that still feels just cheap as a consumer. I'm certain this is a well-calculated position for the cruise line. Yes, these are very specialty cocktails, served with smoke and garnish and in fancy vessels, but as a comparison, Norwegian's premium upgrade ($29US/day purchased before sailing) allegedly includes every beverage by the glass, although I'm sure there are exceptions. Carnival's single-tier Cheers! has a $20US/drink limit.
In a definite advantage for Celebrity, both the Classic and Premium plans do include standard bottled water, which is one of the things that does need a beverage package upgrade on Norwegian. I'm not one of the people who objects to drinking tap water on a ship, plus I'm perfectly content with soda water as a bubbly but non-alcoholic choice, but it was extremely convenient to be able to grab a resealable bottle from any bar on Edge and take it along.
To wrap up the matter of Premium, because this was a paid-for upgrade, psychologically I felt the regular need to order more expensive drinks to get some perceived value out of the plan, when something from the Classic menu would have been entirely adequate. So, at the end of the day – especially if we had something else worthwhile to use our onboard credit on – I think sticking with the quite reasonable Classic Beverage Package could save cash and not be terribly inconvenient.
Technology
Celebrity has implemented a mobile app that far exceeds the performance and functionality of the apps offered by the other two cruise lines I've been on (Norwegian and MSC.) Likely sharing the same codebase as the Royal App, the design is excellent and I never found myself having to regularly force-quit, clear cached data or wait seemingly indefinitely for things to load. Within the app, it didn't tend to show views that were just a mobile Web interface but used consistent UI controls and theming.
Pre-cruise, the app was quite functional and allowed us to complete check-in, health and safety questions, at which point you got an Xpress Pass barcode that did seem to assist the boarding process at the port. I found reserving main dining room times before sailing to be more straightforward through the Web portal rather than in-app, but that may just be a personal preference.
Onboard, things inside the application interface were populated as expected and had useful information, such as a daily schedule, reservation times, and food and drink menus. Access to a current account statement for onboard spending also delivered as promised.
We did try the stateroom automation functionality for the TV, lights and blind briefly but it seemed gimmickier than anything else. We also activated the Digital Key (NFC-based door unlocking capability) but never used it – it was a just-in-case measure, but we all kept surprisingly good track of our SeaPass cards, and it was often quicker to fish out your card than grab your phone and launch the Celebrity app.
Entertainment and events
We attended shows in the theatre or Club nearly every night and enjoyed ourselves immensely. The skill and talent of all the ship's performers – whether their role was as an aerialist, dancer, actor, or singer – was astounding. None of us was bored or disappointed, and we didn't miss the absence of a big-ticket Broadway musical or play.
If you're sailing on an Edge-class ship, you should absolutely plan to see as many of the shows and musicians as possible. One of my favourite artists on this sailing was Tommy Green Jr. who had been on the ship for a few weeks and was leaving at the end of our cruise as well. He told stories about his family and life on the Canadian East Coast and played both original and covers on his guitar with a loop pedal. Throughout the cruise, Tommy performed in the theatre, Eden, and Grand Plaza.
I was also thrilled to be able to attend a "Secrets of Ship's Navigation" talk with Captain Costas on the second sea day, where he described the unique features of Edge and answered passenger questions, not shying away from the more difficult ones. I always enjoy these sessions on other ships and this one was particularly insightful and well-presented. The captain also made regular appearances around the guest areas of the ship and seemed amenable to casual conversation with passengers.
Our cruise director was Lewis Power Stannard and while I personally don't tend to engage with folks in this role as much as others might, Lewis was friendly, highly energetic, and audible (the most important quality, in my opinion.)
In conclusion
For what it's worth, disembarkation was unmemorable. We did have a leisurely buffet breakfast and coffee and decided to leave the ship as the crew pointedly cleaned tables around us. We did have to decline shuttle transport a couple times on the way to the taxi line. Taxis were throttled arriving into the port area, so there were none available when we initially showed up, but we didn't wait long and a fleet of them appeared all at once. A taxi to FLL was cheaper than the per-rider charge of the shuttle services.
When I asked Kayla for input on things she liked or disliked about this cruise, and whether Celebrity would be a de facto backup choice, she reminded me that I'm writing these pieces from a very narrow perspective. While this was my 10th cruise since we started sailing in 2015, nearly all of them have been on fairly modern Norwegian ships. As you read, it's worth considering that I haven't yet been on two of the most popular mass-market/contemporary lines: Royal Caribbean and Carnival.
My opinions about those and other lines (Princess, HAL, Disney) have been based on Internet research and reviews posted by other cruisers. Bill's post about the differences between cruise lines nicely summarizes what each category offers.
Nickel-and-diming
Nickel-and-diming is a negative term attached to mercenary behaviour of mass-market cruise lines. Some people accuse Norwegian of being the leader of the pack here with their Free at Sea promotions, in which you still have to pay the equivalent of 20% gratuity on the full price of drink and specialty dining packages, and are often charged a premium to book this rate in the first place (although they generally wrap it in with cabin selection.) That's a fair assessment, and I think the various advertising frameworks like those for automotive sales and airfare could stand to also apply to cruises.
Having said that, though, most lines (and Celebrity's All Included rate is an exception here) are not upfront about daily gratuities or service charges. In all senses those charges are impractical or impossible to remove, and like Las Vegas hotels, the daily pricing on these unbundled fees seems to go up every year.
NCL is also not unique in having a wealth of additionally paid-for activities onboard. On Edge, upcharges abounded as well: alcohol tastings, specific fitness classes, gameshow cards and of course, spa access and specialty dining. Norwegian ships tend to announce these offers throughout the days over the PA system, and the art auctioneers and CruiseNext team will often leave "no-ring" advertisement messages on your phone.
Celebrity had a much more limited set of ship-wide announcements and no phone messages, but still tries to sell these activities with crew actively approaching passengers in key corridors. Like beach vendors in tropical ports, I personally perceive this approach as much more intrusive and not befitting the "luxury" or "premium" category. The in-person sales pitch is the one single thing on Celebrity that is a true detractor for us.
Pricing vs. value
Celebrity sailings also tend to command a price premium. First, they want to capture more of your money upfront. With Norwegian, I can't think of a time I've had to pay more than a ~$100US per person deposit when the sailing is more than 120 days out, and the deposit is entirely refundable back to a credit card if you cancel before final payment date. Celebrity regularly shows non-refundable deposits of ~$200US per person, which can theoretically be turned back into future cruise credit but also may be subject to a change or cancellation fee.
Total price of comparable sailings, at least in my research and experience, also tends to be higher on Celebrity. For two people on a 7-day Caribbean sailing, it might be a few hundred dollars difference between the cruise lines, but as soon as there's a third person in the same stateroom it absolutely pays to do your homework.
On this sailing, we had a 50% discount on the third guest in the cabin, but Norwegian often has "3rd/4th person free" offers where those guests in the same cabin pay daily service charges/port taxes only. This can change your bill by thousands of dollars. Of course, this promotion differs per cruise line – Royal Caribbean's "kids sail free" offer is inclusive of port fees and taxes, but only applies to guests 12 and under.
The question really is: is the price paid worth the value you get? In this case the high quality of dining, well-appointed venues, and reasonable set of inclusions almost makes up for the price difference, but only on a newer ship like Edge. If Celebrity were to tone down the in-your-face upsell, I think that would be the biggest thing for us to include them in a true comparison every time.
Next sailings
As I mentioned in my solo Meraviglia review, Kayla and I sailed on Norwegian Joy to Bermuda in July 2022, and that will likely be the next cruise I write about here. We're also only a few short weeks away from our sailing on Norwegian Breakaway out of New Orleans, and I very much look forward to another cruise later this winter on Bliss.
I'm also looking into creating a site to eventually post both reviews and cruise docs – a place where you can find high-quality scans or digital images of dailies, notices, ads, and other paperwork you might get on a cruise. During planning, it has been useful to see what the onboard activities have been like for a cruise on the same itinerary, to help plan specialty dining and show reservations. Typically, these pictures have been locked behind a Pinterest nag-wall or embedded in CruiseCritic posts and disappear whenever the fly-by-night image hosting site of choice ceases to exist. Anyway, if I can get this off the ground, it might improve things for future cruisers doing research.